This low sodium mayonnaise recipe is an easy way to shave some points off your sodium budget. This recipe makes a healthier mayonnaise without sacrificing taste. In fact, this turned out so well with the ease to make and great taste. I wouldn't go back to any brand that can be found in a store, even if I wanted. This really great tasting low sodium plain or chipotle mayonnaise is a great way to do it.
You can put it on almost anything – tuna fish sandwich, my roast beef deli-meat, coleslaw, over veggies …its uses are truly many. It takes less than one minute extra to make this Homemade Spicy Chipotle Mayo. It literally takes longer to get the seven ingredients together than to whip it up. Your homemade mayo will taste fresher, have a more flavorful zing, and be better for you than anything out of a processed jar. It will also have much less sodium per serving. Alas, you can't really use more because of the fat!
Sodium in Store Mayonnaise
| | |
| --- | --- |
| Typical sodium amount per serving | 75 mg |
| Sodium per serving for this recipe | 4mg |
| Calories per serving | 125 |
1 Tbsp serving size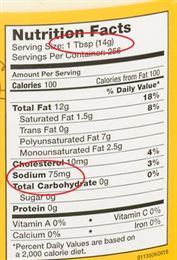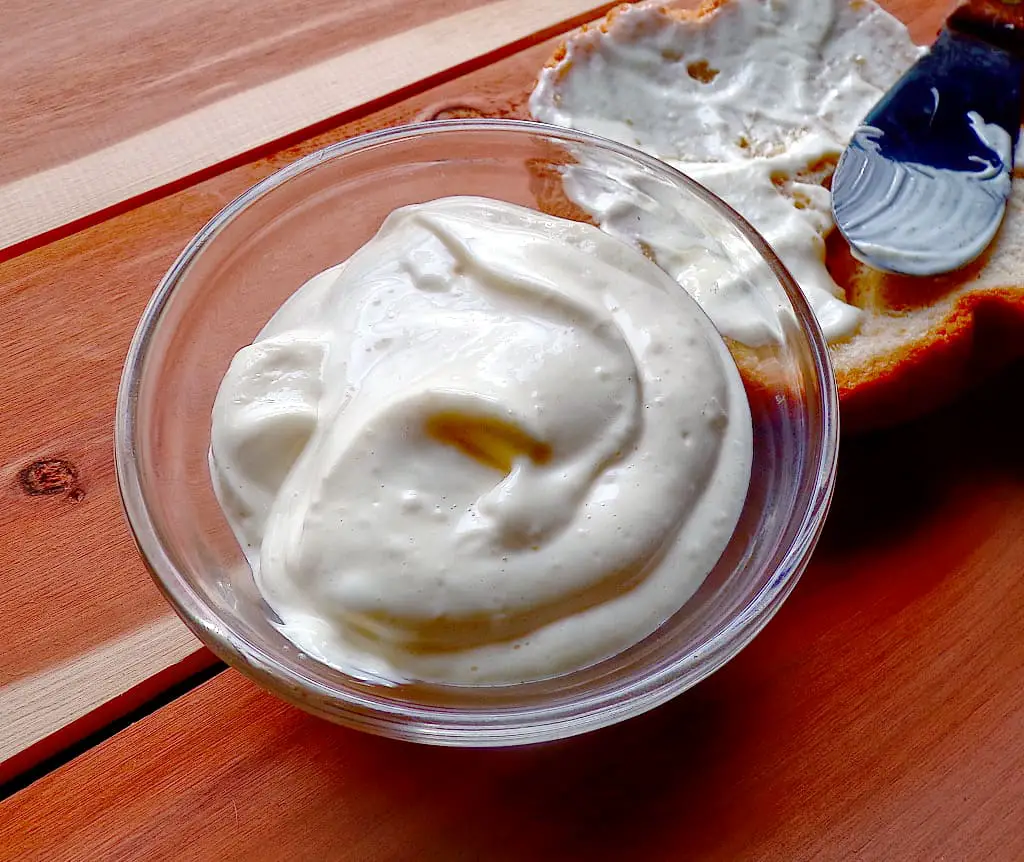 Equipment and ingredients needed
Ultimately what you need to do is get air into the mixture. You can do it with a hand whisk, but this is much too much work. Using a blender requires patience and more cleanup time. Patience by drizzling the oil in ever so slowly and then breaking it all down for cleanup. And once in a while, because of temperature, or you've added oil a little too fast, or just because the recipe separates and "breaks".
The "secret" is to use a hand stick blender with a mixing container that allows the blender head to just fit inside creating a vortex. All the ingredients can be put in at once with no slow drizzling of oil or tired arms, you can blend up a batch in less than a minute.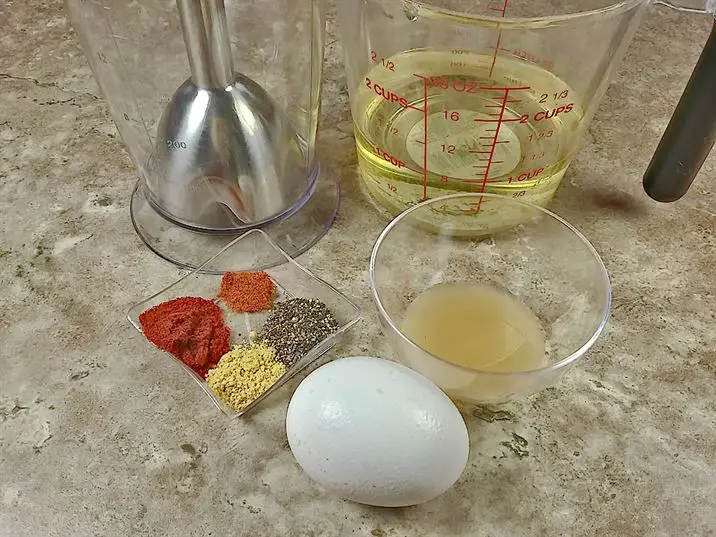 I am pretty late to the game with hand blenders. I wasn't cooking much anymore and didn't feel I needed one.  But I am so happy now that I got this one. It is corded and has a powerful 12-speed motor so you don't have to worry about it being charged up or running out of juice. It makes making mayonnaise a breeze and I'm using it more than I ever thought I would. You can check this hand blender out on Amazon here…
Having a jar with a mouth wide enough to fit the blender head into reduces clean up even more. As you can blend it right up in the storage jar and then store it in the fridge. One with a screw-top lid would be best.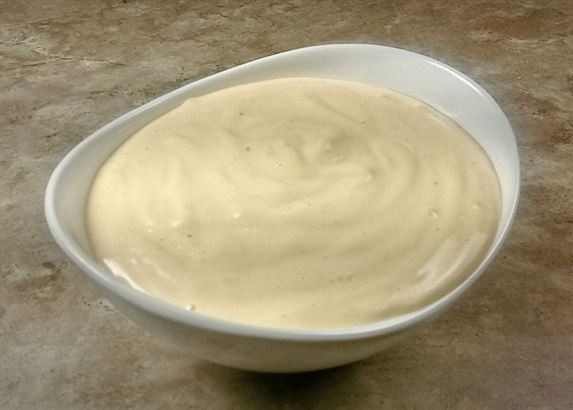 PICKING YOUR OIL
The choice of the best oils can make your head spin. Between the taste and unhealthy fats it can be confusing. I've tried to pick the best oil to cover both aspects but I also tend not to use a lot of mayonnaise overall.  As such, I usually make it in small batches of ¾ to a cup,
I typically make my homemade mayonnaise from light olive oil. It is among the best oils to use along with highly-rated sunflower, grapeseed, avocado and macadamia nut oil.  I've yet to use the last two but am interested in trying them soon. These oils typically have a neutral taste and are lower in polyunsaturated fats.
That being said corn, vegetable, canola and other refined vegetable oils should not be used in your mayonnaise. They are typically quite high in unhealthy polyunsaturated fats. Also, while regular olive oil is heart-healthy, mayonnaise made with regular olive oil has the problem of having a strong flavor. Its taste can be overbearing and it can become bitter from the blending process that releases bitter phenols.
Homemade low sodium mayonnaise may seem a little bland at first, probably because of so little salt. But by enhancing with the flavors just like in this recipe it won't be noticed. You can also experiment with other flavors like garlic, different peppers and heavier tasting oils like EVOO, sesame oil, etc. At the end of the day, look for a light-colored tasting oil and preferably one low in polyunsaturated fat.
Which oils do you like to use? 
Mayonnaise mixing process with immersion blender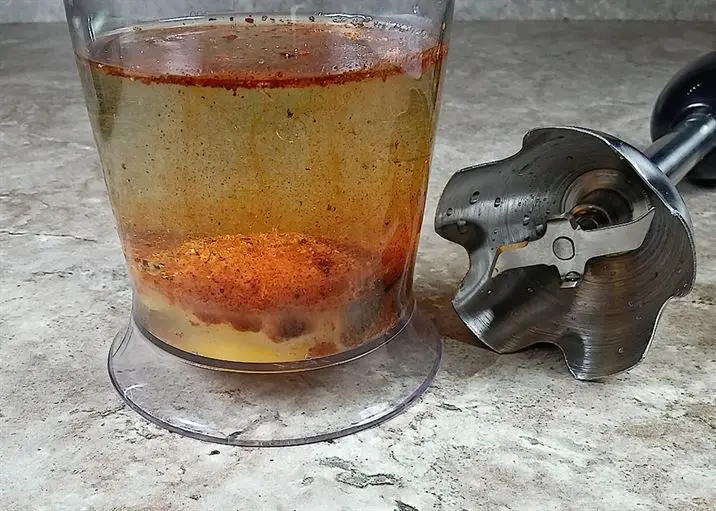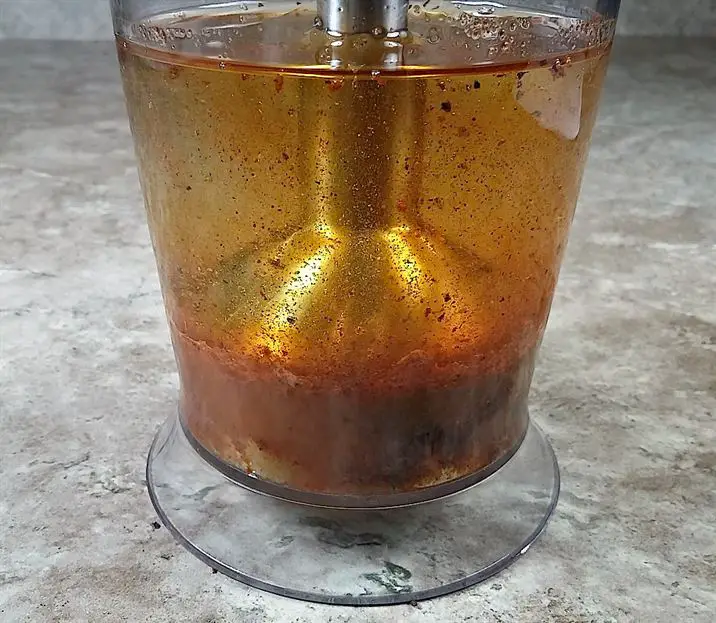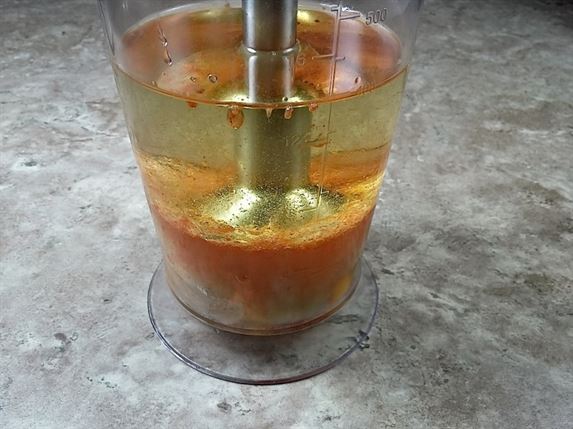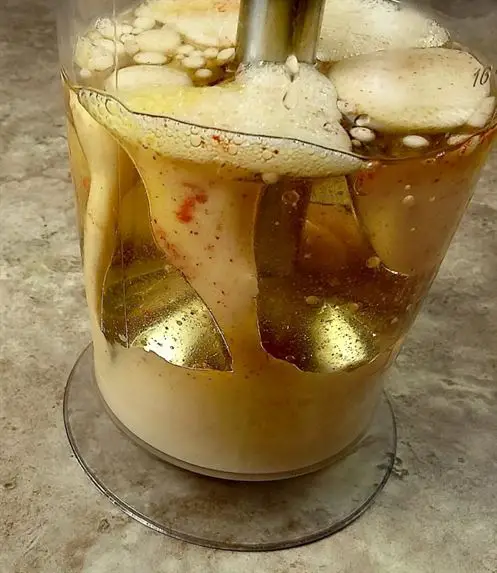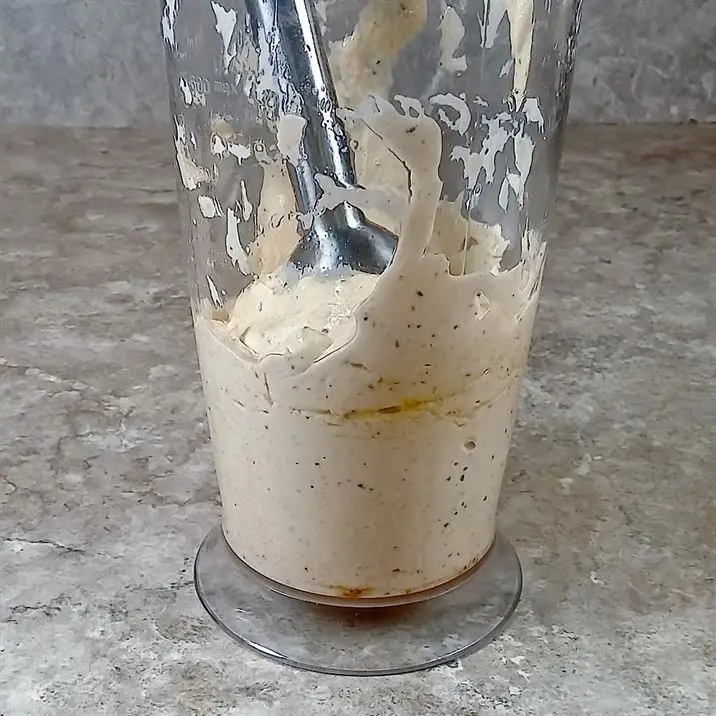 Storing your homemade mayonnaise
People tend to be wary about the mayo because of the raw egg. So long as you keep it refrigerated and out of the food safety danger zone, this should not be a concern. By using fresh eggs and thereby having the longest expiration date, it should be fine until after the expiration date of the egg.
The acidity of white and apple cider vinegar makes the environment too acidic for any bacteria to take hold and thrive during this time.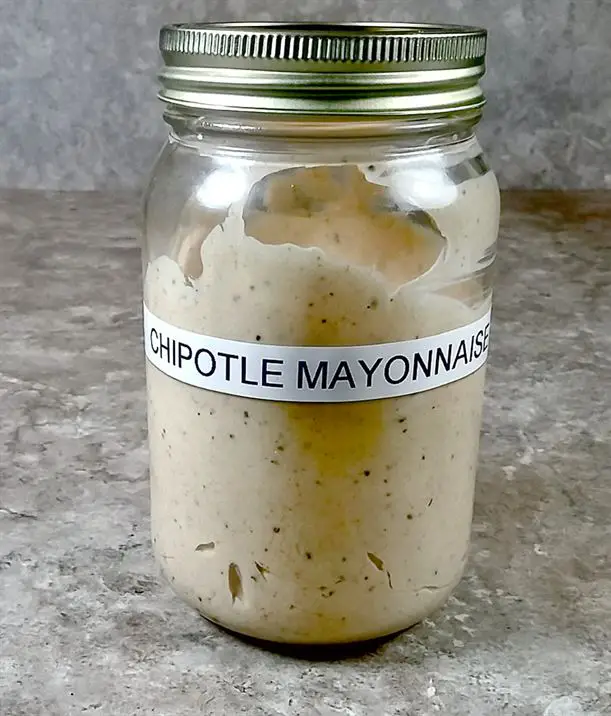 Store-bought mayo uses pasteurized eggs, which increases shelf life and also makes a thicker final mixture. If you're worried about salmonella you can use store-bought pasteurized eggs or DIY pasteurize your eggs at home, though I can't say I've ever bothered.
Also by making small batches of a cup as in this recipe it tends to be used up quickly staying well within the date. I also use a grease pencil on the jar to note the expiration date of the egg. Note the egg expiration date, not date you made!
Other recipes to use low sodium mayonnaise with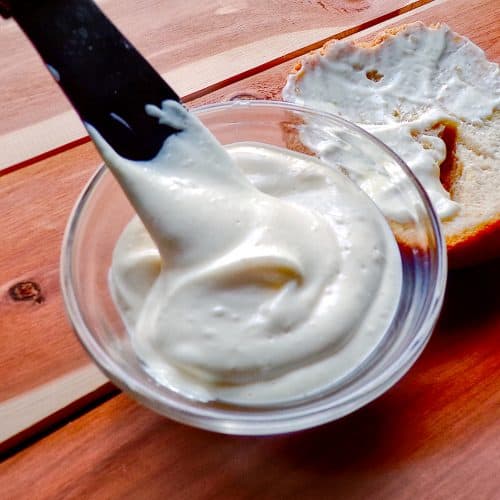 Low Sodium Mayonnaise Plain or Chipotle
Make this low sodium mayonnaise plain or chipotle flavor to shave easy points off your sodium budget. You won't even miss store bought mayo.
Ingredients  
1

large egg

room temperature

1

cup

extra light olive oil

or canola oil (see nutrition label below)

1

tsp

Mustard Seed yellow ground

1

tbsp

distilled white vinegar

1

tbsp

apple cider vinegar

1

tsp

Ground Chipotle Chile Spice Islands

Omit for plain mayonnaise

1/4

tsp

Pepper Red Or Cayenne

Omit for plain mayonnaise
Instructions 
Place all ingredients in order listed in a narrow jar or beaker just wide enough to fit your stick blender.

Place stick blender in the bottom of the jar and turn on high. A vortex will form and pull the oil down and the oil will begin to thicken and turn to the typical off-white.

Slowly move the blender head slowly up and down a little higher each time, until all the oil is incorporated and the mayo is thick and no drizzles of oil is visible. The whole blend should take no longer than 1 minute.

Store in a sealed container in the refrigerator for up to two weeks or the expiration date on the eggs.
Notes
Mark egg expiration date on jar with grease pencil, marker or in some other fashion
Recipe Equipment & ingredients
Nutrition
Serving:
1
Tbsp
Calories:
125
kcal
Protein:
0.4
g
Fat:
13.9
g
Saturated Fat:
1.1
g
Sodium:
4
mg
Potassium:
4
mg
Calcium:
2
mg
https://tastyhealthyheartrecipes.com/a-la-cart/sauces-dips-spices/low-sodium-mayonnaise-chipotle/
As always, please let me know how you like this recipe in the comments! I get motivated when I hear from you and am interested in how you liked and served your low sodium mayonnaise chipotle or plain. And please share any tips you might have.
Nutrition Information – The information shown is provided by an online nutrition calculator. It should not be substituted for a doctors or nutritionist's advice. Please understand that not everyone's sodium requirements are the same, therefore some recipes may be higher than you're allowed. Always consult with your doctor for your recommended daily sodium allowance.