---
This classic takeout style Low Sodium Egg Drop Soup recipe is super quick and easy to make in about 15 minutes. Almost made as fast as the broth can boil and it alway so warm and tasty.
Every couple of weeks I used to stop at the local take-out for dinner on the way home from work. Besides trying different entrees, I would almost always get an egg drop soup and an egg roll.
Lately, I have been having a real yearning for Asian takeout meals. Although with all the sodium in most recipes, I've mostly avoided trying to make them. I want to change that up in my upcoming recipes. This is really one of the easiest soups I know and it makes a great coffee mug sipper too.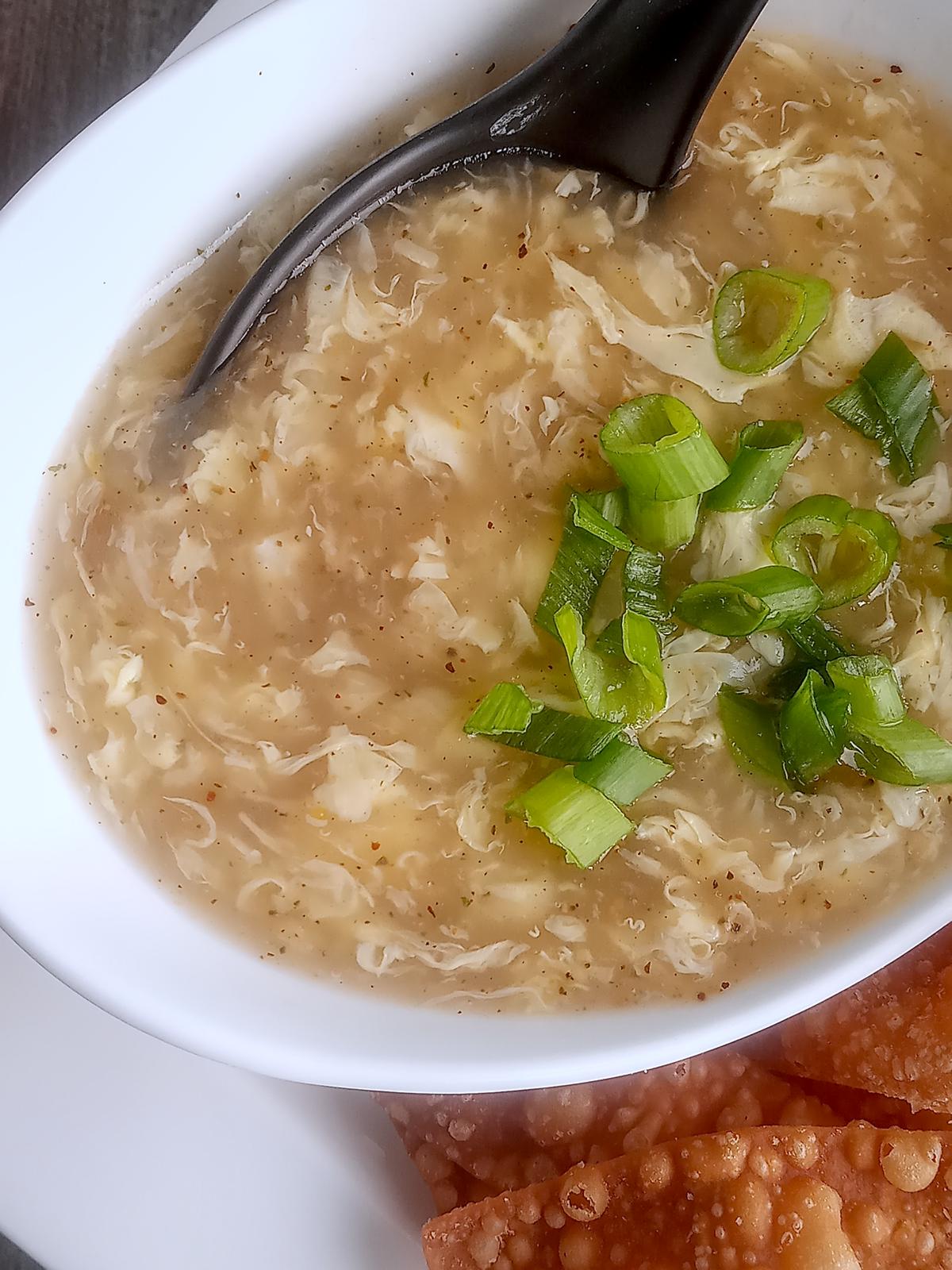 Sodium in Egg Drop soup compared.
Egg drop soup from a Chinese takeout can have as much as 900mg of sodium per cup and most recipes seem to average about 550mg per cup. Also, monosodium glutamate is used liberally to make these soups in most restaurants.
Typical sodium amount per serving

900+mg

Sodium per serving for this recipe
99mg

Calories per serving

for this recipe
88
1 cup serving size
This soup, though a little higher in sodium than I would prefer, is just 99mg sodium per cup. Most of the sodium comes from the unsalted broth and naturally from the eggs. Still a huge sodium savings and not too bad overall when you have a craving for this soup as I often do.
What Is Egg Drop Soup?
If you have not had this egg drop soup before it is one of the staple soups at Chinese takeouts and restaurants across the United States. Typically it's made with a seasoned chicken or vegetable broth and chock full of delicious egg "ribbons" created by pouring whisked raw eggs into a simmering broth to cook.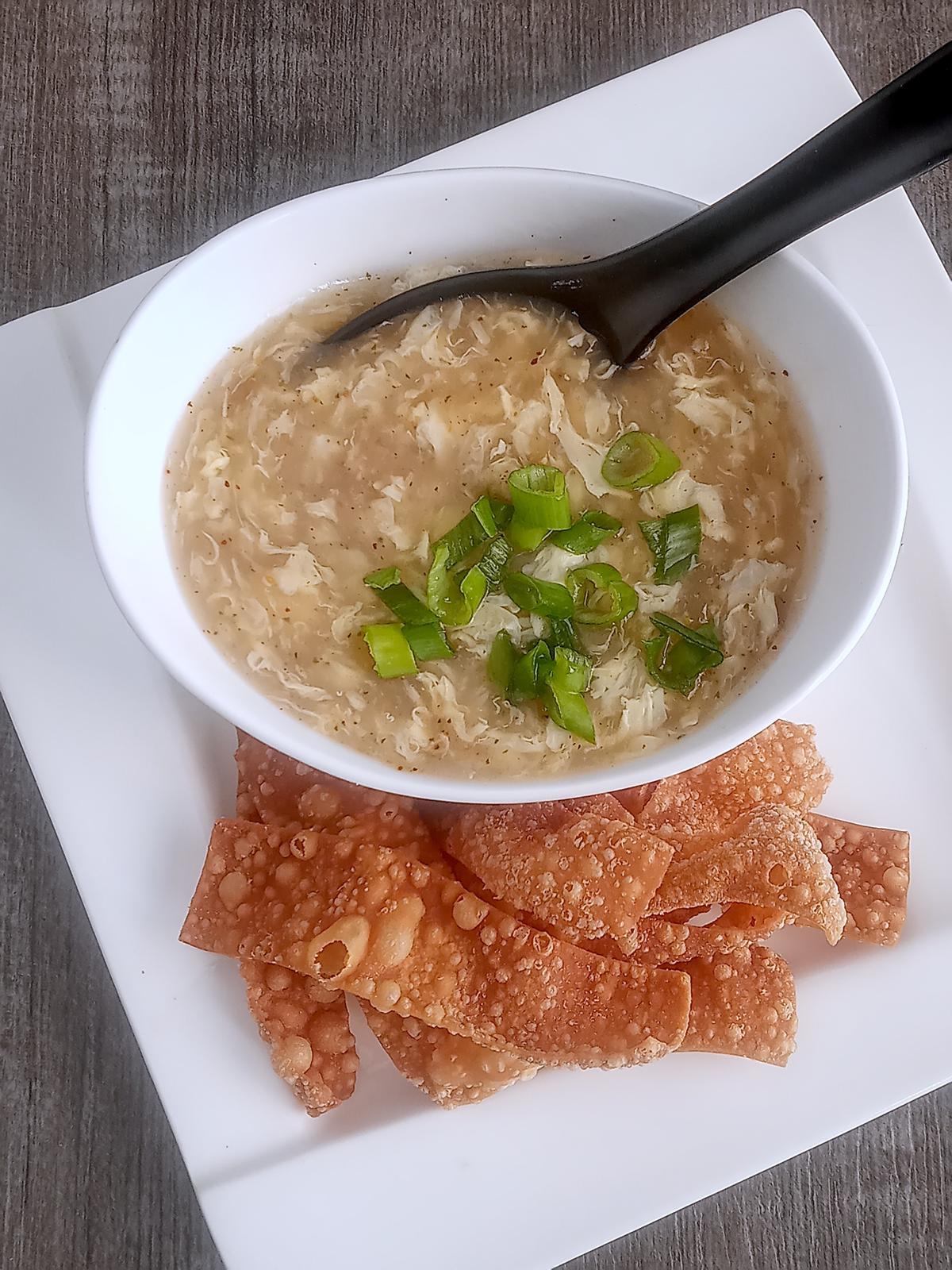 Egg Drop Soup Ingredients.
The highest sodium components of this recipe are the chicken broth and eggs. To make this homemade low sodium egg drop soup recipe, you will need:
Chicken Broth Unsalted – Unsalted chicken broth has by far the lowest sodium level (40mg of sodium) as compared to stock or even vegetable stock per cup.
Herb-Ox no sodium chicken bouillon – Helps produce a more chicken flavored broth.
Eggs – Are whisked and then drizzled into the soup. Unfortunately, while not super high in sodium, they contribute about 60mg per large egg total. But, you can't have egg drop soup without eggs!
Cornstarch – Mixed with water and slowly poured (a bit at a time) into the boiling broth will thicken the broth a bit.
Seasonings – In this recipe, I use Allspice, white pepper and Mrs. Dash Original Table Blend unsalted for the basic spice additions. Optionally, you can also try adding your own spices like ground ginger, onion and garlic powder. A bit of turmeric will give it a more yellow appearance that may appeal to you.
Sesame oil or unsalted butter – Sesame oil seems to be an essential ingredient for this recipe everywhere.  Since it does not always agree with my stomach, I add a tablespoon of unsalted butter. The butter gives it more of a smooth velvety taste and feel.
Scallions "Green onions" – Thinly sliced at an angle to mix into the soup when simmering or use as a garnish.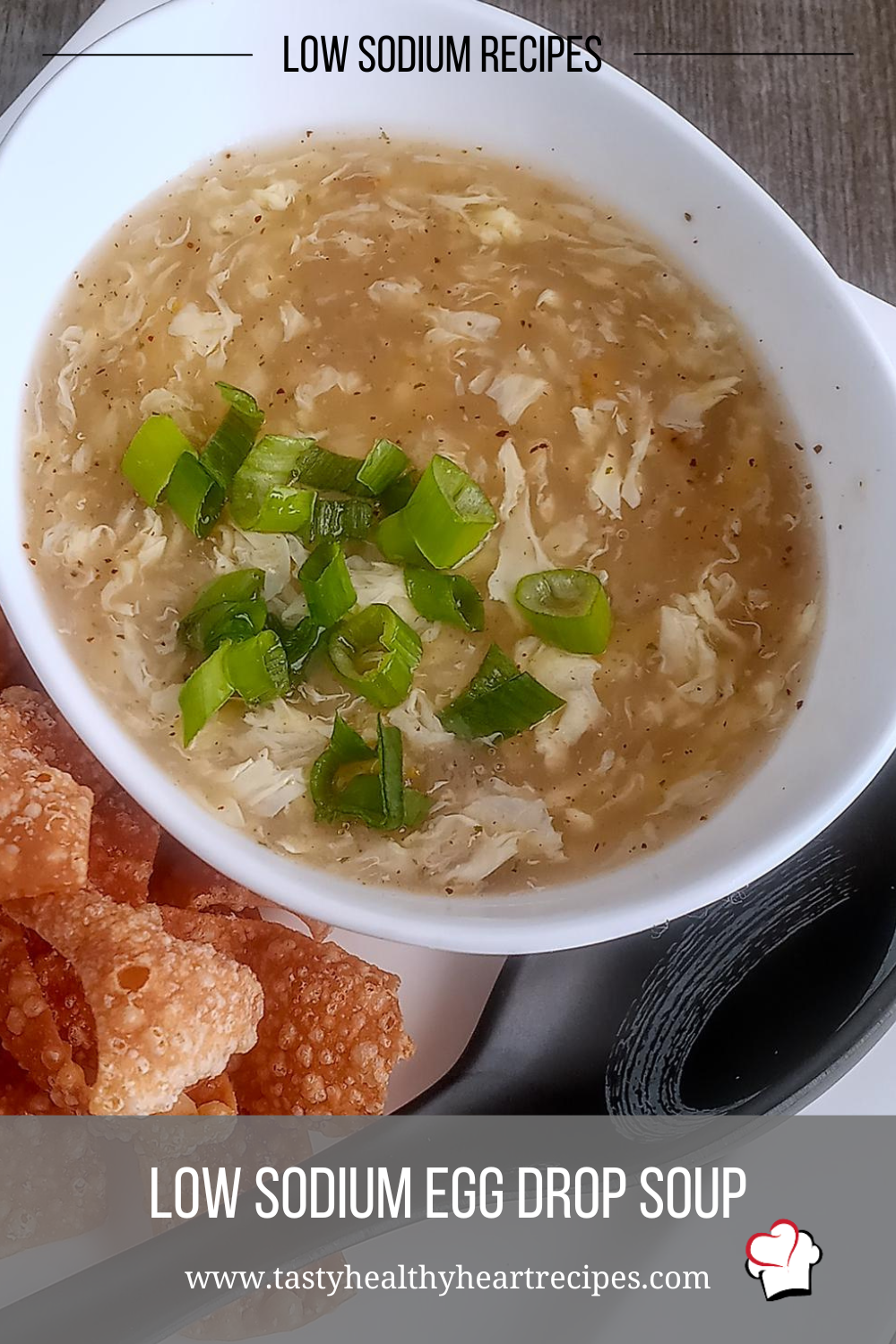 How to make your Egg Drop Soup.
Prepare your broth – Whisk the broth, Mrs. Dash Original Table Blend no salt added, Allspice and white pepper together. These are just the basic spices so don't be afraid to try your own favorite no salt added spices.
Bring the broth to a low boil – Stir occasionally. While this is heating, go ahead and beat the eggs in a large measuring cup or bowl. Separately mix the cornstarch slurry.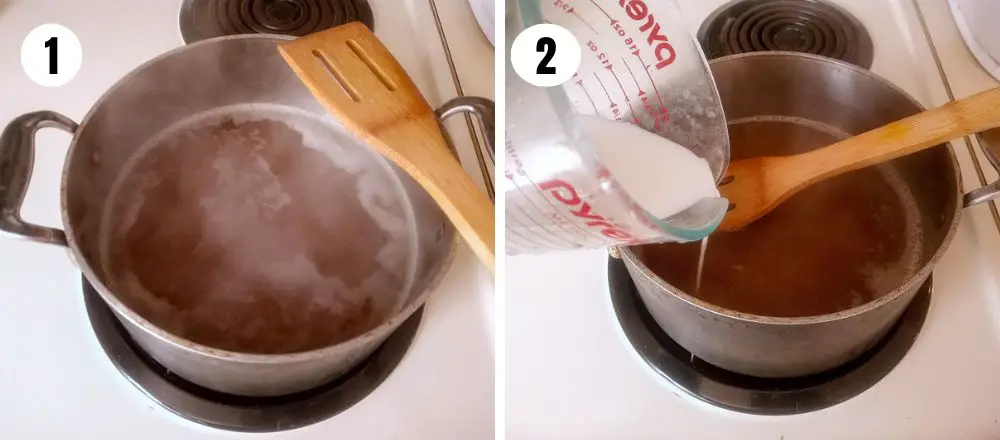 Next, add the cornstarch slurry – Make sure the cornstarch and water are well mixed as the cornstarch can settle quickly. Add about half the mixture stirring the soup continuously as you drizzle in the slurry.
Continue slowly adding the slurry for a thicker consistency. Let the soup simmer for a minute in between pours as it takes a few seconds to thicken up, then check to see if the consistency is the way you like it.
Add in the beaten eggs – Continue to simmer the broth. Using a whisk or a serving spoon, begin stirring the stock around the pan edge to create a slow "whirlpool". Then slowly drizzle in the eggs as you continue to stir the broth, the egg will turn into those little delicious ribbons. Remove pot from heat.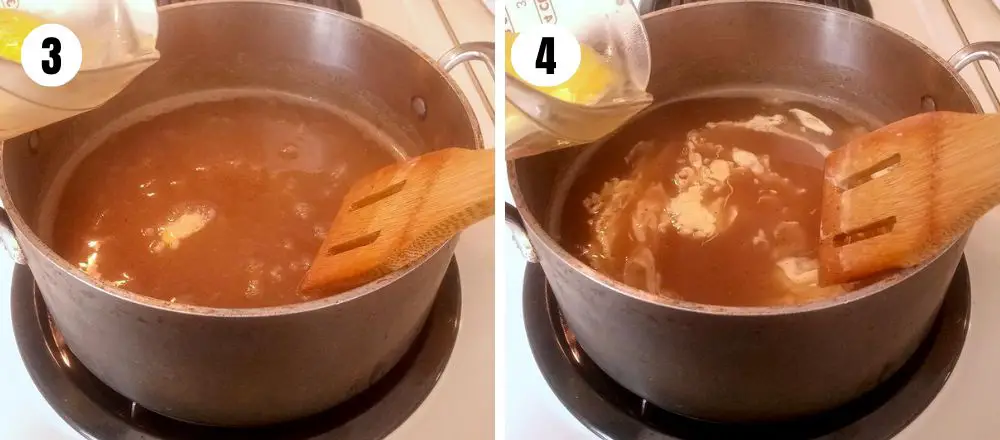 Adding the optional turmeric gives your soup a restaurant-style yellow color but this is optional. I'm not a big turmeric fan and the color doesn't bother me as long as it tastes good, so I don't use it personally.
Add remaining ingredients – Stir in the sesame oil or butter. Taste and season with your favorite spices and pepper as needed. I love my egg drop soup heavily loaded with ground black pepper.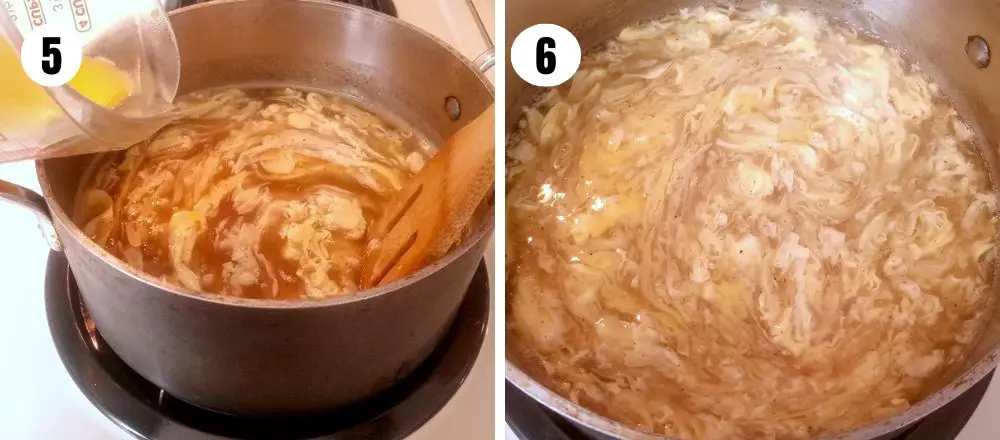 Serve and garnish with sliced scallions and fried wonton strips to your taste.
A few of my other great Soups to enjoy!
---
Recommended Equipment & Ingredients For This Recipe.
See my whole Recommended Equipment & Ingredients shop page here
This section contains affiliate links to products I use and recommend.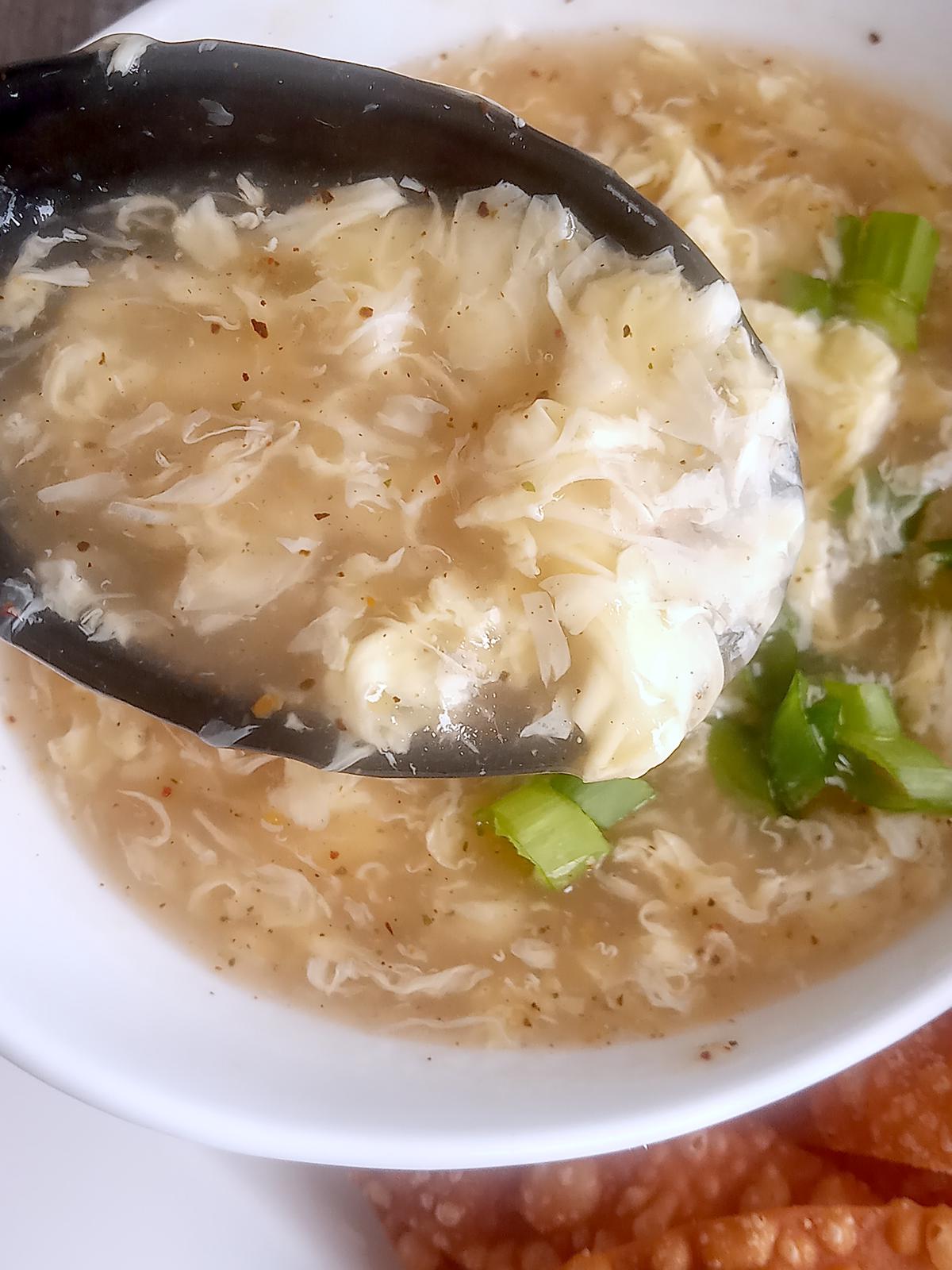 Please let me know how this Low Sodium Egg Drop Soup turns out for you in the comments and a rating! I'm always eager for your feedback and hope my recipes turn out amazing for you. You can follow me on Facebook and Pinterest also, to hear about new recipes.
Low Sodium Egg Drop Soup
This easy low sodium egg drop soup is quick and easy to make with pantry staples in just minutes, as good as takeout! It's delicious as a meal or in a soup sippin' mug.
Ingredients  
4

cups

chicken broth unsalted

chicken broth not stock

1/2

teaspoon

sesame oil, or 2 teaspoons butter

1

teaspoon

Mrs. Dash Original Table Blend no salt added

more to taste

1/4

teaspoon

Allspice

1/4

teaspoon

white pepper

2

tablespoons

cornstarch

mixed with 1/3 cup hot water

3

large eggs

beaten

1

scallion chopped for garnish

1

teaspoon

Herb-Ox chicken flavored bullion

optional but I like it.

1/2

teaspoon

turmeric

optional, but gives it that yellow look.
Instructions 
Bring the chicken stock to a low boil in a medium soup pot. Stir in the sesame oil or NSA butter, Mrs. Dash, Allspice and white pepper. Add in the turmeric if using optionally for that takeout coloring. Taste soup and add any seasoning to your taste. Also, try garlic and onion powder or ginger for some starter ideas.

Next stir the cornstarch and water together, well mixed and with no clumps. Start with half the amount and stir the soup continuously as you drizzle in the slurry. Use more starch if you like a thicker soup, let the soup simmer for a minute in between to see if the consistency is to your taste.

Start a slow "whirlpool" in your pot then slowly drizzle in the beaten eggs which should result in a ribbon of egg swirls. The speed at which you stir the soup when adding the egg will control whether you get large or small egg ribbons.

Ladle the soup into bowls, top with sliced scallions, fried wonton strips and enjoy!
Notes
This recipe makes a touch over 4 cups when complete.
Add more Mrs. Dash if you're really missing a saltier taste. I love pepper in mine so it's not an issue for me.
A ramen spoon is really worth the small investment for these types of soups. A regular spoon just doesn't spoon it for me anymore.
Nutrition
Serving:
1
cup
Calories:
88
kcal
Carbohydrates:
5.9
g
Protein:
6.8
g
Fat:
3.8
g
Saturated Fat:
1.2
g
Cholesterol:
140
mg
Sodium:
99
mg
Potassium:
66
mg
Fiber:
0.2
g
Sugar:
0.6
g
Calcium:
24
mg
Iron:
1
mg
https://tastyhealthyheartrecipes.com/a-la-cart/soups/low-sodium-egg-drop-soup/
Nutrition Information – The information shown is provided by an online nutrition calculator. It should not be substituted for a doctors or nutritionist's advice. Please understand that not everyone's sodium requirements are the same, therefore some recipes may be higher than you're allowed. Always consult with your doctor for your recommended daily sodium allowance.