Use this Low Sodium French Onion Dip that is a welcome addition where a dipping condiment is needed. I grew up with this dip when my mom made this with the Lipton onion soup packets to go with a snack of chips or cut vegetables. I think I have achieved nearly the same taste or at the very least better than any pre-made store brand.
LOW SODIUM FRENCH ONION DIP
Sodium Total  240 mg –  Sodium / Serving 16 mg   –   Calories / Serving  69
With the average pre-made store brand reaching nearly 200 mg and the homemade with Lipton soup packets version at 300 mg per 2 tablespoon serving, changes had to be made. If you're brand new to the low sodium life you will notice a difference but after my fourth try I think I've found a good ratio to make a flavorful copycat rendition. I hardly notice the difference anymore of a lower sodium items but my taste test neighbor said it was nearly spot on.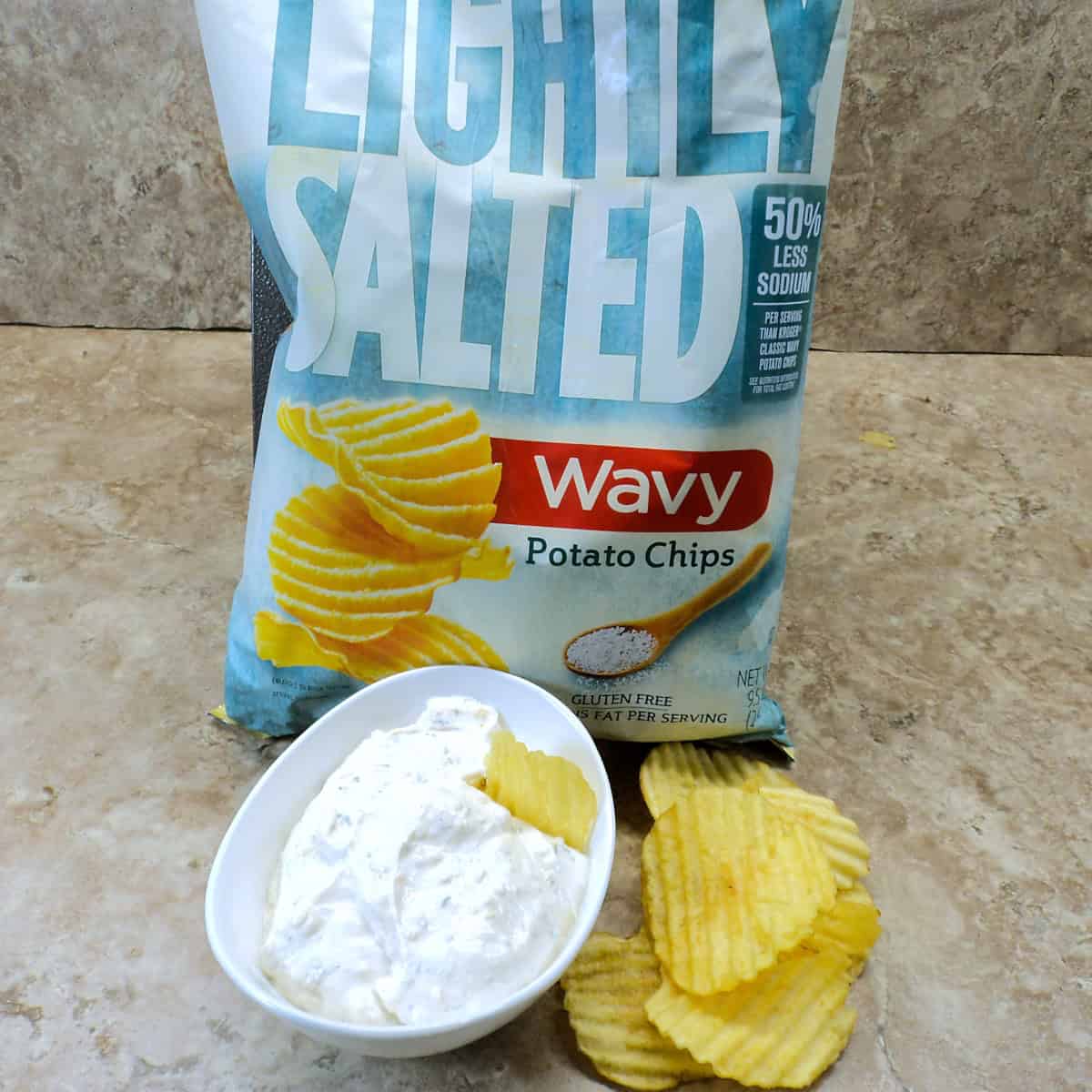 THE SECRET LOW SODIUM INGREDIENT
A major taste component of the mix is the Herb Ox sodium free beef bouillon. It is definitely the ingredient that makes it get even close to the dip made with Lipton onion soup packets. My local stores do not carry it and it is one of the few ingredients that I order online to have on hand. Herb Ox also makes a chicken bouillon version and between the two they have so many delicious uses. Check out Herb Ox sodium free beef bouillon here on Amazon.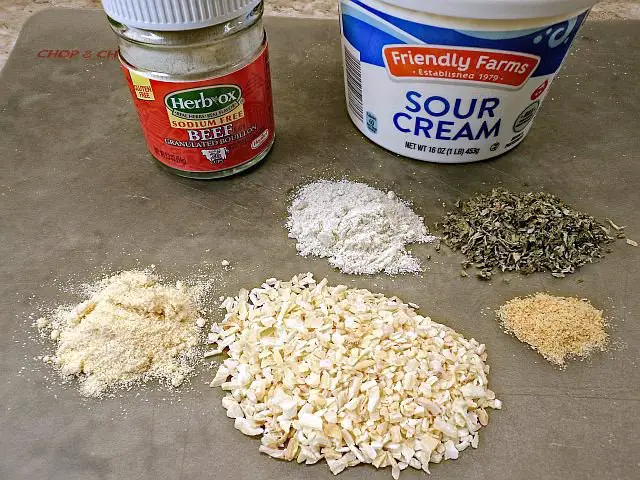 Made with dehydrated chopped onions and dried parsley this recipe can be simply whipped up literally in a few minutes! Though it can be used immediately the taste will definitely be enhanced letting it set in the fridge for an hour or two or even better overnight.
So give it a try and a taste you can always adjust the seasonings a bit if necessary to your taste.
Use it with low-no salt chips, fresh cut vegetables, baked potatoes, roasted vegetables. Add a little Wasabi powder for a little extra nose tingling kick!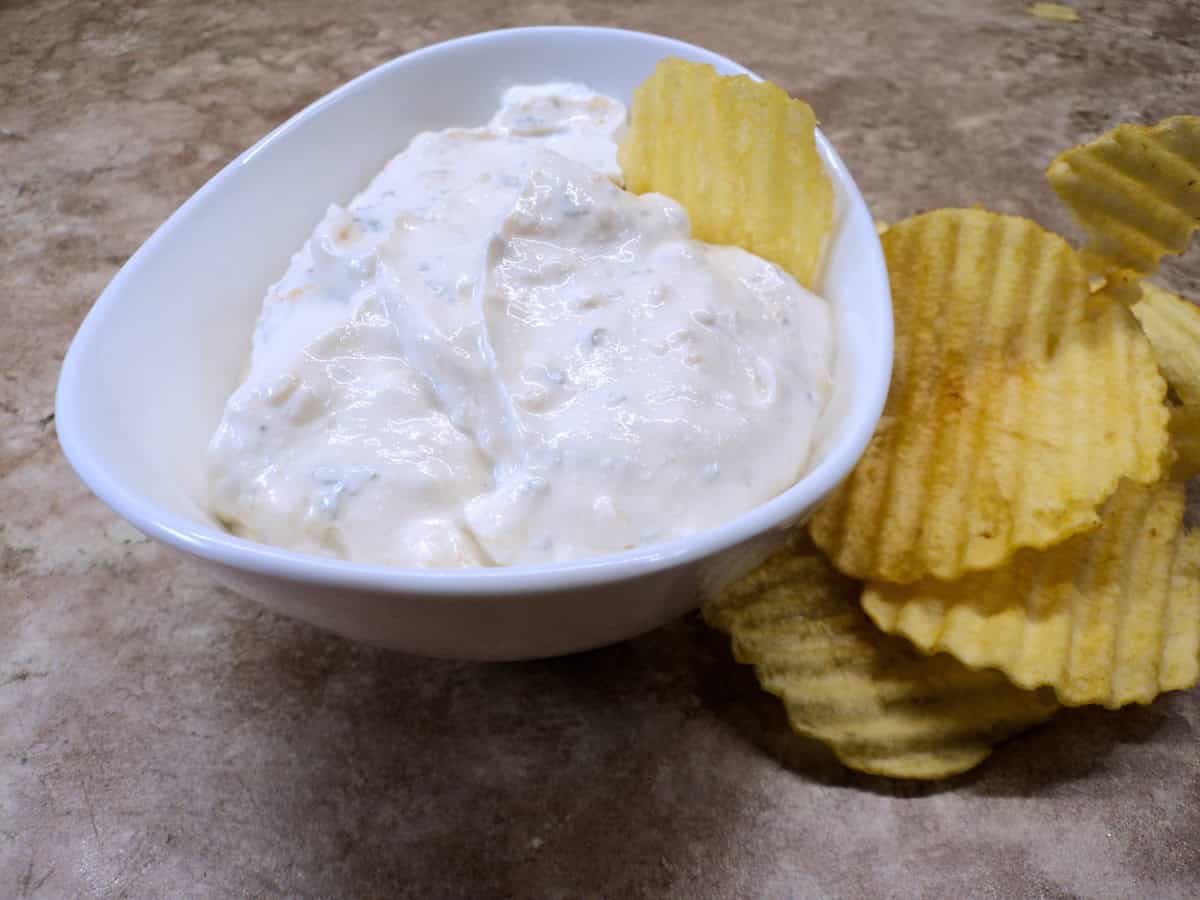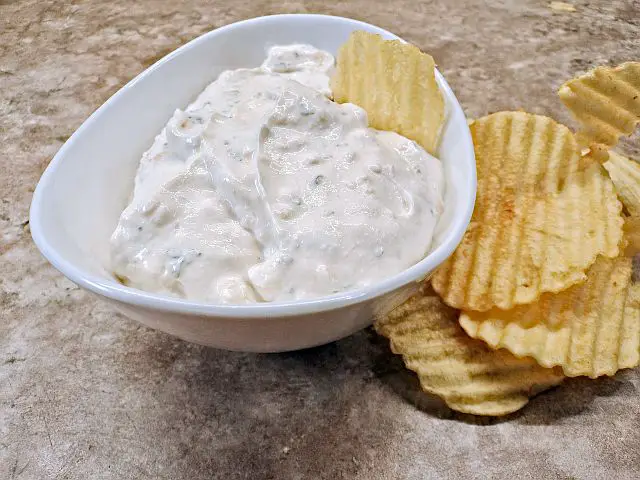 Low Sodium French Onion Dip
Low sodium French Onion Dip is a top dip pick for chips or cut vegetables for snacks or party when watching your sodium levels.
Ingredients  
1

16 oz.

Sour Cream

2

Tbsp

Dried Chopped Onion

1

tsp

Onion Powder

1

tsp

Garlic Powder

2

tsp

Dried Parsley

1

tsp

ground black pepper
Instructions 
Place sour cream in a small mixing bowl. Add dried chopped onion, Herb Ox Bouillon, onion powder, garlic powder, black pepper, and parsley. Mix together very well until completely uniform and smooth. Taste and adjust seasonings if needed, but best flavor blends overnight.

Refrigerate for at least 1 hour to allow the flavors to come together for best taste. And also to allow the dried onion to soften and partially re-hydrate. Store in the refrigerator for 5–7 days.
Nutrition
https://tastyhealthyheartrecipes.com/a-la-cart/sauces-dips-spices/low-sodium-french-onion-dip/
Nutrition Information – The information shown is provided by an online nutrition calculator. It should not be substituted for a doctors or nutritionist's advice. Please understand that not everyone's sodium requirements are the same, therefore some recipes may be higher than you're allowed. Always consult with your doctor for your recommended daily sodium allowance.
A few other recipes you may like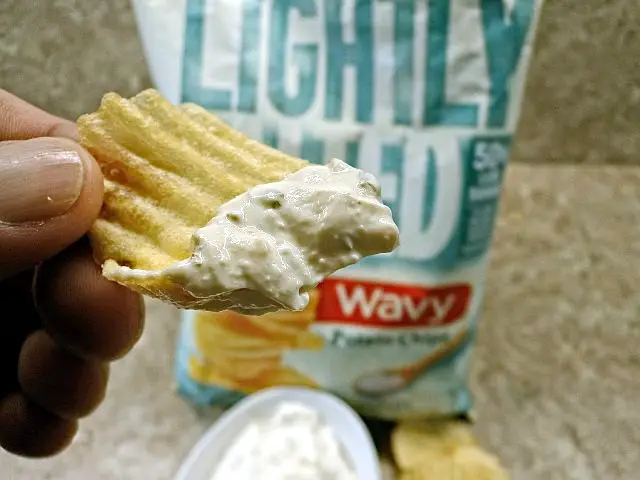 As always, please let me know how you like this recipe in the comments!
I get motivated when I hear from you and am interested to learn about how you liked and served your Low-Sodium French Onion Dip. And please leave a comment or rating and share any tips you might have.