I love making soups in the wintertime like everybody else. And a good thick Low Sodium Black Bean Soup is so easy and healthy to make. It's even easier now that I use no salt added canned black beans.
This quickly made soup is filled with healthy ingredients, vegetables and seasoned to perfection. Besides being a low sodium soup, it is full of fiber and good for you protein. A money and time-saving recipe made with everyday basic ingredients that you probably already have stocked on hand.
Amount of sodium in black bean soup compared to LoSo soup
| | |
| --- | --- |
| Typical sodium amount per serving | 460mg + |
| Sodium per serving for this recipe | 30mg |
| Calories per serving | 89 |
1 cup serving size
Canned black bean soups average around 460mg of sodium for just ½ cup! I would guess that I would generally eat about 2 cups of soup for a meal which would be 1840mg. Wow!
Amazingly, even plain canned black beans have around the same amount of sodium as a canned soup. Hovering between 400 – 450 mg of sodium per half-cup.
Standard internet recipes vary all over the place from what I researched. From between 600 all the way up to 1560mg of sodium per serving.
My very healthy Low Sodium Black Bean Soup is just 30mg of sodium per one cup! Plus, it's packed with so much healthy nutrition, like fiber, protein, and antioxidants – a nutritional powerhouse!
Beware how much sodium is in chicken broth vs. chicken stock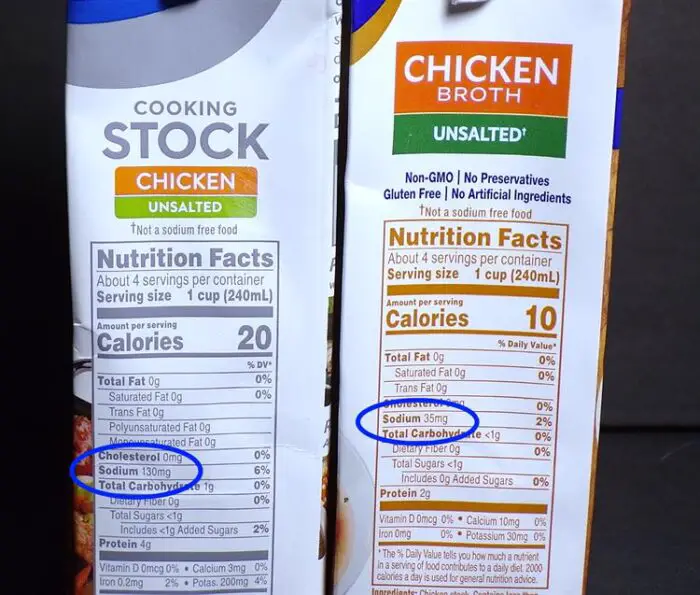 I use unsalted chicken broth for this recipe. Chicken broth has 40mg of sodium as compared to chicken stock which has 130mg of sodium per cup.
What are black beans?
Black beans are classified as legumes, the edible seeds of the plant. Black beans are also known as turtle beans and frijoles negros in Spanish Latin America.
Beans date back to over 7,000 years when they were a staple food in the diets of Central and South Americans. Today they are also commonly found in many of the Cajun and Creole cuisines of south Louisiana.
Dried black beans can be stored almost indefinitely, though they tend to lose their moisture after 1 to 2 years. Dried beans need to be soaked generally overnight to replace moisture before cooking.
Is black bean soup good for you?
Absolutely! Black bean soup is a very nourishing soup, very high in fiber, folate, potassium, and protein. Plus, it is very inexpensive to make. It's perfect to top with (low fat) sour cream or even plain Greek yogurt. You could also add fresh chopped herbs such as chives, cilantro or scallions, or even avocado.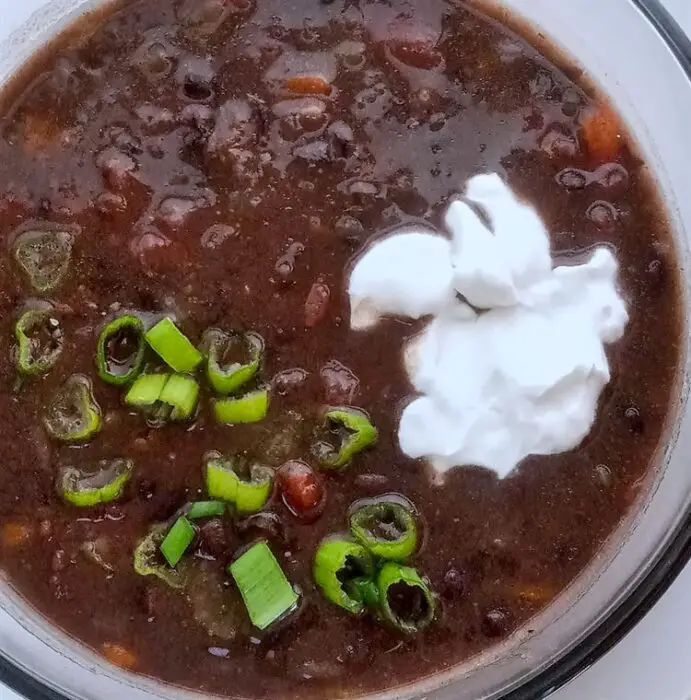 Canned Black Beans No Salt Added
This Black Bean Soup is so EASY because I use the canned no salt added black beans! One whole 15oz. can has just 35mg of sodium! You don't have to hassle with the long process of soaking and cooking your own beans to have a low sodium homemade soup.
No salt-added canned black beans are a quick and affordable way to get this soup on the table in no time for about 70₵ a can!
My store has begun carrying no salt added black beans full time lately and it is so convenient. I hated cooking black beans from scratch just to get a low sodium version. So, for a recipe like this, using canned beans becomes very quick to pull together.
If your store does not carry no salt added black beans, ask them to. I've noticed they seem to fly pretty quickly off the shelf when they are in stock. Hopefully, manufacturers will take note of this for many other canned products.
How to make this easy Low Sodium Black Bean Soup
This really is an easy soup recipe that comes together in just a few simple steps.
To reduce cutting time, when cutting the vegetables by hand. Slice both celery stalks in half lengthwise and chop all four pieces at the same time. Do the same with the carrot except slice it lengthwise into four pieces or quarters.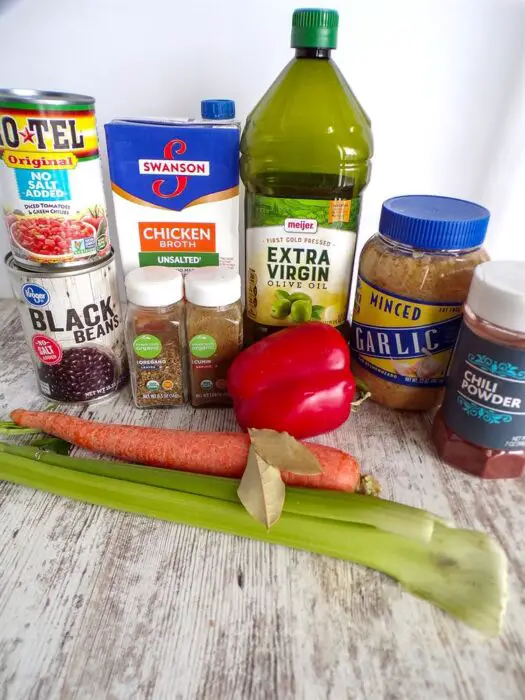 Since all the vegetables in this recipe are small diced, I just like to use my Slap Chopper like this one on Amazon. With just a few slaps you can cut veggies from a large chop down to finely diced. Very quick and easy.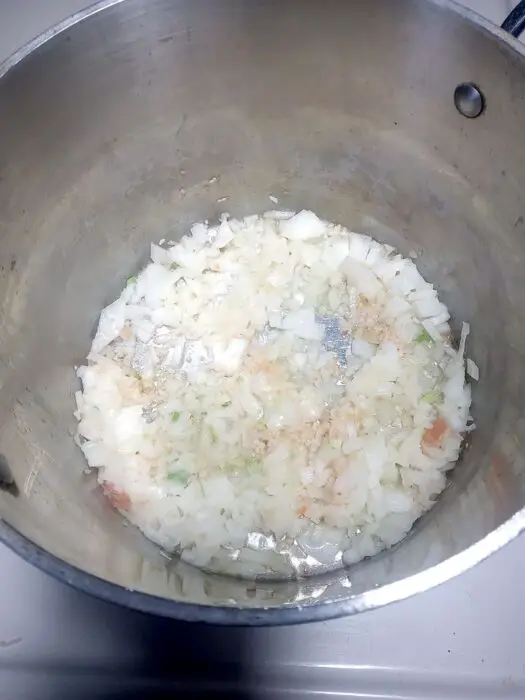 Preheat a large pot or soup pot for a few minutes over medium-high heat. Add olive oil when nice and hot, start with the onions and celery, and cook for 2 minutes.
Then add in the carrot and red pepper for another few minutes and stir occasionally. Finish with the garlic and cook for another 2 more minutes.
I like to add the seasonings next too steep for a minute mixing with the vegetables. To finish, pour in the chicken broth and the cans of black beans with liquid. Then stir the whole pot together thoroughly.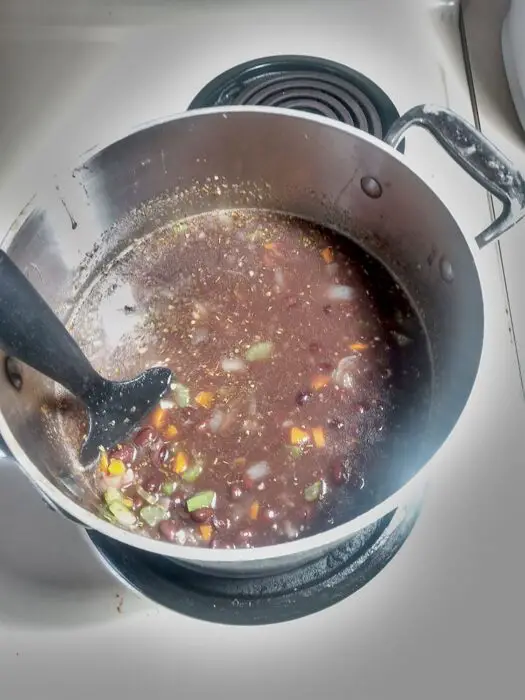 Turn the heat down and let it simmer (just below boiling point) for 25 minutes. Get some garnish ready and you're done!
Tip for a thicker – creamier black bean soup
You can scarf the black bean soup as is, but you should really thicken it up a bit as I do. It also makes it "creamier" and somehow all the more filling. Heck, you could almost use it for a dip with some NSA tortilla chips.
It's easy…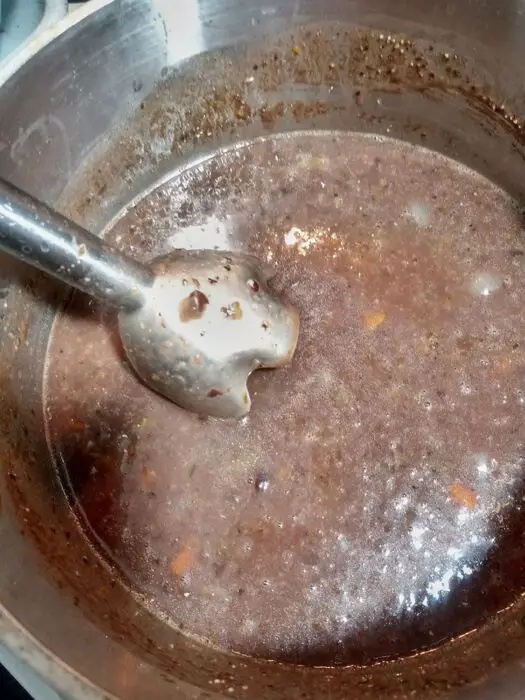 After finding and removing the bay leaf, use an immersion blender to puree about a quarter of the soup. This gives it a thicker consistency, but don't blend it all completely smooth! You want to still have some whole black beans to scoop up to chew on.
If you don't have an immersion blender (see the one I use on Amazon), you can transfer some of the soup into a blender or food processor and puree it. Then pour it back into the pot and stir with the rest of the soup.
Topping your black bean soup
The usual accompaniments of most Mexican food toppings always go well with Low Sodium Black Bean Soup!
No Salt added Tortilla Chips
Pico de Gallo or Low Sodium Salsa my recipe
Sliced avocado or Low Sodium Guacamole my recipe
Shredded Swiss + Gruyere cheese
Sour Cream or even plain Greek yogurt
Chopped Chives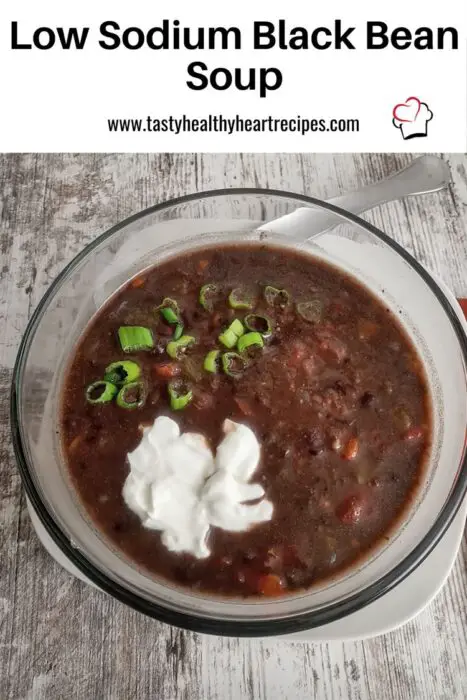 Serving Suggestions
Most black bean soup recipes generally don't contain meat. But you could add pan-browned crumbled lean beef or shredded chicken for some variety.
Looking for other side dishes to go with your pot of low sodium black bean soup? Here are a few more of my ideas!
Light garden salad
Mexican Rice
Grilled corn tortillas
Low sodium garlic bread
Storing Black Bean Soup
This recipe makes a good bit of soup for a single person. (About 9 cups.)  But leftovers will keep well in both the fridge and the freezer. Making it perfect for easy weekday lunches and light dinners.
Store your leftover black bean soup in an airtight container in the refrigerator for up to 5 days.
This soup also freezes quite nicely and easily. For ease, just pour room temperature cooled soup into a freezer container or heavy duty freezer bag and it can remain frozen for up to three (3) months.
Personally, I like freezing in serving size portions. Once again, I  use a large muffin tin to freeze in portion-sized servings. Then pop the frozen portions into a heavy-duty freezer bag. Then you can just pull one out, defrost and heat it later.
Slow Cooker Black Bean Soup
Black bean soup can also be done in the slow cooker. Though I think it seems like a lot of wasted time when this can be done in a soup pot on the stove in about an hour.
After cutting your vegetables, combine all ingredients in the slow cooker pot. Stir well to combine. Cook on low for 6 – 8 hours or on high for 3 – 4 hours. All the vegetables should be cooked and tender. Remove the bay leaf and serve.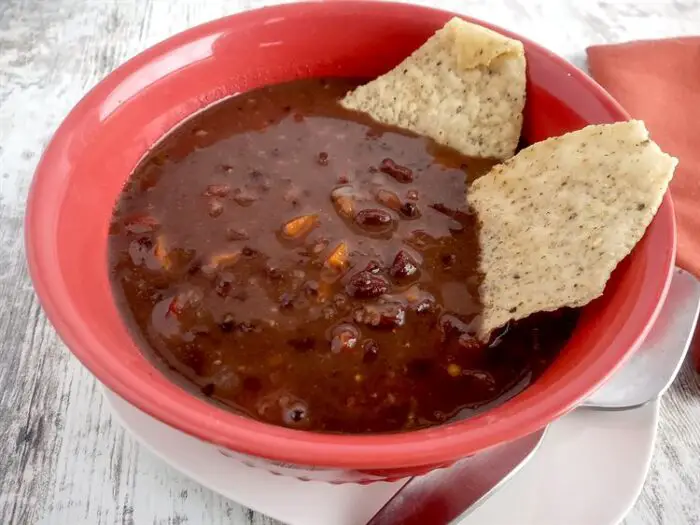 ---
A few of my other great dishes to enjoy!
---
Please let me know how this Low Sodium Black Bean Soup turns out for you in the comments and a rating! I'm always eager for your feedback and hope my recipes turn out amazing for you. You can follow me on Facebook and Pinterest also, to hear about new recipes.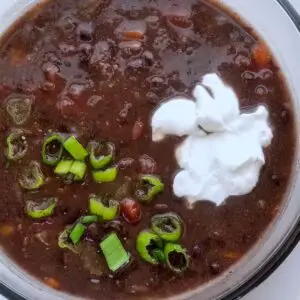 Low Sodium Black Bean Soup
Low Sodium Black Bean Soup – A fiber filled healthy soup made with canned no salt added black beans and ingredients you should already have in your kitchen!
Ingredients  
1

Tbsp

olive oil

1

large yellow onion

chopped

1

large carrot

chopped

2

celery rib

chopped

1

red bell pepper

stemmed, seeded, and chopped

2

Tbsp

garlic

pre-minced

4

15oz cans

black beans no salt added

2

cups

chicken broth un-salted

1

10oz can

Ro*Tel diced tomatoes with green peppers no salt added

drained

1

tsp

ground coriander

1

Tbsp

ground cumin

½

tsp

dried oregano

1

bay leaf

1

tsp

black pepper

to taste

Garnish options: avocado

cilantro, shredded cheese, plain Greek yogurt or sour cream, sliced green onion
Instructions 
Pre heat a large pot or soup pot for a few minutes over medium-high heat. Add olive oil when nice and hot, start with the onions and celery and cook for 2 minutes. Then add in the carrot and red pepper for another few minutes stirring occasionally. Finish with the garlic and cook for another 2 more minutes.

Stir in the black beans, vegetable broth, diced tomatoes, coriander, cumin, oregano, bay leaf and pepper. Turn the heat to low and let simmer for 25 minutes.

Remove the bay leaf. If you want a thicker creamier soup, use an immersion blender to purée some of the soup for a thicker consistency but don't blend it completely. If you don't have an immersion blender, carefully transfer 2 to 3 cups of the soup to a blender and blend until smooth. Stir the pureed soup back into the pot.

Ladle the soup into bowls and serve warm with desired toppings.
Nutrition
Serving:
1
cup
Calories:
89
kcal
Carbohydrates:
14.8
g
Protein:
4.1
g
Fat:
1.8
g
Saturated Fat:
0.2
g
Sodium:
30
mg
Potassium:
383
mg
Fiber:
4.5
g
Sugar:
2.8
g
Iron:
2
mg
https://tastyhealthyheartrecipes.com/a-la-cart/soups/low-sodium-black-bean-soup/
Nutrition Information – The information shown is provided by an online nutrition calculator. It should not be substituted for a doctors or nutritionist's advice. Please understand that not everyone's sodium requirements are the same, therefore some recipes may be higher than you're allowed. Always consult with your doctor for your recommended daily sodium allowance.