A Low Sodium Classic Meatloaf is just like the old-school comfort food your mom used to make. The best part is that it's cheap, simple to make, and can feed a larger family a delicious meal. Definitely one for your (and mine) favorites recipe box.
| | |
| --- | --- |
| Typical sodium amount per serving | 1500mg |
| Sodium per serving for this recipe | 159mg |
| Calories per serving | 611 |
4 servings
You know meatloaf is always better the next day, especially with a fried egg and toast or a meatloaf sandwich. For even more zesty flavor try it with my optional low sodium Ketchup or BBQ sauce glaze. Best served as a main dish with mashed potatoes and/or no salt added green beans and corn.
Most recipes call out 8 servings and average up to 600 or even 900+mg of sodium. Almost half or more of your daily sodium budget, if you're trying to stick to a 1500mg or less of sodium per day diet. I try to keep under 250mg of sodium for a complete meal. I may go over a bit per meal some days, but I know I am low enough overall don't worry about it.
My tasty Low Sodium Meatloaf recipe is only 99mn of sodium for a nearly 1″ slice! Pair it with some low sodium smashed red potatoes and/or veggies and you have a very filling meal.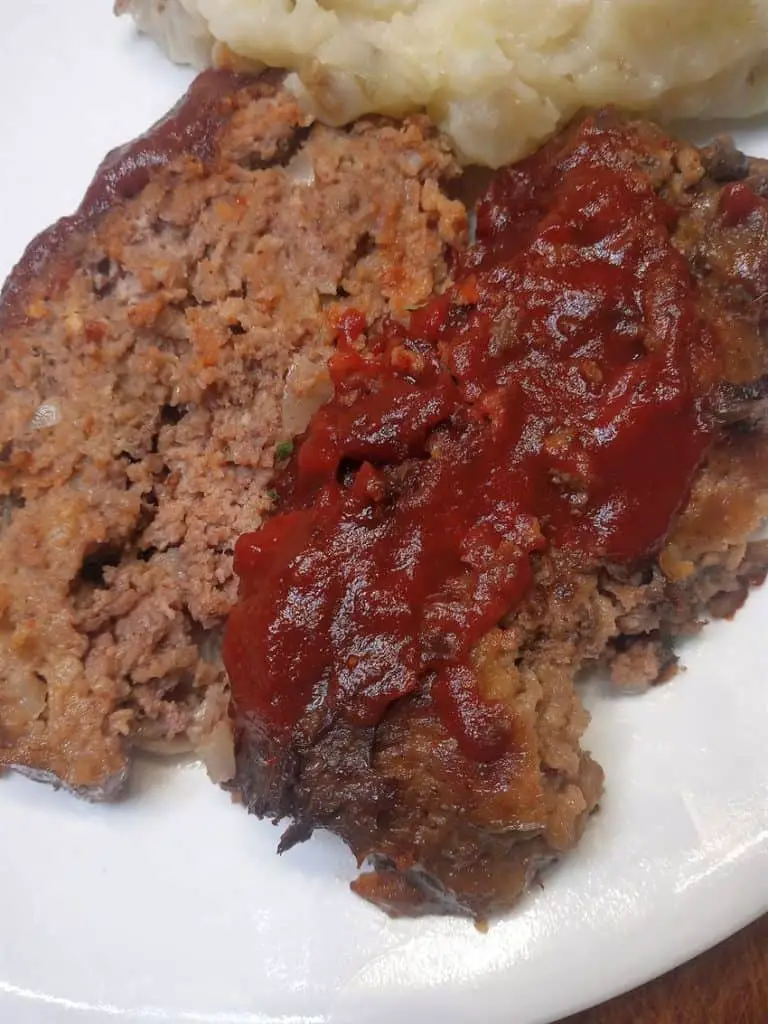 One of the biggest culprits of high sodium in meatloaf appears to be the bread crumbs. Depending on the brand or bread used it can add 150+ mg of sodium per serving. Also, many recipes call for additional salt, garlic salt, celery salt, mustard, and high sodium Worcestershire sauce (65mg/tsp). My only concession here was to use a reduced sodium Worcestershire sauce(45mg/tsp), which I use often adding the minimal possible sodium.
Using a Low Sodium Bread Crumb
I have recently discovered a "bread" crumb that has no sodium. It is called Matzo meal and comes in a can, much like a Panko product or seasoned crumbs. You will more than likely find it in the international aisle of your grocery store.
Another thing you could try is crushed up no salt added pretzels. I think this would result in a flavorful result without adding sodium. I have not tried it as of yet, but intend to next time I make low sodium meatloaf. I will give my opinion, then on how it tastes and holds together.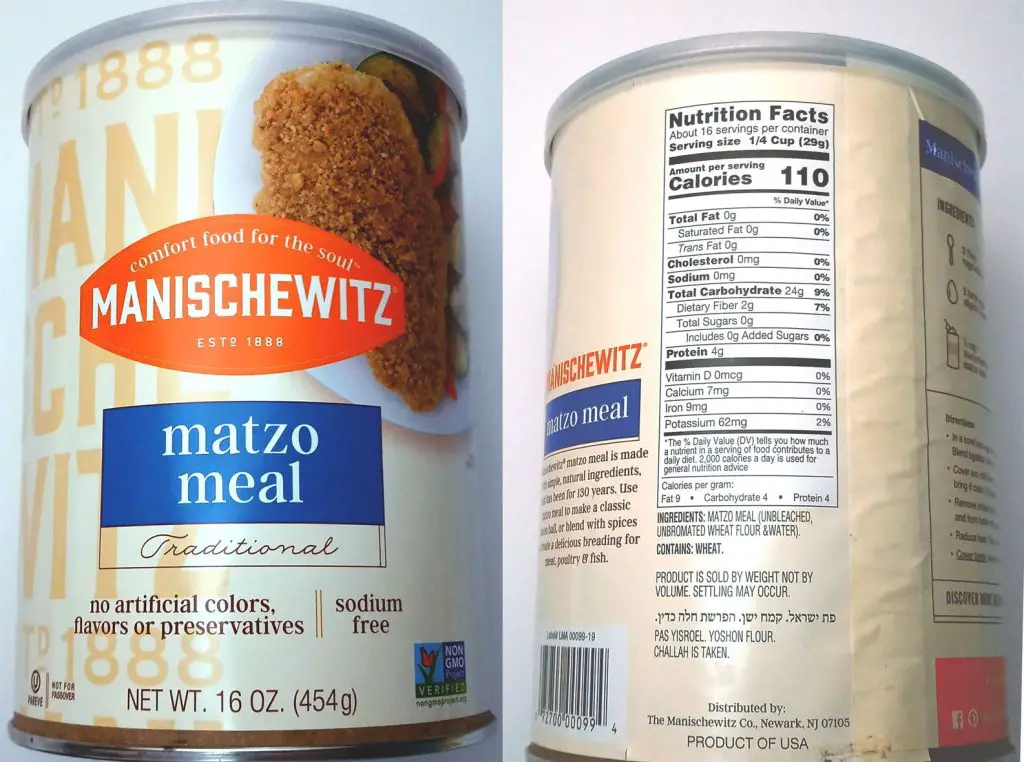 My favorite is to use my homemade leftover low sodium bread bits that I save in the freezer for meatloaf, my favorite option. When thawed my low sodium white bread and low sodium artisan bread may then be pulsed in a food processor or chopped up finely. I wanted to find an alternative for my bread though, as not everybody makes bread but you can use Matzo Meal if you're in a pinch.
What Makes a Really Good Moist Meatloaf?
One of the great things about this low sodium classic meatloaf is that it uses 90% lean ground beef. Which not only is it better for us to reduce the fat in our meals. But also because it reduces the fat content that would otherwise cookout and ends up making a greasy mess.
The meatloaf will stay moist because of the milk, egg, and diced onion in the meat mixture and will still keep the meatloaf moist and delicious even with the lean hamburger.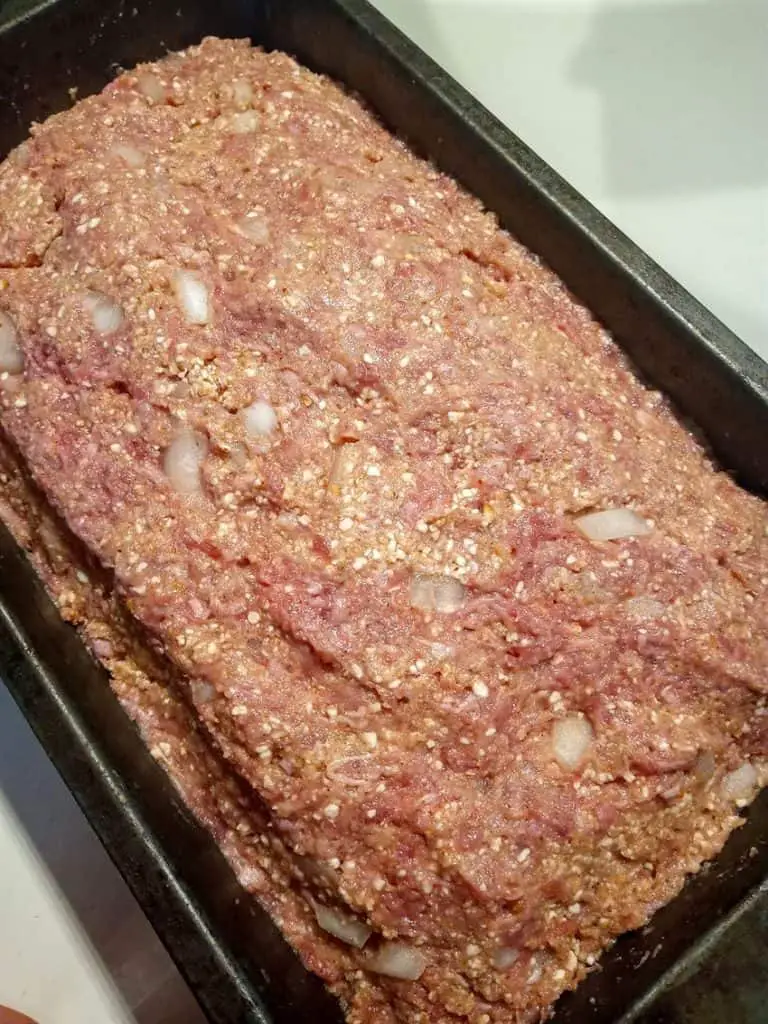 Meatloaf should only need to be cooked in a 350° oven, uncovered, for a maximum of 55 minutes. The internal temperature should reach 160° F. Overcooking will dry it out more.
Let the meatloaf rest for 10 minutes in the pan before attempting to slice it. The meatloaf will absorb the remaining juices and will hold its shape better.
My Tips For Great Low Soidum Classic Meatlof
You may also prepare this meatloaf recipe mix ahead of time. Just cover the loaf pan with plastic wrap or tin foil and refrigerate until you're ready for it a few hours later up until the next day.  When ready, set it on the counter, uncover it and let it come to room temperature while the oven is preheating.
Do not over mix. Over mixing will cause your meatloaf to become dense, making seem tuff and not as tender. Mix just until well combined. Don't squeeze it through your fingers like a Play-Doh pumper. Use an easy lifting and folding motion with your hands to combine ingredients.
I like to brush on the optional glaze, about 10 minutes before the finished cooking time. This lets the top of the meatloaf develop a crust, but enough time for the optional glaze to "melt" over the meat.
I don't know about you, but I love horseradish sauce with my meatloaf. And while not adding as much sodium generally as mustard or ketchup it can contribute a good bit of sodium. So stay tuned for my easy low sodium horseradish sauce recipe!
**Please note: To keep the nutrition calculation as close as possible the meatloaf is calculated without the glaze. As some people may like to have the meatloaf without, light or heavy glaze. Please use the links to my Low Sodium Ketchup or Low Sodium BBQ Sauce for your choice of taste and amount, if desired.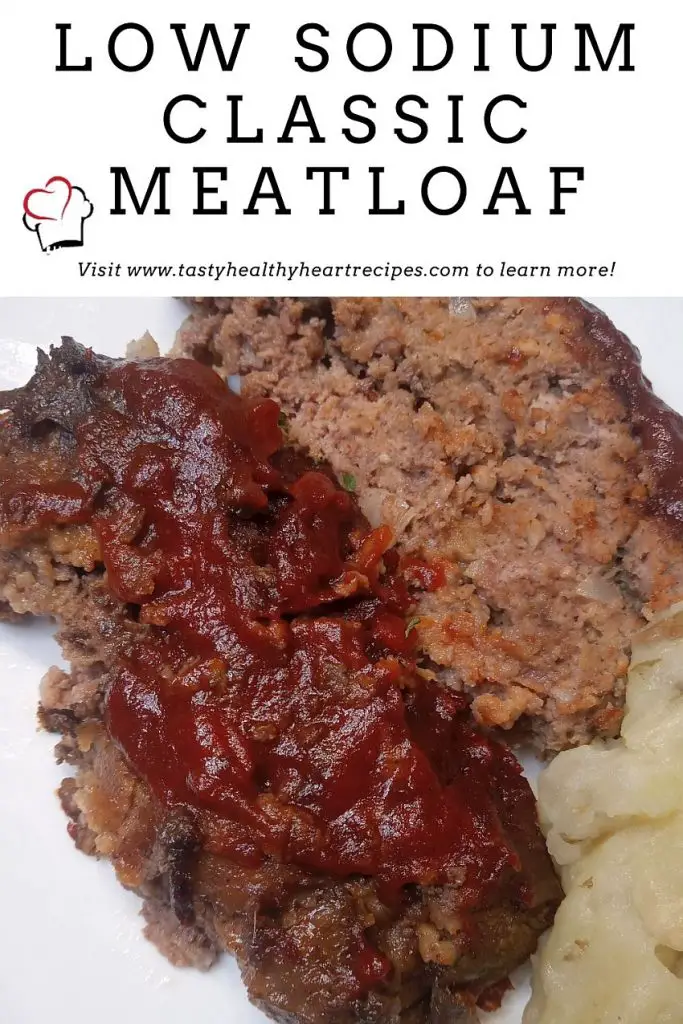 A few of my other great dessert dishes to enjoy!
As always, please let me know how you like this recipe in the comments! I get motivated when I hear from you and am interested to learn about how you liked and served your Low Sodium Meatloaf. And please leave a comment or rating and share any tips you might have.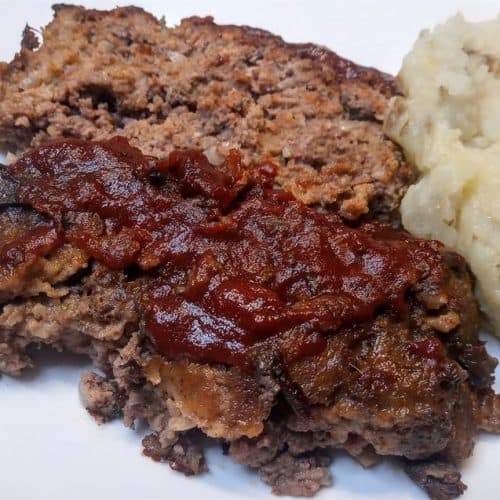 Low Sodium Classic Meatloaf
A Low Sodium Classic Meatloaf recipe taken up a notch that is full of flavor, moist and simply delicious! It's simple and easy to make anytime!
Ingredients  
2

pounds

ground beef 90% or more

lean is good for this recipe

2

large eggs

beaten

1/2

cup

minced onion

1 1/4

cups

milk

2

Tbsp

garlic pre-minced

1

cup

Matzo Meal (bread crumbs)

1

tsp

dry ground yellow mustard

1

tsp

dried thyme

1 1/2

tsp

Herb Ox beef bouillon no sodium granules

1

tsp

black pepper

2

tsp

chili powder

optional / check for no sat added

1

tsp

Italian no salt added seasoning

1

tsp

liquid smoke
Instructions 
Preheat the oven to 350°F.

Beat 2 large eggs and milk in a large mixing bowl. Finely chop onions until you have 1/2 cup minced onions then add to the bowl. Add 2 pounds ground beef.

In a separate bowl mix all the dry ingredients and then shake over meat. This will help reduce the amount of mixing required. Over mixing leads to a dense loaf.

Add the rest of the ingredients and mix to combine. Transfer to a 9×5-inch loaf pan and pat down to a slightly domed top by pushing the edges in.

Bake for 55 minutes or until the center of the meatloaf registers 160ºF. Let cool for 10 minutes before slicing and serving.

Storing – Leftovers can be refrigerated up to 4 days in an airtight container.
For optional glaze
To keep the nutrition calculation as close as possible only the meatloaf is calculated without the glaze. As some people may like the meatloaf without, a light or heavy glaze. Please use the links to my Low Sodium Ketchup or Low Sodium BBQ Sauce for your choice and amount, if desired.
Notes
To keep the nutrition calculation as close as possible the meatloaf is calculated without the glaze. As some people like the meatloaf without, a light or heavy glaze. Please use the links to my
Low Sodium Ketchup
or
Low Sodium BBQ Sauce
for your choice and amount, if desired.
Recipe Equipment & ingredients
Nutrition
Serving:
1
-slice
Calories:
207
kcal
Carbohydrates:
7.2
g
Protein:
25.8
g
Fat:
8
g
Cholesterol:
110
mg
Sodium:
99
mg
Fiber:
0.7
g
Sugar:
2.6
g
https://tastyhealthyheartrecipes.com/main-dishes/entrees/low-sodium-meatloaf/
Nutrition Information – The information shown is provided by an online nutrition calculator. It should not be substituted for a doctors or nutritionist's advice. Please understand that not everyone's sodium requirements are the same, therefore some recipes may be higher than you're allowed. Always consult with your doctor for your recommended daily sodium allowance.