This is a great Low Sodium Pepper Chicken Stir Fry that comes together very quickly for a quick evening meal. With some easy substitutions you can barely tell it is not made with a ton of high sodium soy and fish sauces. This stir fry has its own unique flavor, but still has a distinct Asian taste to it. Plus, it is so easy and quick for a weeknight meal that you don't have to slave over.
| | |
| --- | --- |
| Typical sodium amount per serving | up to 2000 mg |
| Sodium per serving for this recipe | 187 mg |
| Calories per serving | 621 |
3 Servings easily stretched to 4 servings
I have perused some recipes that have a little over 2000 mg of sodium though many are around 1400.  That is obviously still way too much for a single meal. As a matter of fact, that's easily 3 days' worth of sodium for me. This low sodium stir fry has only 187 mg of sodium per serving with rice, well under my 250 mg per meal budget. What a difference, but still tasty too!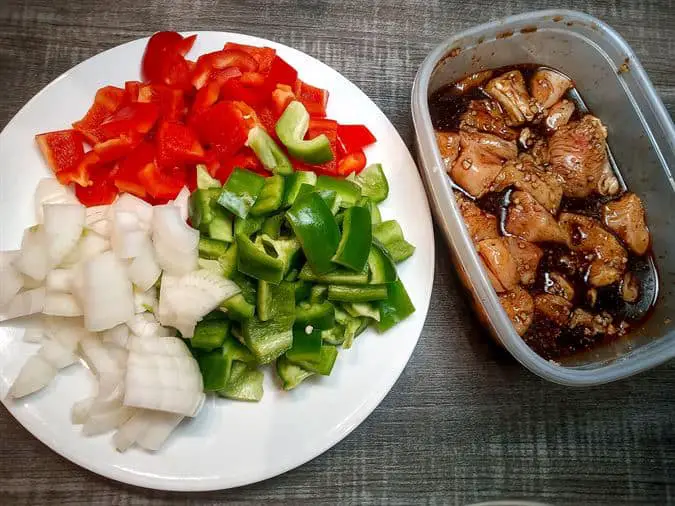 This meal is listed as 3 servings and those are pretty large. You could easily stretch low sodium pepper chicken stir fry to 4 servings with a bit smaller appetite.  But I was starving when I first made this and got into the remainder of the leftovers.
Seriously, this is a great week night meal that you can whip out in almost no time flat when you're behind schedule. It is also a meal that has all the elements of a meal with chicken, veggies and a starch so no additional side dish is needed. Low Sodium Pepper Chicken Stir Fry is definitely going on my regular rotation low sodium recipe list.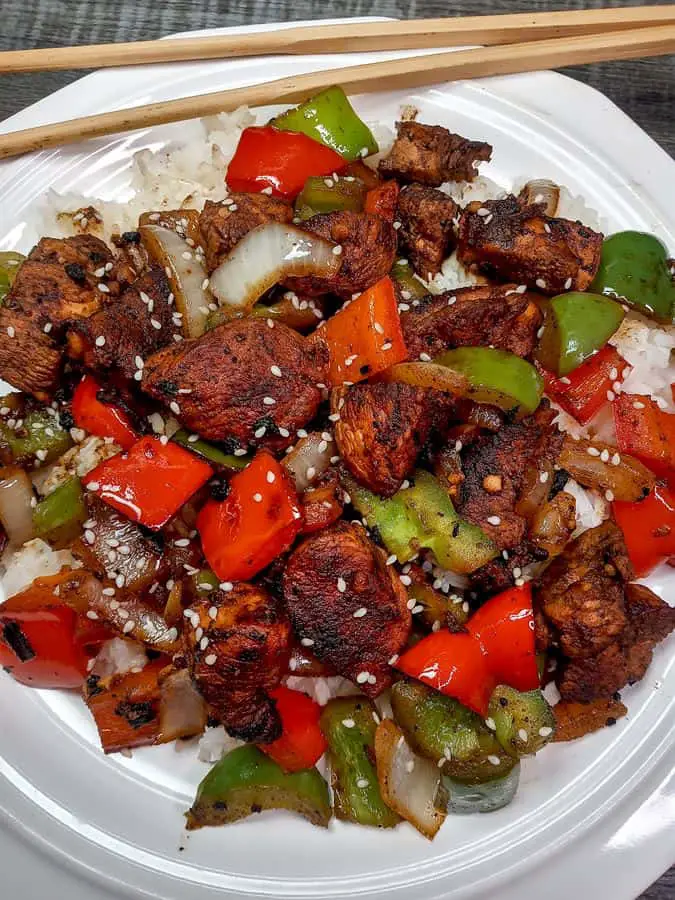 MY TIPS TO MAKE LOW SODIUM PEPPER CHICKEN STIR FRY
The cornstarch coating on the marinated chicken pieces helps them get a little crispy outside coating in the pan before finishing them with the rest of the stir fry ingredients.
I am a big fan of using green and red bell peppers because they add both a sharp and sweet flavor to this recipe. Plus, they just take a minute to chop up. But you can use almost any vegetable typically used in a stir fry. You could even use some thawed, store bought frozen bag type of stir fry vegetables, just be sure to check the label for added sodium. Though I do like using fresh vegetables for stir fry, they just seem more crisp when you chew them.
I think the liquid smoke is what gives the sauce the unique flavor that almost replicates the soy sauce filled taste of this Asian dish, so don't skip it!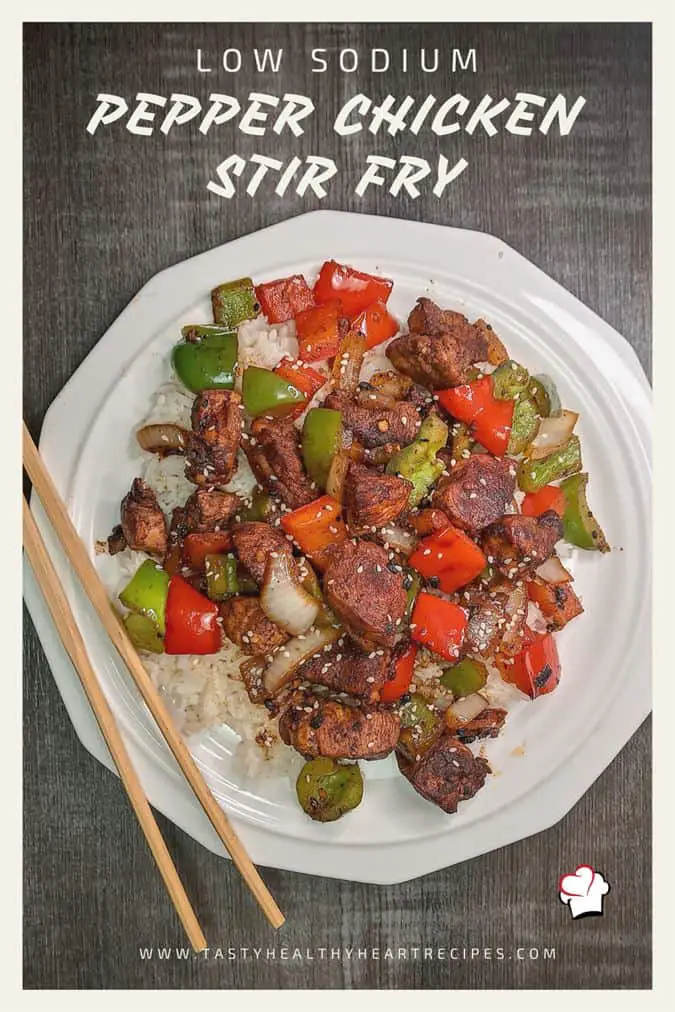 Use a pepper cracker mill if you have one. It is peppered chicken after all and you want larger chunks of pepper rather than a finely ground pepper that gets lost in the mix.
I have cooked this in both a flat bottom wok and a large cast iron skillet. Both came out equally well, but it is more authentically fun in the wok!
I use a Flat Bottom Wok rather than a rounded one as I have an electric stove. The heating element is in contact with more of the Wok and heats much better than a round bottom Wok, it is also more stable. Round bottom Woks work well for gas stoves.
Using molasses leaves a bit of crust on the pan. When done cooking just add some water and let it boil for a minute and it should come right off.
Save time by cutting vegetables while the chicken is marinating. You could even stir fry the vegetables first while the chicken is still marinating. Just reverse the cooking order. I just like the bits left after cooking the chicken first for the veggies to meld with. Just me though.
I use the chicken marinade as the finishing additional sauce for the dish. Since it all goes in the pan at the end, it all gets cooked. But if this bothers you using the marinade the chicken was in you could make two batches. Use one batch for the marinade and one for the sauce. But there really is no need as it all gets cooked in the end. Just be sure to marinade the chicken as that is what really develops the flavor.
A few of my other great dishes to enjoy!
As always, please let me know how you like this recipe in the comments! I get motivated when I hear from you and am interested to learn about how you liked and served your Low Sodium Pepper Chicken Stir Fry. And please leave a comment or rating and share any tips you might have.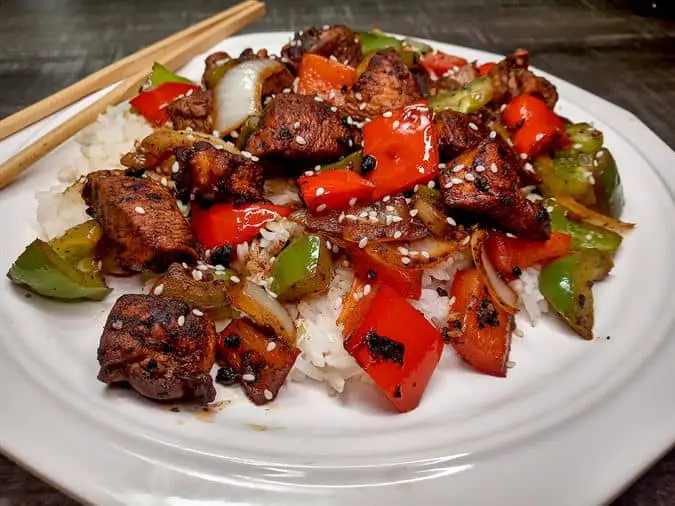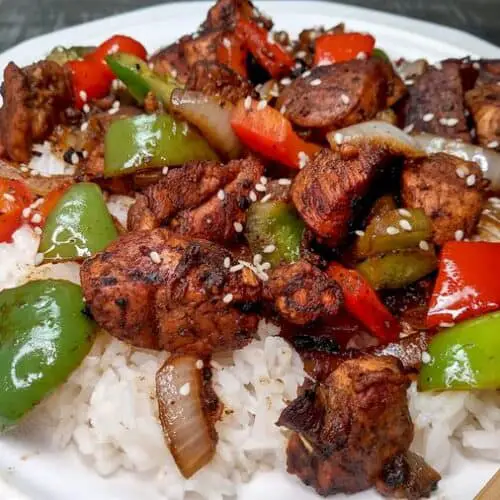 Low Sodium Pepper Chicken Stir Fry
Low Sodium Pepper Chicken Stir Fry recipe is ridiculously easy and is a fast, filling, low sodium meal full of flavor – a complete meal over steamed rice.
Ingredients  
For the Marinade
4

Chicken Breasts cut into 1 inch pieces

2

Tbsp

Balsamic vinegar

1

Tbsp

minced Garlic

1

Tbsp

Toasted Sesame Oil

1

tsp

hot chili oil

1

tsp

liquid smoke

1/4

cup

water

1

tsp

ground Chinese five spice

1

tsp

ground Black Pepper
For the Stir Fry
2

tablespoons

Cornstarch

3

tablespoons

Vegetable Oil

1

large Onion cut into 1 inch pieces

1

medium Green Bell Pepper cut into 1 inch pieces

1

medium Red Bell Pepper cut into 1 inch pieces

1

Tbsp

pre minced Garlic

sesame seeds to taste for garnish
For the Rice
1

cup

white rice

1 3/4

cup

water
Instructions 
Mix all the ingredients for the marinade then add the chicken and set aside for at least 15 minutes.

Begin cooking white rice according to package directions a few minutes before starting to cook chicken.

Once the chicken has marinated, remove chicken from marinade (save marinade seperately) and toss chicken with the two tablespoons cornstarch.

Heat two tablespoons oil in a large pan and add the chicken pieces. Space out evenly so they don't steam. Cook the chicken pieces on high heat for 5 to 6 minutes stirring and tossing a few times. Remove chicken from the pan and set aside in a bowl.

Adding another tablespoon of oil to the pan on high heat, add the onions and bell peppers. Toss them in the pan for a minute or two until they have cooked slightly and hot. Toss in the garlic and cook for another minute.

Add the chicken pieces and the saved remaining marinade back to the pan with the vegetables. Mix everything well, and simmer for a minute or two while the sauce thickens, cooks and coats the chicken and veggies well. Serve hot with steamed rice.
Notes
This meal could easily stretch into 4 servings. Though I listed it under the nutritional values as 3 servings.
Recipe Equipment & ingredients
Nutrition
Serving:
1
–
Calories:
621
kcal
Carbohydrates:
68.3
g
Protein:
31.3
g
Fat:
22.2
g
Cholesterol:
85
mg
Sodium:
187
mg
Fiber:
3.2
g
Sugar:
8.3
g
https://tastyhealthyheartrecipes.com/main-dishes/entrees/low-sodium-pepper-chicken-stir-fry/
Nutrition Information – The information shown is provided by an online nutrition calculator. It should not be substituted for a doctors or nutritionist's advice. Please understand that not everyone's sodium requirements are the same, therefore some recipes may be higher than you're allowed. Always consult with your doctor for your recommended daily sodium allowance.