Low Sodium Breaded Oven Baked Chicken Thighs will satisfy your craving and taste for a fried or breaded chicken. Succulent meat with a crisp breading on the outside for the extra crunch that is much healthier than fried. It has been a long time since I've had fried chicken due to the fat and sodium content. And truthfully making fried chicken home for me is just too much hassle.
But this recipe solves the problem for reduced sodium and fat while ridding yourself of all that hot oil spattering of fried chicken. You will love this easy to make meal that is much more healthful while totally satisfying your fried chicken cravings. That's why I like to oven bake most chicken meals if it is not in the Instant Pot. It's less messy and it's a healthier option on a regular basis.
| | |
| --- | --- |
| Typical sodium amount per serving | 250+ mg |
| Sodium per serving for this recipe | 73 mg |
| Calories per serving | 218 |
Typical recipes the sodium level will be 250+ per thigh. I usually like to eat two thighs and that would be way over my per meal goals. With this low sodium breaded baked chicken thighs recipe I can enjoy two thighs at 73 mg of sodium each with sides and still stay well within my meal budget.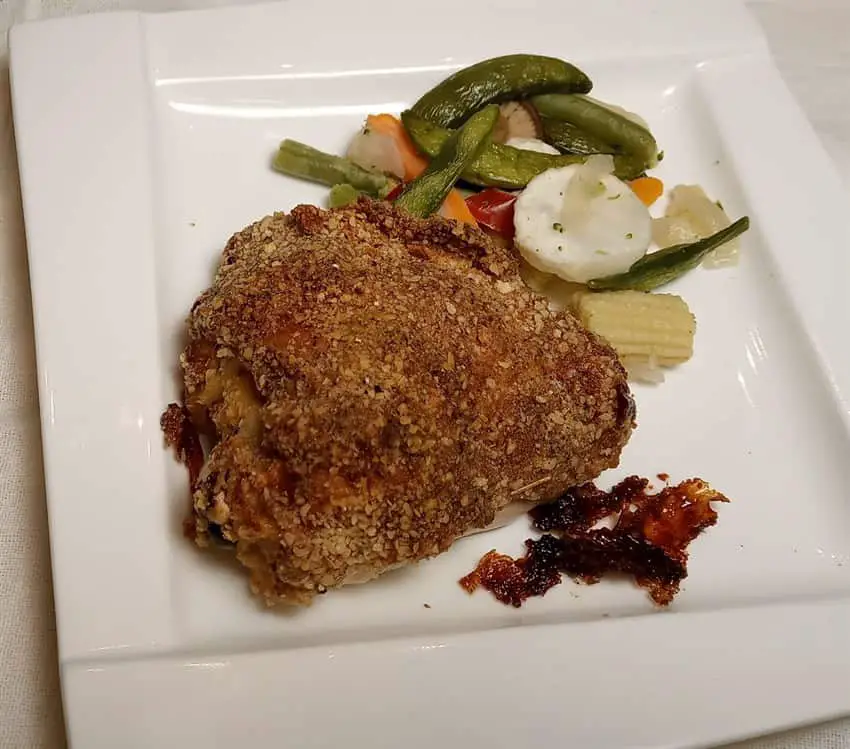 A LOW SODIUM BREAD CRUMB SUBSTITUTE!
I swapped out the panko bread crumbs and seasoned bread crumbs with a new item I recently found called Matzo Meal. It is a crackery breadcrumb that has no sodium, to which you can add your own no sodium seasoning. You will most probably find Matzo Meal in the international aisle of your grocery store.
Regular Panko breadcrumbs have 35 mg of sodium per ½ cup and seasoned breadcrumbs are 410+ mg per ¼ cup!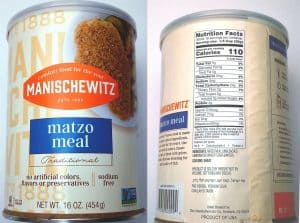 Matzo meal is great because you get to start from 0 mg and add your favorite seasonings. I like it because you get that thicker breading and crunch you get if you traditionally fried chicken.
Think of all the other applications for it such as meatballs, meatloaf, breaded vegetables…. I look forward to trying it out in many more low sodium meals.
USING HONEY MUSTARD SAUCE
Using a honey mustard sauce drizzled over the top or as a side dipping sauce really adds to the flavors of the meal. Interestingly, most honey mustard sauces are very low in sodium as compared to most regular mustards.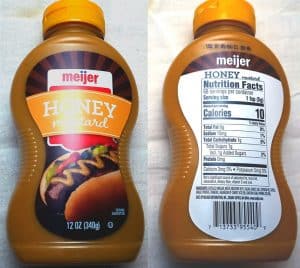 Most honey mustards generally have only 15 mg per tsp, yellow mustard has 57 mg and Dijon or specialty mustards having 115+ mg of sodium per teaspoon.
The sweet, tangy combination of the honey mustard pairs well with this chicken.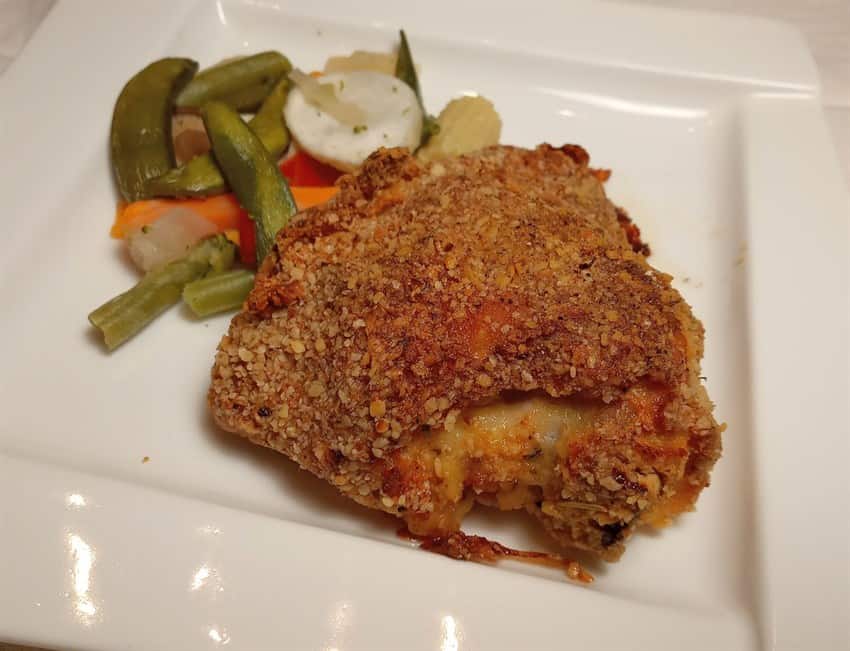 MY TIPS FOR LOW SODIUM BREADED BAKED CHICKEN THIGHS
Coat all the chicken with the flour first, before the egg wash. You will still get sticky fingers at the end, but not near as messy.
You can coat with the breading using skin on the chicken or skinless.
Lay down a sheet of tin foil on the baking pan with a light mist of cooking spray. Clean up will be a breeze.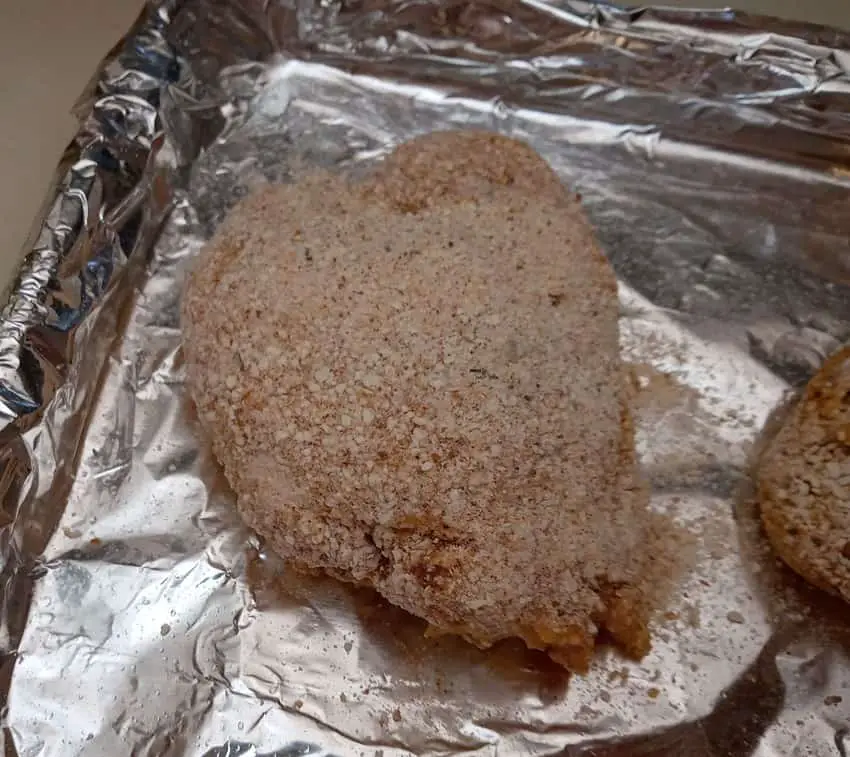 My chicken generally comes in packs of eight chicken thighs. There is just enough coating in this recipe to do all 8 well coated.
While the chicken thighs may be reheated in the microwave, for the best outside crisp, reheat in pre-heated 250 F oven for 10-15 minutes.
A few of my other great chicken dishes to enjoy!
As always, please let me know how you like this recipe in the comments! I get motivated when I hear from you and am interested to learn about how you liked and served your Low Sodium Breaded Baked Chicken Thighs. And please leave a comment or rating and share any tips you might have.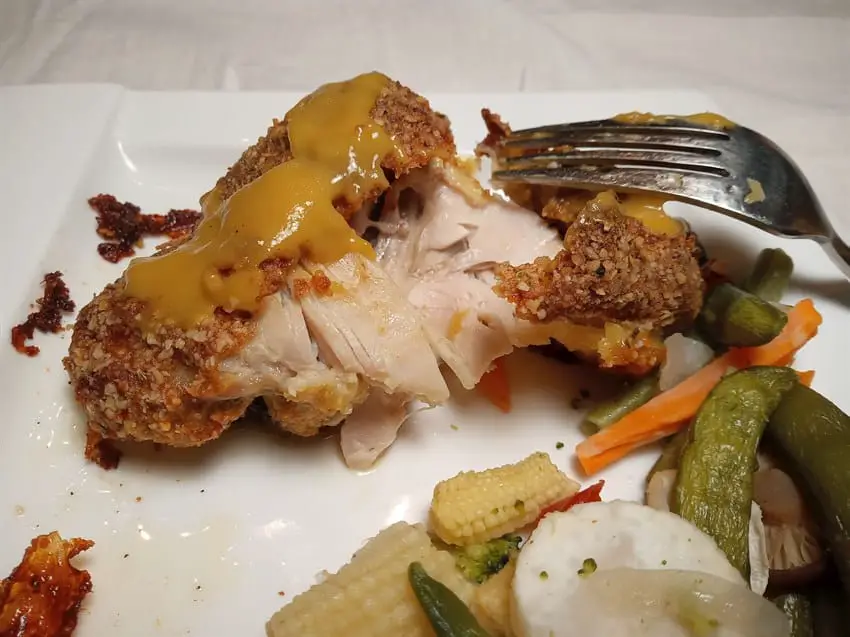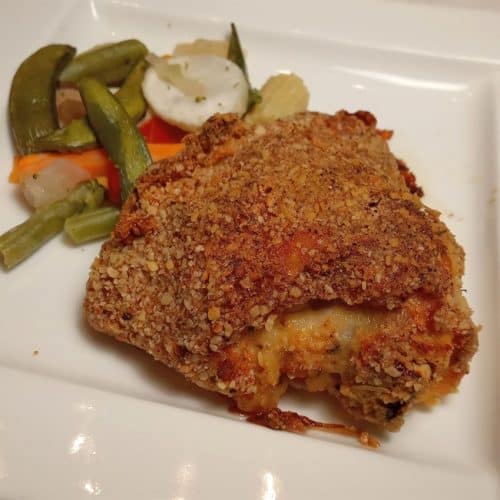 Low Sodium Breaded Oven Baked Chicken Thighs
Crispy Low Sodium Breaded BakedChicken Thighs are a great alternative to traditional frying!  Easy to make and delicious with honey mustardsauce!
Ingredients  
8

bone in skin on chicken thighs **

1/2

cup

all purpose flour

2

large eggs

3

tbsp

milk

1½

cups

Matzo Meal

1 ½

tsp

onion powder

1 ½

tsp

garlic powder

1

tsp

paprika

1

tsp

Italian seasoning salt free

honey mustard sauce

optional
Instructions 
Preheat oven to 400 degrees F.

In a shallow dish or bowl measure and add flour for dredging.

In a second shallow dish whisk together the eggs and milk.

In a third shallow dish combine the Matzo Meal and onion powder, garlic powder, paprika and Italian seasoning.

Dredge one chicken thigh in the flour mixture coating all sides.

Dip into the egg wash coating all sides.

Dredge in Matzo meal mixture coating all sides. Place on a large tin foil lined baking sheet. Repeat with remaining chicken thighs.

Bake for 45 minutes to one hour or until an internal temperature of 165 degrees F.
Notes
**Be sure that the chicken you use does not have added sodium laced juices added! Check your labels.
You can make this with skin on or off chicken depending on you diet.
Flour all the chicken at one time, it makes for less of a sticky mess. I often just use and old grocery bag, instead of a plate and shake with flour on 2 or 3 thighs at a time. Kind of like the old shake and bake.
I did not include honey mustard in the nutrition values as I do not know how much you may use. Even though it is very low for mustard (15 mg per tsp) be aware of your usage.
Nutrition
Serving:
1
thigh
Calories:
218
kcal
Carbohydrates:
8.5
g
Protein:
18.4
g
Fat:
11.2
g
Cholesterol:
105
mg
Sodium:
73
mg
Fiber:
0.4
g
Sugar:
0.9
g
https://tastyhealthyheartrecipes.com/main-dishes/entrees/low-sodium-breaded-oven-baked-chicken-thighs/
Nutrition Information – The information shown is provided by an online nutrition calculator. It should not be substituted for a doctors or nutritionist's advice. Please understand that not everyone's sodium requirements are the same, therefore some recipes may be higher than you're allowed. Always consult with your doctor for your recommended daily sodium allowance.