Low Sodium Chicken Enchilada Stuffed is the meal for you if you love enchiladas and are tired of regular steamed or baked zucchini. Plus of course it is very low sodium, with flavors that are rich and spicy for a belly filling low sodium meal. This is a great change if you LOVE enchiladas and zucchini.
Typical sodium amount per serving

400 -1000 mg

Sodium per serving for this recipe

w/ cheese

133 mg

Sodium per serving for this recipe w/o cheese

88 mg

Calories per serving

212
This has a fair amount of prep work involved compared to most of my meals, but it is all simple and straightforward. It will be much quicker if you already have some cooked, chopped chicken or even chicken leftovers would be perfect for this.
It also uses the whole zucchini for even more vegetable goodness. The scraped out zucchini meat is combined with the chicken filling, helping to make sometimes dry chicken breast very moist.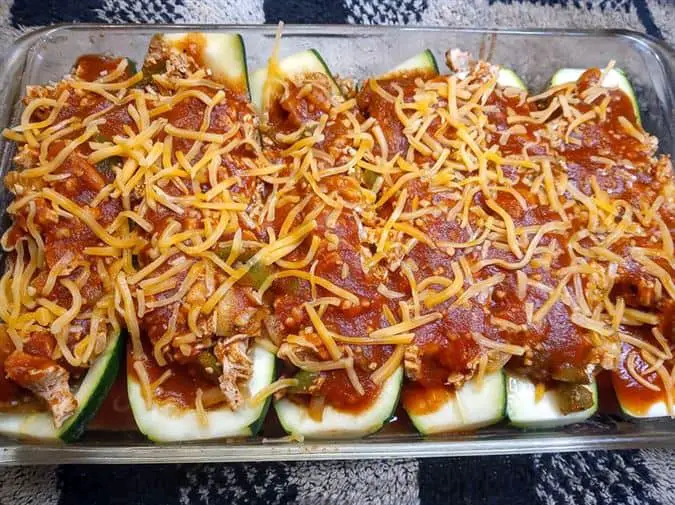 HOW THE SODIUM IS SIGNIFICANTLY REDUCE FOR THIS MEAL
Much of the sodium was cut by making a homemade enchilada sauce instead of from a can.  The canned version can contain 290+ mg of sodium per ¼ cup or 1305 mg for a ten ounce can (1 1/4 cups). My version of this has less than 60 mg of sodium for a little over 2 1/4 whole cups! What a sodium savings!!
You will also save on carbs and sodium by swapping out the classically wrapped tortilla enchiladas with hollowed out stuffed zucchini instead.
Replacing the tortilla wrap with zucchini also removes another 280 mg of sodium. That one wrap sodium content is above what I strive for my whole meal, sodium budget to contain.
I did use cheddar cheese on my dish as I was well below my whole meal sodium limit. It added a touch over 40 mg of sodium per serving. You could also use mozzarella or Swiss cheese that typically has much less sodium than cheddar or just leave the cheese off.
The nutrition labels below reflects a serving with and without cheese.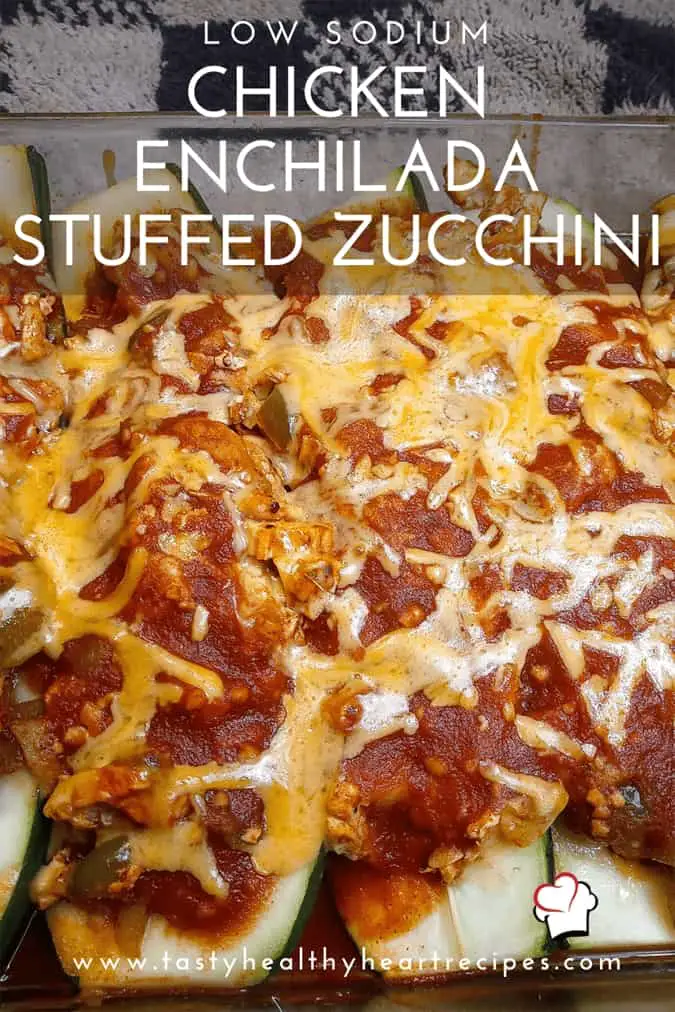 MY TIPS FOR LOW SODIUM CHICKEN ENCHILADA STUFFED ZUCCHINI
If your local Zucchini at the store isn't looking too hot you can use yellow squash to substitute. My zucchini for this recipe were still kinda on the small size.
I usually have chopped chicken breast on hand for sandwiches or salad. But if you need to cook some up quick use an instant pot for moist chicken breast to chop up.  
Instant pot chicken for this recipe: add 1 cup water and 3 chicken breasts to the instant pot. For thawed chicken set the manual pressure cook for 12 minutes and 15 minutes for frozen. Then remove and chop breasts into small pieces when cool enough to handle.
I use an ice cream scoop to hollow out the zucchini, but you could use a melon baller too. If you have trouble with them breaking try scraping while holding zucchini down on a cutting board.  If it does break just place the broken pieces back together in the baking dish. You'll never see it…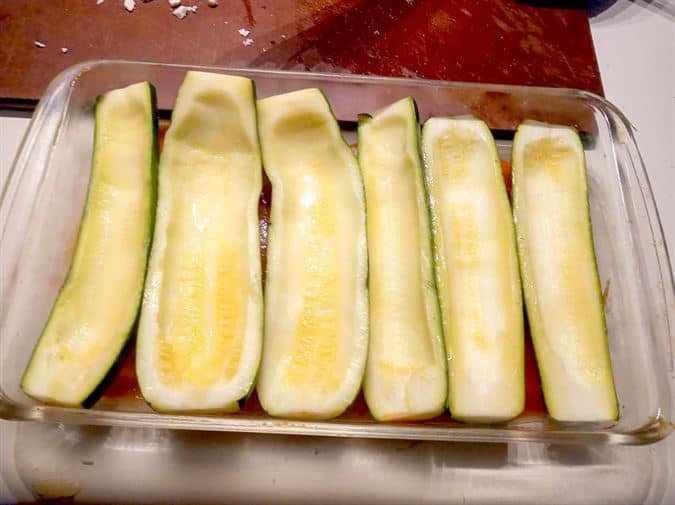 For the enchilada sauce if you are cautious about spiciness, it's always good to start off with a little. This is what I would consider a mild sauce, you can always add more.
A few of my other great Mexican style dishes to enjoy!
As always, please let me know how you like this recipe in the comments! I get motivated when I hear from you and am interested to learn about how you liked and served your Low Sodium Chicken Enchilada Stuffed Zucchini. And please leave a comment or rating and share any tips you might have.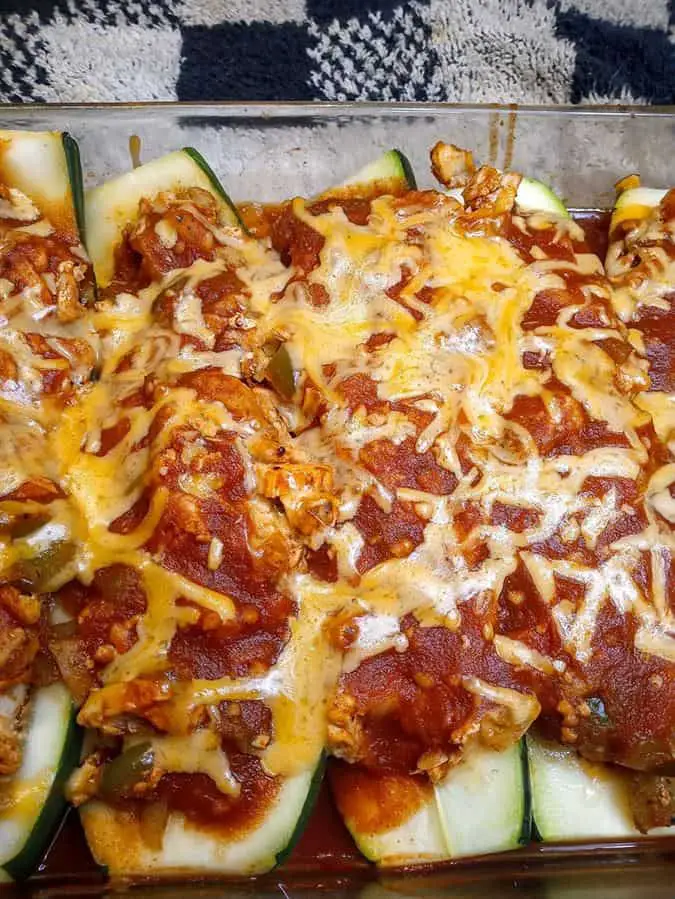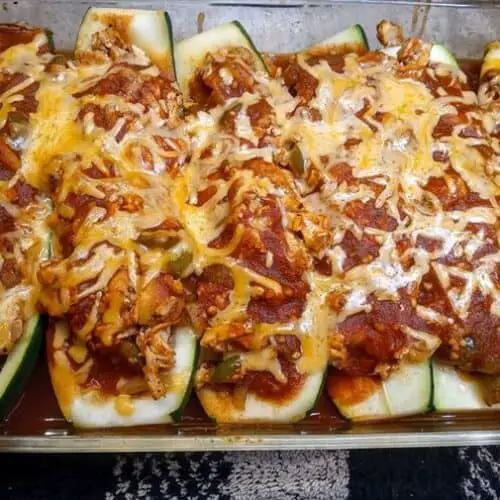 Low Sodium Chicken Enchilada Stuffed Zucchini
Low Sodium Chicken Enchilada Stuffed Zucchini hollowed out and stuffed with shredded chicken, enchilada sauce and cheese.
Ingredients  
For the enchilada sauce:
1

Tbsp

garlic pre-minced

1

15 oz. can

tomato sauce no salt added

1 1/2 cups

1/2

tsp

chipotle chili powder

1/2

tsp

ground cumin

2/3

cup

chicken broth no salt added

Favorite spices or fresh pepper to taste
For the zucchini shells start while sauce is simmering:
3

medium or larger zucchini

9

oz

cooked shredded chicken breast

about 3 medium breasts

1

tsp

oil

1/2

cup

onions

chopped

1

Tbsp

garlic pre-minced

1/2

cup

diced green bell pepper

1

tsp

ground cumin

1/2

tsp

dried oregano

1/2

tsp

chipotle chili powder

3

tbsp

water

1

tbsp

tomato paste no salt added

Spice and pepper to taste
For the Topping:
3/4

cup

Mild Cheddar Shredded Natural Shredded Cheese

chopped scallions for garnish
Instructions 
For the enchilada sauce:
In a medium saucepan, spray oil and quickly sauté garlic less than 2 minutes.

Add chili powder, cumin, chicken broth, tomato sauce, pepper.

Bring to a boil. Reduce the heat to low, cover and simmer for 5-10 minutes.

Turn off heat and set aside until ready to use.
For the Zucchini shells:
Preheat oven to 400°F.

Cut zucchini tips off then in half lengthwise. Using a ice cream scoop or melon baller, scoop out inside flesh, leaving 1/4″ thick.

Chop the scooped out flesh of the zucchini in small pieces and set aside.

In a large saute pan or skillet, heat oil and add onion, garlic and bell pepper. Cook on medium-low heat for about 2-3 minutes, until onions are translucent.

Add chopped zucchini and continue cooking about 4 minutes.

Add the cumin, oregano, chili powder, water, and tomato paste. Mix well and cook 2 more minutes, then add in chicken; mix and cook 3 more minutes.

Spoon a light layer of the enchilada sauce on the bottom of a large baking dish, and place zucchini scooped out sides up.

Using a spoon, fill each hollowed zucchini evenly with chicken mixture, pressing firmly.

Spoon enchilada sauce and 1 1/2 tablespoons each of shredded cheese to the top of each.

Cover lightly with foil and bake 45 minutes until cheese is melted and zucchini is cooked through.

Top with scallions (green onions) garnish and serve with sour cream if desired.
Nutrition
Serving:
2
-zucchini halves
Calories:
212
kcal
Carbohydrates:
17.4
g
Protein:
20.6
g
Fat:
4.2
g
Cholesterol:
48
mg
Sodium:
88
mg
Fiber:
4.9
g
Sugar:
8.2
g
https://tastyhealthyheartrecipes.com/main-dishes/entrees/low-sodium-chicken-enchilada-stuffed-zucchini/
Nutrition Information – The information shown is provided by an online nutrition calculator. It should not be substituted for a doctors or nutritionist's advice. Please understand that not everyone's sodium requirements are the same, therefore some recipes may be higher than you're allowed. Always consult with your doctor for your recommended daily sodium allowance.