This Low Sodium Chicken Pasta with Italian Dressing was almost made for the instant pot. It always makes your meal preparation quick and easy even on a weeknight. The Italian dressing adds the perfect zing to slightly "cream" cheese infused sauce. This is great for leftovers through the week a family night or for a crowd. I try to make all my recipes that are delicious and simple and this one hits the spot.
I like eating this with a side salad and feel contentedly full afterward. But if you're not in the mood for a salad you're in luck. You can still make a well-rounded meal that will be ready in almost no time by adding some vegetables of your choice. 
| | |
| --- | --- |
| Typical sodium amount per serving | 450-1800mg |
| Sodium per serving for this recipe | 106mg |
| Calories per serving | 772 |
2 cup serving
 Most recipes list their sodium at anywhere from 450 up to 1800 mg sodium. And nowhere could I find a serving size. Roughly calculating I would assume it would be about 2 cups.
After making this recipe I measured and came up with 12 cups. I can definitely state that the serving size for my recipe is six (6) servings of two cups. So similarly, for two (2) cups this chicken pasta recipe has only 106mg of sodium. If you would like to add a little yummy gooier cheese at the end try adding an optional cup of Swiss + Gruyere cheese which adds 36mg of sodium.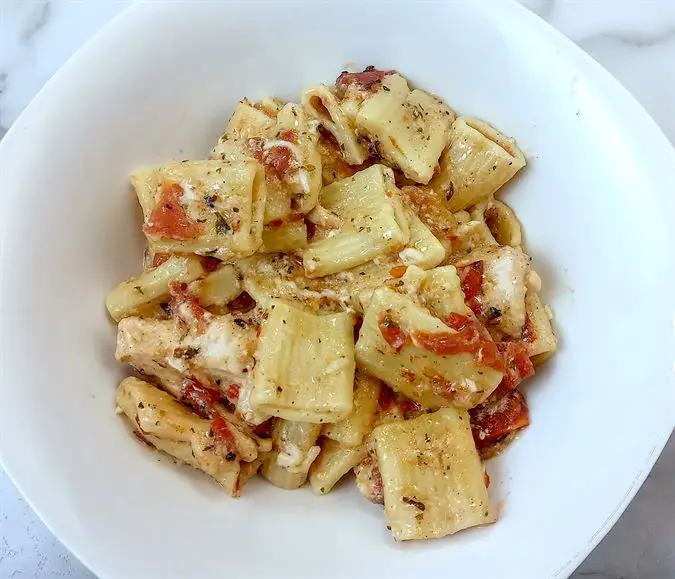 The two main ingredients that make this dish low sodium
Mascarpone cheese is used to replace cream cheese that is normally used in most recipes. Using this cheese only adds 13 mg of sodium per serving as compared to cream cheese's 146mg of sodium per serving. Click here to read my Mascarpone Cheese Review. This cheese is usually in the deli section and not by the cream cheese.
Italian dressing from the store is super high in sodium at an average of 350mg per 2 tablespoons. With my dressing, you have huge savings at only 33 mg of sodium per 2 tablespoons. It is super easy and quick to make in less than 5 minutes. I have the quick version below but you can read my full recipe here Low Sodium Italian Dressing.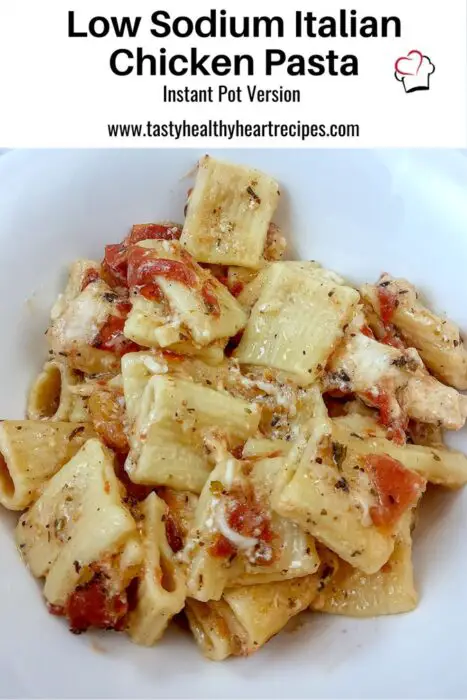 Making this Low Sodium Instant Pot Italian Chicken Pasta
Drain Fire Roasted Tomatoes well and spread on a cookie sheet and place in the oven at 200°F to dry out a bit. I oven-dry them so they don't add excess moisture to the finished sauce.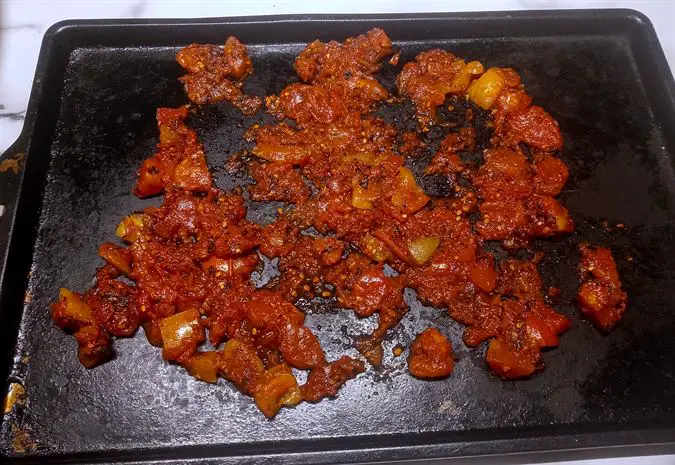 Chop your chicken into bite-size pieces first. This is twofold one because the smaller pieces will cook faster and with a reduced cooking time the pasta won't be overdone. And two the chicken will be already cut into bite-size pieces so it does not need to be pulled out to cut. Reducing mess and trying to cut hot chicken.
If you like your chicken seared and a little browned on the outside, you can quickly sear it in the Instant Pot. Just turn on the sauté function add a tablespoon of olive oil then add chicken. Cook for two or three minutes while moving the chicken around. Don't cook it through you just want to brown the outside. Turn off the sauté function when done and continue with the recipe.
Mix the broth and seasonings together and pour over chicken. Then layer pasta on top of the chicken with your choice of pasta. Don't worry if the pasta is fully covered or submerged.
Add Mascarpone cheese on top next. I put it in as a big chunk and it still turned out ok after mixing together after it cooked. But next time though I plan to separate it into chunks and spread it around more.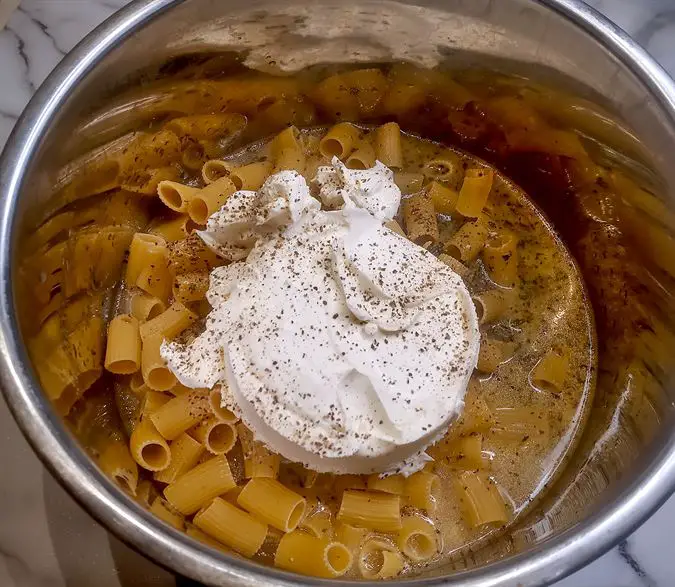 Do Not stir the layers.
Now secure the lid on the Instant Pot and push the manual / pressure cook button and set the time to 3 minutes. Be sure the release valve is closed.
When the time is up, let the pot sit and Natural Pressure Release for five (5) minutes. Then, this will release a lot of steam and moisture so place a hand towel over the valve and, release the pressure.
Add the tomatoes and optional basil or vegetables you may choose along with optional 1 cup shredded Swiss + Gruyere cheese. Stir everything together well. I recommend the cheese if you can afford it in your diet. The cheese adds 36mg of sodium per 2 cup serving.
If your sauce is too runny add a pre-mixed amount of 1 tablespoon cornstarch and 2 tablespoons water. It will quickly thicken the sauce up. The amount of extra moisture seems to vary every time.  Actually I like it when it has extra moisture because it means more sauce for me!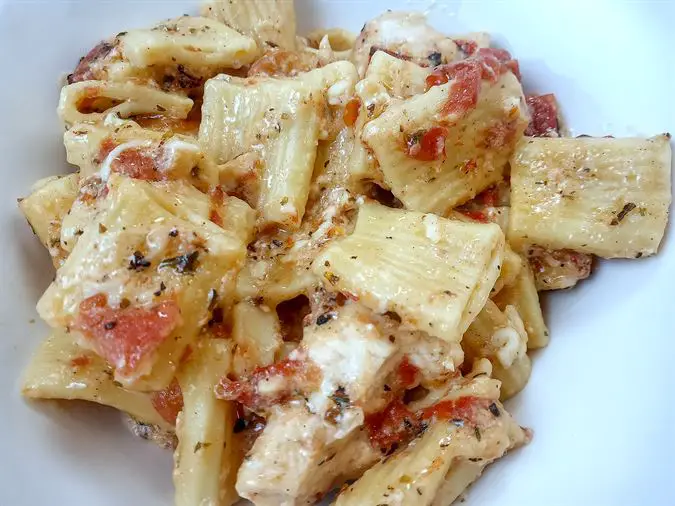 Making your low sodium Italian dressing
The recipe uses my Low Sodium Italian Dressing that is super simple and quick to make. Here is the short version but go ahead and check out the full recipe.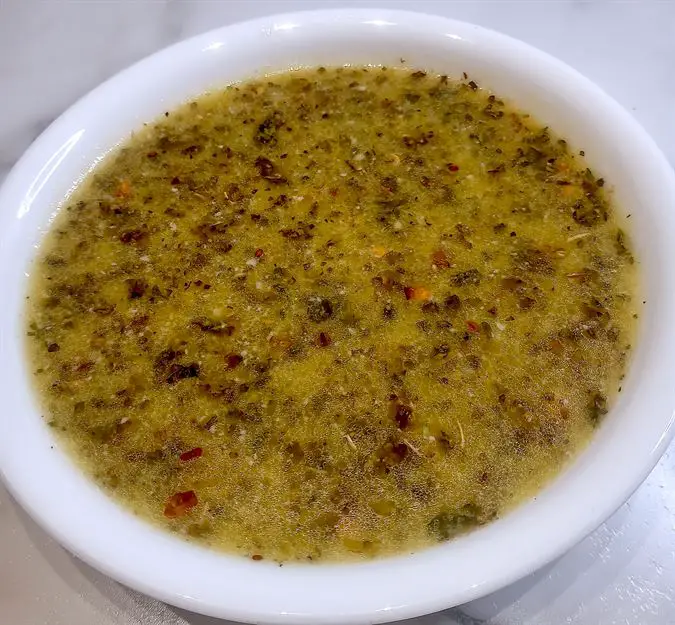 1/2 cup extra-virgin olive oil
1/4 cup white wine
2 Tbsp water
2 tsp lemon juice
1 Tbsp Parmesan
2 tsp honey
1 tsp garlic powder
1/2 tsp dried basil
3/4 tsp dried parsley
1/8 tsp dried oregano
1/8 tsp red pepper flakes

Combine all ingredients in a container with a tight lid and shake vigorously, till it turns milky white color. This Italian dressing is also spectacular on salads.
My tips for Instant Pot Low sodium Chicken Pasta with Italian Dressing
You could also add in almost any vegetable like mushrooms, peppers, and broccoli. Though I would cook or steam them slightly as required and stir them in at the end so they are fresh and don't overcook.
What type of pasta to use? Basically use whatever you have on hand. My first choices would be a rigatoni then farfelle, penne, calamarata, cavatappi, or rotini pasta. Basically any large noodle that can hold sauce in its unique shape is best. I also think a larger bite-size piece of pasta is best for this dish.
I would not use a spaghetti type noodle as they won't hold the sauce as well. But if you need to use them break them up and spread them haphazardly in a layer so they don't clump up.
You can use any type of chicken; I like the breasts as they are the easiest to cut into bite-size pieces.  But any boneless breast, tenderloin, or thighs will work cut into bite-size pieces. Just make sure no extra sodium solution has been added to the chicken.
You cannot use frozen chicken with this recipe since the pasta would be way overcooked by the time the chicken was done. And you can't pre-cut it into bite-size pieces.
I use Muir Glenn no salt added Fire Roasted Tomatoes (see on Amazon) that I add in at the end. I drain them well and spread on a cookie sheet and place in the oven at 200°F to dry out a bit. They will be almost like sundried tomatoes. I oven-dry them and put them in at the end so they don't add excess moisture to the pot and they needn't cook down in the Instant Pot.
You can also just use regular well-drained no salt added diced tomatoes in place of the no salt added fire-roasted tomatoes. I just like fire-roasted tomatoes because they add even more flavor.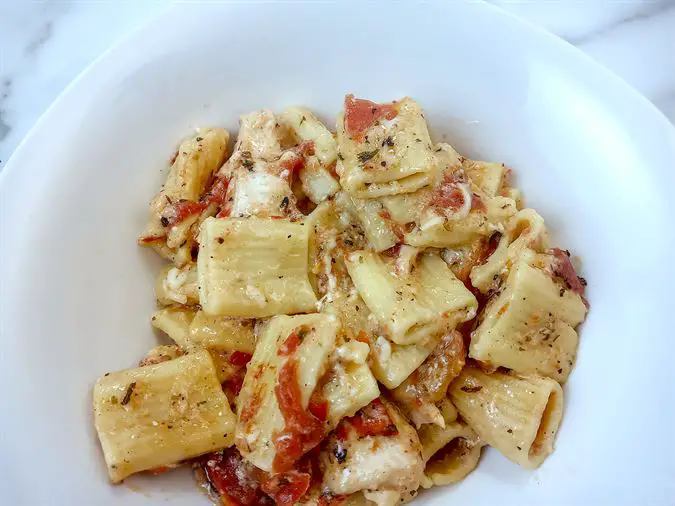 A few of my other great dishes to enjoy!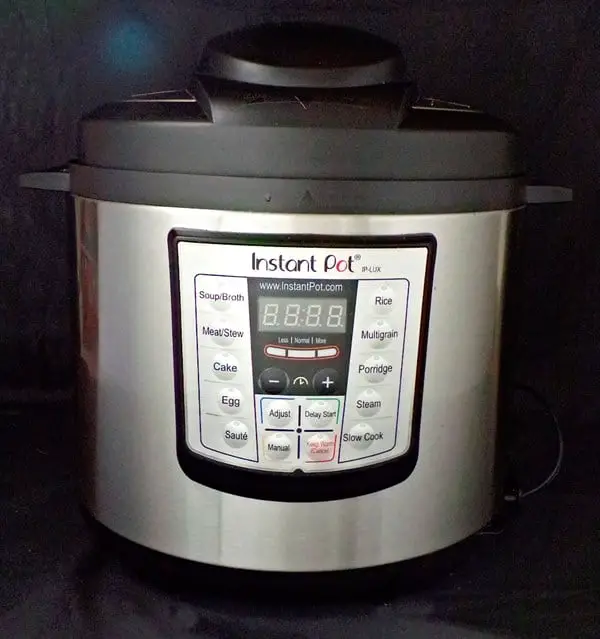 My Instant Pot
To make this awesome Instant Pot Low Sodium Meal I used my 6 quart Instant Pot LUX60V3 6 in 1*. (Amazon link) The Instant Pot multi-cooker, combines 6 kitchen appliances in one, pressure cooker, slow cooker, rice cooker, sauté, steamer, and warmer. This Instant Pot is one of the very few appliances that stay on my counter since I use several times a week. It's super easy to use and clean.
---
As always, please let me know how you like this recipe in the comments! I get motivated when I hear from you and interested to learn about how you liked and served your Low Sodium Chicken Pasta with Italian Dressing. So please, leave a comment or rating and share any tips you might have. You can follow me on Facebook and Pinterest also, for new recipes.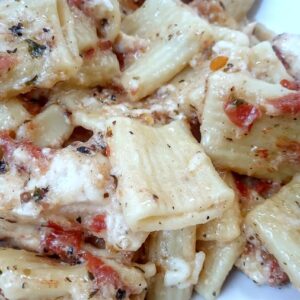 Low Sodium Chicken Pasta with Italian Dressing-Instant Pot
An easy Instant Pot Low Sodium Chicken Pasta with Italian dressing recipe that is ready in just under an hour! Makes a filling 2 cup meal at just 108mg sodium.
Ingredients  
1 1/2

pounds

skinless boneless chicken breasts

about 2 large breasts cut into bite-size pieces

1

16 oz

rigatoni pasta (uncooked)

1 box

1

cup

Low Sodium Italian Salad Dressing

See dressing ingredients below

3 1/2

cups

chicken broth no salt added

1 carton

1

tsp

black pepper

1

8 oz.

Mascarpone cheese

1/2

15 oz

Muir Glen fire roasted tomatoes no salt added

or no salt added diced tomatoes well drained

2

Tbsp

No salt garlic and herb

7/2

cup

chopped basil

optional

1

cup

Swiss Gruyere cheese

optional – adds 36mg per serving

1

Tbsp

cornstarch + 2 Tbsp water if Required
For the Italian dressing
1/2

cup

extra-virgin olive oil

1/4

cup

white wine vinegar

2

Tbsp

water

2

tsp

honey

2

tsp

lemon juice

1

Tbsp

Parmesan

1

tsp

garlic powder

3/4

tsp

dried parsley

1/2

tsp

dried basil

1/8

tsp

dried oregano

1/8

tsp

red pepper flakes

ground black pepper to taste
Instructions 
For the Italian Dressing
Combine all ingredients in container with tight lid and shake vigorously, till it turns milky white color. This Italian dressing is also spectacular on salads
For the main recipe
Spread fire-roasted tomatoes on a cookie sheet and place in the oven at 200°F. Let dry while cooking the remaining recipe.

Cut chicken into 3/4 inch bite size chunks. Give them a quick sear to brown if desired but not required.

Add chicken to bottom of Instant Pot spread in an even layer. Mix spices and broth then pour over chicken. Then evenly layer the pasta, low sodium dressing (from above) and add chunked Mascarpone cheese. Don't stir.

Cover and secure Instant Pot lid set valve to sealing. Set the manual-pressure cook button to 3 minutes. When time is up let the pot natural pressure release for 5 minutes then cover valve with hand towel and turn the valve to venting. Remove the lid.

Stir in the tomatoes and optional basil and Swiss Gruyere cheese.

If sauce has too much liquid then make a cornstarch slurry. In a small bowl stir together 1 Tbsp of cornstarch with 1-2 Tbsp of water, until smooth. Pour the mixture into the Pot and stir to mix. The cornstarch mixture will thicken up contents of pot quickly. Turn off Instant Pot

Go ahead and serve immediately.
Nutrition
Serving:
2
cups
Calories:
722
kcal
Carbohydrates:
115
g
Protein:
25.2
g
Fat:
21
g
Cholesterol:
13
mg
Sodium:
106
mg
Fiber:
3.4
g
Sugar:
9.5
g
https://tastyhealthyheartrecipes.com/main-dishes/entrees/low-sodium-chicken-pasta-with-italian-dressing-instant-pot/
Nutrition Information – The information shown is provided by an online nutrition calculator. It should not be substituted for a doctors or nutritionist's advice. Please understand that not everyone's sodium requirements are the same, therefore some recipes may be higher than you're allowed. Always consult with your doctor for your recommended daily sodium allowance.