This Low Sodium Meatball Lasagna made in the Instant Pot is so easy to make and tastes as good as a pan layered lasagna. It is a little messier in appearance compared to a nice layered slice of lasagna but, for the ease, time savings and taste it is well worth it.
**Did you notice I made this recipe right after my Low Sodium Italian Meatballs post? They will be required to fully make this recipe so you will have to make those first, if you haven't. I made the meatballs and lasagna all in one night. So it is still definitely doable to do both all in about an hour and a half.**
| | |
| --- | --- |
| Typical sodium amount per serving | 900-1700 mg |
| Sodium per serving for this recipe | 176 mg |
| Calories per serving | 407 |
I have seen the sodium levels for Instant Pot and crockpot lasagnas from 900mg all the way up to 1700mg of sodium per serving! But by making your own low sodium meatballs, low sodium sauce and using lower sodium cheese we can significantly reduce the sodium. The sodium level falls all the way down to a full tummy pleasing 176mg of sodium per serving.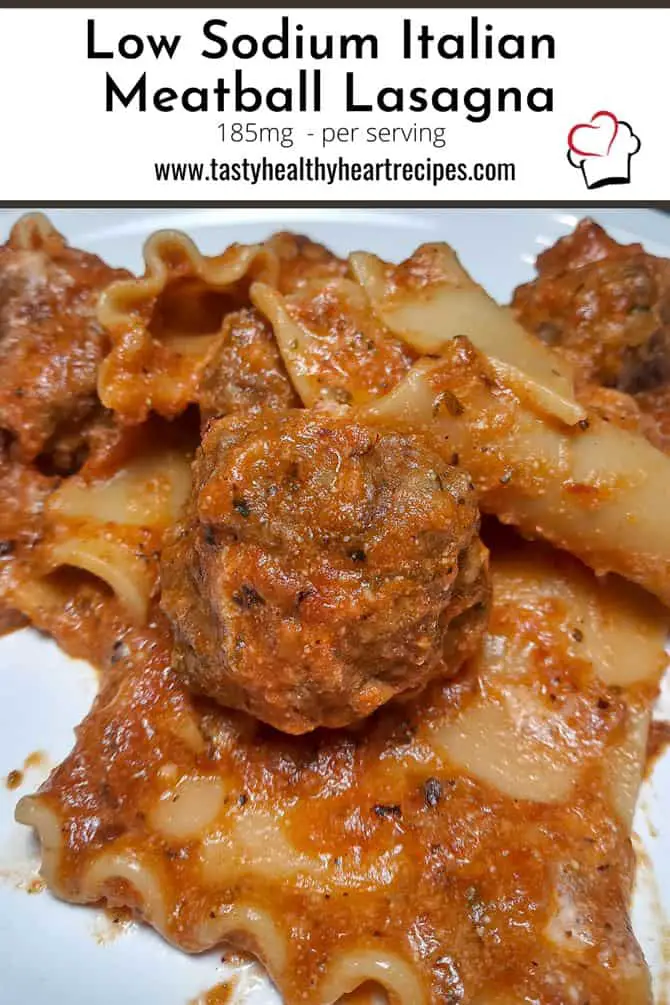 Making the meatballs for this recipe
When I make meatballs now days, I usually double the recipe so I can freeze some to have them on hand and use them in a recipe like this. It will cut about 40 minutes of the time if you already pre-made them.
For this recipe as written, I am calling for meatballs that are already or just made. See Low Sodium Italian Meatballs for the recipe. The sodium level for this recipe has been calculated with everything included as listed independent of that recipe.
If you do make the meatballs the same day, go ahead and prepare the sauce and lasagna noodles while the meatballs bake. This is easily done while the meatballs bake and then you will be ready to go with meatballs right into the pot for this recipe.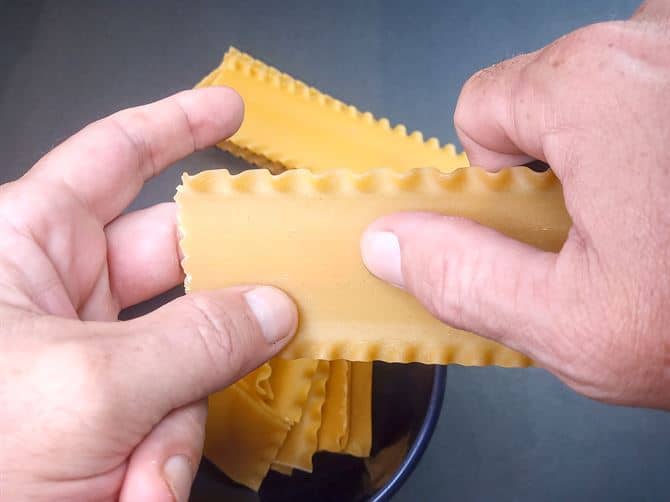 My tips for making Low Sodium Meatball Lasagna
First, don't worry if you don't have the meatballs made up. Even with making the meatballs I had dinner on the plate in less than two hours. And I was taking pictures too!
You can use the meatballs right from the oven or frozen if you have them already made up.
I found that when snapping the lasagna noodles placing the edge against my second inside middle finger knuckle gave pretty even squares of lasagna noodles.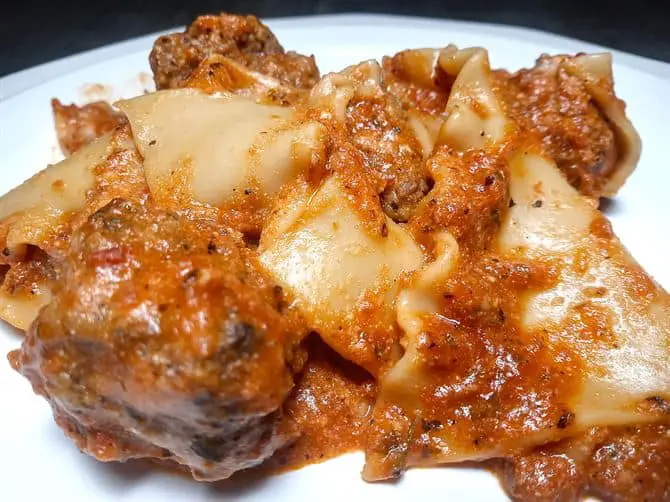 Don't worry if noodles break unevenly or little pieces break off. They will still taste good and end up in the same place. This dish isn't as "pretty" as a layered pan lasagna so you will never even notice.
The pasta sauce I made for this is modeled after my Low Sodium Spaghetti Sauce – Meaty without the meat and onions. Check that out for a regular spaghetti dinner, it is really good and works great here too.
 I like to use the classic lasagna noodles for this recipe but you could also substitute farfalle (bowtie) pasta, rotini, penne, or large shells.
The great thing about ricotta cheese is that it has a quite low sodium content compared to many cheeses. But if you don't have ricotta cheese on hand, you could leave it out or you can substitute with sour cream or a few dollops of Mascarpone cream cheese. Cottage cheese is often used in lasagna as a substitute but is too high in sodium for our purposes.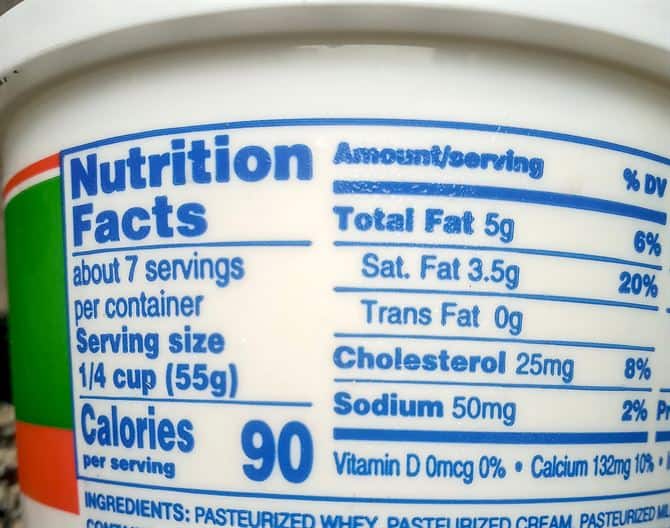 Though I have not used either sour cream or Mascarpone I would just use them in an "emergency".  I would make every effort to get the ricotta as think it really adds to the flavor. Besides, how can you have lasagna without ricotta cheese?
You could also make this in a slow cooker. Keeping ingredients and instructions the same, add water, meatballs, pasta and pasta sauce to the slow cooker. Cover and cook on low for 3-4 hours. Then add in cheeses and stir.
A few of my other great dishes to enjoy!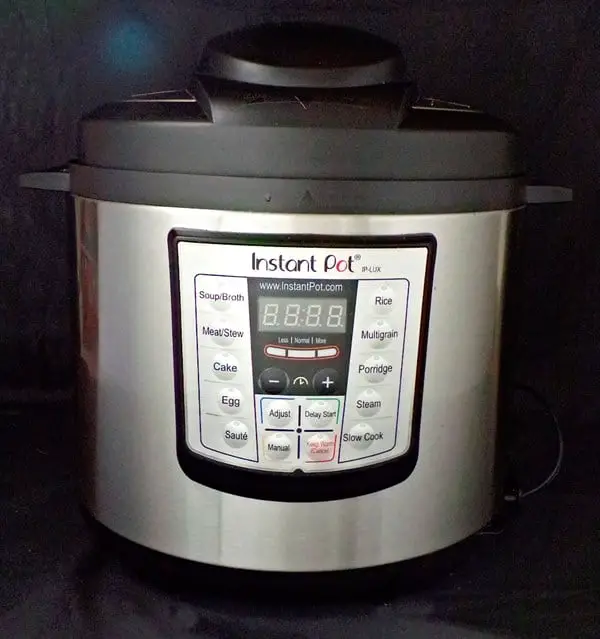 My Instant Pot
To make this awesome Instant Pot Low Sodium Meal I used my 6 quart Instant Pot LUX60V3 6 in 1*. (see on Amazon) The Instant Pot multi-cooker, combines 6 kitchen appliances in one, pressure cooker, slow cooker, rice cooker, sauté, steamer, and warmer. This Instant Pot is one of the very few appliances that stay on my counter since I use several times a week. It's super easy to use and clean.
---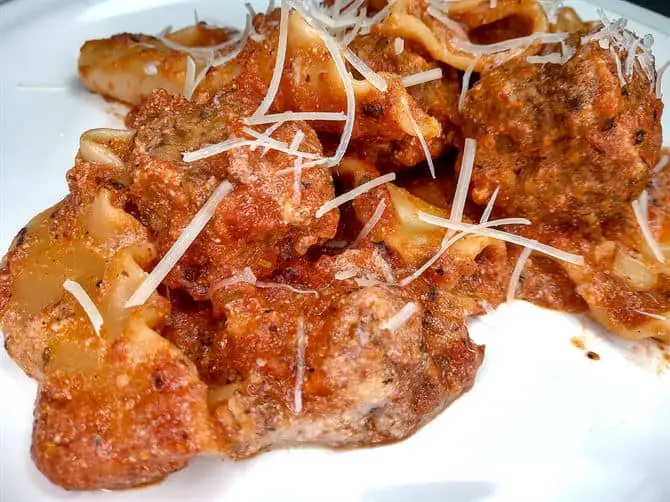 >>>Recommended Equipment & Ingredients For This Recipe (Amazon Links)
As always, please let me know how you like this recipe in the comments! I get motivated when I hear from you and interested to learn about how you liked and served your Low Sodium Meatball Lasagna. So please, leave a comment or rating and share any tips you might have. You can follow me on Facebook and Pinterest also, for new recipes.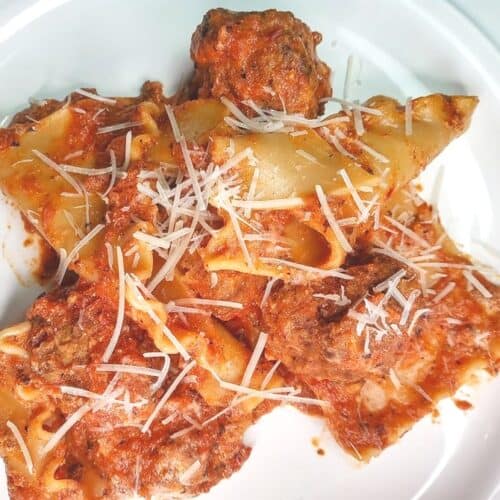 Low Sodium Meatball Lasagna
Low Sodium Meatball Lasagna may look a little messy but it delivers a great lasagna taste that can easily be made in a quick evening with little effort.
Ingredients  
1 ¾

cups

water

24

Precooked Low Sodium Italian Meatballs

See my Low Sodium Meatball recipe

8

oz

uncooked lasagna

1

tsp

Italian seasoning

1

cup

Swiss Gruyere cheese

3/4

cup

ricotta

Using a full cup only adds 11mg of sodium /serving
For the low sodium sauce:
2

Tbsp

pre-minced garlic

1

can 6 oz. no salt added tomato paste

1

tsp

Italian seasoning salt free spice

2

tsp

dried parsley flakes

1

tsp

crushed red pepper

1

tsp

ground black pepper

1/2

tsp

ground fennel

1

tbsp

liquid smoke

1

Tbsp

brown sugar

1

cup

water
Instructions 
Combine all sauce ingredients in food blender and pulse until smooth.

Add in Low Sodium Italian Meatballs and water into Instant Pot and then a single layer of the pasta. Ladle some of the sauce on and continue layering pasta and sauce. Sprinkle the Italian seasoning on top. Do not stir.

Put the cover the Instant Pot and make sure valve is set to sealing. Set manual/pressure cook button to 4 minutes. When cook time has elapsed let the pot natural pressure release for 5-10 minutes and then turn valve to venting to release any remaining pressure. Remove the lid.

Lightly mix and stir in the cheeses.
Notes
This recipe uses my Low Sodium Italian Meatballs. If making meatballs also, it will add about 50 minutes. Thaw meatballs if they are frozen.
To make in the slow cooker is the same. Add water, meatballs, water, layer pasta, pasta sauce and top with Italian seasoning in the slow cooker. Cover and cook on low for 3-4 hours. Add in cheeses and stir.
Serving includes 3 meatballs and pasta.
Using a full cup of Ricotta cheese only adds about 10mg more of sodium.
Nutrition
Serving:
1
–
Calories:
418
kcal
Carbohydrates:
32.7
g
Protein:
28
g
Fat:
17.2
g
Cholesterol:
162
mg
Sodium:
176
mg
Fiber:
2.6
g
Sugar:
6
g
https://tastyhealthyheartrecipes.com/main-dishes/entrees/low-sodium-meatball-lasagna/
Nutrition Information – The information shown is provided by an online nutrition calculator. It should not be substituted for a doctors or nutritionist's advice. Please understand that not everyone's sodium requirements are the same, therefore some recipes may be higher than you're allowed. Always consult with your doctor for your recommended daily sodium allowance.