This Low Sodium Asparagus Stuffed Chicken Breast may look like a fancy meal but you will be surprised how easy it is to make. Asparagus Stuffed Chicken is a juicy, cheesy and positively delicious low sodium meal. You can quickly whip up a few or more breasts in just about 30 minutes, easily fitting in for those busy evenings.
Since starting a low sodium diet, I eat a lot of chicken and is a staple protein for me several times a week. I used to find chicken bland and rather unsatisfying (Boring). So to faithfully keep up the low sodium diet, I have had to up my game in the chicken department to keep things interesting.
| | |
| --- | --- |
| Average sodium amount per serving | 330-600mg |
| Sodium per serving for this recipe | 108mg |
| Calories per serving | 244 |
1 stuffed breast serving
On a low sodium diet with chicken, it's important to me to not only make meals that taste great, but that are healthy too. Thankfully, with this low sodium chicken and asparagus recipe, we have an easy way to include some vegetables right into the main meal.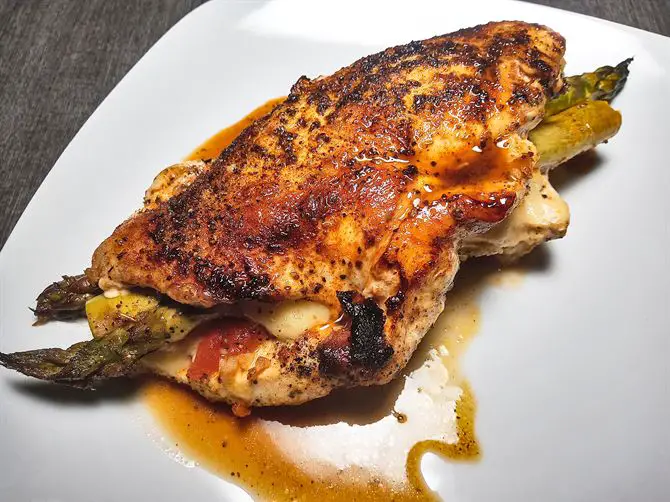 Sodium In Asparagus Stuffed Chicken Breast
Most recipes seem to be between 300-600mg of sodium per serving, mostly depending on the spices used and the type of cheese. With just a few little tweaks, we can get this down to a nice low sodium meal at just 108mg per serving.
The first of course is just to use spices that have no salt or sodium in them. This is a big savings in itself. Italian seasoning can easily be found without salt added.
Second, most recipes use sliced mozzarella cheese that is normally around 140mg per slice. Using Swiss cheese at 65mg per slice easily knocks out over half that amount but is still a similar tasting melt-able cheese that always goes great with chicken. If you have a large chicken breast as I did, I added another 1/4 slice of cheese, up to you though.
While you can use fresh tomatoes in season, I prefer just to use canned diced tomatoes. They are always on hand and perfect for when it is not a main ingredient of the dish and are easy and convenient to use. For my tomatoes here, I use the small 10oz can of Ro-Tel diced tomatoes and green chilies with no salt added.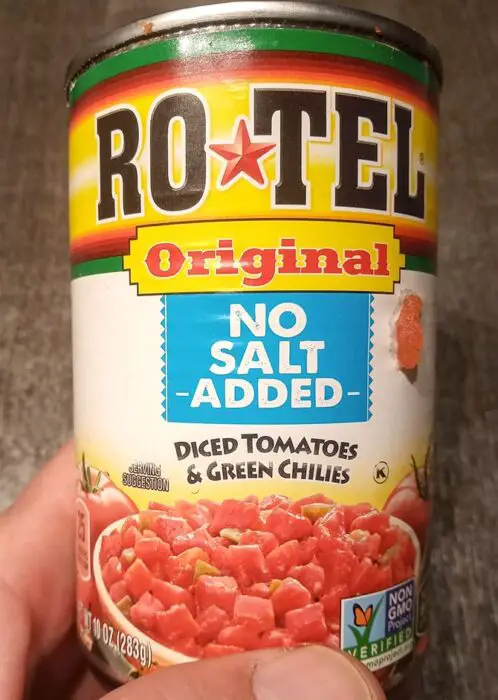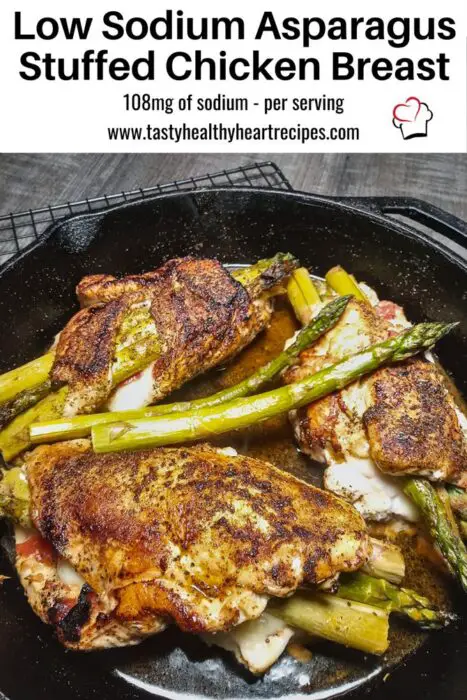 Cooking the chicken breast
Cooking times will ultimately depend on the size of your chicken breast and the actual heat of your oven. After I butterfly my chicken breasts, I pound down any thicker uneven sections if needed. This greatly helps the chicken cook evenly without overcooked thinner parts of the breast.
Further, it also helps to evenly wrap the inside ingredients and pinning the chicken together. Even cooking is also essential for low sodium chicken breast since salt normally helps retain moisture to a more juicy chicken. Who doesn't want a good juicy baked chicken breast, right?
Also, letting your chicken come to room temperature after butterflying will greatly aid in the end result for an evenly cooked chicken. This way the whole chicken breast section starts cooking at the same temperature. After butterflying and wrapping those 15 to 20 minutes should be plenty of time while the oven is preheating.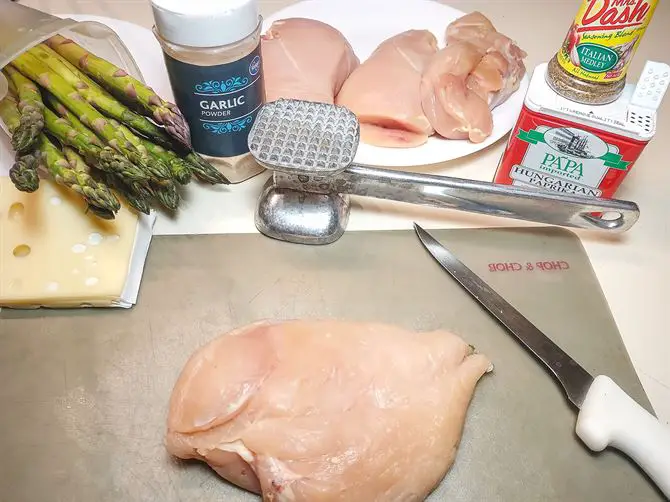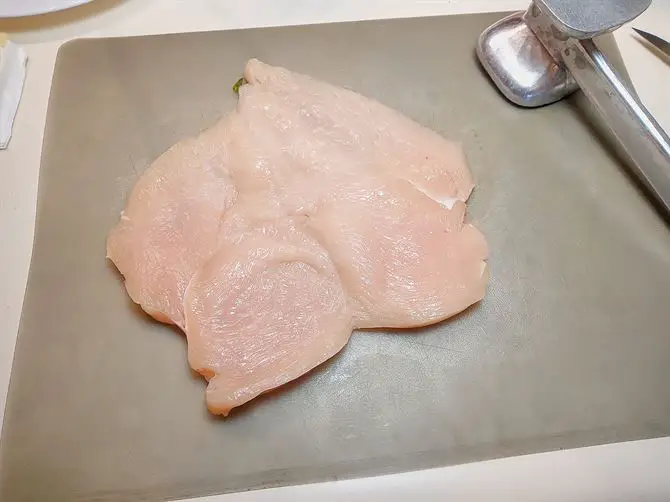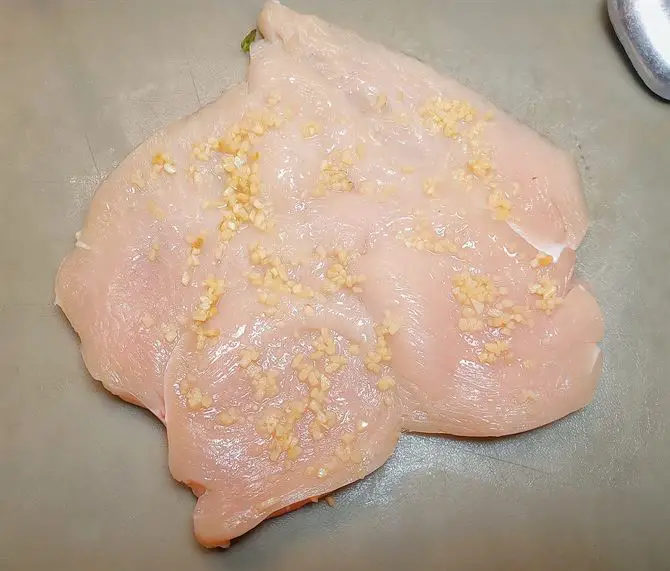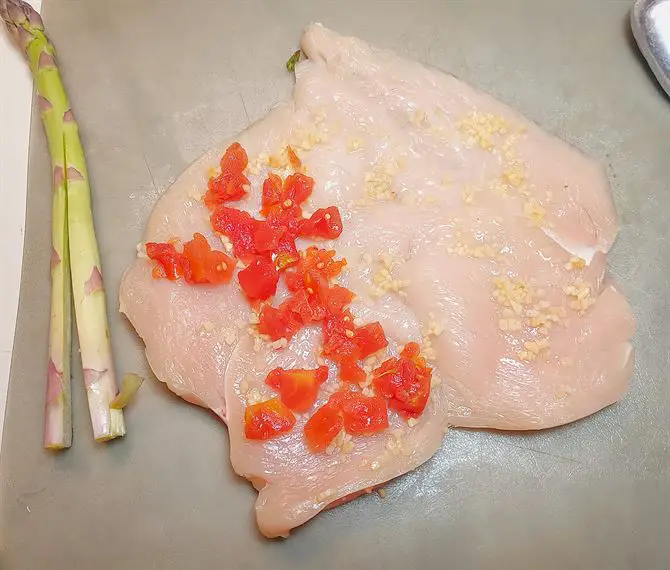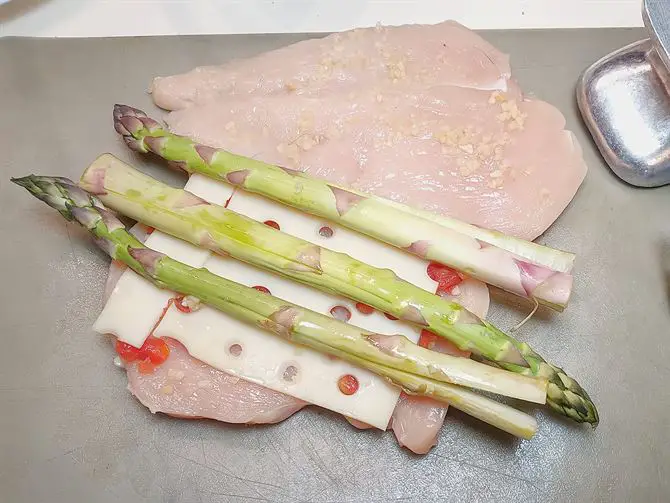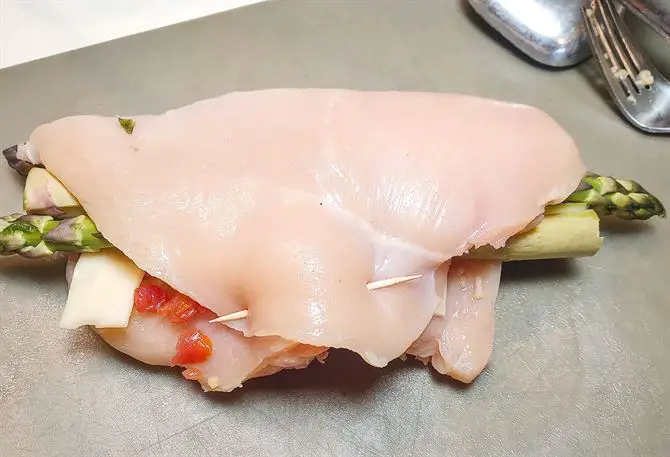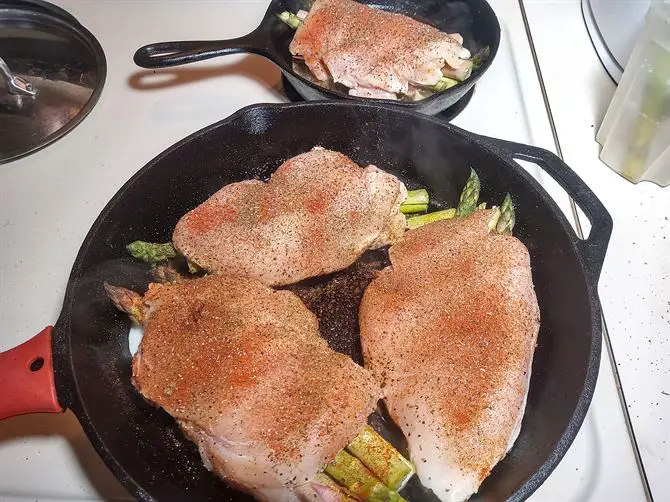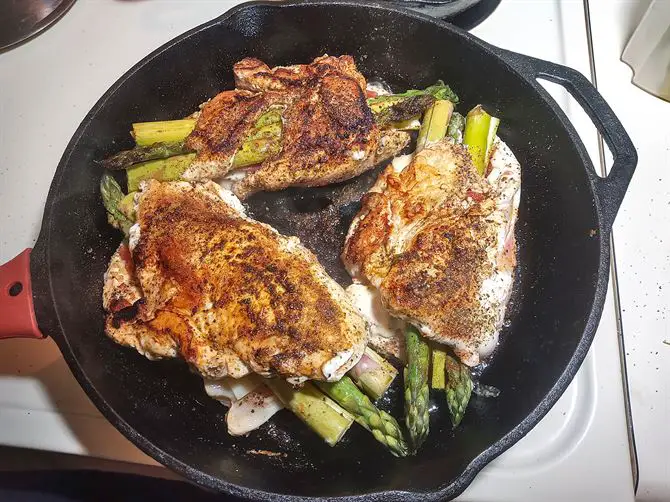 Don't be timid with the seasoning
As with most of our meats, chicken breasts are better when generously seasoned with sodium-free seasoning to make up for the absence of salt. With this recipe, the amounts of seasoning called out in the listing are approximate. I just sprinkle a little bit from each shaker to my satisfaction.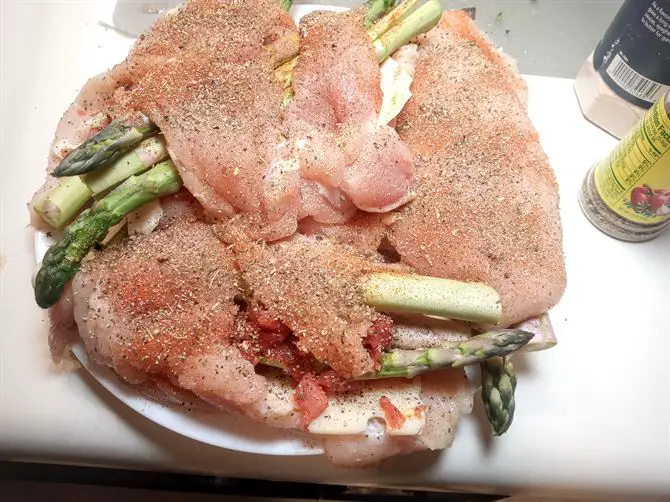 Season one side of the butterflied chicken breast before filling with the stuffing ingredients and pinning closed. It is hard to mess up the seasoning, feel free to add more or any other seasoning you prefer. As the meat cooks, the seasoning will work its way into the meat and juices.
You can, of course, also add seasoning to the inside before putting the other ingredients in for more flavor POP. Why not, though I would do it a bit more lightly.
Additional FAQs for Low Sodium Asparagus Stuffed Chicken
How to store. After allowing the stuffed chicken to cool all the way down, keep it stored in an airtight container for up to 3 days. Make sure to pour any remaining juices over it too.
How to freeze it.  While most of the stuffed chicken would freeze well, the asparagus will have a tendency to get overly soft and maybe even mushy. Being so easy to make and cooking for myself, I would normally do just two breasts that I can eat up within a few days.
How to reheat it. The best way is to simply reheat the chicken in the microwave for 2-3 minutes. There is nothing gained reheating any other way and only time and energy lost.
What's a good side dish? This is an excellent low sodium meal to have some white or brown rice snuggled up to the chicken. It will mix with juices and you can have a little bit of each main ingredient on your fork for full flavor.
A simple Low Sodium Caesar Dressing salad can be whipped up while the chicken is baking also goes well with or without the rice. I also like using the Caesar dressing for a little dipping sauce with the chicken.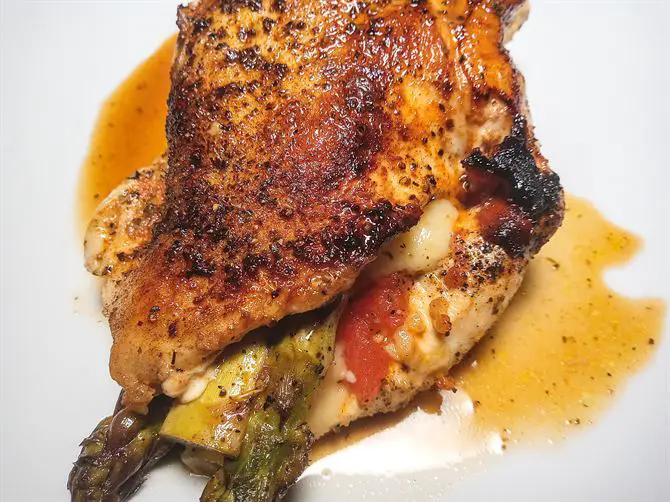 A few of my other great low sodium chicken dishes to enjoy!
---
Recommended Equipment & Ingredients For This Recipe
This equipment section contains affiliate links to products I use and recommend.
Cast Iron Skillet
Please, leave a comment or rating and share any tips you might have and let me know if you enjoyed this recipe! I look forward to hear from you about how you liked and served your Low Sodium Asparagus Stuffed Chicken Breast. You can also follow me on Facebook and Pinterest for new recipes.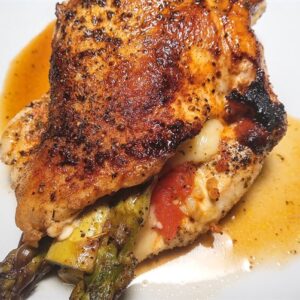 Low Sodium Asparagus Stuffed Chicken Breast
This Low Sodium Asparagus Stuffed Chicken Breast recipe takes less than 45 min. Tender and juicy filled with melty cheese, asparagus and tomato.
Ingredients  
4

Skinless boneless chicken breasts

4 medium or large

1

tsp

Italian seasoning mix no salt added

Mrs. Dash

1

tsp

Garlic Powder

1

tsp

Smoked Paprika

1

tsp

ground black pepper

12

Asparagus stalks

bottom ends trimmed and split

1

10oz can

Rotel diced tomatoes and green chilies no salt added

Add 1 heavy large spoonful per breast

4

Tbsp

pre-minced garlic

5

slices

Swiss Cheese

Use an extra 1/4 slice per breast

1

Tbsp

Olive Oil

1

Tbsp

Butter no salt added
Instructions 
Preheat your oven to 375° F and oven-safe skillet on medium heat on the stove.

Place the chicken on a clean cutting board and butterfly chicken. Be careful not to cut all the way through. Pound down meat to an even thickness.

Sprinkle one side with Italian seasoning, garlic powder, paprika, and pepper to taste. On the other "inside" spread 1 tablespoon garlic, tomatoes, 1 1/4 slices cheese, and 3 asparagus stalks. Secure the pocket with one or two toothpicks.

Heat oil and butter in skillet. Add in the chicken and sear it until nicely golden brown, about 3-4 minutes per side. Transfer skillet (or oven-safe pan) to oven and bake the chicken for 15-20 minutes.
Notes
In this recipe I don't use precise amounts for the spices. So amounts are approximate, but close. I just eyeball what looks good to me.
Nutrition
Serving:
1
g
Calories:
244
kcal
Carbohydrates:
6.1
g
Protein:
17.6
g
Fat:
17.1
g
Saturated Fat:
8.8
g
Cholesterol:
60
mg
Sodium:
108
mg
Potassium:
323
mg
Fiber:
1.7
g
Sugar:
2.3
g
Calcium:
304
mg
Iron:
2
mg
https://tastyhealthyheartrecipes.com/main-dishes/entrees/low-sodium-asparagus-stuffed-chicken-breast/
Nutrition Information – The information shown is provided by an online nutrition calculator. It should not be substituted for a doctors or nutritionist's advice. Please understand that not everyone's sodium requirements are the same, therefore some recipes may be higher than you're allowed. Always consult with your doctor for your recommended daily sodium allowance.