I love garlic and this Low Sodium Creamy Garlic Chicken Breast certainly delivers. With the chicken having a light golden brown, crisp and smothered in a rich tasting creamy sauce you might think this was a time consuming meal to cook. But with just a few simple steps you can have an absolutely mouthwatering dinner on the table in just over 30 minutes.
While being on a low sodium diet, I also try to limit how much red meat I eat, so I eat a lot of chicken. And truthfully, it gets kind of tiresome and dull unless you change it up and have multiple ways to serve it. Chicken breasts seem to have an overall bad reputation for being too dry or tuff and not very flavorful by themselves. (And typically are.) However, this recipe delivers perfectly juicy pan fried breasts swimming in the perfect sauce. I am always on the lookout for new recipes and this one will go right to the top of my current low sodium chicken recipe rotation.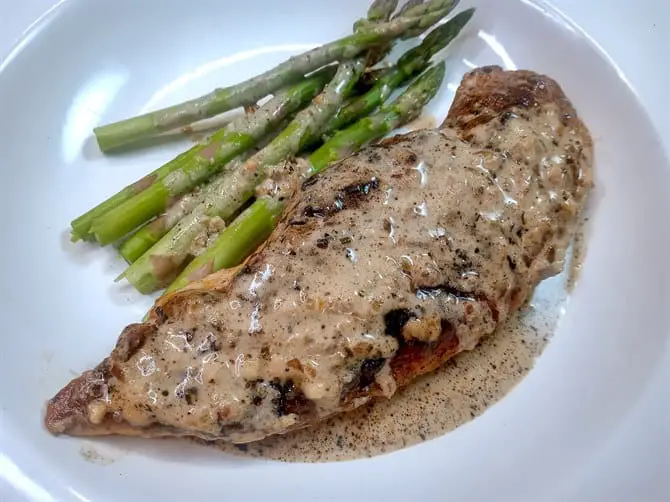 Many recipes for this creamy garlic chicken vary in sodium level all over the place from 300 to 1200 mg of sodium. With this low sodium recipe though I am comfortably under my 250 mg of sodium per meal at 170 mg. Plus, I can easily have an almost decadent tasting meal cooked on a fairly busy weekend.  Also, since this makes 6 servings I or you can have many awesome leftovers that just need a little reheating.
MY TIPS FOR MAKING HOW TO COOK CHICKEN BREAST
It all starts with the chicken breast. You need to butterfly (cut in half) the breast lengthwise first for two reasons. One, when cut, it generally comes out very close to a 4 oz. serving size that we should aspire to.  Hmmm. Two it will make the chicken breast have roughly the same uniform thickness so that it cooks evenly and quickly in the pan. No meat mallet pounding required here.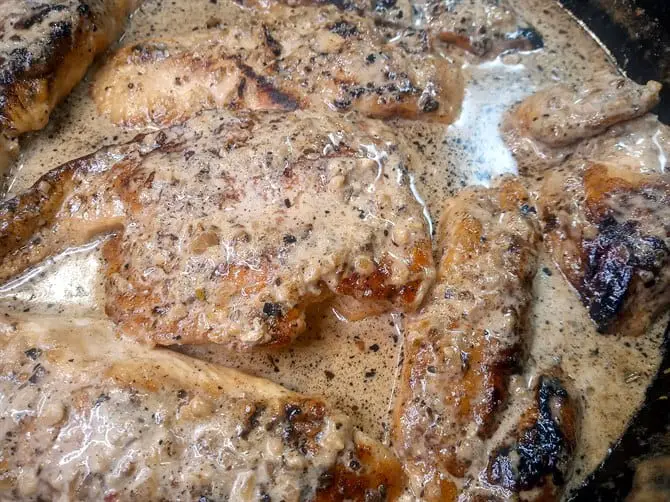 I mix the spices and flour together for the chicken coating. There should be just enough to nicely, lightly coat all six chicken halves.  It just takes out one extra little step.
By coating the chicken and using butter not only do you develop a nice golden crisp to the chicken, but you are developing the basis for a velvety Roux for the sauce. It also makes delicious little flavor bombs when you de glaze the pan when making the sauce.  So Do Not clean the pan out when the chicken is finished cooking.
I use the Home style Grated Parmesan Cheese 4C as it has nearly a 100mg difference of sodium per tablespoon comparatively.  The 4C cheese is about 50mg of sodium per tablespoon and the big name brand is 150mg for 1 Tablespoon.  So it is an easy way to cut some sodium while still getting a Parmesan taste into your meal.
You can also add sliced mushrooms when you start sautéing the onions for the sauce. I could only see them, adding a whole other dimension if you like them. I personally don't like whole or sliced mushrooms, but love the taste of them.  A large mushroom texture in my mouth is just weird, but if it is finely chopped I'm great with them. I left them out for my meal, but it is always an option if you want to add them to the recipe.
The sauce will not thicken right after adding in your cream. But after adding your golden chicken back into the pan, the sauce will pick up the flour from the chicken breasts and will thicken your sauce.
SO MUCH CREAMY RICH GARLIC FLAVOR!
Whenever I sauté garlic I just use the pre-minced garlic in a jar. Why fuss with all that?  I only use fresh cut garlic only when it will not be cooked, such as in a salsa.
I love garlic flavor and I usually add more than this recipe calls for. But I balanced this recipe to where I think a middle ground would be for the taste of most people. So if you love garlic with gusto, by all means add some more. After the garlic and onion is lightly browned in a little oil along with the remaining buttery pan juices it is just a heavenly aroma. There is so much caramelization going on and it brings out that delicate almost sweet taste. I love that smell!
SIDES TO GO WITH LOW SODIUM CREAMY GARLIC CHICKEN BREASTS
I think this low sodium recipe for chicken breast is best with some wide egg noodles. Don't worry, the recipe makes plenty of sauce to spoon over almost any accompaniment.
But it also would pair equally well with steamed rice or mashed potatoes. Also try serving it with or over pasta, asparagus, zucchini slices or noodles. 
A few of my other great dishes to enjoy!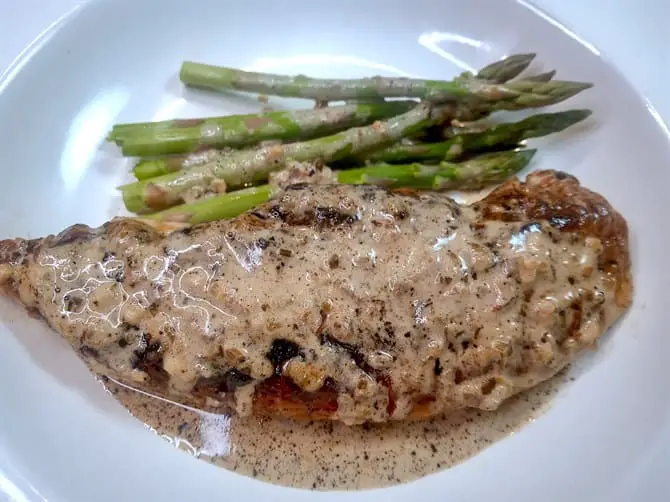 As always, please let me know how you like this recipe in the comments! I get motivated when I hear from you and am interested to learn about how you liked and served your Low Sodium Creamy Garlic Chicken Breast. And please leave a comment or rating and share any tips you might have.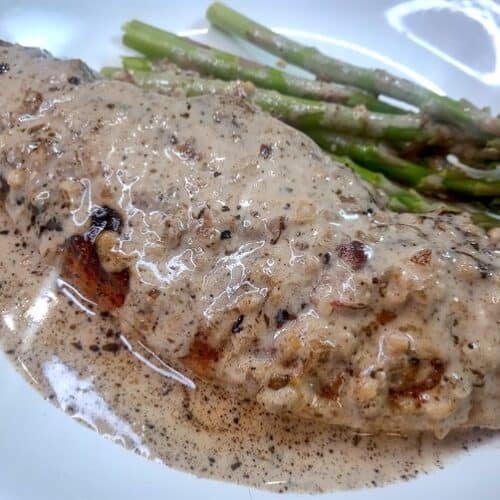 Low Sodium Creamy Garlic Chicken Breast
Low Sodium Creamy Garlic Chicken Breast has a rich heavenly garlic taste with plenty of sauce to spoon over egg noodles or rice. Suprisingly easy to do!
Ingredients  
3

chicken breast

Butterflied for 6 even thickness halves

1/2

tsp

black pepper

1/2

tsp

paprika

Smoky paprika is best

1/4

cup

all purpose flour

2

Tbsp

olive oil

1

Tbsp

butter no salt added

1

small yellow onion chopped fine or minced

2

Tbsp

pre minced garlic

1 1/4

cups

chicken stock no salt added

1 1/4

cups

heavy whipping cream

1/4

tsp

black pepper

1/4

tsp

dried Italian seasoning no salt added

1/3

cup

Homestyle Grated Parmesan Cheese 4C low sodium
Instructions 
Mix flour, black pepper and paprika in a small bowl. Pour and spread flour mixture to a flat dish.

Remove excess fat and loose meat from chicken breast then butterfly breast lengthwise. Dredge and cover chicken in flour dish, one at a time, turning to coat lightly and thoroughly in flour mix.

Heat olive oil in heavy skillet over MED HIGH heat until hot. Add butter, then add flour-dredged chicken to skillet, being careful not to overcrowd the pan. Three halves fit well for two batches.

Cook chicken for approximately 4-5 minutes per side, until cooked and golden brown. Remove to a plate and set aside. Do not clean out pan for deglazing later!

Reduce heat to MED LOW, and add 2 Tbsp of oil to pan then add onion and cook for 2-3 minutes, until soft. Add garlic and cook another 30 seconds or so.

Pour in chicken no sodium broth or stock, deglaze the bottom of the pan to loosen any browned bits. Pour in heavy cream and stir well to combine.

Cook about 4 minutes on Medium Low, or until thickened slightly. Stir in 1/4 tsp each of pepper and no sodium Italian seasoning, and the Parmesan cheese. Add chicken back to the pan, nudge, move and cover them with sauce so the flour on chicken will help thicken the sauce.
Notes
If you want a thicker sauce, mix 2 tsp of cornstarch or Wondra with 1 Tbsp chicken stock stir into the sauce. Cook and stir another minute or so and it should thicken right up.
Nutrition
Serving:
0.5
breast
Calories:
369
kcal
Carbohydrates:
7.2
g
Protein:
39.1
g
Fat:
19.8
g
Cholesterol:
144
mg
Sodium:
171
mg
Fiber:
0.6
g
Sugar:
1
g
https://tastyhealthyheartrecipes.com/main-dishes/entrees/low-sodium-creamy-garlic-chicken-breast/
Nutrition Information – The information shown is provided by an online nutrition calculator. It should not be substituted for a doctors or nutritionist's advice. Please understand that not everyone's sodium requirements are the same, therefore some recipes may be higher than you're allowed. Always consult with your doctor for your recommended daily sodium allowance.