This Low Sodium Garlic Butter Baked Chicken Breast is one of my favorite recipes to make because it's cooked in mouthwatering garlic butter sauce. I eat a lot of chicken so I am always on the lookout for new low sodium chicken recipes and rotate recipes quite often.
This recipe is quickly made as long as it's thawed it can be ready in as little as thirty minutes. I cook a lot with chicken because it's healthy and budget friendly compared to beef and fresh fish. Plus, chicken can be cooked in so many different, interesting ways.
Typical sodium amount per serving

375mg

+
Sodium per serving for this recipe
66mg

Calories per serving

284
1/2 breast or 4oz. serving size
This sauce makes for a rich garlic and more flavorful taste to the golden brown chicken breast and helps it to be tender and juicy too. If there is too much fat from the butter or avoiding dairy you can substitute extra virgin olive oil bringing saturated fat down about 2/3's. This recipe reminds me of my low sodium blackened chicken but without the charring smoke and packed with decadent garlic butter flavor.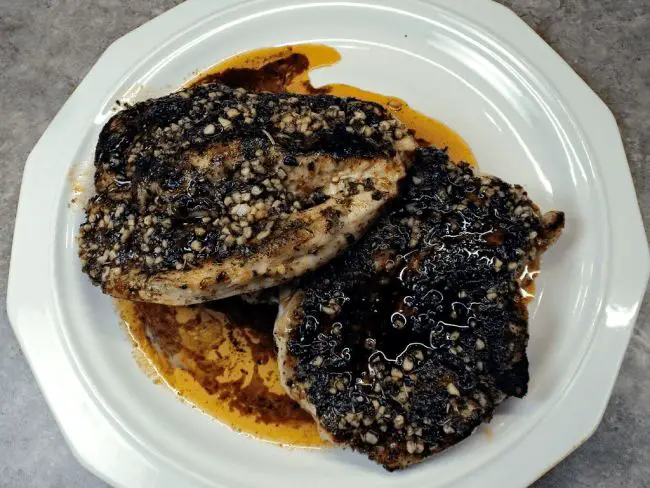 Sodium in chicken breast
Raw boneless, skinless chicken breast contains between 50 to 75mg of sodium per 4-ounce serving. But much of the chicken in U.S. grocery stores is "enhanced" with a salt brine solution, during processing. With sodium levels often well over 400mg per serving in the enhanced version.
Just because a package may say "all natural" the chicken may still be loaded with sodium. Producers get around this if the solution meets the U.S. Department of Agriculture definition of natural.
So definitely check all labels for sodium levels whether fresh or frozen and between different brands. Keep looking until you find what you need and buy that in the future. Your butcher may be able to help you quickly navigate you to what you need also.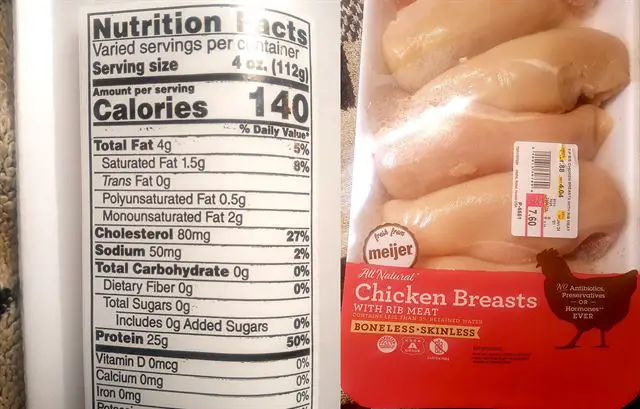 Another issue besides the high sodium The Truthful Labeling Coalition estimates that buyers are paying an average of $1.50 just for the added saltwater weight per package when you purchase enhanced chicken. Grrrr…
Beware and aware that while you may be able to avoid enhanced chicken at the grocery store you can bet that restaurants are using saltwater enhanced chicken in their menus. So don't get to comfortable ordering a chicken dinner thinking it will be low sodium.
Cooking the chicken breast
Cooking times will depend on the size of your chicken breast and the heat of your oven.  I butterfly my chicken breasts at a minimum and pound down thicker uneven sections if needed. This greatly helps the chicken cook evenly without overcooked thinner parts of the breast.  This is essential for low sodium chicken breast since salt normally helps retain moisture and more juicy chicken. Who doesn't want a good juicy baked chicken breast, right?
Also, letting your chicken come to room temperature after butterflying will greatly aid in the end result for an evenly cooked chicken. This way the whole chicken breast section starts cooking from the same temperature. After butterflying twenty minutes should be plenty of time while the oven is preheating.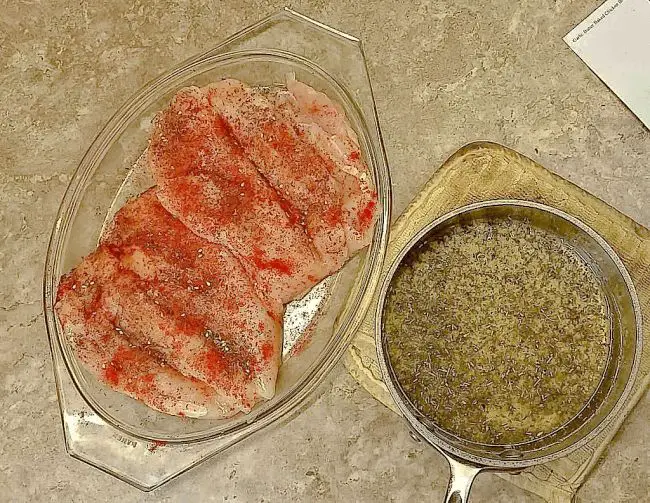 Another essential item is a meat thermometer to check the internal temperature reaches 165°F (74˚C). This assures you reach a safe cooking temperature without overcooking and drying out the chicken which is so easy to do. And remember to insert the meat thermometer into the thickest part of the breast. I use the ThermPro wired thermometer which allows me to view the temperature of the meat without opening the oven. See the ThermPro thermometer here on Amazon
Don't be timid with seasoning the chicken
As with most of our meats, chicken breasts are better when generously seasoned with sodium free seasoning to make up for the absence of salt. Make sure to season BOTH sides with the seasoning and feel free to add more or any other seasoning you prefer. As the meat cooks, the seasoning will work its way into the meat and not just the outside.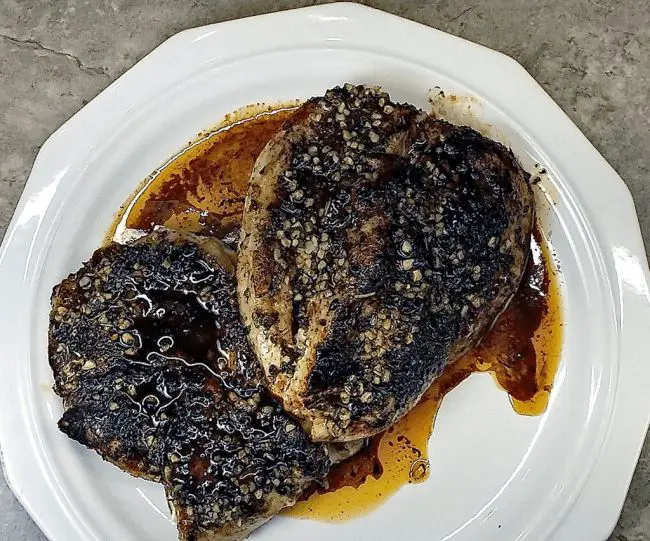 Making Garlic Butter Baked Chicken Breasts
If you want extra garlic butter to drizzle over some vegetables just add an extra tablespoon or two of butter.
Be sure not to let the garlic burn because it will give an "off" taste to the entire dish.
Let the baked chicken rest for 5 minutes before serving to let the juices pull back to retain juiciness.
If you want to avoid the extra fat in the butter, you can replace it with extra virgin olive oil.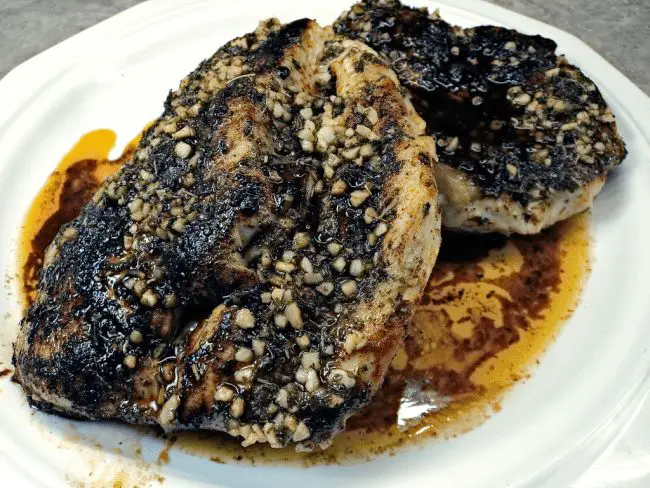 What to serve your cooked chicken breasts with
over brown rice with salad on the side
over zucchini noodles
with roasted spaghetti squash and green beans
Italian salad with fresh croutons
roasted veggies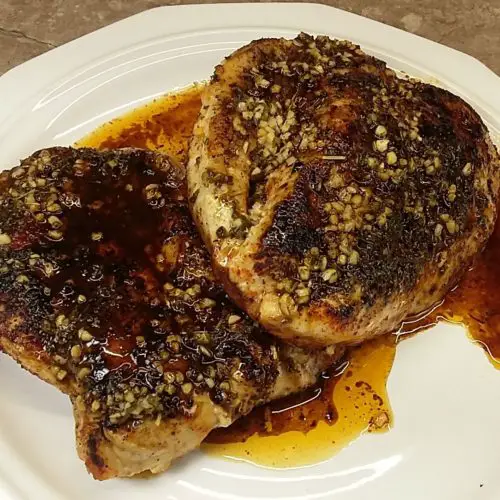 Low Sodium Garlic Butter Baked Chicken Breast
Tender, juicy Low Sodium Garlic Butter Baked Chicken Breast, loaded with garlic flavor butter sauce. And it's quick and easy!
Ingredients  
2

boneless skinless chicken breasts

about 1 lb – Butterfly lengthwise

freshly ground black pepper to taste

1

tsp

smoked paprika

4

Tbsp

butter no salt added

2

tsp

Italian seasoning

1

Tbsp

parsley

1

Tbsp

pre-minced garlic

1

tbsp.

extra virgin olive oil
Instructions 
Preheat oven to 400°.

Butterfly and season chicken breast with pepper, paprika and set aside.

In a small bowl mix together butter, Italian seasoning, parsley, and garlic. Set aside.

In a cast iron skillet, heat olive oil over medium heat.

When the skillet is really hot add chicken breast. Sear until golden. It's about 1-2 minutes each side.

Pour garlic butter mixture over the chicken breast.

Place skillet in the oven and cook until cooked through. It's about 20-30 minutes or until chicken breasts gets to an internal temperature of 165F.

Remove from the oven. Using a spoon, pour some of the butter sauce left in the skillet onto the chicken breast before serving.
Notes
Nutrition serving size based on 1/2 breast or approximately 4oz. serving
Nutrition
Serving:
1
-1/2 breast
Calories:
284
kcal
Carbohydrates:
1.3
g
Protein:
26.7
g
Fat:
18.6
g
Saturated Fat:
7.9
g
Cholesterol:
111
mg
Sodium:
66
mg
Fiber:
1.2
g
Sugar:
0.2
g
https://tastyhealthyheartrecipes.com/main-dishes/entrees/low-sodium-garlic-butter-baked-chicken-breast/
Nutrition Information – The information shown is provided by an online nutrition calculator. It should not be substituted for a doctors or nutritionist's advice. Please understand that not everyone's sodium requirements are the same, therefore some recipes may be higher than you're allowed. Always consult with your doctor for your recommended daily sodium allowance.
As always, please let me know how you like this recipe in the comments! I get motivated when I hear from you and am interested to learn about how you liked and served your low sodium garlic butter baked chicken. And please leave a comment or rating and share any tips you might have.