This Low Sodium Tomato Soup is simply a fantastic improved version of the old classic, low in sodium, big on taste! I had never been thrilled about tomato soup my whole life, even before I started a low sodium diet. To me, the tomato soup from the can was too similar to having a bowl full of tomato juice.
But that was until I made this tomato soup and its low sodium to boot! With this low-sodium tomato soup, you can make it as chunky, thick or thin, and creamy as you like. By using no salt added canned tomatoes, this recipe can come together in as little as 30 minutes or you can even let it simmer for an hour or so.
I have really come to enjoy eating it by submerging some lightly steamed or warmed broccoli and cauliflower in the bowl. And of course a slice of my toasted Low Sodium Artisan Bread on the side.
| | |
| --- | --- |
| Typical sodium amount per serving | 960mg |
| Sodium per serving for this recipe | 57mg |
| Calories per serving | 120 |
serving size = 1 cup
Sodium levels in tomato soup.
The famous name brand soup is 960mg of sodium per cup. This is more than half the recommended sodium levels per day (1,500mg) for most people that need to control their sodium intake. Just by itself, it is more than three times as much of my own personal sodium goal of 250mg per meal. 
My low-sodium tomato soup recipe contains a little less than 60mg of sodium per cup! I can now eat a realistic two cups of soup and I'll still be way under my limit. And that allows me to add any extra little sides to enjoy with my soup.
By using unsalted canned tomatoes and unsalted chicken broth we can really knock down the sodium levels. I always use unsalted chicken broth as it is only 40mg of sodium per cup as compared to unsalted chicken stock which is 130mg sodium per cup. Both of which are still much lower than regular chicken stock or broth otherwise.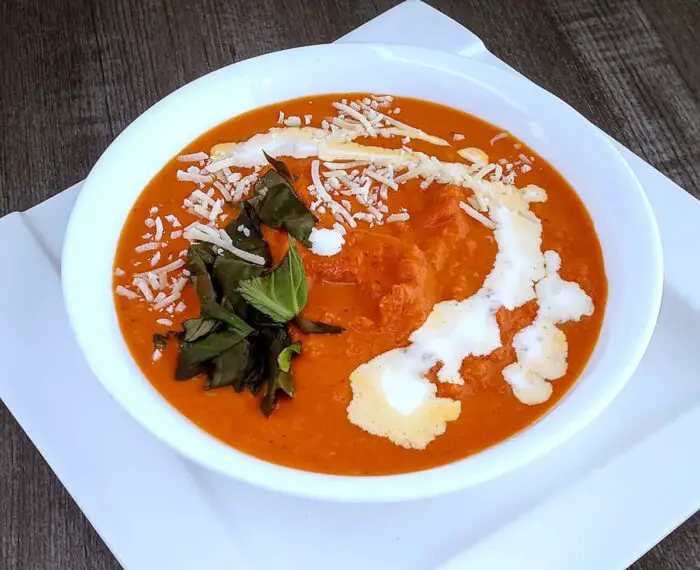 Ingredients for low sodium tomato soup
Since this is a wholly tomato-based soup, it is important to offset the acidity with a couple of acid reducing ingredients. I use both a combination of cream and a bit of sugar to reduce the acidity of the soup.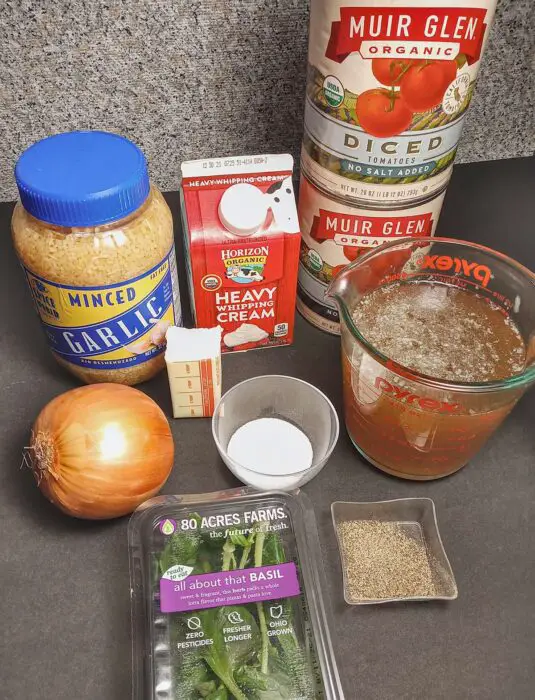 Butter (4 Tbsp) – Of course use the unsalted butter to saute onions and garlic.
Yellow onion (2 medium onions or about 3 cups finely chopped) – I love sauteed onions and it really adds a flavorful balance to the tomatoes. Most of the onions will fade into the soup when it is blended.
Garlic (1 Tbsp) – I always use the jarred pre-minced garlic when they are sauteed. Makes it so much easier.
Tomatoes (2 – 28oz. cans) – I prefer using Muir Glen Fire Roasted diced tomatoes no salt added and use them with many recipes. Use the whole can with their juice.
Chicken broth (2 cups) – The chicken broth is used to thin the tomatoes and for the best flavor. Chicken broth has 40mg of sodium per cup as compared to 130mg per cup from chicken stock. This is a rather thick soup. Add another cup of broth to thin if desired.
You could also use a homemade chicken broth as I often do. I always save the leftover liquid from when I cook plain chicken in the instant pot and then freeze it in serving sizes.
Dried Basil (1 tbsp) –  I use dried basil in the soup when cooking in liquid, and some fresh basil as a garnish on top when serving.
Sugar (1 Tbsp) – Used along with the cream but necessary to combat the tomato acidity since this is entirely a tomato-based recipe.
Black pepper (1 tsp) – To start and add more to taste.
Mrs. Dash Original Table Blend no-salt-added (1 teaspoon) –  To start and add more to taste.
Whipping cream (1/3 cup) – Not only does it offset the acidity, but it also adds creaminess to the soup. More may be added to taste.
Parmesan cheese – optional shredded cheese adds 40mg sodium per tablespoon. Cheese is not calculated in the nutrition label.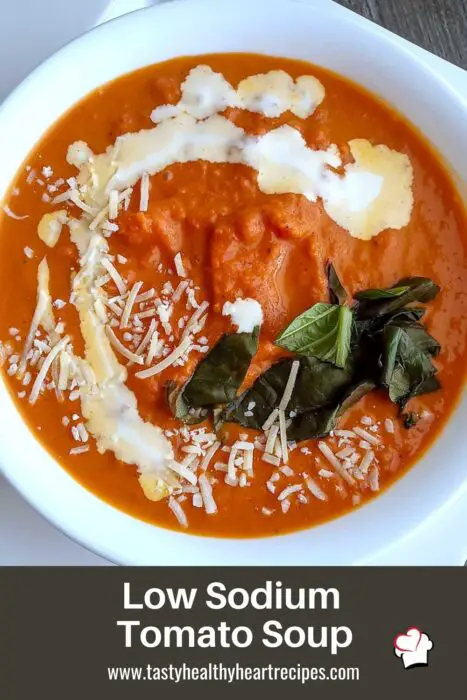 Make low sodium tomato soup
Start by sautéing aromatics by heating a non-reactive pot over medium heat. When the pot is hot, melt 4 Tbsp no salt added butter and then add and sauté onions until softened and slightly golden, about 10 minutes. Add minced garlic and sauté for another 1-2 minutes.
Now comes making the main base of the low sodium tomato soup. Stir in two 28 oz. cans of no salt added Muir Glenn Fire Roasted Diced Tomatoes with the juice, no salt added chicken broth, sugar, and black pepper. Bring to a boil then reduce heat, partially cover, and simmer 10 minutes.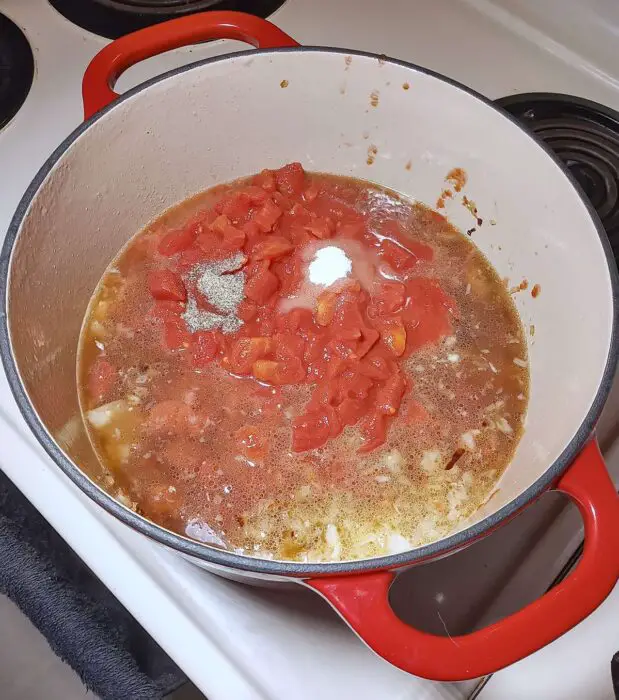 Blend to your desired consistency. I like to blend out any big chunks until it is almost a thick sauce consistency, but not runny like canned tomato soup.
I highly recommend using an immersion blender like this one. So much easier and safer than trying to transfer hot soup to a blender. An immersion blender is quick and easy to use and clean up.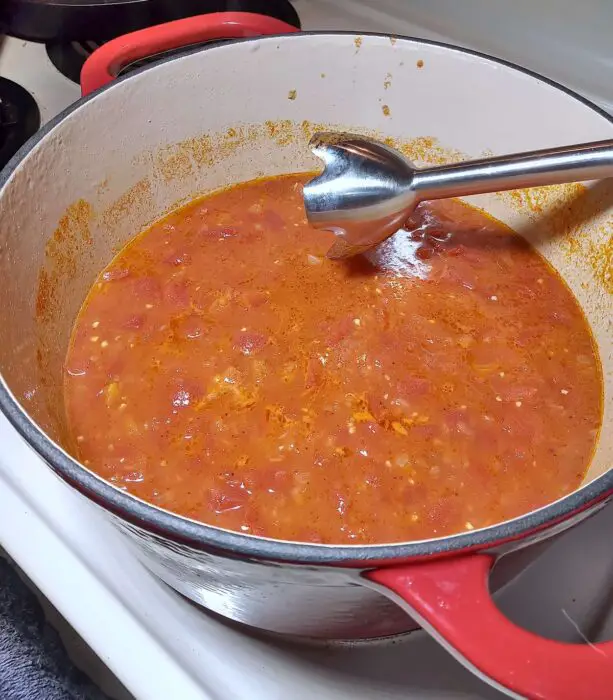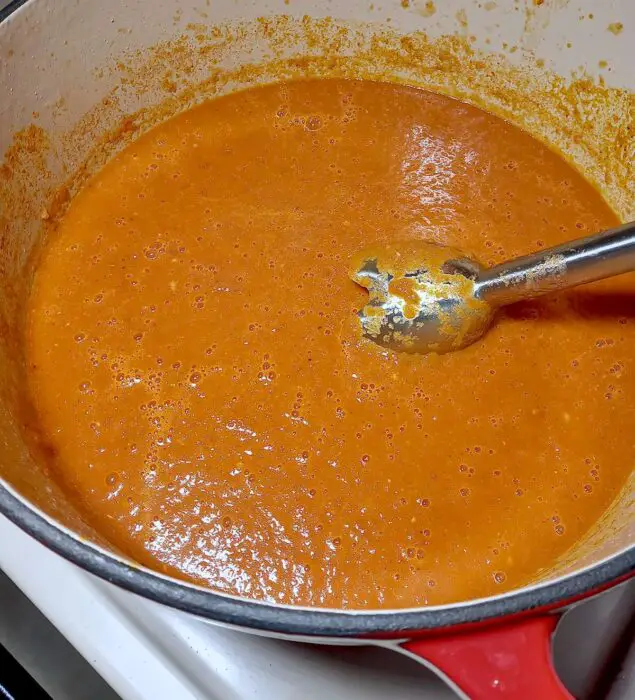 Finally, add the heavy cream and stir in well. You can also drizzle another tablespoon on top when serving for visual appeal. Return to a simmer and season to taste as needed.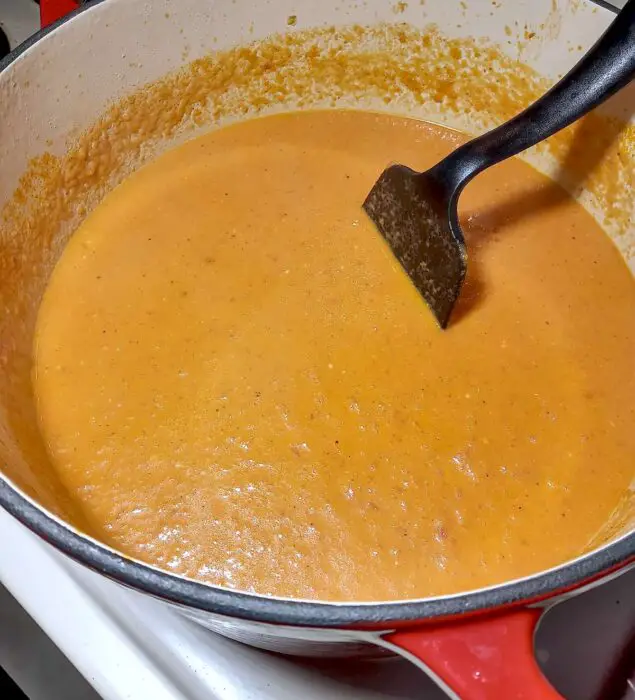 For serving, ladle into bowls and garnish with a sprinkle of shredded parmesan, fresh basil or chives and drizzle a tablespoon of heavy cream or sour cream.  (See below for other serving ideas.)
It is important to use a non-reactive pot
As a wholly tomato-based soup, it is especially important to use a non-reactive pot. 
Among the non-reactive pots that will work are stainless steel, enamel-coated cast iron, ceramic and glass. I used my Lodge 6 Qt enamel-coated dutch oven pot. (see on Amazon)
Reactive pots to avoid are un-coated cast iron, aluminum and copper which are all made of metals that can react with (acidic) tomatoes and can leach a sharp metallic taste into the soup.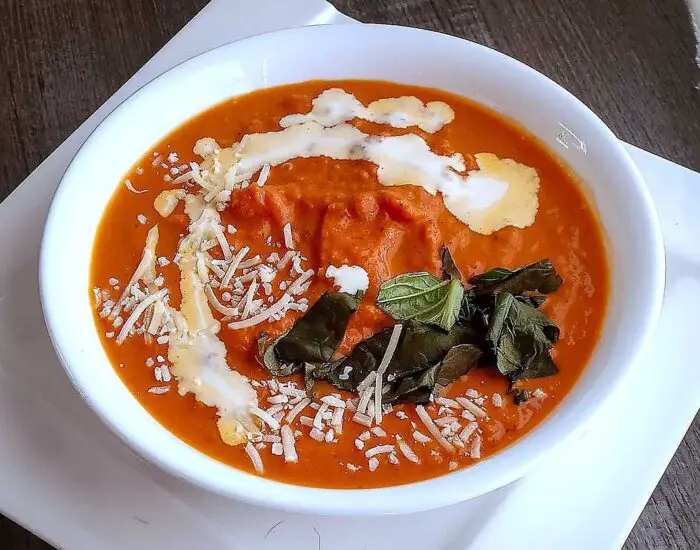 How to Serve Tomato Soup
Grilled Cheese? – Unfortunately, the ubiquitous grilled cheese sandwich probably shouldn't make the list due to the high sodium content of all the cheese. But, feel free to make any other low sodium sandwich that you can think of.
Fresh basil and or chives – Sprinkle the top with thinly sliced fresh basil or chives.
Toasted bread – My favorite bread for this is my Low Sodium Artisan Bread or you could use a toasted slice of my Low Sodium White Bread (bread machine). You can toast or broil either one.
Croutons – Add some of my Low Sodium Croutons over the soup to add a little crunch.
Steamed broccoli and/or cauliflower – I like submerging them in the soup bowl and eating them covered in the soup. Delicious and good for you! 
Baked Potato – A filling classic side that works well with the flavors of tomato soup. 
Parmesan – Be sure to use shredded parmesan that usually comes in a little plastic tub with a snap lid. It has about 40mg of sodium per tablespoon.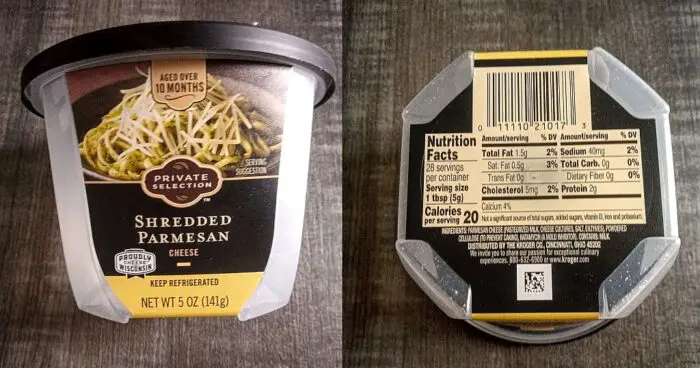 ---
Frequently Asked Questions
Can I use canned whole tomatoes for this soup?
Yes, I  would recommend using the Hunt's Whole Peeled Plum Tomatoes, 100% Natural No Salt Added Tomatoes, 28oz.
You need  to break them down after adding them to the pot. They will then be able to better absorb and mix with the other flavors. This meat / potato chopper (see on Amazon) works great to quickly break them up.
Since they are not pre seasoned you may need to additionally season to taste if substituting.
Can I use fresh tomatoes?
You can. But you'll need to make your own crushed tomatoes and have to peel, core and seed your tomatoes which can be a time consuming process. This is better done in large batches as in when canning.

It is much simpler to buy canned tomatoes which are already at least partially cooked in the canning process.
What's the best stock to use for low sodium tomato soup?
Chicken broth is used to thin the tomatoes and for the best flavor. I use no salt added chicken broth which has 40mg of sodium per cup as compared to 130mg per cup from no salt added chicken stock. 

You could also use a homemade chicken broth like I do. I always save the leftover liquid from when I cook plain seasoned chicken in the instant pot and then freeze it in serving sizes.
What if my soup is too acidic?
My cast iron stomach isn't what it used to be, so I use more cream and sugar to taste to balance any acidity. Usually adding just the cream will be enough for me in this case.
Storing low-sodium tomato soup. 
Store tomato soup in an airtight covered container in the refrigerator for up to five days.

This tomato soup also freezes very well and is perfect for single size servings. I always use my jumbo muffin pan and it makes the perfect serving size. Simply fill the pan with the soup and freeze. When frozen, pop out the frozen serving and put it in a zip-loc freezer bag. (Picture is from another soup. I ate the tomato soup to fast to freeze. Haha.)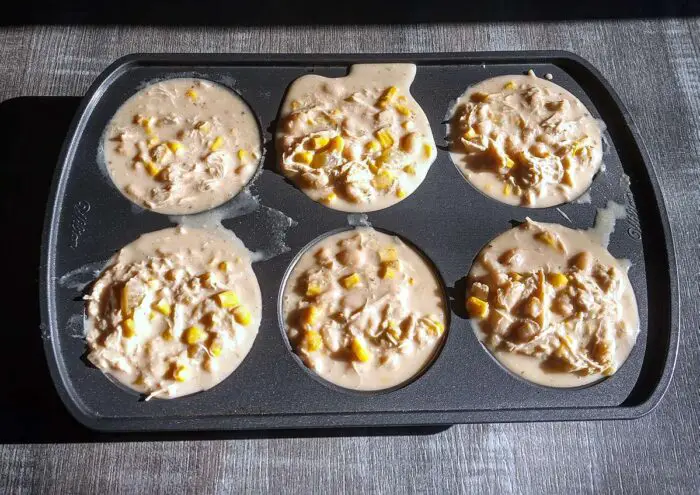 A few of my other great soups to enjoy!
---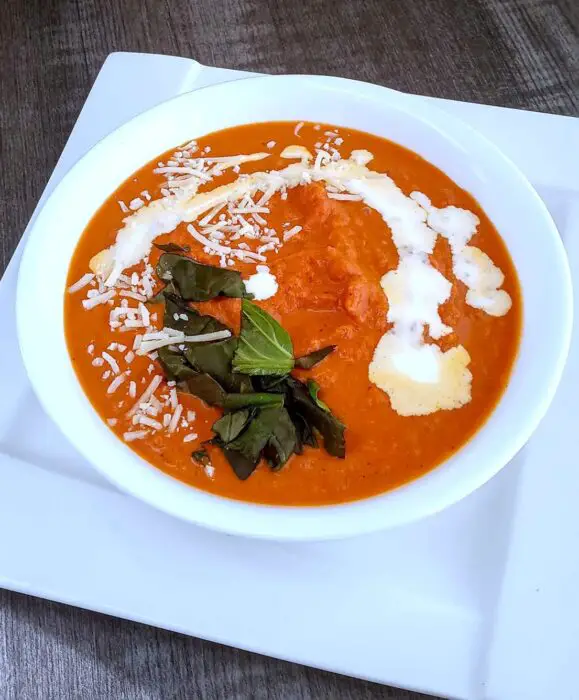 Please let me know how this Low Sodium Tomato Soup turns out for you in the comments and a rating! I'm always eager for your feedback and hope my recipes turn out amazing for you. You can follow me on Facebook and Pinterest also, to hear about new recipes.
Low Sodium Tomato Soup
A low sodium tomato soup version of the classic soup and a sandwich. Easily made in about 30 minutes with pantry staples.
Ingredients  
4

Tablespoon

unsalted butter

2

yellow onions,

finely chopped about 3 cups

1

Tablespoon

pre-minced garlic

56

oz

Muir Glen fire roasted diced tomatoes no salt added with juice,

(two, 28-oz cans)

2

cups

chicken broth un-salted,

I use Swansons

1

Tablespoon

sugar,

or add to taste

1

teaspoon

Mrs. Dash Original Table blend no salt

1/2

teaspoon

black pepper, ground,

or to taste

1/3

cup

heavy whipping cream,

or more to taste to reduce acidity

fresh basil or chives,

for garnish

1/3

cup

shredded parmesan cheese for topping*,

optional
Instructions 
*Use an enameled, non-stick or stainless steel pot (non-reactive pot) due to the tomato acidity when cooking.

Heat pot or Dutch oven over medium heat. Add butter to melt then add chopped onions. Sauté for 10-12 minutes, stirring occasionally, until soft and golden. Add minced garlic and sauté 1 or two minutes more.

Add diced tomatoes with the juice, un-salted chicken broth, sugar, Mrs. Dash and black pepper. Stir together and bring to a boil then reduce heat, partially cover with lid and simmer for 10 minutes.

For a desired thinner consistency use an immersion blender to blend the soup in the pot to desired consistency. (Recommended) Or carefully use a blender in batches; be careful with hot soup. Return blended soup to the pot and continue over medium heat.

Add the heavy cream and stir well. Season to taste with Mrs. Dash and pepper if needed and turn off the heat. Add more cream or sugar to taste if the soup seems to acidic.

Ladle into bowls and top with shredded parmesan and chopped basil or chives.
Notes
Parmesan cheese is not included in nutrition calculation. Shredded Parmesan should have about 40mg sodium per tablespoon.
Nutrition
Serving:
1
cup
Calories:
120
kcal
Carbohydrates:
7.8
g
Protein:
2.5
g
Fat:
8.6
g
Cholesterol:
26
mg
Sodium:
57
mg
Potassium:
113
mg
Fiber:
1.2
g
Sugar:
4.9
g
Calcium:
28
mg
Iron:
1
mg
https://tastyhealthyheartrecipes.com/a-la-cart/soups/low-sodium-tomato-soup/
Nutrition Information – The information shown is provided by an online nutrition calculator. It should not be substituted for a doctors or nutritionist's advice. Please understand that not everyone's sodium requirements are the same, therefore some recipes may be higher than you're allowed. Always consult with your doctor for your recommended daily sodium allowance.