This Low Sodium Chili recipe can be easily made in an hour for a weeknight meal. Though I like to do mine on the weekend and let it simmer longer to really develop its flavor. But don't let that stop you. It really is so easy to make, just brown the beef while gathering the other ingredients, the only thing to chop is some onion and green pepper. Then mix it all together and your hands on time should be done in less time than it takes to brown the beef.
| | |
| --- | --- |
| Sodium per serving for this recipe | 94 mg |
| Typical sodium amount per serving | 400-1000+ mg |
| Calories per serving | 261 |
If you buy chili mix in a packet and follow the recipe on the back, sodium levels can be easily 400+ mg by the time you add the other ingredients. I've seen homemade recipes hit as high as 1300mg per serving, probably the range I used to be in before I changed to a low sodium diet. With this recipe you see significant savings down to 94mg per serving. Most of the savings comes from not using salt as a spice obviously, but also using no salt added canned products easily found at the store. All the convenience but minimal sodium!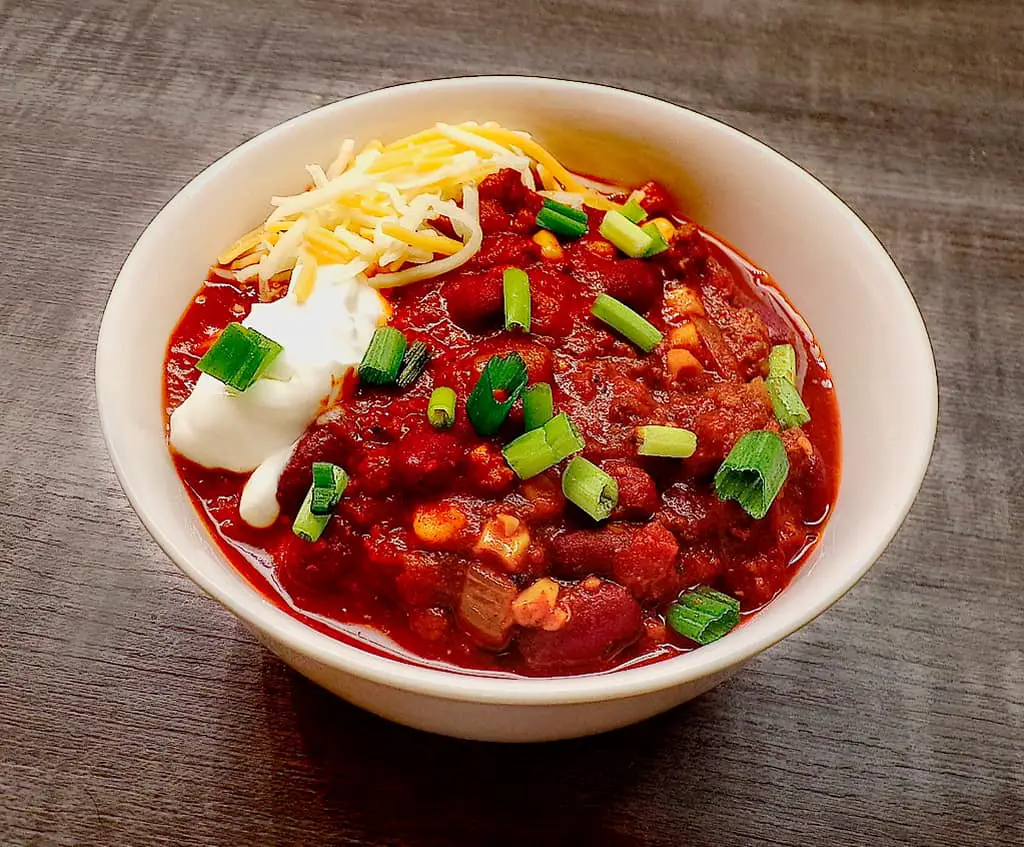 WHEN MAKING CHILI GO LARGE
This recipe makes a pretty good size pot of chili. Making chili is an event for me and it's inevitable that people come over when they find out I'm making it. The size of this recipe is based on the amount of ground beef that's used. But I love chili, and when I make it, I splurge on it for several meals. Then I portion out what is left and freeze it for those spur of the moment meals that always seem to pop up when you don't have time. So you can still maintain awesome low sodium belly filling meal. You can always use this recipe and scale down.
SPICES RULE FOR LOW SODIUM CHILI
When making chili, spices rule and salt not being present really makes very little difference. Spices are what makes good chili develop that complex mouthwatering flavor. There are four spices that are essential to make a chili pot with: chili powder, cumin, garlic and paprika. So make sure you have plenty on hand, other spices you can always mix and match and experiment. (Within reason, haha!)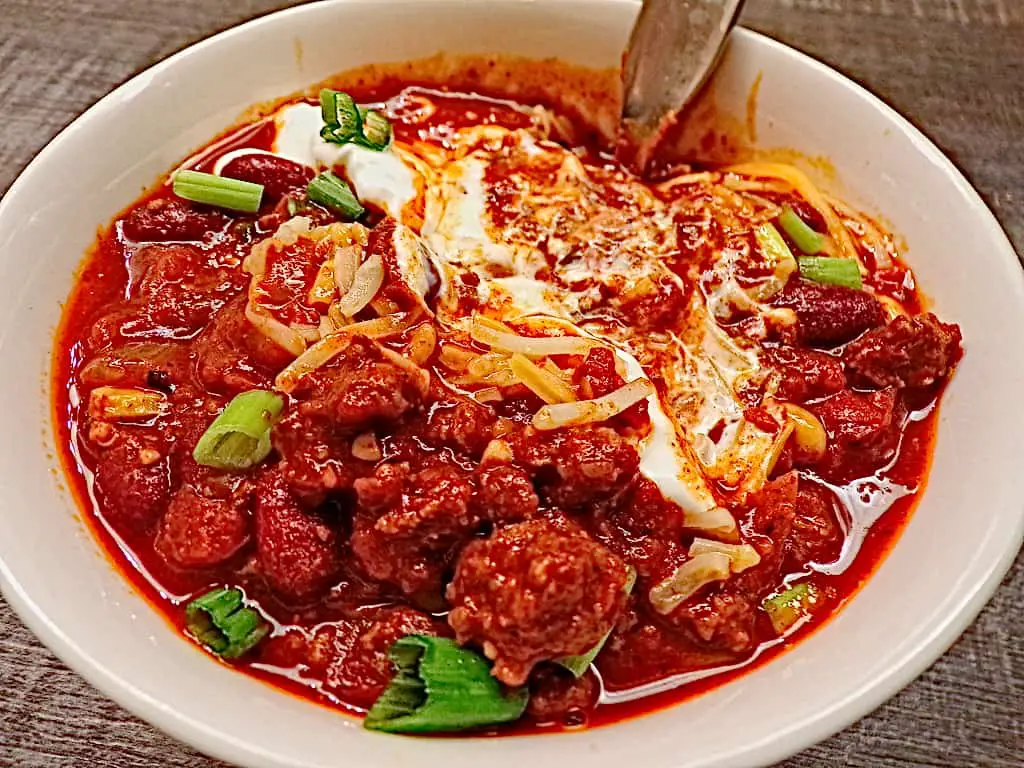 WHAT TYPE OF MEAT TO USE WITH LOW SODIUM CHILI?
Ground beef isn't the only meat you can use. It can be replaced with steak bits or even ground pork. If you want to eat less beef, ground turkey or chicken will work with this hearty recipe also.
BEAN OR NO BEAN CHILI?
I like beans so this has lots of big dark red kidney beans. It is not Texas chili, where they adamantly say chili has no place for beans. I use dark red kidney beans as I think they give the best flavor. But you could use any type of bean really, like: black beans, navy beans, pinto beans. I have been finding many more types of beans lately in the canned no salt added version, so use what is available to you or not.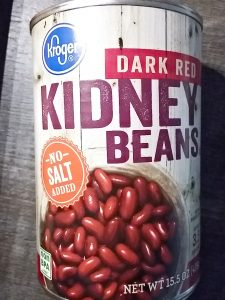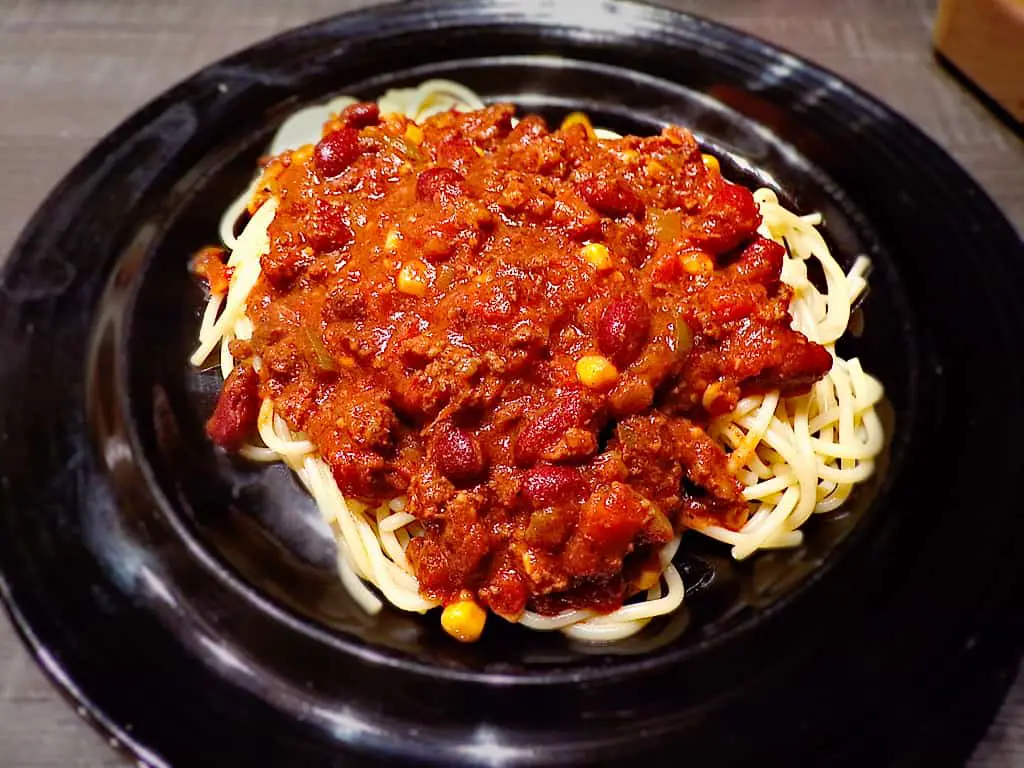 WHAT TO TOP LOW SODIUM CHILI WITH?
In addition to just a plain bowl of chili, you will probably want to also add these things as toppings or to serve over. 
shredded cheese (lowest sodium)
sour cream
sliced green onions (chives) or regular
reduced or unsalted sodium oyster crackers
over spaghetti noodles
over a bed of lettuce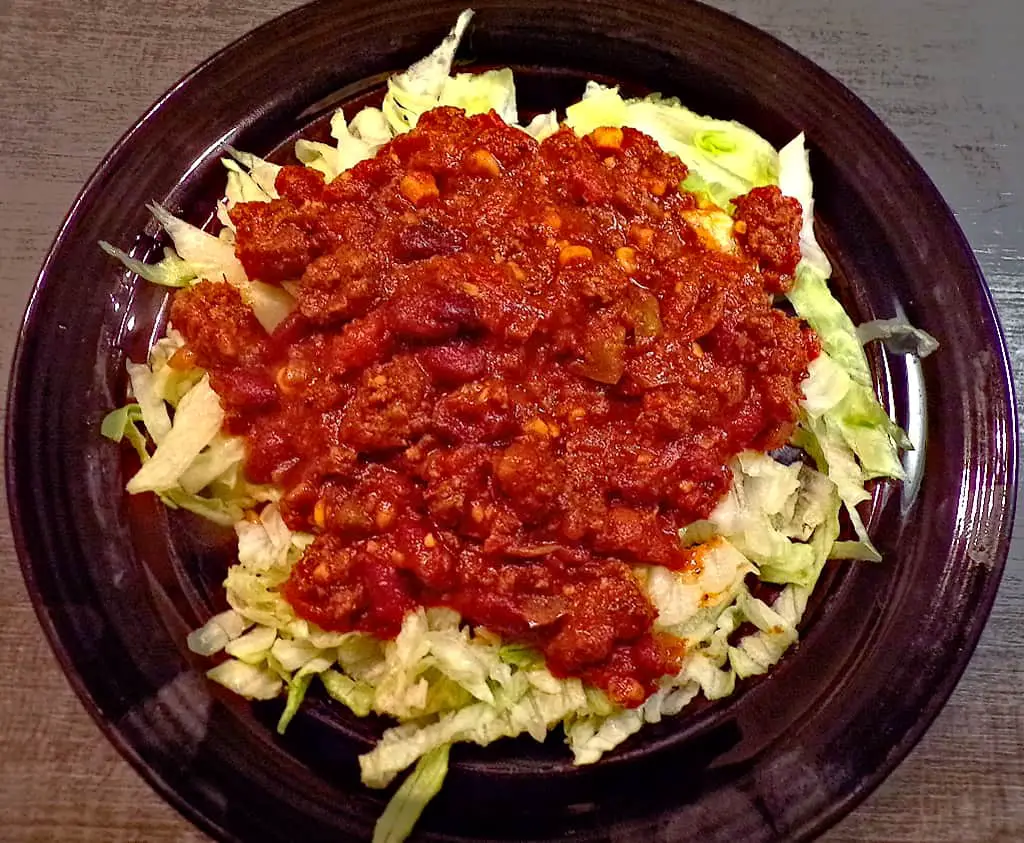 WHAT TO SERVE WITH CHILI
Easy Low Sodium Cornbread
Low Sodium Coleslaw
As always, please let me know how you like this recipe in the comments! I get motivated when I hear from you and am interested to learn about how you liked and served your Low Sodium Chili. And please leave a comment or rating and share any tips you might have.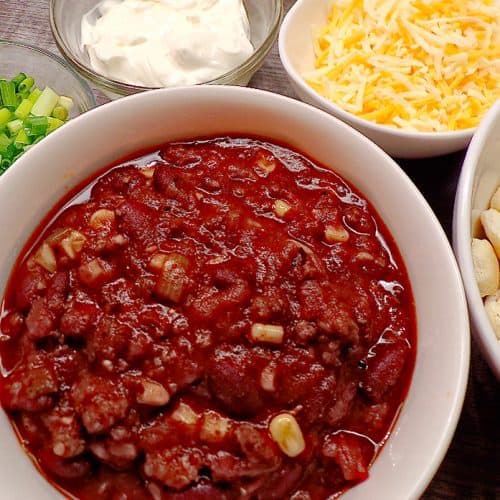 Best Classic Low Sodium Chili
The Best Classic Low Sodium Chili – This hearty chili recipe made with ground beef, lots of beans, onion and a simple homemade blend of chili seasoning.
Ingredients  
3

pound

90% lean ground beef

or meat of choice

3

tablespoon

olive oil

1

large green pepper

3

medium yellow onion -diced

6

Tbs

chili powder

4

tsp

ground cumin

4

Tbs

dark brown sugar

or white sugar

1

Tbsp

smoked paprika

1.5

tsp

ground black pepper

0.75

tsp

ground cayenne pepper

2

tsp

roasted cinnamon McCormick spices

3

Tbs

pre-minced garlic

6

Tbs

tomato paste no salt added

3.5

cups

beef broth no salt added or water

3 15.5

oz.

can red kidney beans no salt added

drained

1 28

oz.

can crushed tomatoes no salt added

1 15

oz.

can sweet corn no salt added

1 10

oz.

can Ro*Tel diced tomatoes and green chilies no salt added
Instructions 
Add the olive oil to a large soup pot and preheat over medium-high heat. Add the ground beef to the pot. Allow to cook then start to break it apart to smaller bits. Cook for 6-7 minutes, until the beef is mostly browned, stirring occasionally. Add onion, green pepper when beef is about 3/4 done and stir to mix.

Add the broth or water, and the remaining canned ingredients. Stir well.

Add the chili powder, cumin, sugar, pre-minced garlic, smoked paprika, cinammon, pepper, and optional cayenne. Stir until well combined.

Bring the mix to a low boil for about 5 minutes. Then, reduce the heat (low to medium-low) to gently simmer, covered, for 20-25 minutes, stirring occasionally.

To really let the flavor develop and make a far superior chili, let simmer for two hours, stirring occasionally.

Remove the pot from the heat. Let the chili rest for 5-10 minutes before serving.

Let cool completely before storing in airtight containers in the fridge.
Notes
For more heat spiciness add more cayenne pepper a bit at time till desired level.
*For superior flavor simmer for a minimum of 2 hours!
Nutrition
https://tastyhealthyheartrecipes.com/main-dishes/entrees/best-classic-low-sodium-chili-recipe/
Nutrition Information – The information shown is provided by an online nutrition calculator. It should not be substituted for a doctors or nutritionist's advice. Please understand that not everyone's sodium requirements are the same, therefore some recipes may be higher than you're allowed. Always consult with your doctor for your recommended daily sodium allowance.