By making this standard low sodium white bread for sandwiches or toast, you will bake up significant savings in your sodium budget. And who doesn't like fresh bakery smelling bread? Plus, it is made so easily with a bread machine that it takes 90% of the work out making bread. Easy cleanup and a perfect consistent bake every time and it doesn't heat your kitchen up but leaves a wonderful bakery fresh bread smell floating in the air. A bread machine is well worth the investment to make low sodium bread regularly, reliably and save loads of sodium. Most of your time is measuring out the simple ingredients and then slicing the bread.
| | |
| --- | --- |
| Typical sodium amount per slice | 120+ mg |
| Sodium per slice for this recipe | 3 mg |
| Sodium total for this recipe | 36 mg |
| Calories per serving | 159 |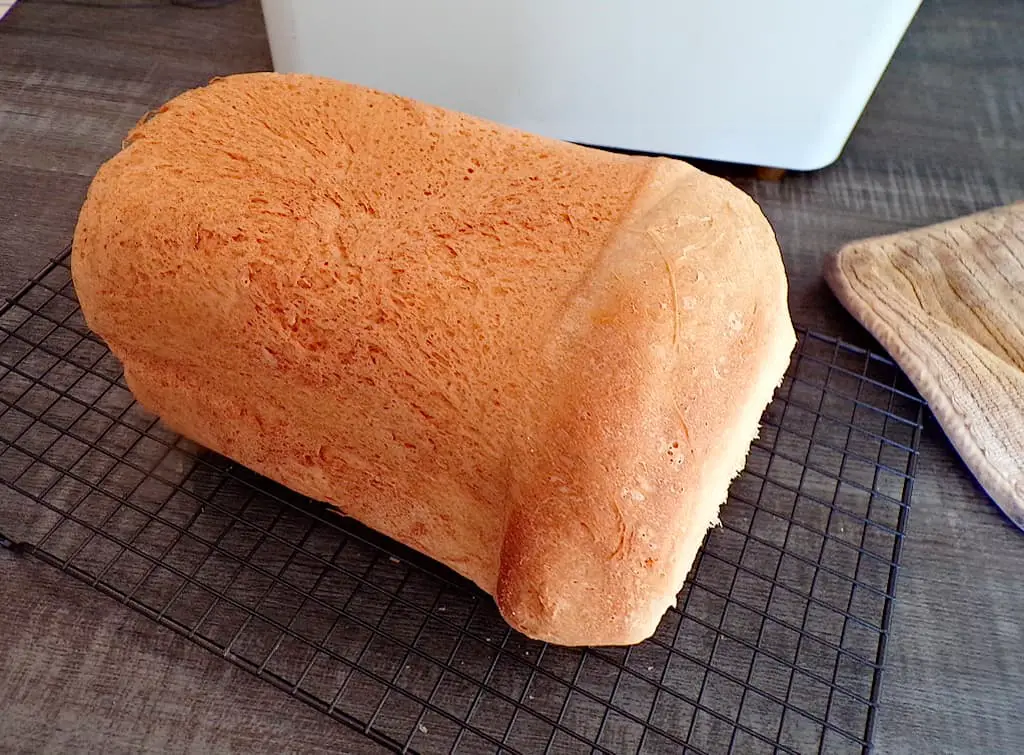 STORE BREAD IS EXTREMELY HIGH IN SODIUM
Making your own low sodium bread you can achieve sodium levels as low as 3 mg per slice.  Just an incredible amount of savings of your sodium budget!
White bread can range widely from 120 mg per slice  to 250 mg per slice of various store bought bread. If your making a sandwich, adding mayo, mustard, cheese and a meat it could easily be waay over you whole daily limit. Just one simple piece of toast in the morning can put a major dent in your sodium budget for a single slice. So as long as you don't have any gluten or carb problems this bread can be made extremely low in sodium. Fresh bead tastes better than regular store bought product. I know now that store bread is overly laden with salt for preservation and to cover up a rather bland product. My low sodium bread is made without added salt or sodium by simply changing out and adding a few regular off the shelf ingredients.
USE A BREAD MACHINE TO MAKE LOW SODIUM WHITE BREAD
I've been making a lot of bread since my stroke because most store bought bread seems to be so incredibly high in sodium. But most basic breads, which are normally among the "Salty Six", can be easily made without salt or high sodium baking powders and sodas. I had never really made bread before, except once or twice, but on a low sodium diet it's almost a given.
Therefore, I find a bread machine is almost essential when making bread which is weekly or more now. Plus as an added benefit, I really think you gain so much more taste, flavor and freshness from making homemade bread it's worth it. I had always thought you needed an expensive Kitchen Aid stand mixer to really do it right. But I have since found out in practice that a bread machine is so much easier. It can mix up and bake the whole bread or just mix up the dough, easily and cleanly, for half the price of a stand mixer. And there is hardly any cleanup! I am not saying mixers don't have their place, but for me it just doesn't make sense compared to the ease of use and consistency of a bread machine.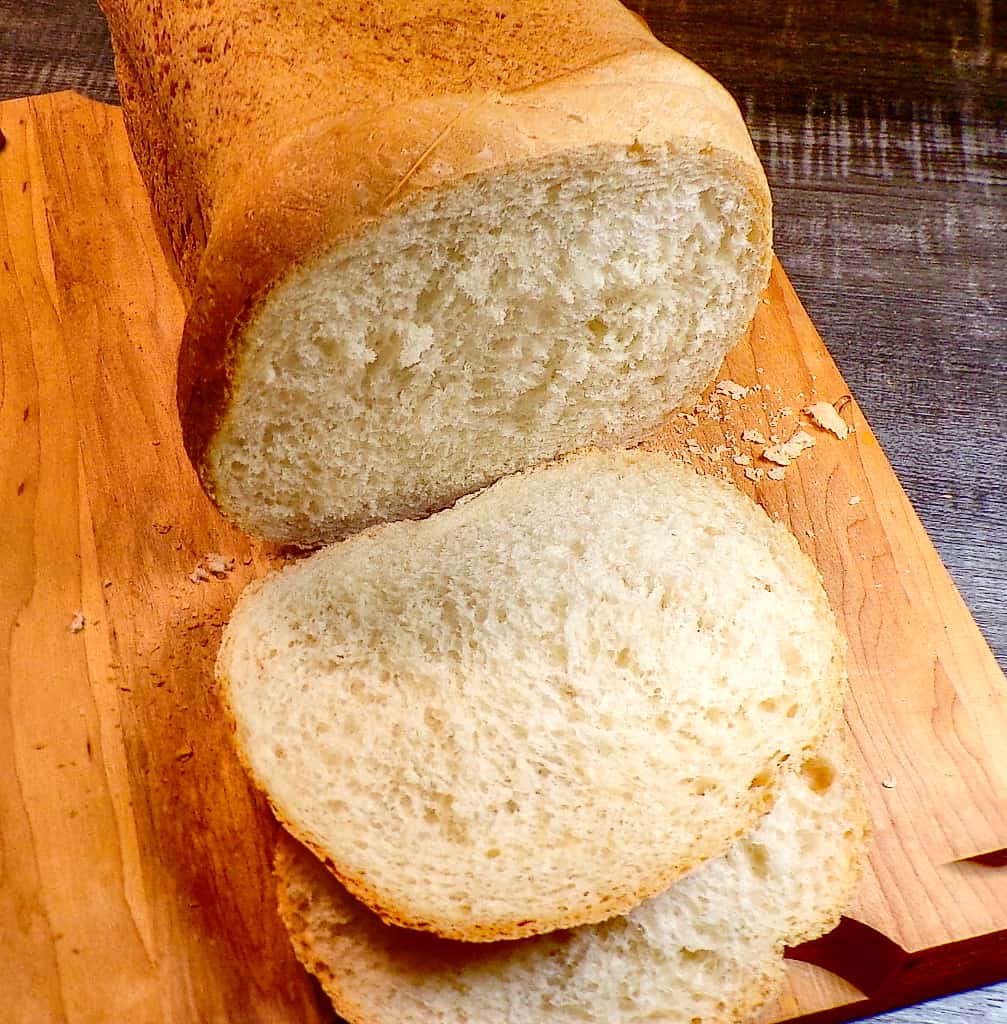 MY BREAD MACHINE RECIPE TIPS
Hains Featherweight no sodium baking powder is your secret weapon to replacing the salt and any sodium filled baking powder. This is what acts as the required leavener for the yeast.  Any standard baking powder with sodium is incredibly high in sodium so this is a significant savings. For my recipes, I use as a rule of thumb to double the Hains Featherweight to the salt called for, if you try on any other recipes.
HOW TO MAKE MOIST LESS DENSE BREAD MACHINE BREAD
When I first started making bread it was very dry and crumbly and was hard to spread anything on it without it falling apart. It was also very dense and did not have any airy little holes in it, rather disappointing. So after some research I found Vital Wheat Gluten would fix that problem right up. The difference was amazing! The Vital Wheat Gluten produced a superior texture, improved moisture and also vastly helped the rise of the bread. This product is normally found on the shelves next to the flour. But Beware the directions on the box calls to add 4 teaspoons to your recipe. However, that was way to much for a bread machine, as it ended up pushing open the top of my bread machine towards the end of the bake cycle. I have since found a good balance at about 1 ½ teaspoons. You may need to experiment a bit with your particular bread machine, but you can hardly go wrong and I would start there.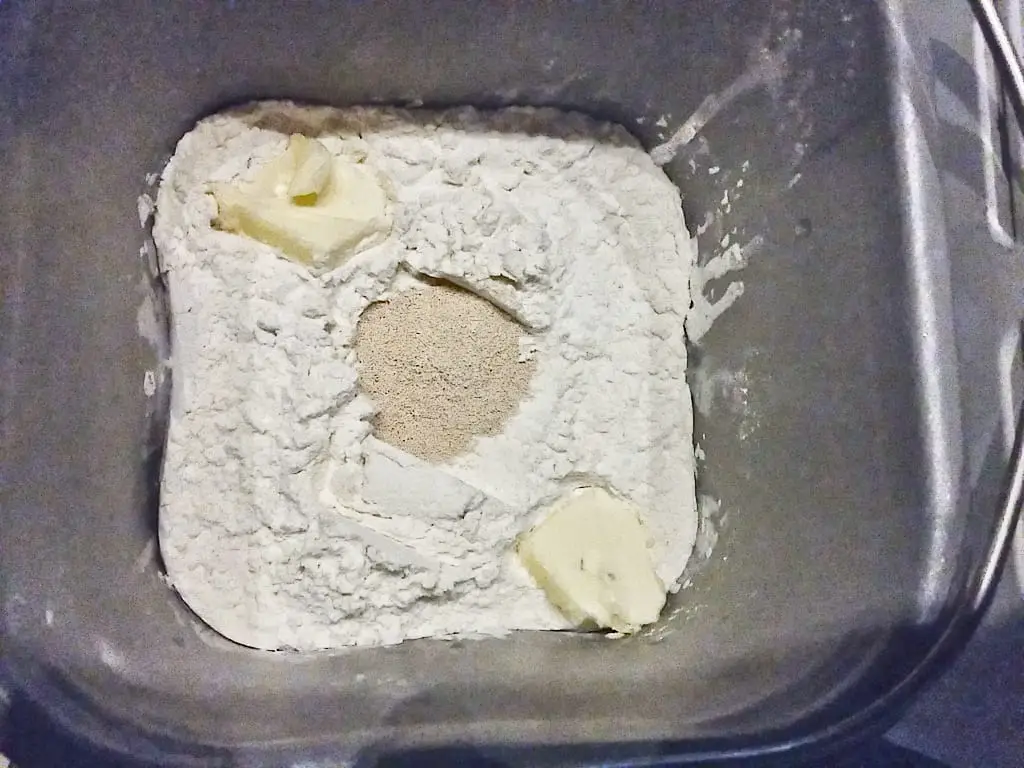 CHANGE UP FLAVOR OF SANDWICH BREAD
Experiment with adding different herbs and spices. Honey or brown sugar may also be used in place of plain crystallized white sugar. Plus it adds a really pleasing flavor profile of low sodium white bread. I often add a couple teaspoons of either onion or garlic powder to add a "spicer" taste.
MEASURING FLOUR FOR BREAD
When you measure flour, use flour measuring cups and do not to pack the flour in the cup. Otherwise, you will end up with much more flour than you need which will make a denser bread. Just gently, loosely, spoon it into the cup and then jiggle the cup to level it. When measured, I put all my dry ingredients (except yeast) in a mixing bowl and hand whisk to incorporate ingredients and to "loosen" the flour. You want it so it's nice and light with no clumps.
USE BREAD FLOUR FOR MAKING BREAD
Use bread flour for the best results, not the regular all-purpose flour when making bread for your bread machine recipes. Bread flour contains a higher percentage of gluten and produces taller, airy loaves. If you use all-purpose flour, which has less gluten than bread flour, your loaves will not rise as high and have a denser inside.
ADDING YEAST TO BREAD MACHINE
Make sure to add the yeast last, and add it on top of the dry ingredients (flour). Make a small indentation on top of flour and add the yeast to the divot, as shown in the picture above. Also if you refrigerate your yeast, I like to let the measured amount set out for a few minutes to come to room temperature before adding.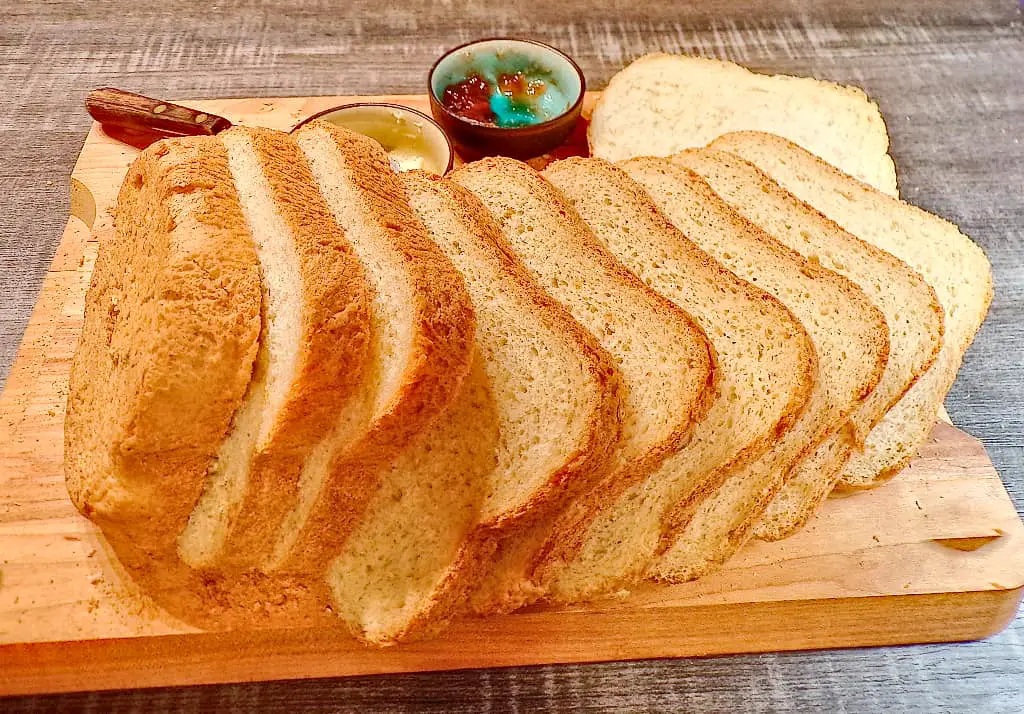 STORING LOW SODIUM WHITE BREAD
The only downside of making your own bread is that it tends to start molding in a couple days if left out. This is because it does not have the sodium and other preservatives that store bread has. So after cooling on a rack, I go ahead and slice it all up and place into a zip lock bag with a paper towel and place in the fridge. The paper towel helps cut down on any condensation in the bag. I have, 90% of the time, used it all up before it has gone bad in this manner. You can also put in the freezer for longer periods and by simply quickly toasting a slice or two that you pull out, it's pretty much fresh tasting again.
A few other recipes you may enjoy!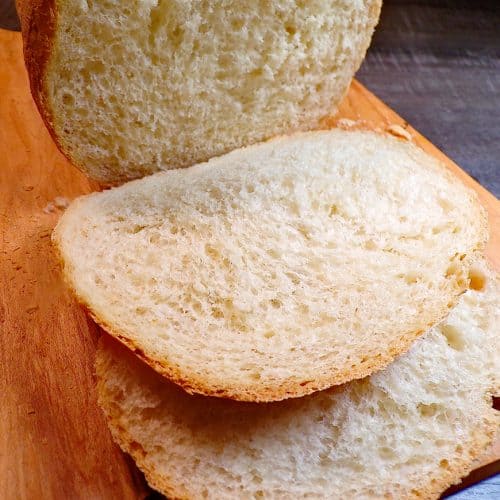 Low Sodium White Bread – Machine Recipe
My weekly made low sodium homemade white sandwich bread that always turns out with bakery fresh bread flavor, soft on the inside and a flaky crust outside.
Ingredients  
1 1/4

cup

water

from hot tap

2

Tbsp

vegetable oil

1 1/2

tsp

vital wheat gluten

2

Tbsp

sugar

3 1/4

cups

white bread flour

2

tsp

bread machine yeast

room temperature

1

Tbsp

butter no salt added
Instructions 
Whisk measured dry ingredients together except for yeast.

Add water and oil into the bread pan. Add whisked dry ingredients except for yeast.

Make a small divot on top of flour in the middle and add the yeast to the indentation.

Add ½ slice of the Tablespoon of no salt butter on top of flour in two corners of the pan.

Insert the bread pan into the bread machine, press or twist to lock pan in place. Close the lid.

Use Basic bread, 1.5 lb loaf, medium crust cycle (3 hrs 15 minutes)

When bread is done, remove the bread pan using oven mitts. Turn bread pan upside down and shake it to release the loaf.

Let bread loaf cool on a wire rack for about 30 minutes before slicing.
Notes
Be sure to loosely measure your flour and to aerate the dry ingredients together by hand whisking in a mixing bowl. This will avoid common machine bread density issues. You could be more presice but I've not had a problem doing this basic measuring procedure.
Recipe Equipment & ingredients
Nutrition
https://tastyhealthyheartrecipes.com/a-la-cart/baking/low-sodium-white-bread-bread-machine/
Nutrition Information – The information shown is provided by an online nutrition calculator. It should not be substituted for a doctors or nutritionist's advice. Please understand that not everyone's sodium requirements are the same, therefore some recipes may be higher than you're allowed. Always consult with your doctor for your recommended daily sodium allowance.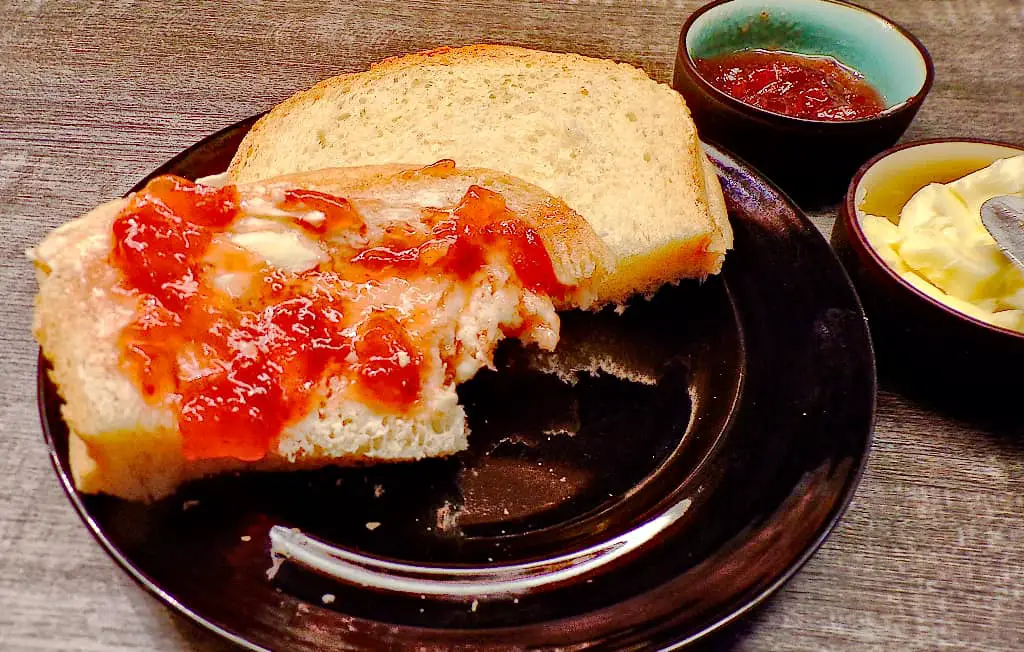 As always, please let me know how you like this recipe in the comments! I get motivated when I hear from you and am interested to learn about how you liked and served your Low Sodium White Bread. And please leave a comment or rating and share any tips you might have.