Low Sodium Mushroom Garlic Chicken in the most delicious saucy mushroom garlic sauce and is even tastier than it looks!  I kept getting bigger spoons to do my taste tests. Don't even bother looking at the standard high sodium canned cream of mushroom soup to make this. And don't worry, it is a super supper, easy to do!
I eat lots of chicken now after my stroke and I hate having a bland, plain hunk of chicken. This is an excellent saucy mushroom garlic sauce choice for lean chicken breast meat, adding richness and savory succulence!
Typical sodium amount per serving

5

00 – 900mg

Sodium per serving for this recipe
191mg

Calories per serving

250
6 servings
Besides the spiced golden brown chicken, the sauce is the real throw down for your taste buds. Add more garlic or mushrooms if you like, or double up on the sauce and pour over veggies, pasta, or rice by itself.
I could barely refrain from taking spoonfuls of this sauce to taste test, it was so good on my tongue. It was really tempting to ladle some in a mug and just sip on it. Next time, I am going to double up on the sauce and probably develop a soup recipe in the future.
Sodium in this recipe
Sodium levels in most recipes appear to be between 500 – 900mg of sodium per serving. My low sodium saucy mushroom garlic chicken comes in safely under my target goal of 250mg with it having just 191mg per serving.
This recipe makes 6 servings each which includes a half chicken breast that would be a little over 4oz for a regular meal. Also, a generous slathering of sauce and mushrooms with the chicken and sides. See the next section to further reduce sodium.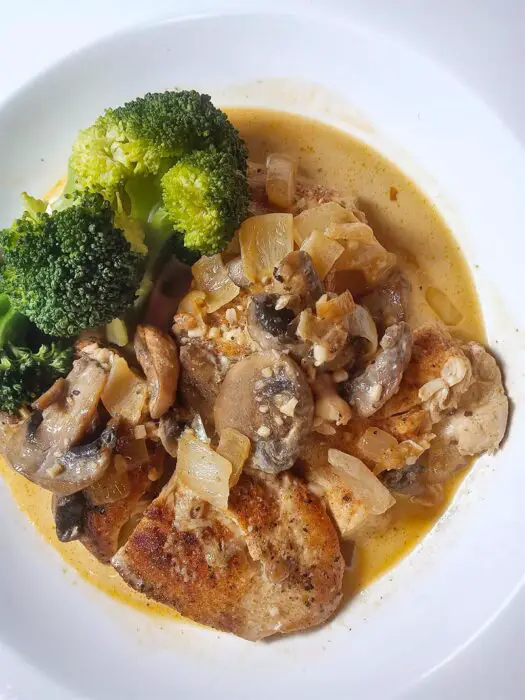 Parmesan cheese adds the most sodium to this dish.
While this recipe is below my personal sodium threshold per meal, the parmesan cheese accounts for a little over half the sodium per serving.
If you want to further reduce the sodium you can cut the parmesan in half to cut out approximately 50mg of sodium. To help keep a cheesy taste in this dish, you can always add nutritional yeast to your dish to taste. It has a similar parmesan taste, umami flavor, and effect.
You will have to add and stir in a tablespoon at a time to your taste. I have not used it in this recipe so I don't have an amount to start from. Nutritional yeast has 0mg of sodium per tablespoon while the Parmesan has 80mg per 2 teaspoons.
The Mushrooms make it
I have never been a huge whole or sliced mushroom fan. However, I do like the mushroom taste as in mushroom soup but, in this sauce, they are so good!  (Not a fan of the texture of large mushroom pieces, just taste.) But, the mushrooms add an awesome flavor to this dish that easily makes me get over my dislike.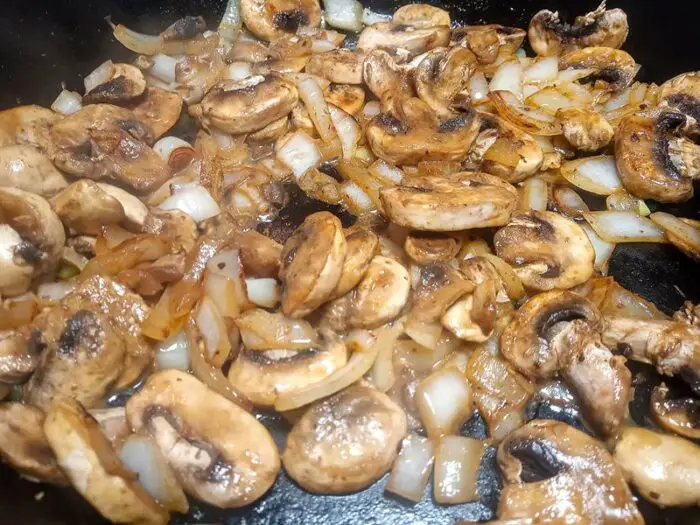 I used the pre-sliced Baby Bella mushrooms and it couldn't be easier. But a portabella mushroom would be good too. I plan on trying that next time.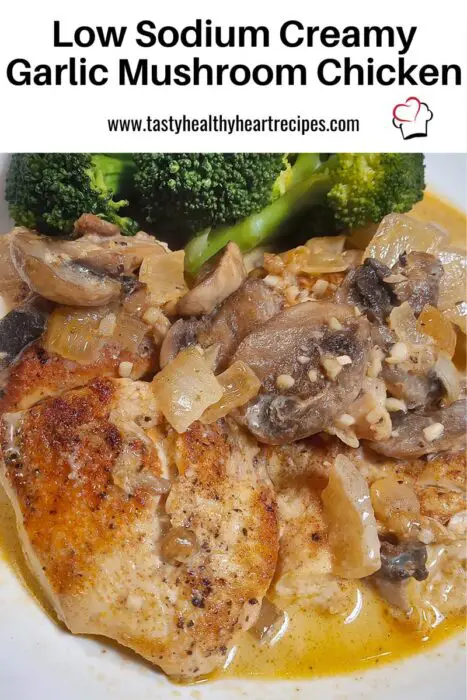 Want more sauce?
The flavors of this saucy mushroom garlic sauce are simply mouthwatering.
If you would like more sauce, then go ahead and double up the sauce portion and you'll be especially pleased. I kept taste testing it while I was doing the final cook and I just couldn't stop. Plus, with more sauce, you can pour it over your side dish or sop it up with a piece of bread.
Even if the chicken is eaten up, you can continue to use the sauce up on other side dishes or even a hamburger, Yum! I am going to look into making this into a soup or basic side sauce out of this soon, hopefully.
If you want a slightly thicker sauce, you can dust in and stir some cornstarch before adding in the chicken. Slowly add a teaspoon at a time to thicken.
How to cook your chicken breasts
First cut the chicken breast in half as if you were butterflying them (same concept). Use the flat side of a meat mallet to pound the chicken to an even flatness for even cooking. It also provides more surface area to turn into a flavorful golden brown outside coating!
I cover (top) the chicken with a plastic grocery bag when smacking with the mallet. 
Sear breasts in batches of three or four. I am able to fit four of the six pieces at a time in my large 12" cast iron skillet. I will probably do three and three at a time next time.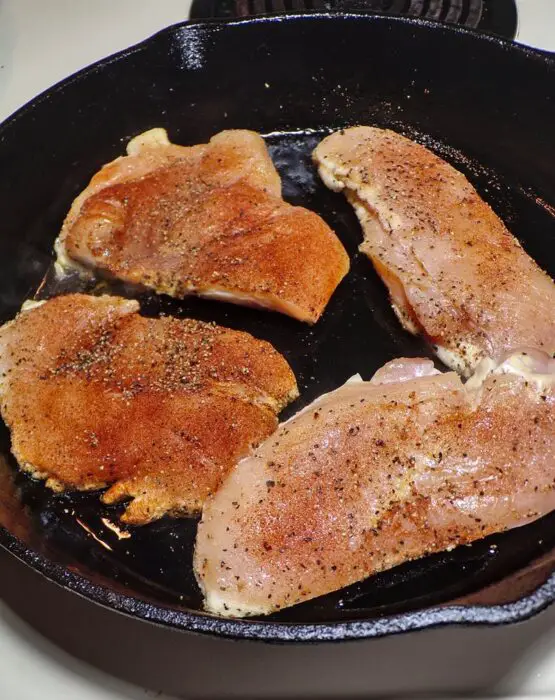 Depending on the size of your pan you need to avoid over-crowding in the pan. Otherwise, they won't brown nearly as nice and you end up with steamed, rubbery bland chicken.
Instead, each breast half needs plenty of space between them which will sear your chicken to a beautiful golden brown outside color. Doing so will help lock in moisture and result in an evenly cooked, juicy, flavor-packed chicken bite you want!
Once the chicken is in the pan, don't move the chicken for a full five minutes, don't peek, poke or try to flip the chicken. If the chicken doesn't easily flip with tongs, it's not ready for flipping yet — and it won't be golden-brown.
Flip the chicken breast half one time only and don't touch again, looking the goal of a crusty golden-brown color on each side.
Be sure to use a meat thermometer so as not to overcook your chicken. Remove chicken from pan at (160°F) for juicy chicken when finished with the dish. It will continue cooking a bit when removed and also added back into the sauce.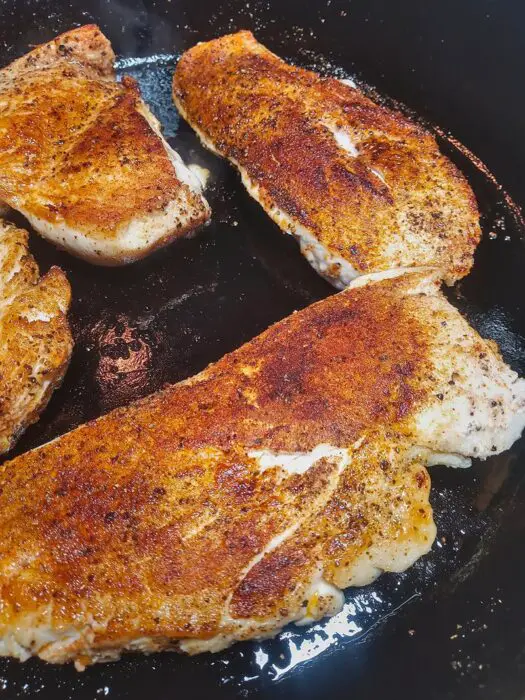 After removing the chicken and it has cooled enough to handle, I cut each breast half into thirds. I do this while the sauce is cooking up.
Side items ideas
This saucy mushroom garlic chicken recipe is easy and can be paired with lots of possibilities when it comes to choosing a side dish.
Some of the best options for this chicken recipe are almost any steamed or roasted veggies such as….
zucchini
cauliflower 
asparagus
broccoli
Or just about anything else that is good with sauce drizzled on it like…..
Mashed potatoes
White or brown rice
Pasta!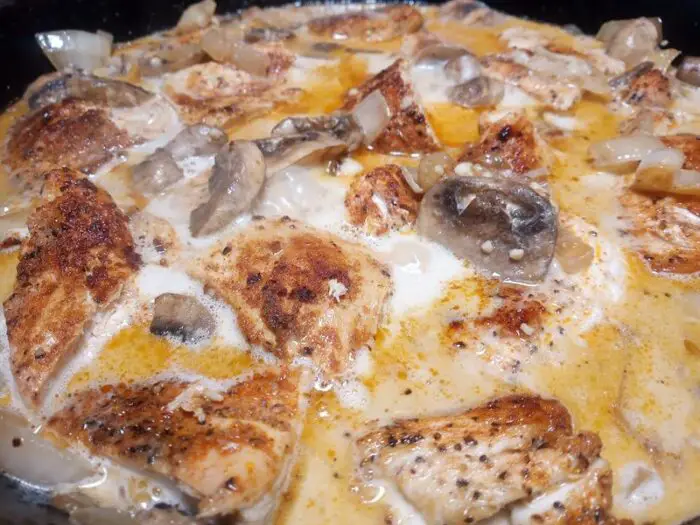 Storing and reheating leftovers?
This saucy mushroom garlic chicken recipe will last up to 3 days in the refrigerator. Store the leftovers in an airtight container. You can also freeze this dish in an airtight container for up to 1 month.  
Reheat covered in the microwave with a tablespoon of water to the sauce to add a little moisture. Sauce may tend to separate after being cooled so give it a quick stir after reheating.
---
---
Recommended Equipment & Ingredients For This Recipe.
This section contains affiliate links to products I use and recommend.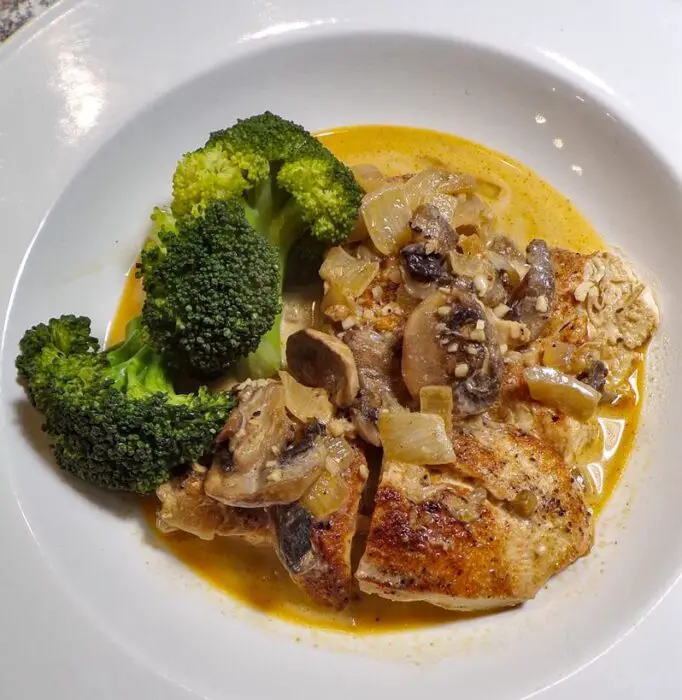 Please let me know how this Low Sodium Saucy Mushroom Garlic Chicken turns out for you in the comments and a rating! I'm always eager for your feedback and hope my recipes turn out amazing for you. You can follow me on Facebook and Pinterest also, to hear about new recipes.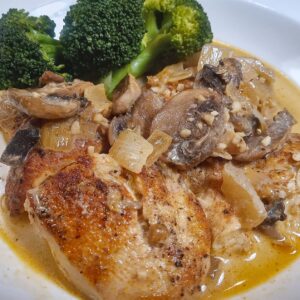 Low Sodium Saucy Mushroom Garlic Chicken
Tender and juicy Low Sodium Saucy Mushroom Garlic Chicken pan-seared golden brown breasts in a creamy mushroom garlic sauce simple, easy to make…
Ingredients  
3

boneless skinless chicken breasts

cut in half lengthwise, pounded flat to even thickness, and patted dry

1 1/2

teaspoon

Mrs. Dash Original Table Blend no salt added

1/2

teaspoon

paprika

1/4

teaspoon

ground black pepper

½

teaspoon

garlic powder

1/2

teaspoon

onion powder

1 1/2

Tablespoon

Olive oil

1

Tablespoon

unsalted butter

1

(8oz package) mushrooms, sliced

I use Baby Bella

1/2

cup

heavy cream

1

cup

unsalted chicken broth

1

medium yellow onion, large diced

4

oz.

Mascarpone cheese

1/2

cup

Shredded Parmesan cheese

Private Selection Shredded Parmesan Cheese 40mg per Tbsp

2

Tablespoon

pre-minced garlic

jarred or more to taste

parsley to top

optional
Instructions 
Season breasts with garlic powder, paprika, Mrs. Dash, black pepper and onion powder. Rub seasonings into and over the breast.

Heat 1 tbs olive oil (get pan how over medium high heat). Sear breasts till nicely browned about 5 mins each side or no more than 160°F.

Reduce heat to medium and remove breasts. Add butter to melt, then add in onions. When onions become translucent, add in mushrooms to cook just slightly. Add pre-minced garlic and stir 30 seconds.

Add heavy cream, un-salted broth, Parmesan cheese, Mascarpone cheese and scrape pan bottom to loosen any seared bits. Let cook for about 5 minutes stirring occasionally. Season with other seasonings to taste as needed. While sauce is cooking slice chicken into thirds.

Place chicken back in and spoon sauce over top with large basting spoon. Continue to heat on medium low for about 5 minutes. Plate and top with parsley if desired. Enjoy!
Nutrition
Serving:
6
.
Calories:
250
kcal
Carbohydrates:
4.1
g
Protein:
29.1
g
Fat:
12.6
g
Saturated Fat:
4.5
g
Cholesterol:
91
mg
Sodium:
191
mg
Potassium:
509
mg
Fiber:
0.6
g
Sugar:
1.1
g
Calcium:
140
mg
Iron:
1
mg
https://tastyhealthyheartrecipes.com/main-dishes/entrees/low-sodium-saucy-mushroom-garlic-chicken/
Nutrition Information – The information shown is provided by an online nutrition calculator. It should not be substituted for a doctors or nutritionist's advice. Please understand that not everyone's sodium requirements are the same, therefore some recipes may be higher than you're allowed. Always consult with your doctor for your recommended daily sodium allowance.