Low Sodium Beef Tips and Gravy is easily prepared on the stove in one skillet with only a few basic ingredients but results in a tender meat smothered in a dark savory sauce that everyone loves! This meal really brings me back to the old days of eating hearty family meals around the table. You also have many options to have it served over wide egg noodles, rice or low sodium mashed potatoes.
| | |
| --- | --- |
| Typical sodium amount per serving | 620 – 1000 mg |
| Sodium per serving for this recipe | 29 mg |
| Calories per serving | 388 |
A few of the packaged beef tips and gravy I looked at averaged 620 mg of sodium per ½ cup and jarred beef gravy ran about 300 mg per ¼ cup. Even worse many of the recipes I perused ranged all over the place from 700 – 1000 mg of sodium per 1 cup serving. Once again a dish with so much available flavor is just overdosed in salt. With just a few replacements and enhancements you can easily make a wonderful low sodium beef tips and gravy meal yourself with just a minuscule amount of 29 mg. of sodium.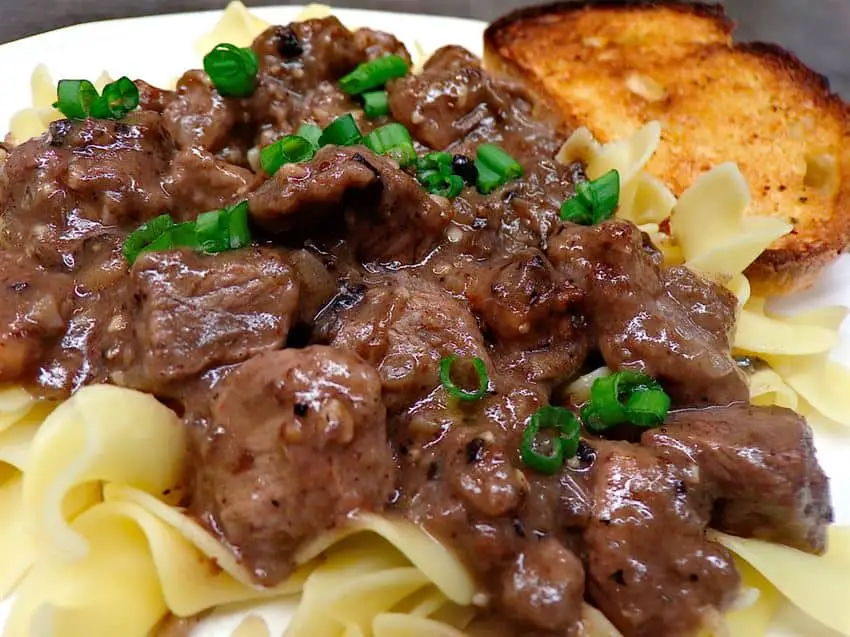 HELPFUL TIPS FOR MAKING LOW SODIUM BEEF TIPS AND GRAVY
If Gravy Gets Thick
If the gravy becomes too thick when simmering just add a few more tablespoons of beef broth to help thin it out. Using no sodium beef broth is a double win here for us because when the broth reduces as it cooks, it intensifies in flavor, and this prevents the final dish from becoming what would be too salty as it concentrates. I find 30 minutes to be roughly the ideal simmering time; this can vary depending on your beef cubes are though.
Wine and Mushrooms
This recipe uses a bit of wine and lots mushrooms. They both add tons of flavors, the wine adds a bit of "bite" and the mushrooms add an essential deeper umami taste to the gravy.
Browning Sauce
My best secret to getting rich dark brown gravy is to use a browning sauce. Browning sauce is a savory flavor concentrate and just a few drops can take your gravy to the next level. I remember my dad using this long ago but I have recently rediscovered its use and value in perking up a dish. Plus, it very low in sodium content as compared to Worcestershire sauce or soy sauce that is commonly used in gravies. I highly recommend it.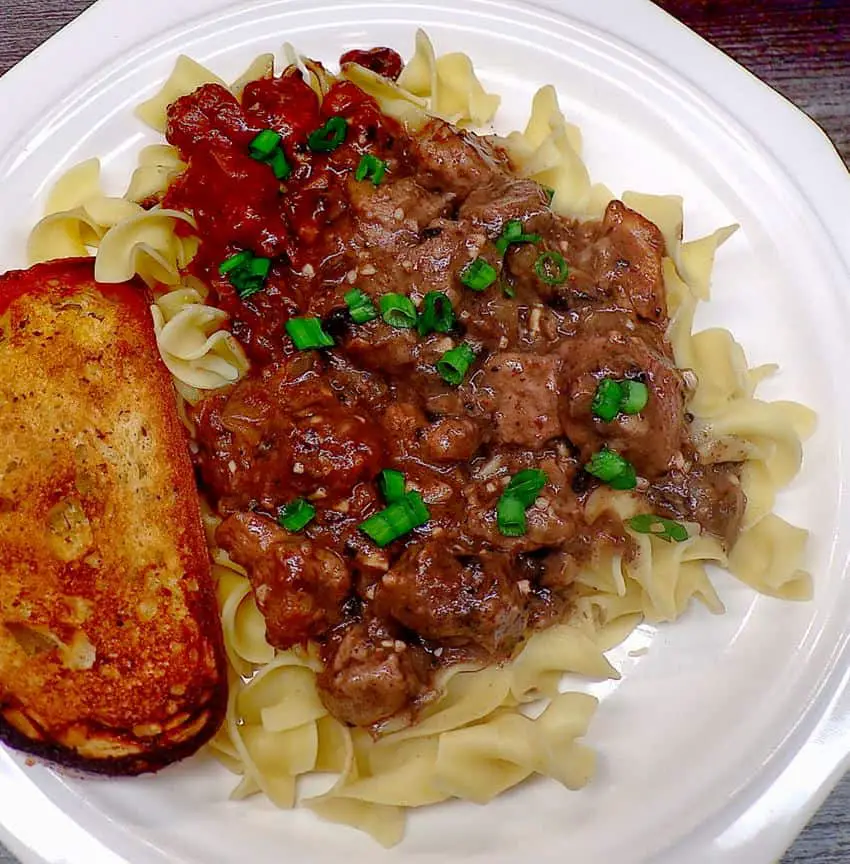 Cast Iron Skillet is Best
Using a cast iron skillet is perfect for this recipe; the wide surface is great for sautéing. And having heavy bottom and sides is ideal for holding the temperature constant during a long simmer.
Use Tupperware instead of Zip-Loc Bag
When coating the beef tips prior to browning, place and shake them in a large Tupperware container with the flour, pepper and Mrs. Dash Table Blend spice. Shake well to coat the beef. Most recipes call for a Zip-lock bag to do this. But I hate wasting bags just for this and the container is easy to washout without contributing to plastic waste. 
Varying Amounts of Meat and Mushrooms
The package of stew beef I used when I made this particular recipe came in 1 1/4 lbs. package using the same amount of ingredients for the recipe and it came out just fine. Also, it barely changes the nutrition index per serving. Likewise, if you want to add more or less mushrooms that's OK too. Though I would not leave mushrooms out as you will be missing out on a lot of flavor that adds to a low sodium meal. I am not big on the texture of mushrooms but I love the flavor, so I just chop them into smaller bits. It's all up to you.
WHAT IS THE BEST KIND OF MEAT FOR BEEF TIPS
I personally like to use chuck roast stew meat to make my low sodium beef tips and gravy. They are typically very economical and can be simmered to a perfect tenderness just like any other beef. They generally are already packaged in a cubed form though I generally cut those cubes in half and cut off any excess fat. Since they always simmer to a nice tender "bite" I never saw the need to use a more expensive piece of meat because the majority of the flavor comes from the gravy. The most important thing to remember is, the longer it cooks, the more tender it becomes.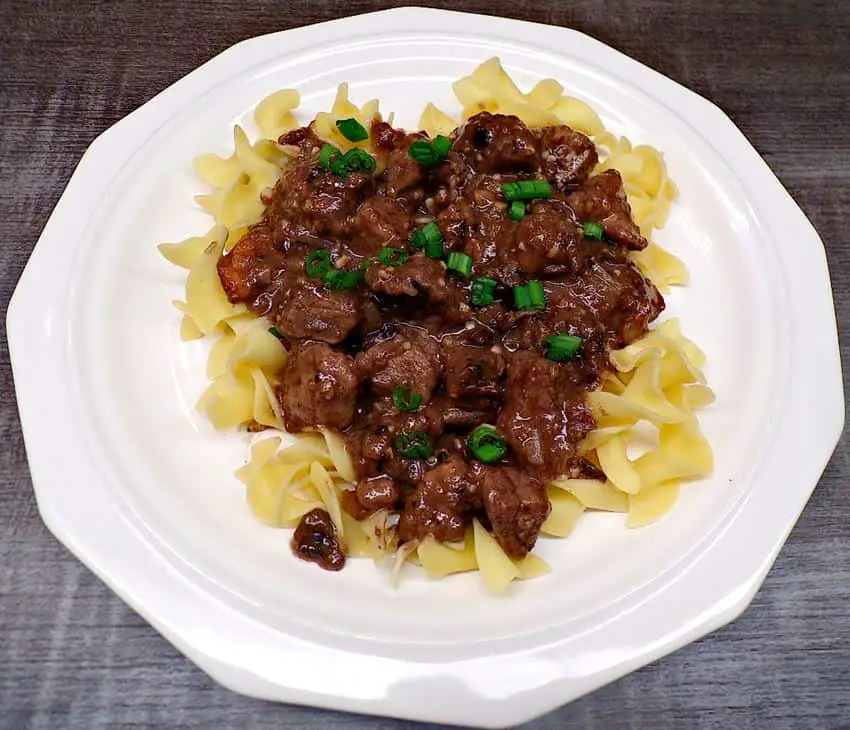 A few other recipes you may enjoy to dip in!
As always, please let me know how you like this recipe in the comments! I get motivated when I hear from you and am interested to learn about how you liked and served your Low Sodium Beef Tips and Gravy. And please leave a comment or rating and share any tips you might have.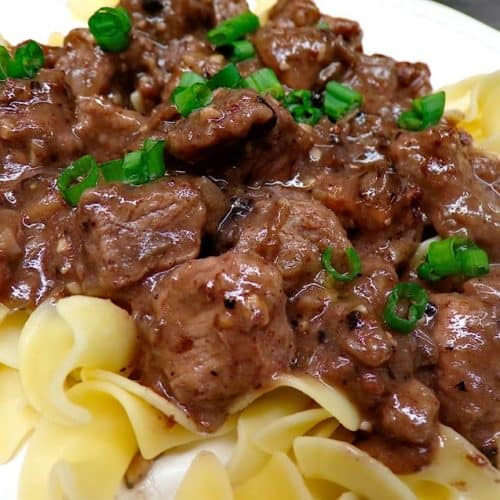 Low Sodium Beef Tips and Gravy
Low Sodium Beef Tips and Gravy has to be the ultimate family dinner comfort food. Tender cubes of beef are lathered in a rich brown mushroom and onion gravy.
Ingredients  
3

Tbsp

butter no salt added

1/2

lb

8 oz sliced white mushrooms

1/2

cup

chopped onion

2

Tbsp

garlic pre-minced

2

Tbsp

olive oil

1

lb

stew beef (chuck roast) cut in bite size strips

2

Tbsp

flour

1/4

tsp

fresh ground pepper

1

tsp.

Mrs. Dash Table Blend spice
For the gravy
1/3

cup

dry red wine Merlot

2

cups

no sodium added beef broth

1/4

cup

Wondra or regular flour

I like Wondra as its easy to shake out and mix

A few drops of browning sauce to taste

Pepper to taste
Instructions 
Add butter to large skillet over medium high heat. When melted toss in mushrooms and cook until browned; approximately 8 minutes. Add onions and continue cooking for 2-3 minutes or until onions start to soften and mushrooms turn golden brown. Reduce heat to low and add garlic; cook for 30 seconds. Remove mixture from pan to bowl.

In large Tupperware container with lid add flour, steak bites, Mrs. Dash Table Blend and pepper. Shake to coat. Add olive oil to skillet over medium high heat. When oil is shimmering add steak and cook until browned. Remove previous waiting bowl.

Add red wine to skillet and deglaze the pan; scraping up the brown bits from the bottom.

Then add beef broth and Herb-ox beef flavor. Simmer for 5 minutes; stirring a couple of times.

Whisk Wondra or sieve flour into skillet with beef broth mixture. Cook until slightly thickened; approximately 2 minutes. Add browning sauce a few drops at a time to taste.

Add mushroom mixture and beef back to pan; simmer for at least 15 -20 minutes or until meat is tender.

Mrs. Dash Table Blend & pepper to taste.

Serve over egg noodles, rice or mashed potatoes.
Nutrition
https://tastyhealthyheartrecipes.com/main-dishes/entrees/low-sodium-beef-tips-and-gravy/
Nutrition Information – The information shown is provided by an online nutrition calculator. It should not be substituted for a doctors or nutritionist's advice. Please understand that not everyone's sodium requirements are the same, therefore some recipes may be higher than you're allowed. Always consult with your doctor for your recommended daily sodium allowance.