This was my first low sodium pork chops meal recipe in the Instant Pot and was totally pleased with the results. With most similar recipes easily reaching 1500mg sodium and high in fat, this meal can be enjoyed easily staying within your limits. The pork chop while not fried crispy retained the browning bits that really satisfied that pork chop flavor. Carrots were nicely tender and the skin on smashed potatoes smothered in gravy was an excellent complement to this classic meal.
INSTANT POT LOW SODIUM PORK CHOPS CARROTS SMASHED POTATOES N' GRAVY
| | |
| --- | --- |
| Typical sodium amount per serving | 1500mg |
| Sodium per serving for this recipe | 159mg |
| Calories per serving | 611 |
4 servings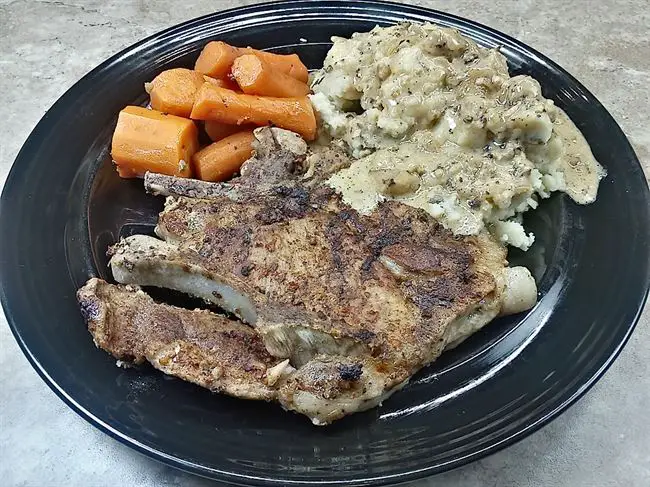 Fried pork chops are a classic Southern comfort dish and they are usually coated with seasoned flour, fried in oil or grease, and covered in heavy fat-laden gravy. So I made this recipe to give you all the flavors of the classic dish with low sodium and without so much fat. By browning the pork chops in 2 tablespoons of olive oil, carrots, olive oil instead of butter smashed potatoes, onions and gravy and you have a mouth-watering meal with all the taste of the Southern classic that is low in sodium and fat.
HOW TO MAKE INSTANT POT LOW SODIUM PORK CHOPS
To make pork chops in your instant pot you will want four pork chops.  I like to use bone in but you can use boneless pork chops for this recipe. The best pork chop thickness for the Instant Pot pressure cooking is about ¾ inch thick. They simply get seasoned with pepper, brown sugar, Mrs. Dash southwest chipotle and garlic powder then sear chops on high until browned, about 2-3 minutes on both sides. You may have to do two chops at a time according to their size.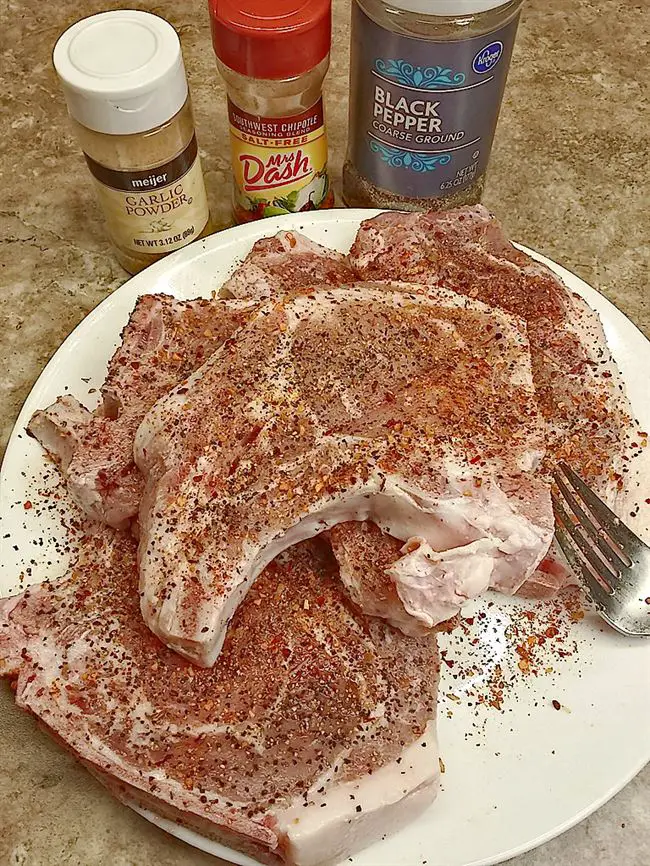 The next step is to sauté the onion and garlic for 2-3 minutes till the onions are translucent. Then pour in 1/4 cup of the NSA beef broth, scraping the browned bits from the bottom of the pot with a non-metal spatula. It is important to deglaze so that you don't get a "burn" warning while the meal cooks.
PREP INSTANT POT TO COOK PORK CHOP MEAL
Next, you will turn off the instant pot sauté function and add, in order, potatoes, carrots, remaining broth and pork chops in layers into the pot.  The pork chops should be on top.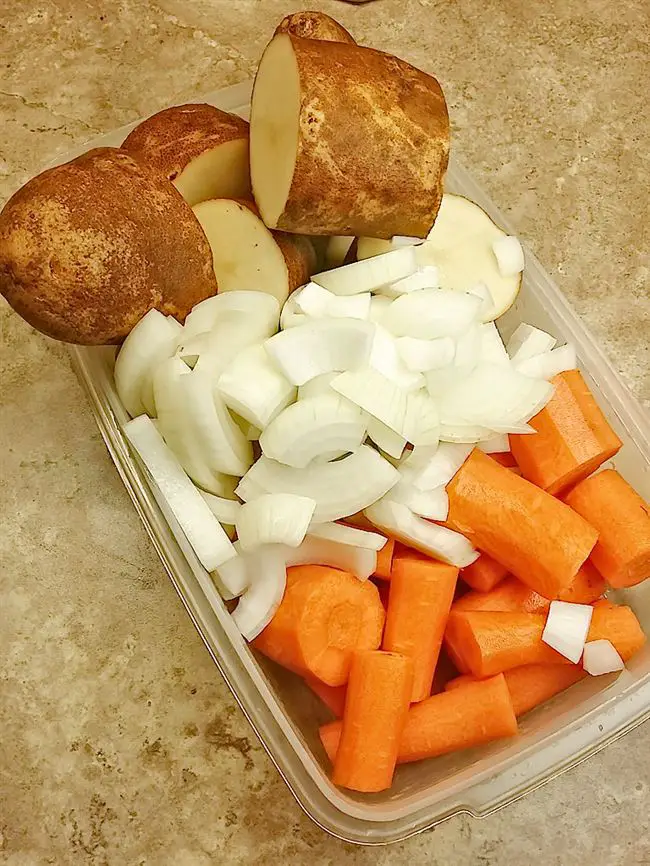 Place the lid on the pot, make sure the sealing vent is closed and set for 12 minutes cook time.  It will take about 10 minutes for the pot to come to pressure.  Then after the pressure cook cycle, let the pot natural pressure release for 10 minutes after the chops are done cooking.  Natural pressure release produces the most tender and best texture meat.
INSTANT POT SMASHED POTATOES GRAVY
These potatoes and gravy are made with olive oil and are lower in "bad" saturated fat and with no added sodium. This little change slays the sodium and fat values as compared to the traditional fried pork chop, potatoes and gravy classic.
Once your pork chops have cooked and allowed the natural release for 10 minutes, release any remaining pressure and remove the lid from the pot. Remove the pork chops and carrots to a serving platter and cover to keep them warm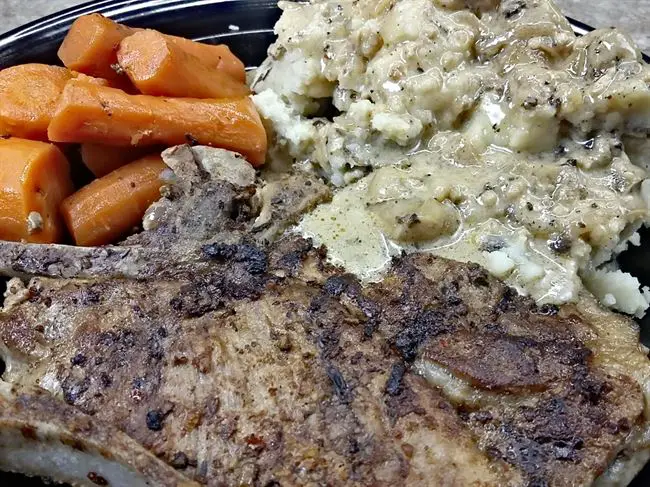 Remove potatoes from the Instant Pot with a slotted serving spoon or skimmer as they will be falling apart soft and put them in a mixing bowl, leaving the liquid behind for gravy in the pot. Smash potatoes with skin on and 3 tablespoons extra virgin olive oil and 3 to 4 tablespoons of cream, to desired consistency. Add pepper to taste.
MAKING THE GRAVY
Turn your pot back on to the sauté setting and slowly add the cornstarch and water slurry.  Be sure to stir constantly while adding the slurry.  The gravy will thicken up right away. Turn off cooker and remove liner from instant pot cooker to stop cooking.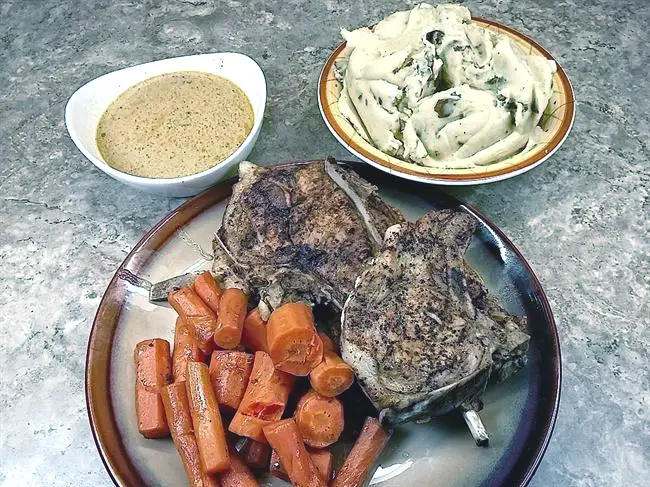 A few of my other great dishes to enjoy!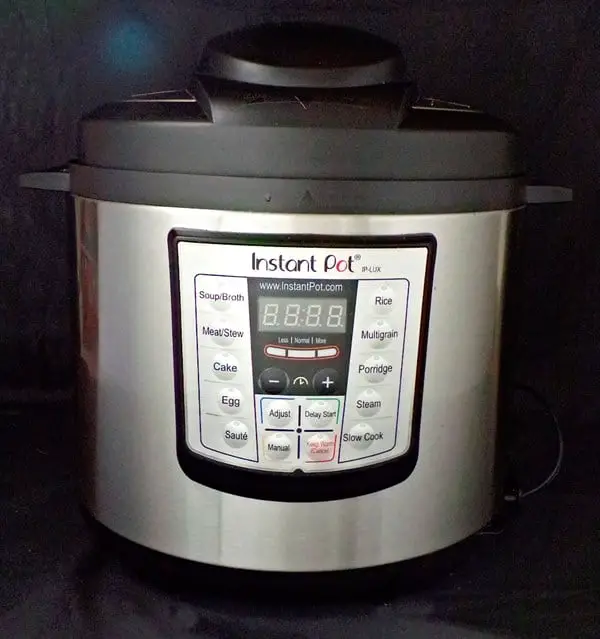 MY INSTANT POT
To make this awesome Instant Pot Low Sodium Meal I used my 6 quart Instant Pot LUX60V3 6 in 1*. The Instant Pot multi-cooker, combines 6 kitchen appliances in one, pressure cooker, slow cooker, rice cooker, sauté, steamer, and warmer. This Instant Pot is one of the very few appliances that stay on my counter since I use several times a week. It's super easy to use and clean.
As always, please let me know how you like this recipe in the comments! I get motivated when I hear from you and am interested to learn about how you liked and served your low sodium pork chops, carrots and smashed potatoes n' gravy. And please share any tips you might have.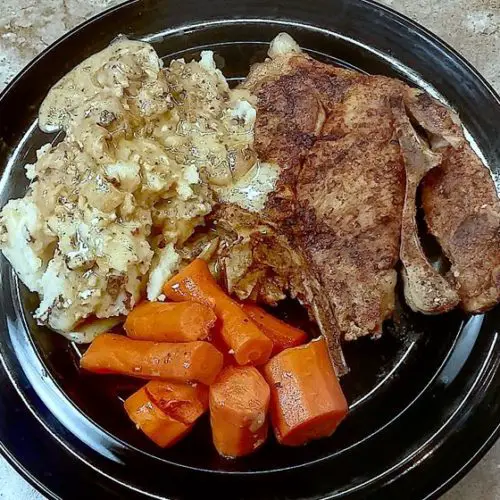 Instant Pot Low Sodium Pork Chops, Smashed Potatoes, Gravy & Carrots
A low sodium and fat southern style comfort one pot meal of browned pork chops, smashed potatoes N' gravy & carrots.
Ingredients  
Pork chop seasoning
Ingredients as made here, but feel free to use your own salt free blend. I season freehand so measurements are approximate.

2

tsp

black pepper

2

tsp

garlic powder

2

tsp

southwest chipotle Mrs. Dash

1

Tbsp

brown sugar
Main Ingredients:
4

bone-in thick cut pork chops

about 3/4″ thick

5

Tbsp

extra virgin olive oil

1 1/2

cup

beef stock no sodium added

1

tsp

liquid smoke

1

yellow onion

chopped

1

Tbsp

wet minced garlic

5

medium-sized russet potatoes

peeled if desired

5

large carrots peeled and cut about 3 inch long

¼

cup

cream

add more as needed for desired consistency of mashed potatoes

2

Tbsp

corn starch

1/2

cup

cream

pepper to taste
Instructions 
Set the Instant Pot to Sauté, High, and add two tablespoons olive oil. Liberally sprinkle seasoning and brown sugar on the pork chops on both sides.

When the Instant Pot is hot, add pork chops to the pot and brown on both sides. Use additional oil if needed. More than likely this will have to be done in two batches.

Remove the pork chops and set aside on a plate. Add onion and garlic and sauté for 2 minutes. Now add no salt added beef stock to the Instant Pot, scrape loose any crusty bits on the bottom of the pot. Add potatoes to the Instant Pot. Add trivet rack on top of the potatoes and layer the carrots over the rack. Set pork chops, drippings juice and any of the residual seasoning loosely on top of carrots.

Cover Instant Pot with lid, seal and set Instant Pot to manual pressure for 12 minutes. When time is up, allow the pot go through natural release period for 10 minutes, then release any residual pressure.

Remove pork chops and carrots to a platter, cover to keep warm and to let them rest as you're preparing the potatoes & gravy.
Making the smashed potatoes
Remove potatoes from the Instant Pot with a slotted serving spoon or skimmer as they will be falling apart soft and put them in a mixing bowl, leaving the liquid behind for gravy in the pot. Smash potatoes with 3 tablespoons extra virgin olive oil and 3 to 4 tablespoons of cream, to desired consistency. Add pepper to taste.
Making the gravy
Make thickening slurry by putting two tablespoons corn starch in a small bowl. Slowly add the 1/2 cup cream, whisking constantly until mixture is smooth.

Turn the Instant Pot back on to Sauté, High. When the liquid in the Instant Pot boils, add the slurry and stir briskly with a whisk until the mixture thickens. This should happen quickly.

Remove the pot liner from the Instant Pot right away so the gravy doesn't continue to cook, and pour gravy into a bowl to serve. Taste and adjust with your favorite no salt seasonings as needed.

Plate a chop and serve smashed potatoes and carrots as desired.
Notes
Feel free to use your own no salt seasoning rub, 2 1/2 tablespoons should do it. Use any remaining spice into liquid in gravy sauce.
Recipe Equipment & ingredients
Nutrition
Serving:
1
g
Calories:
611
kcal
Carbohydrates:
60.1
g
Protein:
29.3
g
Fat:
37
g
Saturated Fat:
8.1
g
Sodium:
159
mg
Fiber:
9.2
g
Iron:
3
mg
https://tastyhealthyheartrecipes.com/main-dishes/entrees/low-sodium-pork-chops-carrots-smashed-potatoes-n-gravy-instant-pot/
Nutrition Information – The information shown is provided by an online nutrition calculator. It should not be substituted for a doctors or nutritionist's advice. Please understand that not everyone's sodium requirements are the same, therefore some recipes may be higher than you're allowed. Always consult with your doctor for your recommended daily sodium allowance.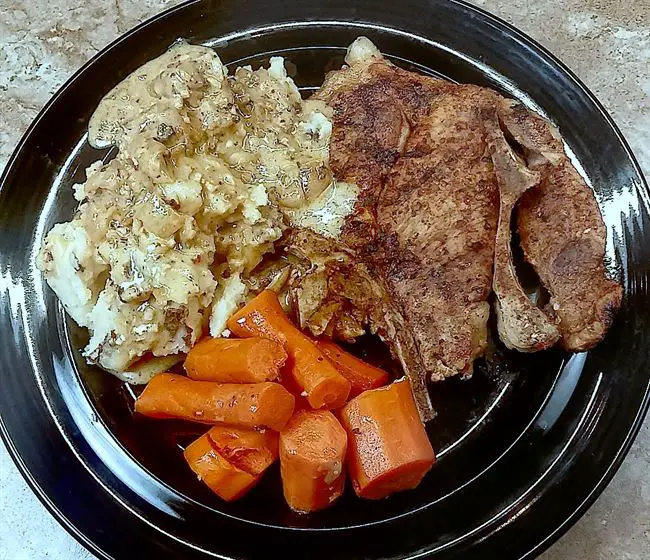 *Tasty Healthy Heart Recipes is a participant in the Amazon Services LLC Associates Program, an affiliate advertising program designed to provide a means for sites to earn advertising fees by advertising and linking to amazon.com.