The days will be getting cooler soon and a good savory Low Sodium Pot Roast Recipe will be essential. But I like pot roast so much I often make it even in the middle of summer. Yes, I'm still an old fashioned meat and potatoes guy.
This low sodium recipe is even better because it is made in the Instant Pot. Which saves you time and you can make this meal in a fraction of the time of a slow cooker and still have dinner that evening. 
Most pot roast recipes of either cooking method are well into the 600+ mg of sodium per serving. No shock here but canned pot roast from the famous name brand is 780 mg of sodium for just one cup. And who eats just one cup of pot roast? I never really ate canned soups before but that would be easily over 1460 mg of sodium for just one meal.
| | |
| --- | --- |
| Typical sodium amount per serving | 600+ mg |
| Sodium per serving for this recipe | 200 mg |
| Calories per serving | 368 |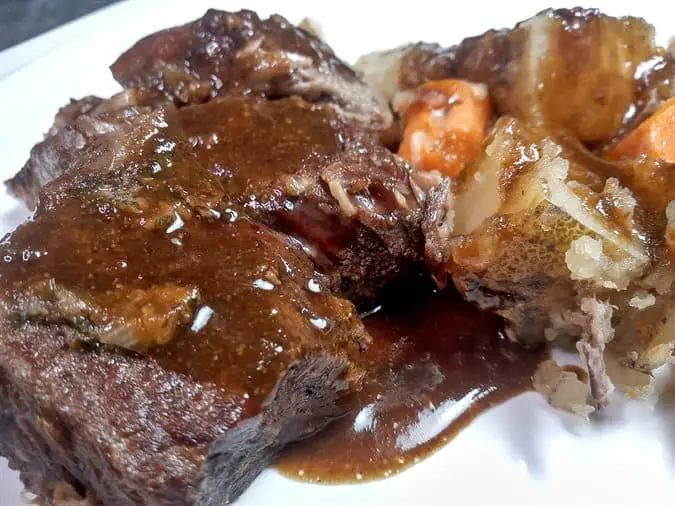 I must say I was surprised at the sodium level as I thought it would be much lower. Over half of the sodium comes from the meat according to the nutrition calculator, but it is still much lower than most recipes. With this low sodium pot roast recipe your sodium is about 200 mg of sodium per serving with the ingredient amounts listed. It may vary slightly due to the weight of the meat, potatoes and carrots used. But any minor differences will be mostly negligible.
The best thing is you can have a meal the same night using the Instant Pot. I still keep bragging about the Instant Post and love all the things you can cook with it, the ease and time saved.
You have a lot of choices in making your meal and the ingredients that go into it but the cooking basics are virtually the same.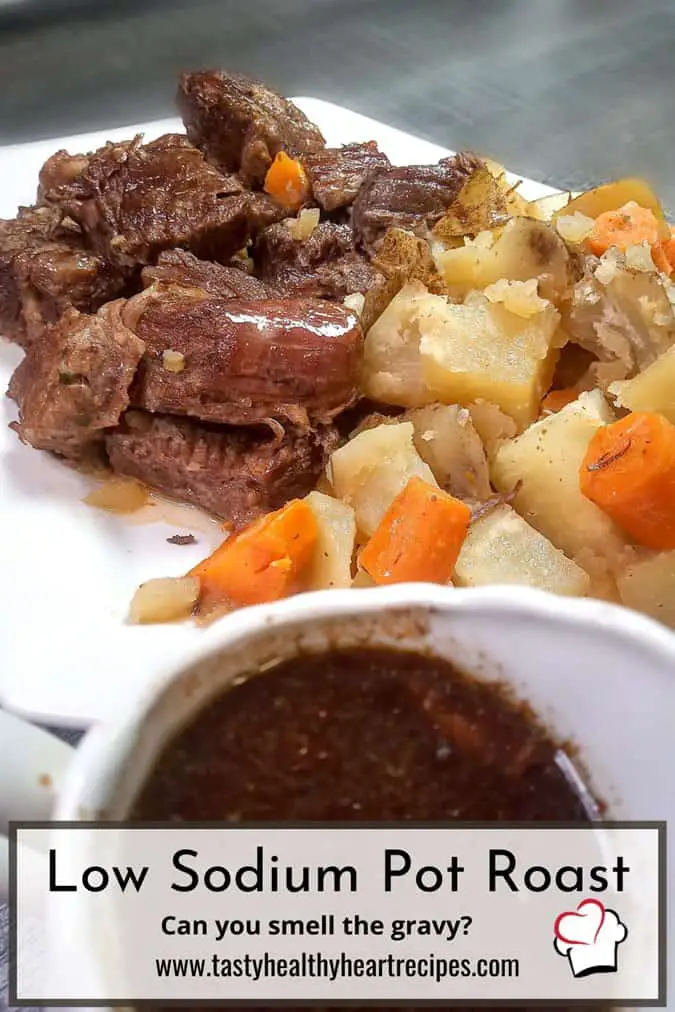 You can choose from several cuts of beef, the type of potato to include, if you want carrots or not. And finally if you want to use the natural juices from the pot or make gravy with it. I will touch on each a bit coming up.
Shown in the picture are some of the low sodium product ingredients that I used.  You may or may not be familiar with all of them so I wanted to point them out.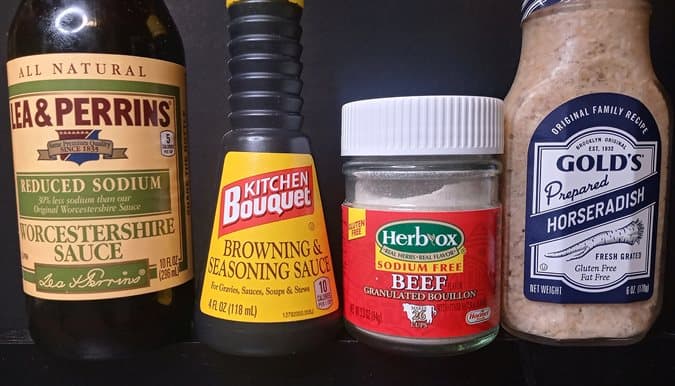 The Best Cut Of Meat For Pot Roast
A pot roast cooks for a much longer period of time, so in either the Instant Pot or a slow cooker it is perfect to use tougher, cheaper cuts of beef.
The following cuts of beef can be used for great pot roasts:
Chuck Roast (my favorite)
Round Roast (I have used a few times)
Brisket  (I have not used)
Personally, my favorite cut of beef is a chuck roast for pot roast. Chuck roast generally has more marbling and turns out even more tender and flavorful in my opinion. The meat shown in this recipe was literally falling apart pulling it out of the pot. I also love this cut as you can often find it on sale at a great price!  
Preparing the Beef for Instant Pot – Pot Roast
Use a sharp knife and cut the roast into 3" to 4" chunks. Trim and discard any excessive fat from all the edges of each piece. Don't worry if there are any small fat deposits left. It won't hurt anything and will just add to the flavor.
Cutting the roast into chunks serves several purposes for this low sodium recipe. One, it will cook even faster in the Instant Pot. Two, it allows for easier excessive fat removal. And finally, when you sear the meat it allows much more surface area of the meat to develop bits of caramelization. Those little brown bits are essential for making better gravy and for the meat to soak in the juices. Absolutely Sumptuous!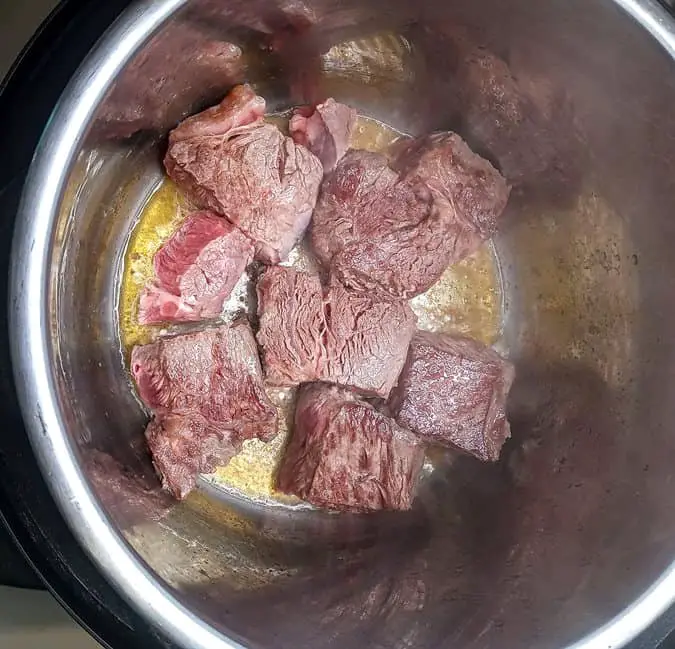 It is possible to cook a frozen roast in the Instant Pot but I highly recommend you don't. You would be missing out on so many flavor opportunities that are so important for a low sodium meal. Also, any extra fat cannot be cut off and it takes longer to cook. For this reason, I never have and therefore won't follow up further using a frozen roast with this recipe.
Your Choice To Use Natural Juices Or Make Gravy
After you have removed the meat, potatoes and carrots, you can use the natural juices as is like Au jus or make gravy. I prefer the gravy as it coats and sticks to the meal providing even more savory taste with the additional gravy ingredients.
Gravy Mix Recipe ingredients:
3 tsp Herbox no sodium beef bouillon granules
2 Tbsp low sodium Worcestershire Sauce
1 1/2 Tbsp Kitchen Bouquet Browning & Seasoning Sauce
1 tsp onion powder
1 tsp garlic powder
1/2 tsp thyme
1/2 tsp pepper
1/4 cup Wondra or flour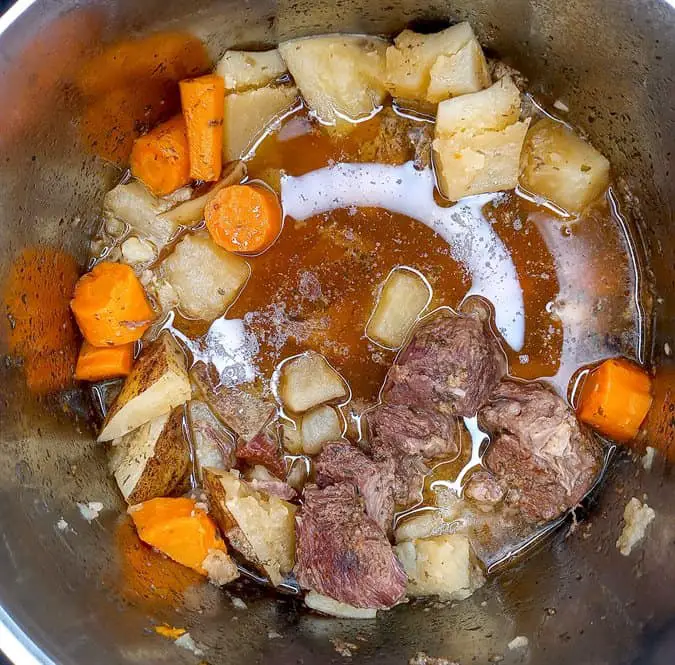 After removing the solids and leaving just the juices in the pot, over medium heat, stir in the additional gravy ingredients. Then add the Wondra or flour a little at a time until it thickens up to your desired consistency. The exact amount of Wondra or flour will vary depending on how much liquid is left in the pot, so go easy.
The Potatoes And Carrots
For a whole complete meal, potatoes and carrots work perfectly in the Instant Pot to make a tender Pot Roast Low Sodium meal. The potato and carrots will be added the last 10 minutes of cooking.
The choice of potato is up to you, all are good. A russet potato in large cubes, red potato cut in half or Yukon gold type potatoes whole.  My preference is Russets with skin on. I always have them on hand and love them with the skin on. 
You can always separate the potatoes and mash them up too. It just depends what you feel like and if you have a few minutes more.
Big carrots are best to use for this recipe and cut them into large 2″ pieces.
Neither vegetable should be submerged in the liquid but instead, should be layered on top of the chunks of meat or a steamer basket as they cook. Cooking the potato chunks and carrots the entire time you cook your pot roast will turn the vegetables to mush. So be sure to follow the directions and add them the last 10 minutes of cooking.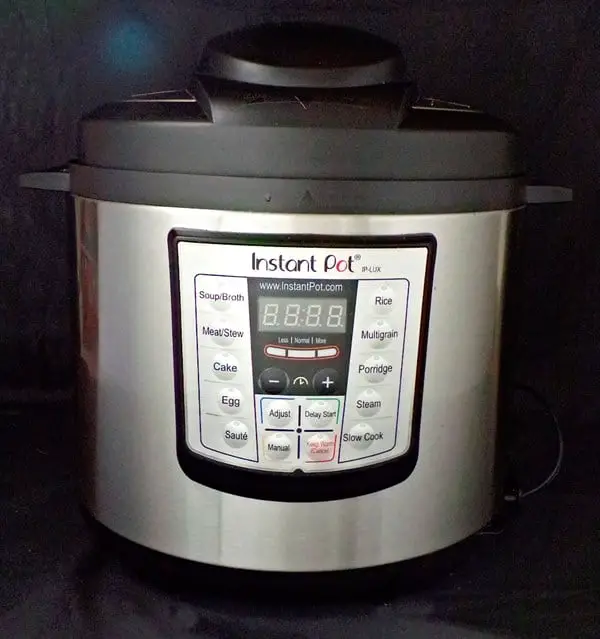 My Instant Pot
To make this awesome Instant Pot Low Sodium Meal I used my 6 quart Instant Pot LUX60V3 6 in 1*. The Instant Pot multi-cooker, combines 6 kitchen appliances in one, pressure cooker, slow cooker, rice cooker, sauté, steamer, and warmer. This Instant Pot is one of the very few appliances that stay on my counter since I use several times a week. It's super easy to use and clean.
A few of my other great dishes to enjoy!
---
Recommended Equipment & Ingredients For This Recipe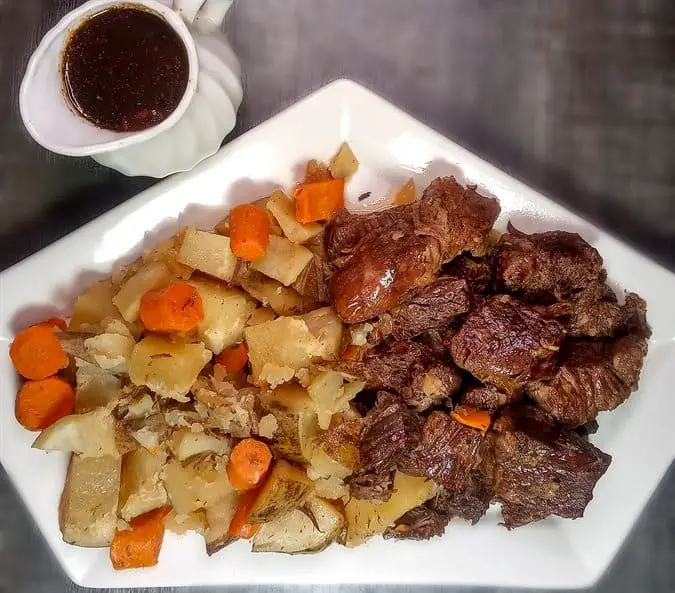 As always, please let me know how you like this recipe in the comments! I get motivated when I hear from you and interested to learn about how you liked and served your Low Sodium Pot Roast. So please, leave a comment or rating and share any tips you might have. You can follow me on Facebook and Pinterest also, for new recipes.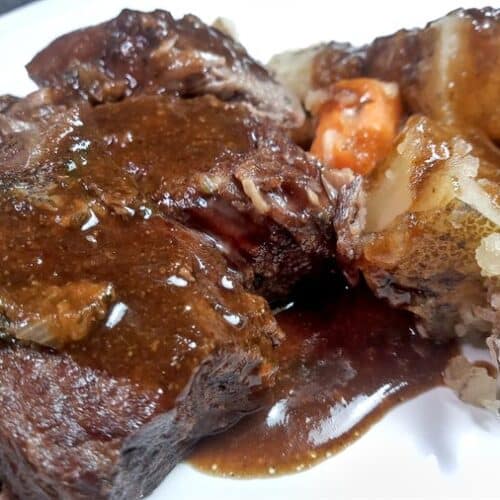 Low Sodium Pot Roast
Make a mouthwatering tender pot roast, brown gravy, potatoes and carrots together in the Instant Pot or even a slow cooker! An easy low sodium pot roast recipe.
Ingredients  
For the roast:
2 1/2

pound

chuck roast or rump roast

cut to 2 or 3" pieces

3

cups

beef broth no salt added

1/2

cup

red wine

optional

1

tablespoon

minced garlic

2

Tbsp

prepared horseradish

2

tbsp

extra-virgin olive oil

1

medium onion chopped
For the meat seasoning:
2

Tbsp

Buttermilk powder dry

1

tsp

dried chives

1 1/2

tsp

dried parsley

1 1/2

tsp

dried dill weed

1 1/2

tsp

garlic powder

1 1/2

tsp

onion powder

1/2

tsp

ground black pepper
For the potatoes and carrots:
2

pounds

Russet potatoes

cut into cubes, Red potatoes cut in half or Yukon gold small potatoes.

1

pound

carrots
Instructions 
Cut any excess fat off of roast. Then slice the roast into 2" or 3" chunks.

Set Instant Pot to Sauté high add and heat oil. When oil is shimmering, add beef and sear on all sides for a deep browning.

Remove beef and add onion and saute till tender and translucent. Add beef broth and deglaze the bottom of the pot. Add the garlic, horseradish and red wine. Coat the roast chunks with the meat seasoning mix. Place the roast chunks into the Instant Pot

Cover Instant Pot and secure the lid. Set the manual/pressure cook button to 50 minutes if making potatoes and carrots with the roast. At the end of 50 minutes do a pressure quick release and add in a steamer basket full of cubed potatoes and carrots directly on top of the roast.

Cover the pot and set the manual/pressure cook button to cook 10 more minutes. At the end of the 10 minutes let the pot stand for a full natural pressure release up to 20 minutes. Then move the valve to pressure release and remove the lid.

Remove the steamer basket or vegetables. Remove the meat pieces with tongs or large slotted spoon. (I did not use a steamer basket.)

Turn Instant Pot to the low sauté setting. Make the gravy by whisking the gravy mix into the Instant Pot. You can add in a cornstarch slurry to thicken the gravy if desired.
Recipe Equipment & ingredients
Nutrition
Serving:
1
–
Calories:
368
kcal
Carbohydrates:
27.5
g
Protein:
41.7
g
Fat:
9.3
g
Cholesterol:
96
mg
Sodium:
200
mg
Fiber:
4.4
g
Sugar:
6.4
g
https://tastyhealthyheartrecipes.com/main-dishes/entrees/low-sodium-pot-roast/
Nutrition Information – The information shown is provided by an online nutrition calculator. It should not be substituted for a doctors or nutritionist's advice. Please understand that not everyone's sodium requirements are the same, therefore some recipes may be higher than you're allowed. Always consult with your doctor for your recommended daily sodium allowance.