Stick to your ribs Low Sodium Beef Stew that can be done any weeknight in your instant pot without having to wait for hours. Cold winter nights are always better with a bowl of steaming, hearty beef stew. I can just smell that savory aroma now and taste that first little slurp that is just a tad to hot.
I had always made my beef stew in a crockpot on the weekends because it took up to eight hours for everything to get deliciously tender and for all the flavors to develop. Just me, but I never felt comfortable going to work and leaving the crockpot on all day if I wasn't there. So making this meal low sodium and doing it in the instant pot was something I was really looking forward to.
This low sodium beef stew cooked in the Instant Pot is just as easy as the crockpot version. You just don't have to wait around for hours for it to be done. Meaning you can throw this together at the end of the day and still have a savory hearty meal in about an hour and a half altogether. Just like the crockpot, the meat is so tender that you can actually "chew" it with your tongue. And just like all stews and soups, it is even better the next day so you can enjoy the leftovers that much more!
HOW MUCH SODIUM IS IN BEEF STEW?
Typical sodium amount per 1 cup serving

of famous name brand

2280 mg

Sodium per 1 cup serving for this recipe
143 mg

Calories per 1 cup serving

591
Store bought soups are notoriously high in sodium. Even my previously naïve self didn't eat canned "soups" because of their high sodium content. But looking back, my homemade versions were not that much less in sodium. The numbers in the following paragraph is assuming that most people would eat about 2 cups of stew for a meal. That is what I measured and ate this for my meal and felt comfortably full.
Cruising down the aisle at the local store, I found the average store brand to contain 990 mg. of sodium per 1 cup. Which at 2 cups would be 1980 mg of sodium for your meal. The famous name brand listed a whopping 570 mg of sodium per ¼ cup. So for just two cups you would have eaten a staggering 4560 mg. of sodium!!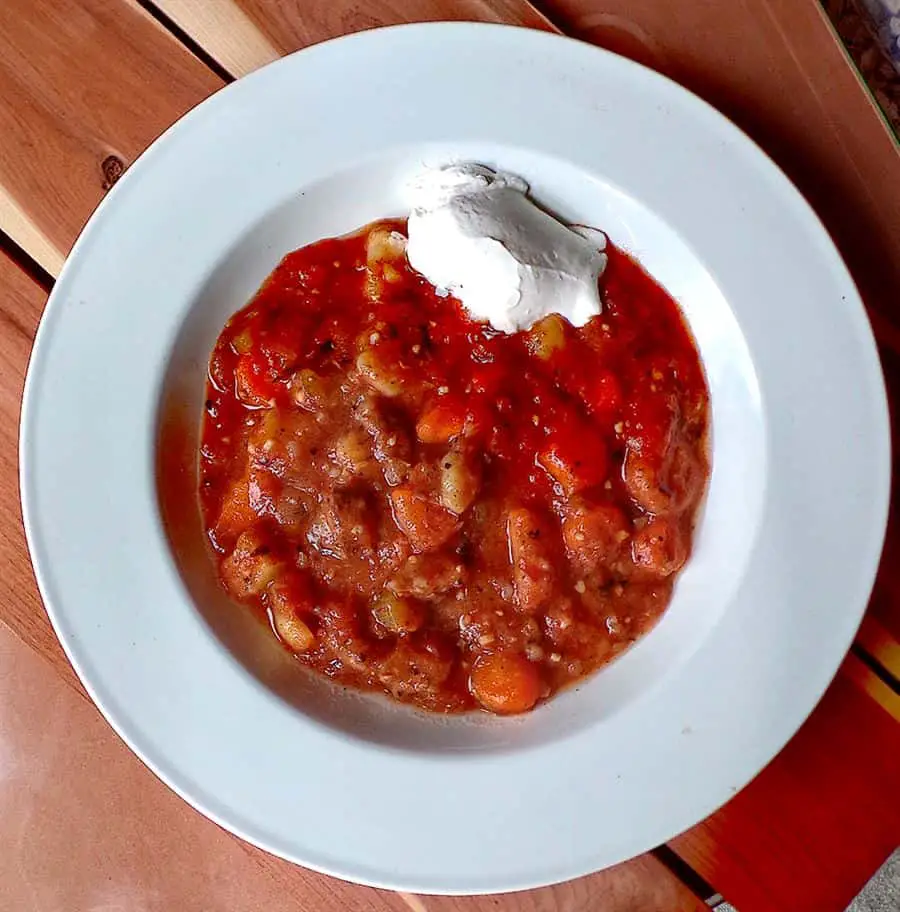 Even for a person not on a reduced sodium diet this is asking for trouble in the long term. Similarly, most online beef stew recipes are just as bad. But not to worry, this recipe will give you a steamy hearty meal with a fraction of the sodium and time.
Your choice of beef cut will determine the overall sodium level as shown in the next section. You will have to know your own goals and limits if you want to reduce this further. But it is still amazing you can literally save thousands of mg of sodium per serving from a canned version! You should still be aware of your portion sizes though.
BEST MEAT FOR BEEF STEW
Stew meat is the usual beef of choice for stew as it is already cut, cubed and ready to go for cooking. But it would have 173 mg sodium per serving by itself if used in this recipe.You could also use a chuck roast that you cut and cube yourself if you find a good deal on it. But it has 161 mg sodium per serving by itself if used in this recipe. Both cuts are rather tough if cooked and eaten on their own. But the magic of the Instant Pot or slow cooking is they transform into wonderful tender little bites of flavor.
The best meat for lower sodium levels appears to be beef bottom round roast at 100 mg per serving. Which is what this recipe is based on and calculated. It has the lowest sodium and really isn't a bad cut of meat. This cut of meat would require you to also cut and cube it yourself though.
| | |
| --- | --- |
| Sodium in recipe without meat per serving | 43 mg |
| Beef bottom round roast / sodium content per serving | 100 mg |
| Chuck roast beef / sodium content per serving | 161 mg |
| Stew beef / sodium content per serving | 173 mg |
With the Instant Pot you don't need hours of low and slow cooking to achieve the same results of typical meats used for stew. Of course, I like using the crock pot too but since I am cooking so much more now I need to just get things done. Right?
DON'T SKIP THIS STEP FOR THE BEST LOW SODIUM BEEF STEW
We are always trying to extract the most flavor from our foods on a low sodium diet. So I believe this step is crucial. The meat and gravy becomes and gets rich and flavorful by browning the meat so it has a crust. You should not skip this step to ensure an extra savory meal. You want to really get it browned, but not burned or "charred". Don't worry, it will be nice and tender when it's all done. Plus if you cooked it without browning, you would just have a limp, flavorless grey unappetizing looking bite of meat.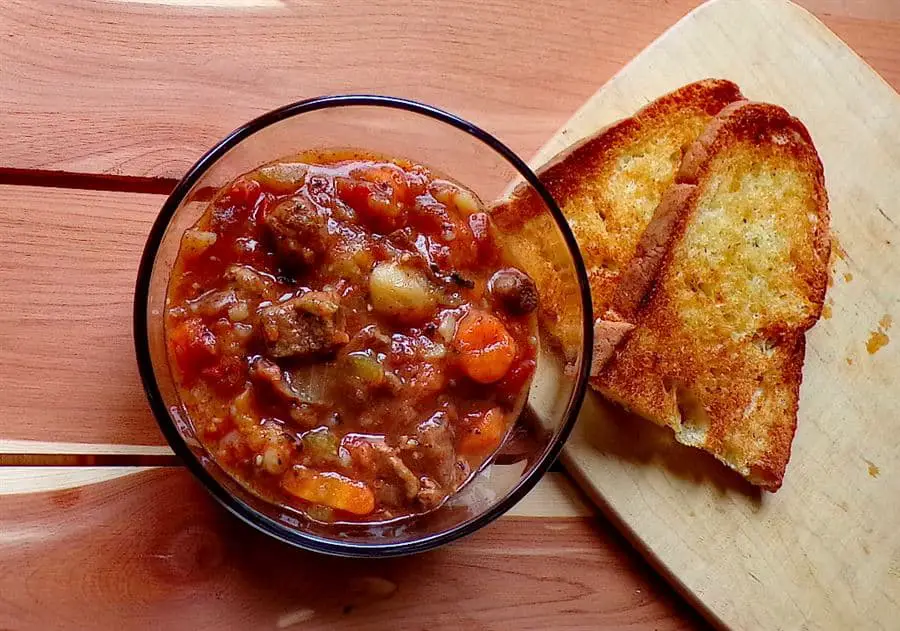 HOW LONG DOES MAKE BEEF STEW TAKE TO COOK IN THE INSTANT POT?
This is really about one of the longest cook time recipes that I have done in the Instant Pot. But compared to an all-day slow cooker, or being able to have it on the table in an hour and a half, it's a win. It's literally about 20 minutes to put your ingredients together, brown the meat and then its hands off.
This is where Instant Pot really shines. It needs about 15 minutes to heat and build up pressure, 35 minutes to cook and finally 10 minutes of natural pressure release. You can be ready to serve low sodium tender beef stew on a weeknight!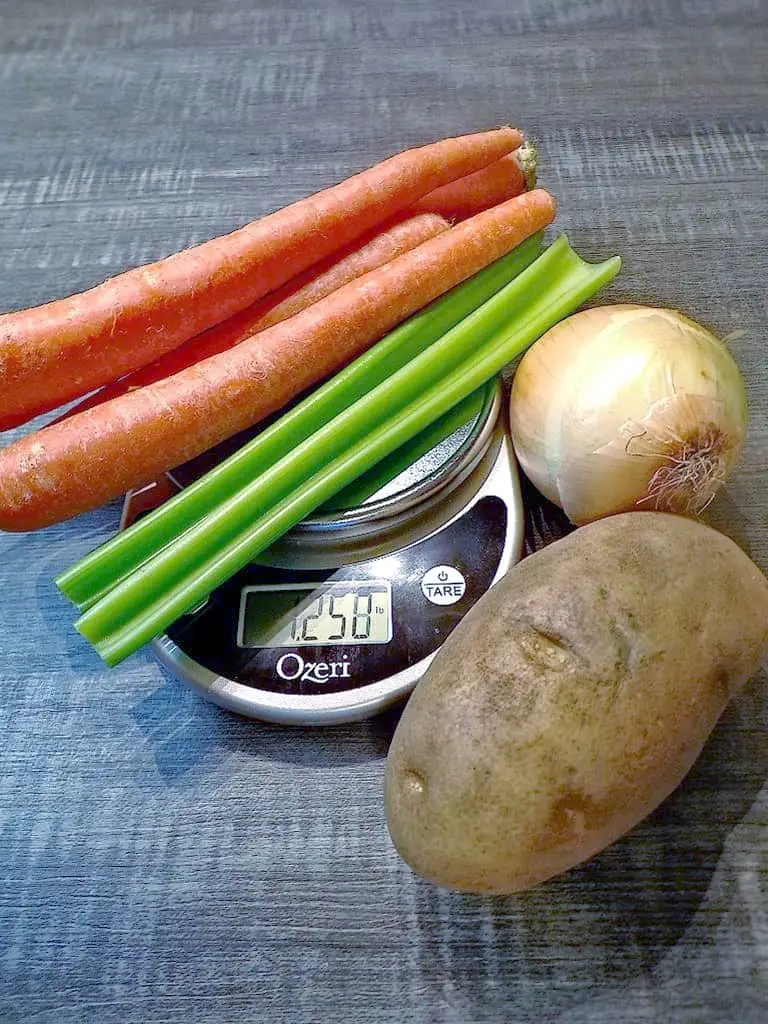 HOW TO COOK BEEF STEW IN CROCK POT
Don't forget, the Instant Pot has a slow cooker function also, but you can use the traditional crock pot too. The slow cooker version really has little variance in the steps except for a much longer cooking time. After browning the beef – place beef, potatoes, carrots, onion and remaining ingredients except cornstarch and water into at least a 6-qt sized slow cooker and stir until well combined. Cover and cook on low heat for 7-8 hours or high heat for 3-4 hours.
STEW MAKES THE BEST LEFTOVERS
Beef stew is another one of those dishes that only gets better when you heat it up the next day. The flavors continue to mingle overnight, especially if you got a good sear on the meat to begin with. Leftover low sodium beef stew is often better than the original stew in terms of flavor complexity and texture.
A few other great dishes to enjoy!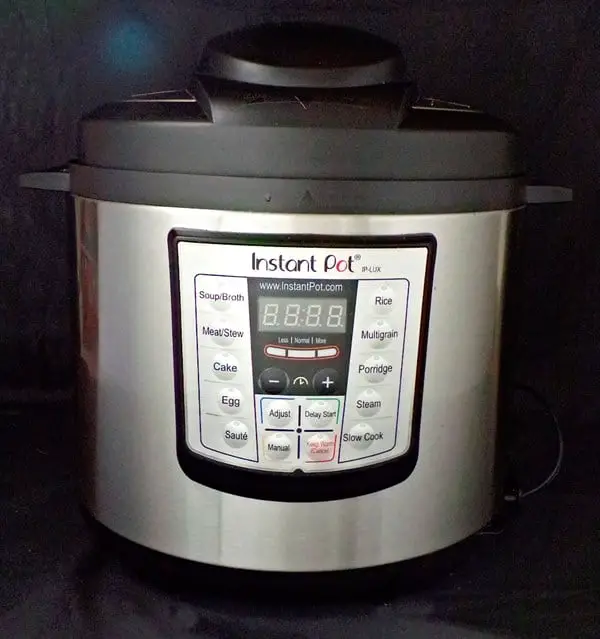 MY INSTANT POT
To make this awesome Instant Pot Low Sodium Meal I used my 6 quart Instant Pot LUX60V3 6 in 1*. The Instant Pot multi-cooker, combines 6 kitchen appliances in one, pressure cooker, slow cooker, rice cooker, sauté, steamer, and warmer. This Instant Pot is one of the very few appliances that stay on my counter since I use several times a week. It's super easy to use and clean.
As always, please let me know how you like this recipe in the comments! I want to hear your feedback! I'm always interested to hear about how you liked and served your Low Sodium Beef Stew. And please leave a comment or rating and share any tips you might have.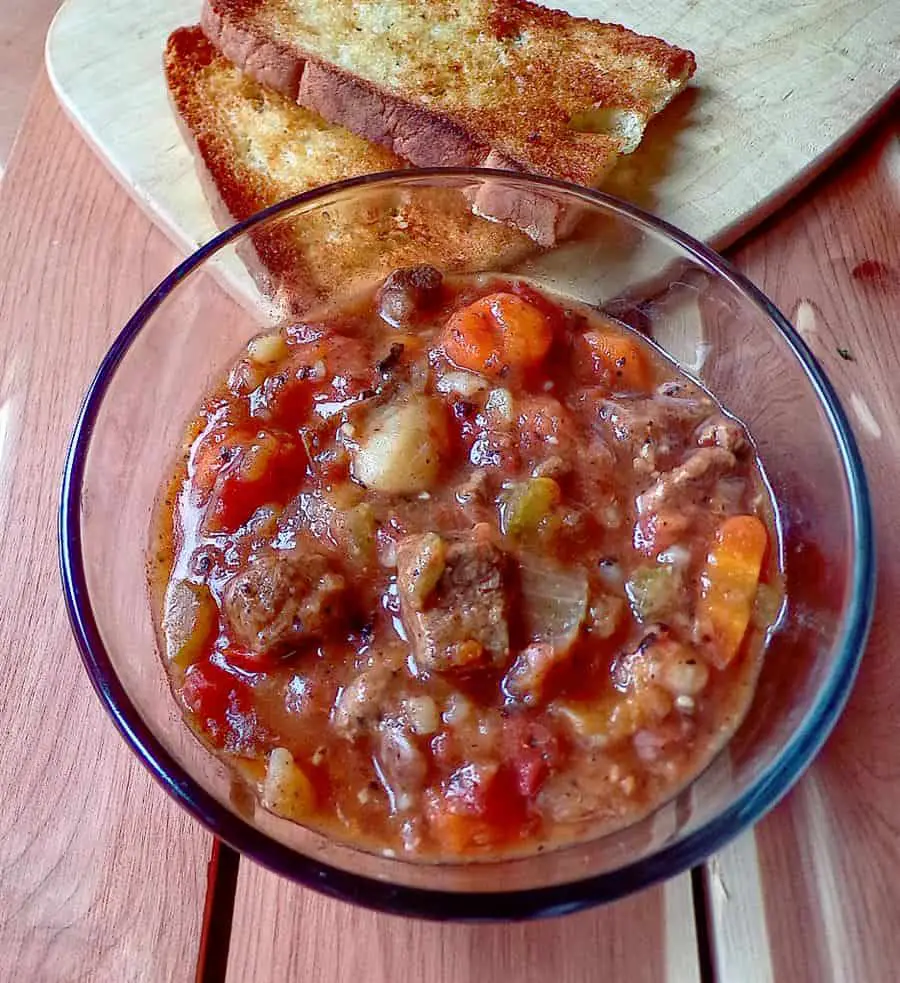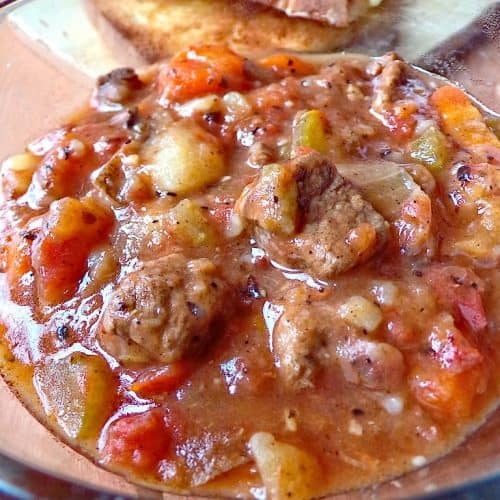 Low Sodium Beef Stew
Savory, hearty, stick to your ribs classic Low Sodium Beef Stew made in the Instant Pot or crockpot. Save literally thousands in sodium over canned stews!
Ingredients  
1-1/2

lbs.

beef bottom round

cubed to bite size

1

Tbsp

olive oil

2

Tbsp

flour or cornstarch

1

tsp

pepper

1

tsp

Italian Seasoning

2

Tbsp

garlic

pre-minced

1/2

cup

dry red wine

like a merlot

2

cups

beef broth no salt added

1

28oz.

Muir Glen fire roasted tomatoes no salt added

or 2 – 15 oz. cans

1

large onion

chopped

1

lb.

carrots, sliced

about 4 large

2

lbs.

potatoes, cubed

about 2 large

2

stalks celery

1

Tbsp

horseradish prepared raw not sauced

1

tsp

dried thyme

2

tsp

Mrs. Dash Table Blend spice

1

tsp

smoked paprika

1

tsp

caraway seeds

crushed or ground

2

bay leaves

optional
To thicken stew
2

Tbsp

cornstarch

2

Tbsp

water
Instructions 
Cut and cube the meat to bite size pieces. Mix (coat) with flour, pepper and Italian seasoning.

Add the olive oil to the instant pot and turn the sauté function to high. When the oil starts to shimmer add the meat and season with the pepper and Italian seasoning.

Cook the meat until browned on all sides.

Add the beef broth and wine to the instant pot and use a flat bottom spatula to deglaze and scrape the brown bits from the bottom of the pot.

Add the remaining ingredients except for cornstarch and water.

Cover and lock the lid on the instant pot. Ensure steam valve is closed.

Set with manual button for 35 minutes, allow the pressure to release naturally for 10 minutes before doing a quick release of valve.

Immediately after opening the pot, mix together the cornstarch and cold water in a small bowl and stir into the stew until thickened.
Slow Cooker version:
Follow steps 1-3 from above.

Place beef, potatoes, carrots, onion and garlic into a 6-qt slow cooker. Stir in beef broth and remaining ingredients except cornstarch and water until well combined;

Cover and cook on low heat for 7-8 hours or high heat for 3-4 hours.

Mix together the cornstarch and cold water in a small bowl and stir into the stew. Cover and cook on high heat for an additional 30 minutes.
Recipe Equipment & ingredients
Nutrition
https://tastyhealthyheartrecipes.com/main-dishes/entrees/low-sodium-beef-stew/
Nutrition Information – The information shown is provided by an online nutrition calculator. It should not be substituted for a doctors or nutritionist's advice.
*Tasty Healthy Heart Recipes is a participant in the Amazon Services LLC Associates Program, an affiliate advertising program designed to provide a means for sites to earn advertising fees by advertising and linking to amazon.com.