This Low Sodium Banana Bread is moist and bursting with delicious banana flavor. I get a craving in the morning for the nutty banana bread a few times a year. Or when I hate just seeing a bunch of bananas that turned brown so quickly go to waste. So I really wasn't surprised when re-evaluating my recipe how much sodium was in it like most breads. So I changed it up to make it low sodium. And since it is really hard to mess up banana bread it was really easy to make this classic into a low sodium banana bread version.
| | |
| --- | --- |
| Typical sodium amount per slice | 200+ mg |
| Sodium per slice for this recipe | 14 mg |
| Calories per serving | 199 |
A VERY LOW SODIUM BANANA BREAD
The typical banana bread recipes sodium levels vary quite a bit but most of them seem to be in the 180-260 mg's of sodium range per slice, knocking big chunks out of your sodium budget and it just doesn't have to be that way. How about a slice of banana with just 14 mg of sodium per slice? And it's simple to do with just a hand blender and no stand mixer required. You could even do totally by hand if need be since low sodium banana bread is more of a batter than a dough.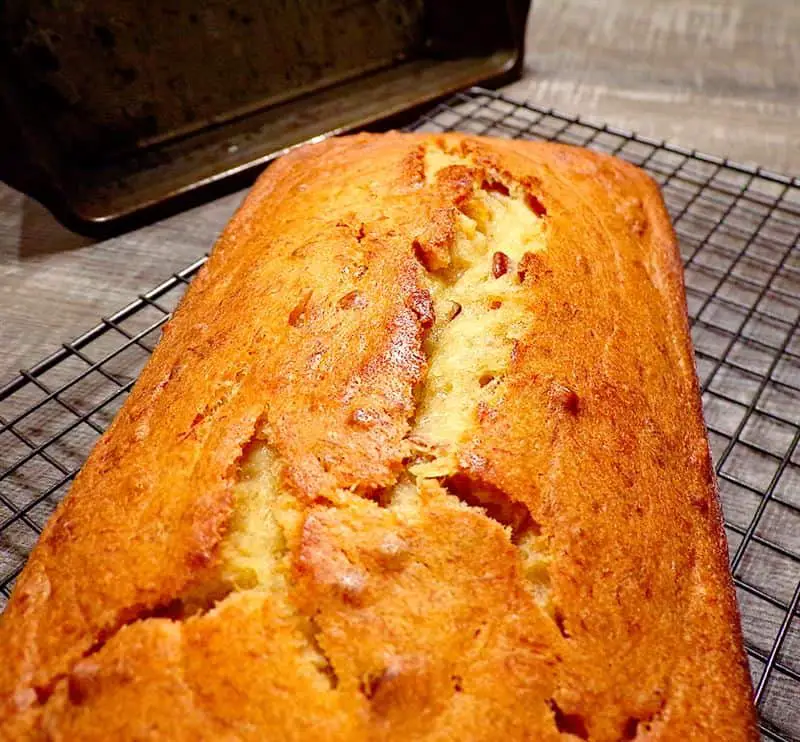 Speaking of which, I believe stand mixers are more for "doughy" recipes and since this is a batter I would use a hand mixer or do it by hand with a whisk and spatula. And since I like keeping things in the kitchen fast and easy as possible, a hand blender is used in this recipe.
OVER RIPE BANANAS ARE BEST
The best bananas for the bread are when they are getting heavily spotted brown. And the fruit inside is getting almost mushy. It bakes up with a richer more robust banana flavor. When you prepare the banana you can leave it a little more "pulpy" if you prefer, I personally like to mix it out smooth.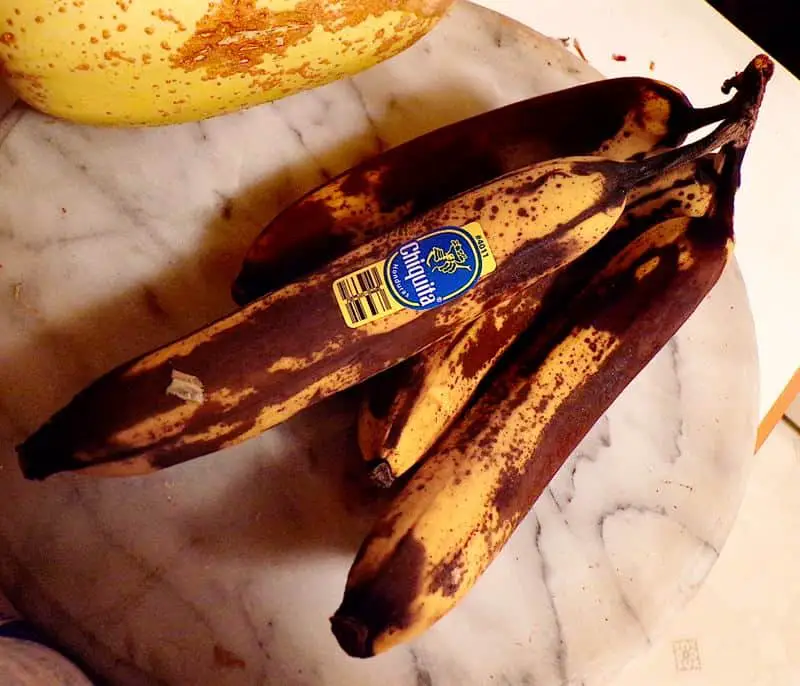 Quick Tip: To soften butter quickly cut butter into tabs and stick to the inside of bowl.
WHAT FLOUR TO USE FOR LOW SODIUM BANANA BREAD
I also use bread flour as I think it makes a less dense loaf of bread. But don't expect it to be light and airy, banana bread makes a heavy loaf. But you can use just about any flour you want as just about any ingredient in this recipe is interchangeable. Except for the Hain Featherweight no sodium baking powder, which is indispensable for low sodium baking.
HOW TO KEEP BANANA BREAD MOIST
Banana bread is supposed to be moist, so the best way to keep banana bread moist for days is to wrap tightly in plastic wrap. Once your bread is baked and cooled, I actually like wrapping tightly in aluminum foil, it's just easier to open and such for me.  And then store in a large zip lock freezer bag or a plastic Tupperware type container. Then just store it wrapped in the refrigerator for up to 6 days.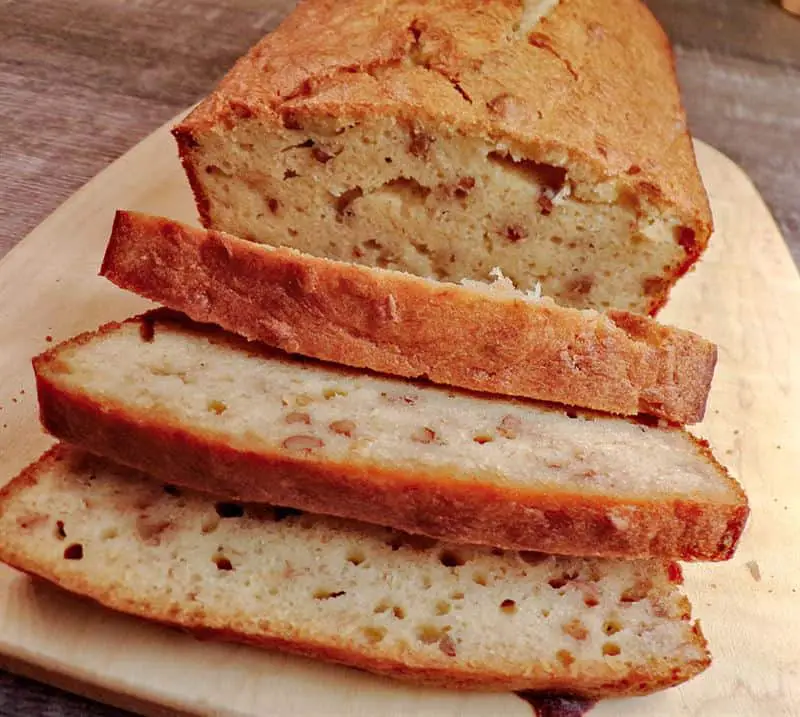 A few other recipes you may enjoy!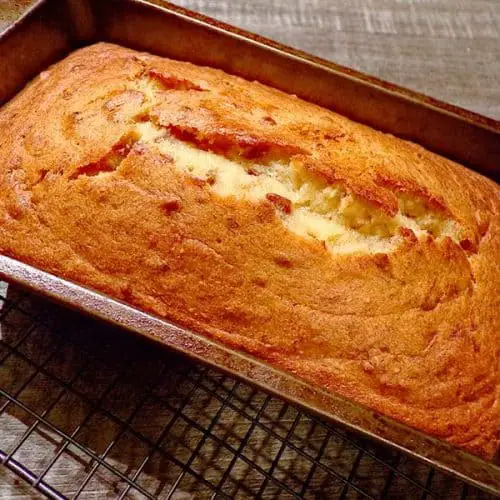 Low Sodium Banana Bread
A Low Sodium Banana Bread with bursting banana and brown sugar flavors, moist texture and soft crumb, this is the best easily made banana bread recipe.
Ingredients  
2

cups

all purpose flour

I personally like to use bread flour

1/2

tsp

ground cinnamon

1/4

tsp

ground nutmeg

1

stick unsalted butter

softened to room temperature

3/4

cup

packed light or dark brown sugar

2

large eggs

at room temperature

1/3

cup

plain yogurt

2

cups

mashed bananas

3 to 4 large ripe bananas

2

Tbsp

honey

1

tsp

pure vanilla extract

3/4

cup

chopped pecans or walnuts
Instructions 
Adjust the oven rack to the middle position and preheat the oven to 350°F. Grease or coat with nonstick spray a 9×5-inch loaf pan.

Whisk the flour, baking powder, cinnamon and nutmeg together in a large bowl.

Use a handheld mixer fitted with beater blades, beat the butter and brown sugar together on high speed until smooth, light and creamy. Then on medium speed, add the eggs. Beat in the yogurt, mashed bananas, honey and vanilla extract on medium speed until combined and smooth. With the mixer running on low speed or spatula, slowly mix the dry ingredients into the wet ingredients until no flour pockets remain. Do not overmix. Fold in the nuts, if using.

Pour and scrape batter into the prepared baking pan and bake for 60-65 minutes. Cover the bread with aluminum foil after 30 minutes to help prevent the top from getting too brown. A toothpick inserted in the center of the loaf will come out clean when the bread is done. Remove from the oven and allow pan to cool and then place the bread to cool completely on a wire rack.

Wrap tightly in plastic wrap and store banana bread at room temperature for 2 days or in the refrigerator for up to 1 week.
Nutrition
https://tastyhealthyheartrecipes.com/a-la-cart/baking/low-sodium-banana-bread/
Nutrition Information – The information shown is provided by an online nutrition calculator. It should not be substituted for a doctors or nutritionist's advice. Please understand that not everyone's sodium requirements are the same, therefore some recipes may be higher than you're allowed. Always consult with your doctor for your recommended daily sodium allowance.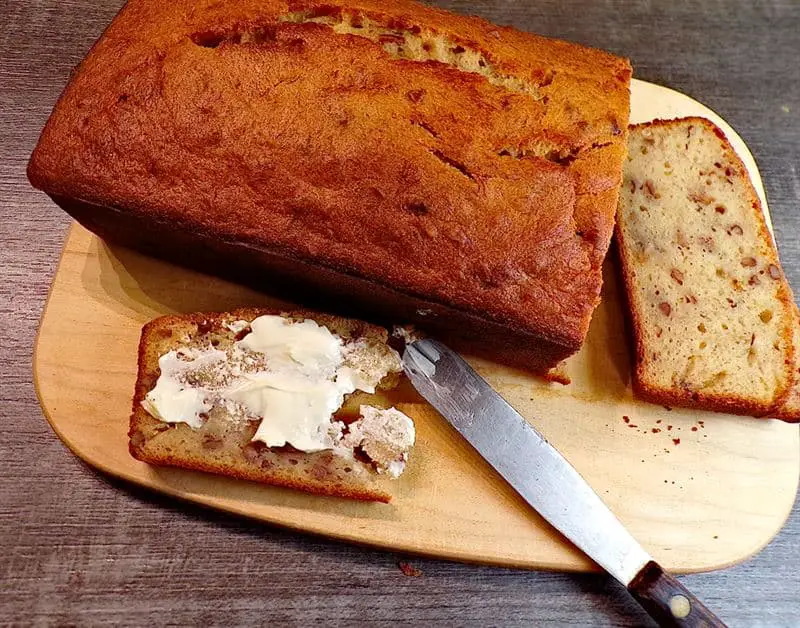 As always, please let me know how you like this recipe in the comments! I get motivated when I hear from you and am interested to learn about how you liked and served your Low Sodium Banana Bread. And please leave a comment or rating and share any tips you might have.