Low Sodium Chicken Bruschetta is assuredly an eye popping, kick in the pants, bold flavored recipe. You may have read before that I eat a lot of chicken since my stroke. I despise a bland, boring chunk of chicken it needs to have flair to appeal to me. This recipe has punched its way up into the top five of my favorite chicken dishes! Plus, it is so easy to make.
The taste of this Low Sodium Chicken Bruschetta is simply awesome plus, its also low carb if you're into that like my Mom. I made this for a Mothers' Day meal and besides me saying how good the chicken turned out, my mom who likes to talk or chat whilst she eats was unusual as all I heard was mm..mmm's from her. It was a pretty quiet meal conversationally anyway.
| | |
| --- | --- |
| Typical sodium amount per serving | 700+mg |
| Sodium per serving for this recipe | 122mg |
| Calories per serving | 347 |
4 Servings with Swiss Cheese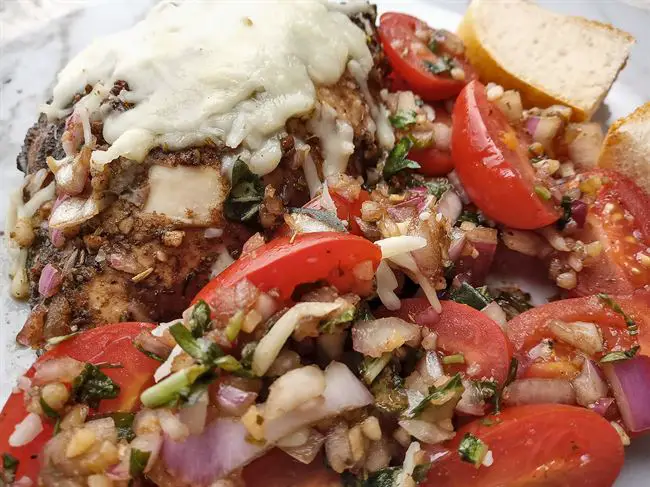 Sodium comparison of Chicken Bruschetta
Most recipes seem to average 700+mg of sodium per serving. Most of the sodium comes from the salt added during the cooking process and the amount and type of cheese used for the topping.
This flavor packed recipe without cheese is just 68mg per serving and with a slice of Swiss cheese it is 122mg. Still pretty good level and well within my sodium budget goals per meal.
For a little cheese comparison:
Slice of Swiss Cheese averages 45mg per slice, 122mg of sodium for the meal as made in this recipe.
Slice of Mozzarella cheese averages 130mg per slice or about 200mg total for the meal.
The key to good chicken
I've cooked a 'ton' of chicken now since my stroke and the key to good tasting chicken is to know when it is "done". I used to overcook chicken all the time and it either turned into a dry hard to chew – or a rubbery blah tasting bite of chicken.
I use my Thermopro probe digital thermometer (Amazon) all the time now. Whether cooking in the oven, on a grill or stove top, it makes it so easy. Not going over temperature and overcooking is KEY for tender juicy chicken!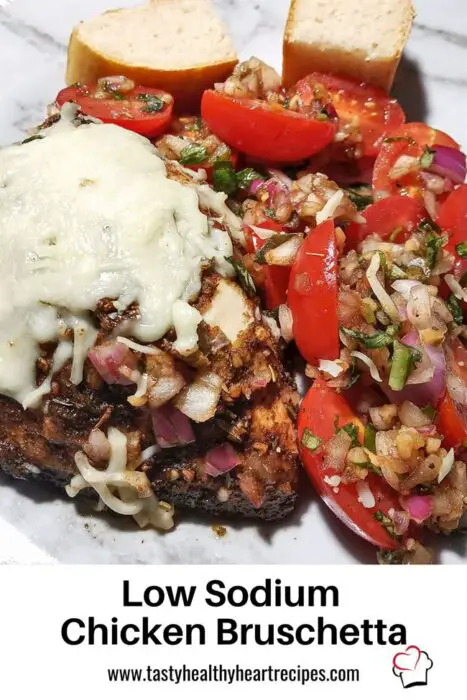 How to make chicken bruschetta  
This recipe comes together quickly and easily with minimal hands on time, mostly just cutting veggies, a slap chopper (Amazon) is awesome to use for that, which makes it great for a busy or don't feel like cooking night.
Start with the marinade – mix and stir together the balsamic vinegar, olive oil, garlic, Italian seasoning salt free, Mrs. Dash Original Table Blend and fresh cracked ground black pepper for the chicken marinade. I just do this right in the 9×13 baking dish, no sense in getting another dish dirty.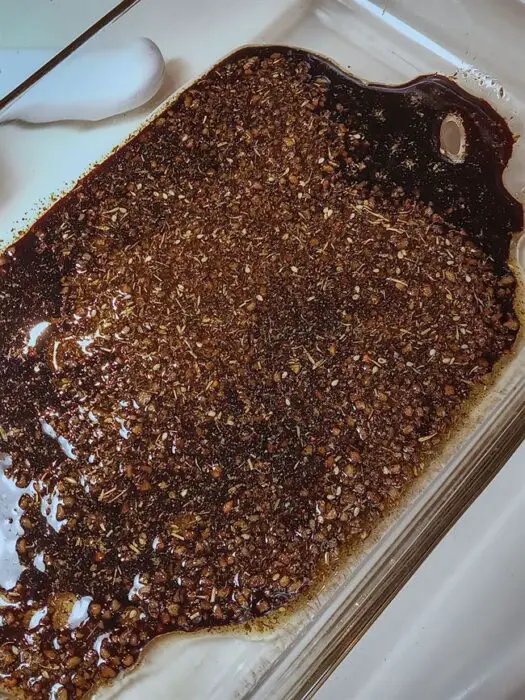 Take your boneless, skinless chicken breasts and cut off any excess fat or little meat bits. Then place in the baking dish turning to coat well and let it set for about 20 minutes while the oven is preheating to 425°F. The flavor that the marinade imparts to the chicken will be amazing.
My particular package of breasts pictured here were huge! Easily double the size of a "normal" chicken breast, so I just cut them in half.
Either while the chicken is marinating or baking, into a small bowl slice some cherry tomatoes in half along with the red onion, garlic, balsamic vinegar, oil, basil and toss.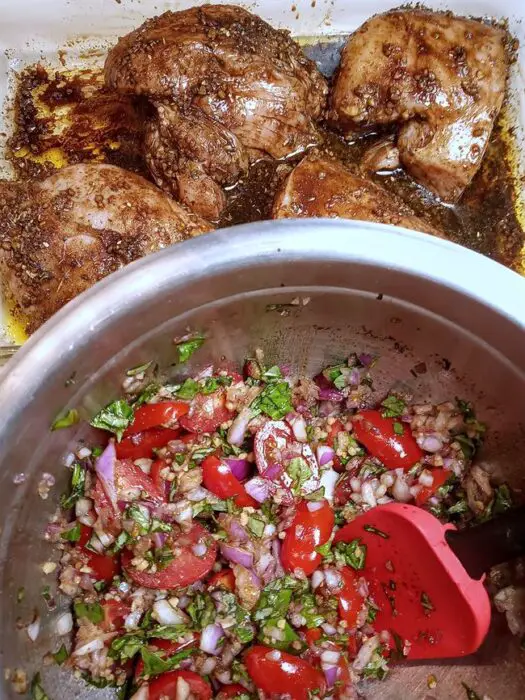 You can use any smaller tomato where the inside is firm. For a Roma tomato cut into quarters, I don't think I would go any bigger than a Roma though or else your bruschetta mix will be a mushy mess. Cherry and grape tomatoes are best.
Place the baking dish with chicken and marinade in the oven for 25-30 minutes. Cook till the breast reads 160°F. I recommend using the ThermoPro Dual Probe Digital Meat Thermometer like I have from Amazon. It lets you monitor the chicken temperature without even having to open the stove door. Just place the probe in the thickest part of the breast, you could even monitor two breasts.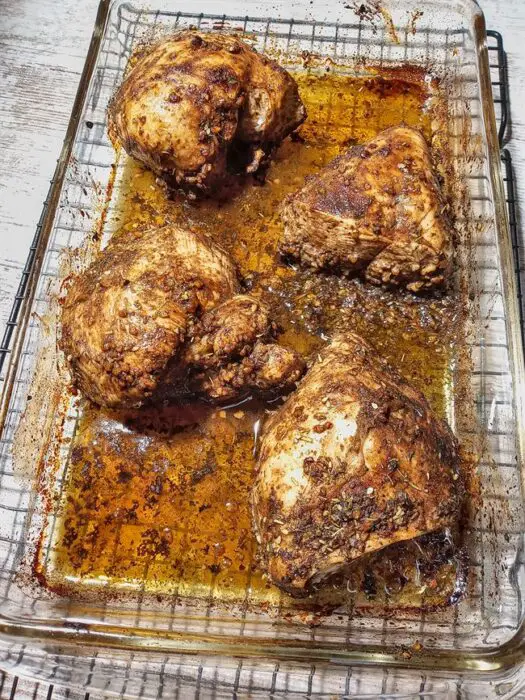 ** I cook to 160°F because the chicken will continue cooking when removed and it will be going back into the oven for a bit. It will be perfectly juicy and tender when all finished, I was easily cutting mine with a fork and it was so good! **
Once your chicken is cooked through, remove it from the oven and pour the bruschetta mixture right over the top. Lightly brush any mix off the on chicken and top it off with some sliced Swiss or mozzarella cheese.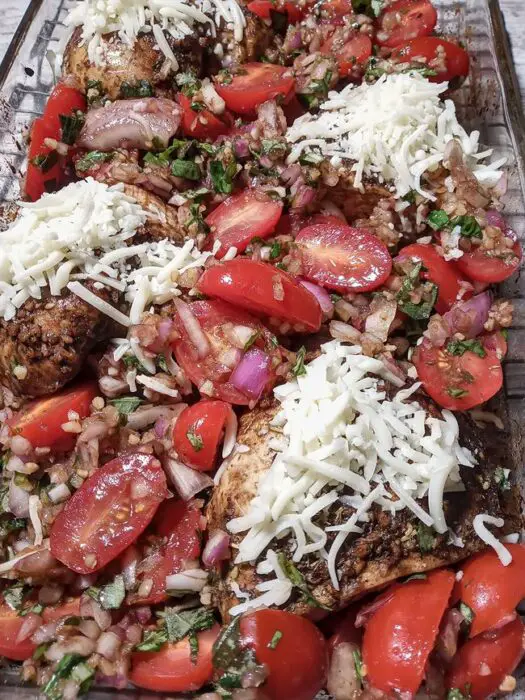 Pop baking dish back in the oven for a few minutes (about 5 minutes) till the cheese is melted and warm the tomatoes.
Have some crusty bread on hand like my Low Sodium Artisan Bread and get ready to chow!
Sides to serve with low sodium chicken bruschetta
This dish would go well with a side salad and my Low Sodium Ranch Dressing.
Serve over just about any pasta type of your choosing (oh Yeah!) or zucchini noodles.
Another great option would be with Low Sodium Spaghetti Squash to add a mellow flavor in between bites.
And as I already mentioned my Low Sodium Artisan Bread. Required??
I just now made some leftovers into a sandwich using my Low Sodium Pita Bread. Oh My! I sliced the chicken and stuffed it with some bruschetta in the pita pocket with a touch of sour cream. No left overs for the dog, sorry Ash.
A few of my other great dishes to enjoy!
---
---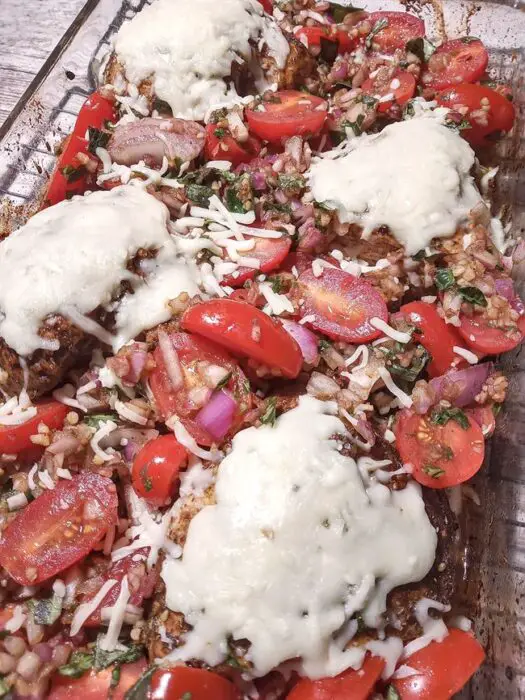 Please let me know how this Low Sodium Chicken Bruschetta turns out for you in the comments and a rating! I'm always eager for your feedback and hope my recipes turn out amazing for you. You can follow me on Facebook and Pinterest also, to hear about new recipes.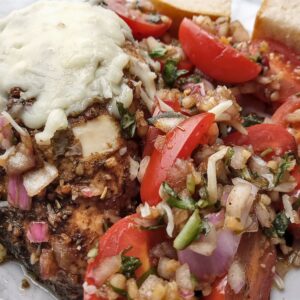 Low Sodium Chicken Bruschetta
Juicy marinated chicken breast topped off with cheese and a flavorful – beautiful bruschetta mix. A low sodium recipe that is bursting with flavor!
Ingredients  
For the chicken:
4

chicken breasts, boneless – skinless

about 6 ounces each

2

tablespoons

olive oil

2

tablespoons

balsamic vinegar

1

Tablespoons

garlic pre-minced

1

teaspoon

Italian seasoning no salt added

½

teaspoon

Mrs. Dash Original Table Blend

½

teaspoon

fresh cracked ground black pepper

4

slices

Swiss Cheese
For the bruschetta:
1 ½

cups

cherry or grape tomatoes, halved

(1 – 10oz. pkg)

1 ½

Tablespoons

garlic pre-minced

½

medium red onion, finely chopped

1

teaspoon

balsamic vinegar

1

teaspoon

olive oil

½

cup

fresh basil, finely chopped
Instructions 
In a 9×13 baking dish add the oil, balsamic vinegar, garlic, Italian seasoning, Mrs. Dash and pepper and stir to combine. Add the chicken breasts and turn to coat.

Let chicken marinate for about 20 minutes. About halfway through marinating start the oven heating to 425°F degrees.

Place chicken in the oven and bake for 25-30 minutes or until chicken reaches 160°F degrees.

While the chicken is marinating and/or baking, add all of the ingredients for the bruschetta mix to a bowl and toss to combine.

When chicken is cooked through, remove from the oven; pour the bruschetta over the chicken. Lightly brush off chicken top.

Top chicken with the shredded Swiss cheese or slice and return to the oven for 5 minutes to melt the cheese and warm the bruschetta mix.
Notes
Cheese option comparison:
Slice of Swiss Cheese averages 45mg per slice, 122mg of sodium for the meal as made in this recipe.
Slice of Mozzarella cheese averages 130mg per slice or about 200mg total for the meal.
Nutrition
Serving:
4
g
Calories:
347
kcal
Carbohydrates:
6.4
g
Protein:
29.6
g
Fat:
22.5
g
Saturated Fat:
7.8
g
Cholesterol:
92
mg
Sodium:
122
mg
Fiber:
1.1
g
Sugar:
2.7
g
Iron:
1
mg
https://tastyhealthyheartrecipes.com/main-dishes/entrees/low-sodium-chicken-bruschetta/
Nutrition Information – The information shown is provided by an online nutrition calculator. It should not be substituted for a doctors or nutritionist's advice. Please understand that not everyone's sodium requirements are the same, therefore some recipes may be higher than you're allowed. Always consult with your doctor for your recommended daily sodium allowance.