Simply mouth watering Low Sodium Italian Meatballs are an easy way to fix up a quick tasty low sodium dinner. The recipe itself is easy to make and if you fix a double batch you can freeze them for a fast meal anytime.
The ways to serve them will make you ponder a wide variety of choices. You can choose from simple spaghetti, meatball lasagna or even over rice with gravy. Try them simmered in my Low Sodium Barbecue Sauce for a quick appetizer if friends pop over. But besides serving over spaghetti, probably the meatball sandwich has to be one of the most famous sandwich dishes.
| | |
| --- | --- |
| Typical sodium amount per serving | 500+ mg |
| Sodium per serving for this recipe | 74 mg |
| Calories per serving | 174 |
Typical serving is 3 meatballs
Low Sodium Italian Meatballs not only taste fantastic, they only have about 75mg of sodium for 3-4 meatballs. Depends somewhat on the size, but for a 1 ½" meatball you should be just under 25mg of sodium each. In a pasta dish you should be easily able to have around 5 meatballs on top. I find that enough to be filling and am still way under my sodium budget.
Most recipes range from 570 – 815mg of sodium for 3 meatballs. The mass produced, bland tasting, frozen meatballs range from 490 – 580mg of sodium for 3 meatballs depending on the brand.
This recipe has two other great things going for it as compared to store bought frozen meatballs and other homemade recipes. For one, it has almost nearly half the calories and two, it has about ¼ of the fat as compared to either store or regular homemade recipes. The huge fat savings is what seems to lower the overall calories significantly due to having lower calories from fat.
MY CHOICE OF MEAT FOR MEATBALLS
For my low sodium – lower fat Italian meatballs I used lean ground beef. Normally many recipes call for a mix of beef and Italian sausage. I got rid of the sausage for lower fat content and because premixed sausage is so high in sodium. I added extra no salt "sausage" type spices to make up for any missing sausage taste. 
Because these meatballs are baked and not pan fried, you could use a higher fat content ground beef if you're not overly concerned about fat content. Fat always seems to add a little more flavor, so it's up to you. I also place the meatballs on a baking rack that allows any extra fat to drip off and the heat to get up underneath.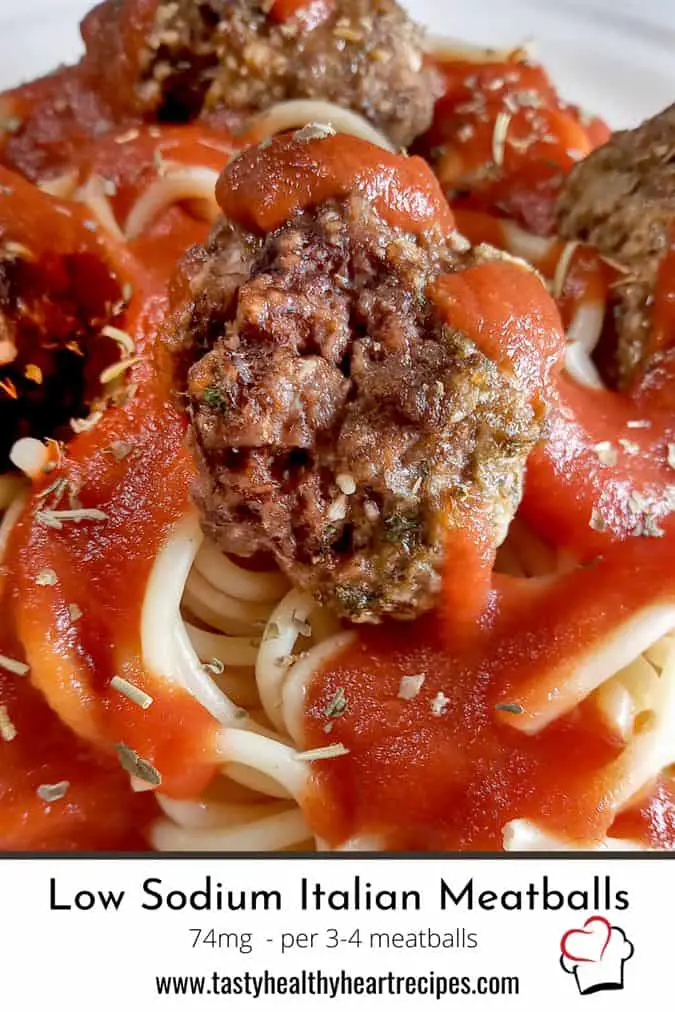 MAKING LOW SODIUM ITALIAN MEATBALLS
Meatballs are really no more difficult than making a pan meatloaf. It just takes a bit more time to roll them into similar size balls. You want them to be fairly close in size so they all cook evenly together. I have made this often enough now I can actually make a meatball in each hand at the same time Haha!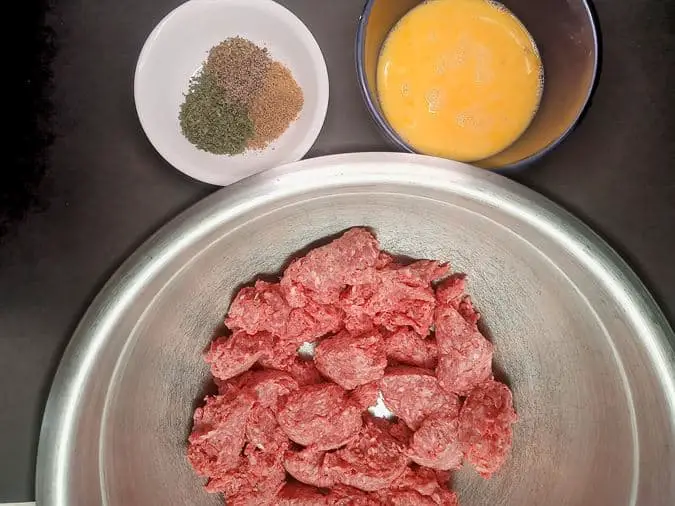 Simply mix all of the ingredients together in a large bowl. I always give the eggs a quick whisk in the big mixing bowl first before adding the meat. They will be more uniform and easier to mix in. I have them separate here for picture purposes, but it saves cleaning another bowl.
Also, it is best to mix the Matzo meal and spices in a separate small bowl before sprinkling in. I find you don't have to mix the meat as much to evenly distribute the mix or end up with that one extra spicy meatball.
Then I simply get in with my hands and mix as thoroughly as I can without over mixing which can lead to a dense meatball.
If you want perfectly uniform meatballs, use an ice cream or cookie dough scoop to scoop up the meat mixture. Once you have a rolled ball, place them on a foil lined baking sheet to bake. With a little practice you should be able to make uniform size meatballs, one in each hand at the same time as I do.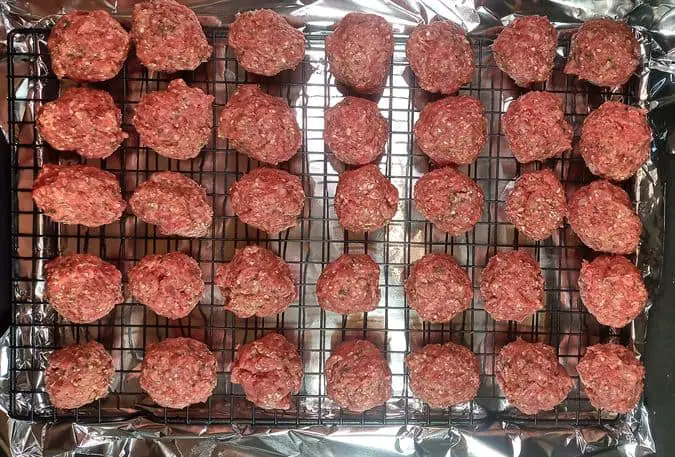 If you think the mixture feels soggy when you are mixing the meatballs, add 1/4 to 1/2 cup more of the Matzo meal. There are many little factors in how moist the mix is and if it is too "soggy" or wet the meatball may not hold together. But don't worry it is really hard to mess up.
THE BEST WAY TO COOK YOUR ITALIAN MEATBALLS
Traditionally Italian meatballs are pan fried which, besides the meat retaining extra fat, would need to be done in several batches in a skillet. I cooked the entire amount of this recipe on one large baking sheet, making 36 meatballs.
I try to make my cooking as easy as possible so I prefer to bake them. There is really little difference as most of the time as they will be smothered in a delicious sauce anyway.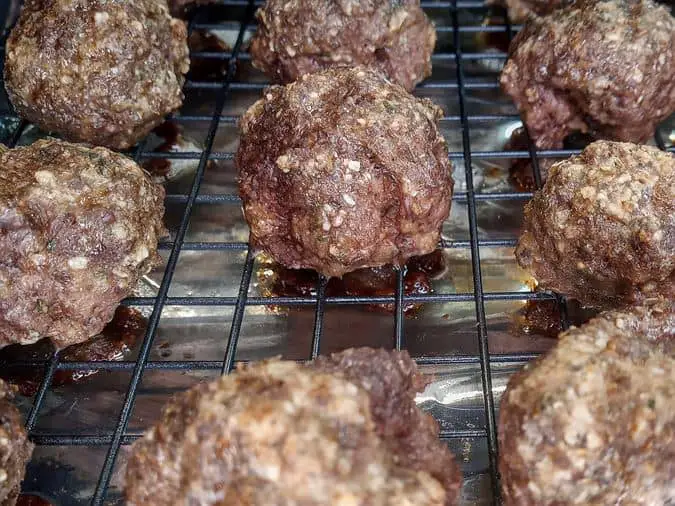 Additionally, I cover the baking sheet with foil that makes for a super easy clean up. I also place meatballs on a wire cooling rack that lets the fat drip from the meatballs and they won't retain any extra fat.
FREEZING MEATBALLS
I often make double this recipe so I can freeze and have meatballs ready for any meal just like frozen meatballs from the store. It requires two baking sessions, but is well worth the time. This recipe made 36 meatballs so you can easily have many meals ready to go if you double up the ingredients.
Just cook the meatballs and then let them cool completely. I use a large heavy duty Ziploc and just throw them in the freezer and they will be ready to use anytime. Meatballs will easily keep in freezer for up to 2 months.
WHAT CAN I MAKE OR SERVE WITH LOW SODIUM ITALIAN MEATBALLS?
Pasta is usually the go to choice for Italian meatballs and you could use simple spaghetti noodles. I made an Instant Pot Low Sodium Italian Meatball Lasagna the same night I made the meatballs with lasagna pasta and it was simply awesome.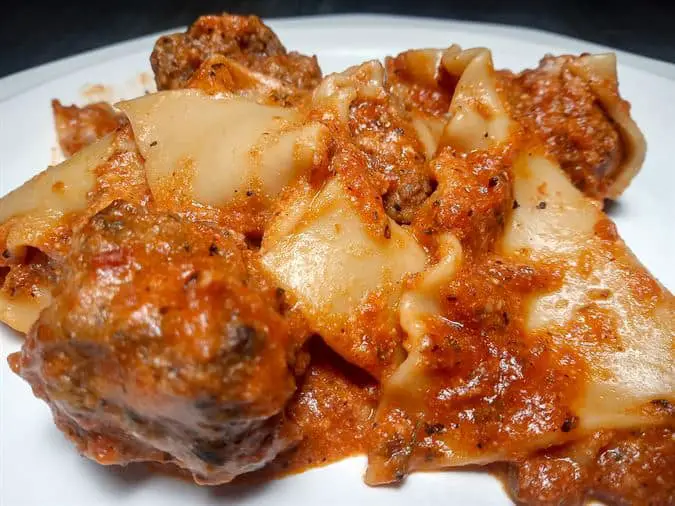 But other ideas include meatballs with baked, mashed potatoes or rice, either one with brown gravy. Or try with a simple side salad or vegetable mix and a slice of garlic Low Sodium Artisan bread. Then there is also the indubitable meatball sandwich.  
One of my favorite appetizer dishes is to simmer the meatballs either whole or cut in half in my Low Sodium Barbecue Sauce for about an hour. Pour in a bowl and just throw out some toothpicks and small plates for an easy party appetizer.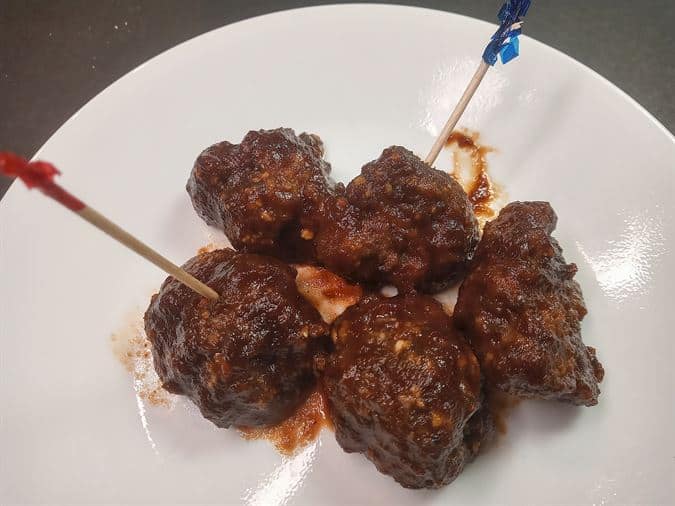 A few of my other great dishes to enjoy!
---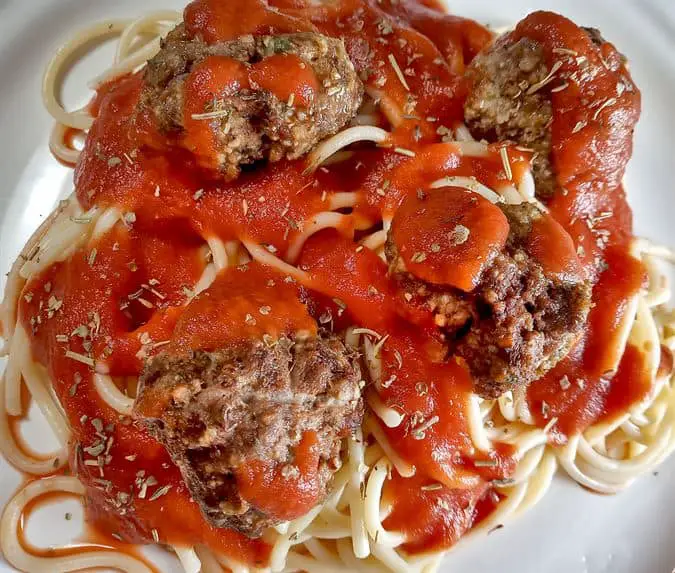 As always, please let me know how you like this recipe in the comments! I like to hear from you and am interested to learn about how you liked and served your Low Sodium Italian Meatballs. So please, leave a comment and rating and share any tweaks or tips you might have. You can follow me on Facebook and Pinterest also, for new recipes.
Recommended Equipment & Ingredients For This Recipe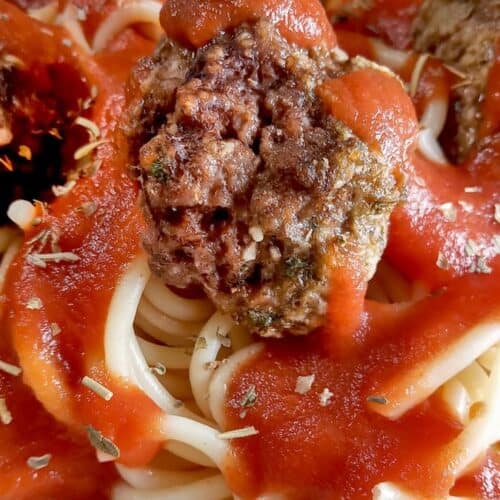 Low Sodium Italian Meatballs
Low Sodium Italian Meatballs are also lower fat, easy to make and can be made into many distinctive dishes. Freeze them for quick weeknight meals.
Ingredients  
2

pounds

lean ground beef

4

large eggs

3/4

cup

Matzo meal

1

Tbsp

dried parsley

1/2

tsp

dried basil

1/4

tsp

black pepper

1

tsp

sage

1

tsp

ground fennel

be sure to grind if seed form

1

tsp

smoky paprika
Instructions 
Premix spices together in a small bowl.

In a large bowl, whisk eggs quickly together and add meat, sprinkle mixed spices over and mix all of the ingredients together by hand.

Roll into 1 1/2″ balls (ping pong ball size) and place them closely together on large baking sheet covered in foil and (optional) cooling rack. Cooling rack allows the fat to drip down.

Bake at 350 degrees for 35 minutes until the meatballs are cooked through depending on size.

The meatballs are ready to serve immediately with your favorite pasta and sauce or other recipe.

If freezing the meatballs, allow them to cool completely before storing in Ziploc freezer bag.
Notes
This recipe made 36 meatballs for me.
I also often double this recipe and freeze for quick easy meals in the future.
Recipe Equipment & ingredients
Nutrition
Calories:
174
kcal
Carbohydrates:
1.9
g
Protein:
25.3
g
Fat:
6.4
g
Cholesterol:
130
mg
Sodium:
74
mg
Fiber:
0.2
g
Sugar:
0.2
g
https://tastyhealthyheartrecipes.com/main-dishes/entrees/low-sodium-italian-meatballs/
Nutrition Information – The information shown is provided by an online nutrition calculator. It should not be substituted for a doctors or nutritionist's advice. Please understand that not everyone's sodium requirements are the same, therefore some recipes may be higher than you're allowed. Always consult with your doctor for your recommended daily sodium allowance.