Are you ready to make the most of the delicious fall apples? If yes, then this Low Sodium Pork Chops Apples and Onions recipe is for you! Plus, it's all made in ONE stovetop skillet!
Tender caramelized onions and apples add the perfect balance and flavor to savory pork that falls off the bone with just your fork. This meal is super easy to make it's low in sodium, lower in fat and made in just over thirty minutes.
| | |
| --- | --- |
| Typical sodium amount per serving | 450?+mg |
| Sodium per serving for this recipe | 190mg |
| Calories per serving | 815 |
4 servings from recipe
Lean pork can also be healthy as they're low in sodium (54mg / 3 oz.), low in calories, reduced fat and seared with just a few common ingredients.
I would advise being careful with pork chops nowadays at the grocery. Some pork is now processed and "enhanced" just like chicken, injected with sodium and brined in saltwater. 'They' make it so hard sometimes. Look for fresh pork and ask the butcher if you have any doubts or questions.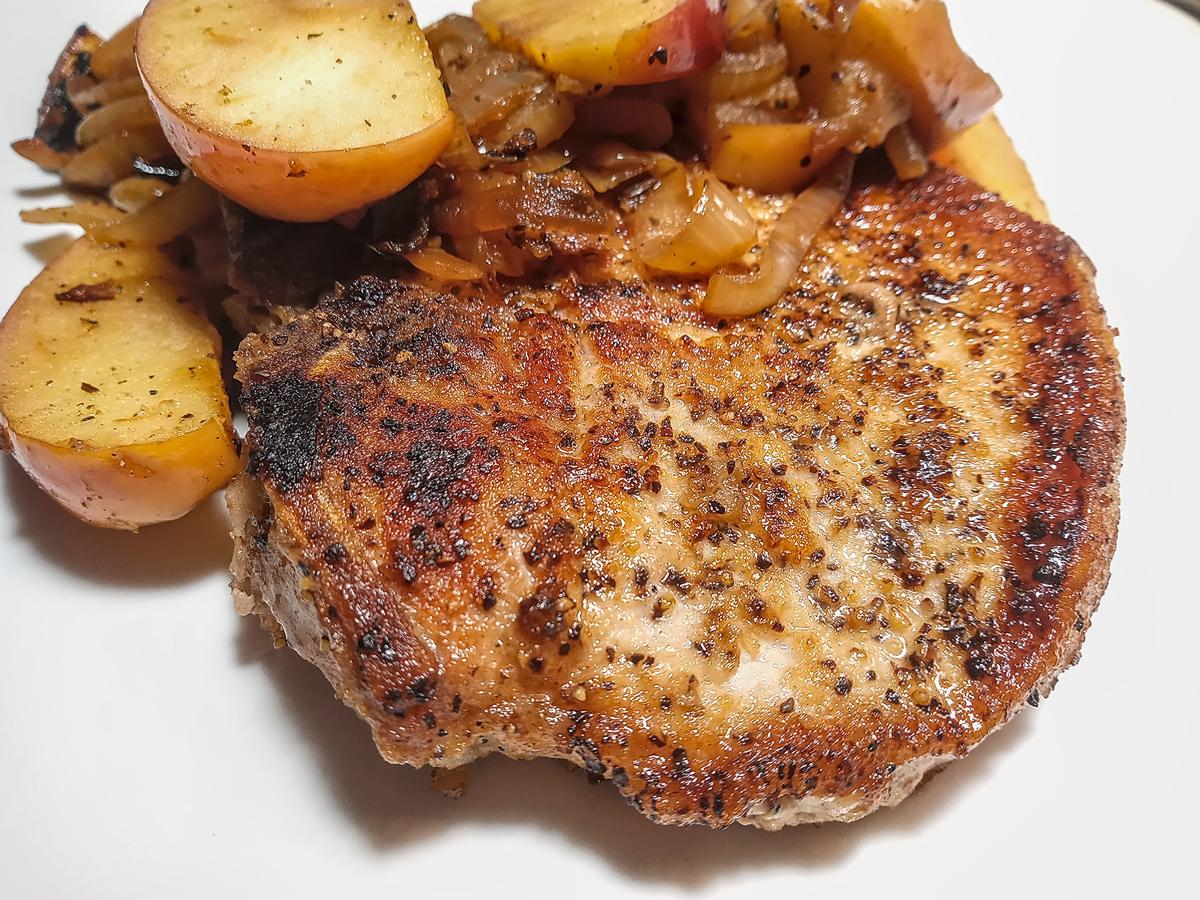 Ingredients for Low Sodium Seared Pork Chops Apples and Onions
All the ingredients for this skillet seared pork are easily available and are fresh and healthy. See the recipe for the exact amounts needed.
Pork Chops – Select 1/2-inch thick cuts with the bone in or boneless, not the real thin ones. I like the bone-in, I find they have better flavor and don't get dried out as easily, plus I like to gnaw on the bone.
Coarse ground black pepper
Flour
Olive Oil
Apples – I like Gala or Red Delicious. I like to use an apple corer and slice each half in half again.
Yellow Onion – Sliced thinly so it caramelizes quickly.
Dried Rosemary leave – Lightly crushed.
Pre-minced Garlic
Ground Thyme
Apple cider juice or unsalted chicken broth. (Broth has less sodium than chicken stock.)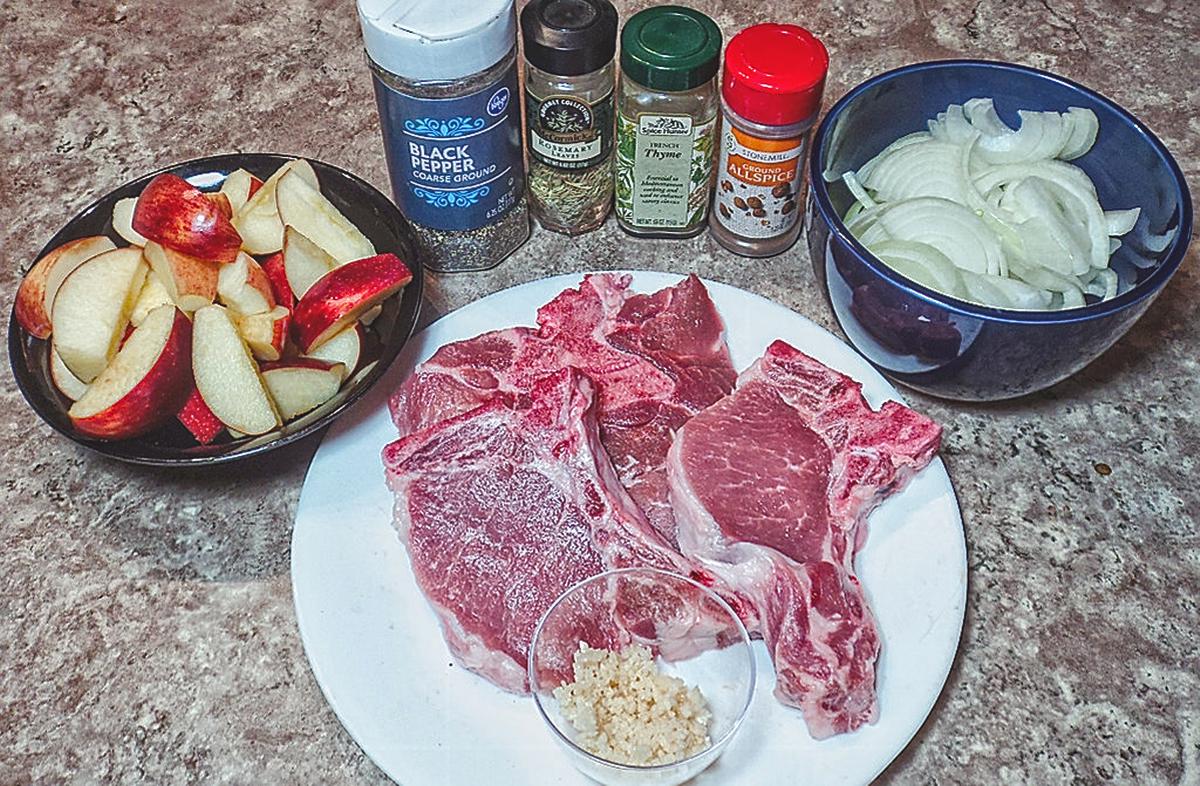 How to make low sodium skillet-seared pork chops, apples and onions
This recipe all comes together in a little over 30 minutes making this pork dinner the perfect low sodium meal for a weeknight. Following these few simple steps, you will get superb tasty chops in little time.
Prepping your ingredients:  Rub the pork chops thoroughly on all sides with ground black pepper and sprinkle lightly with flour, then set them aside on a large plate. Heat a large cast-iron skillet on the stove over high heat and add 1 tablespoon of olive oil.
Core and slice apple apples. I like to use an apple slicer and then cut those slices in half. Thinly slice your onion and measure out the other ingredients.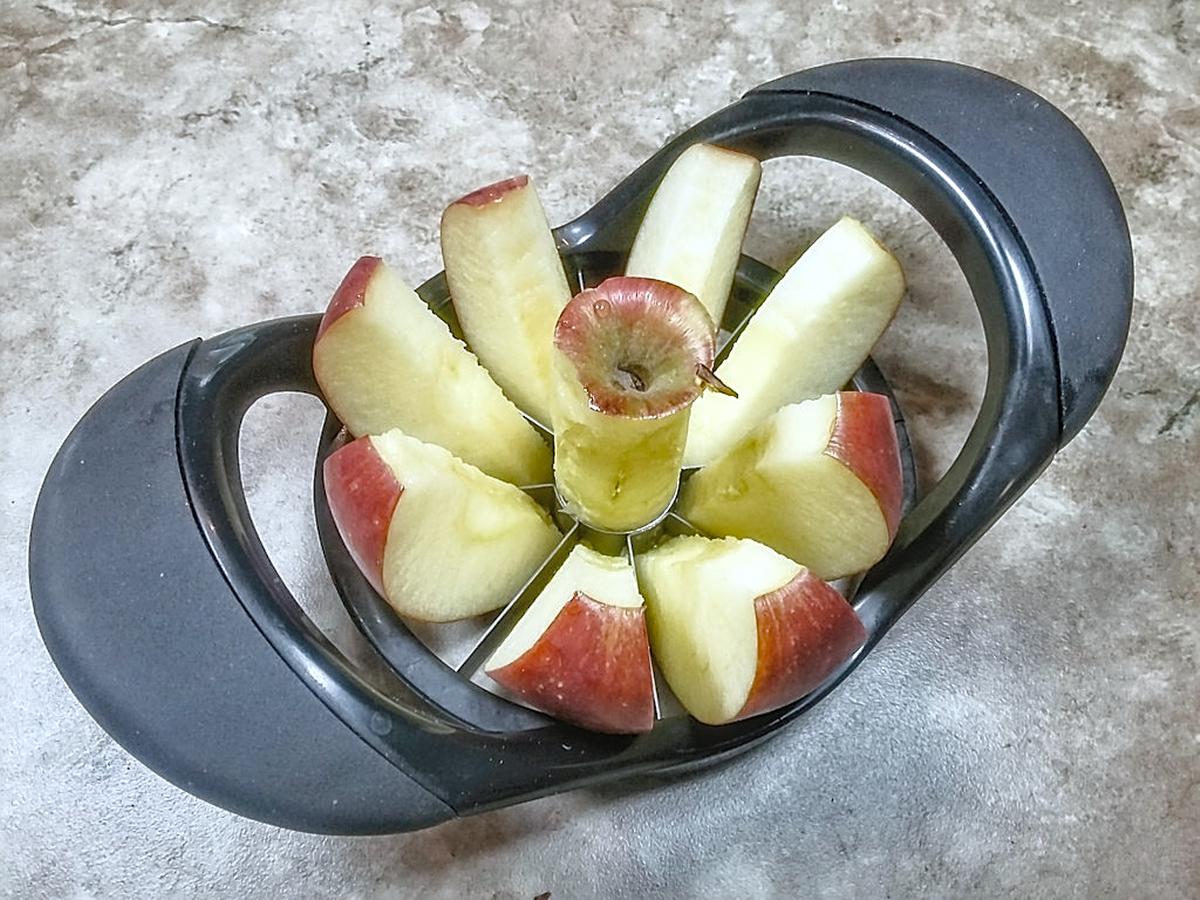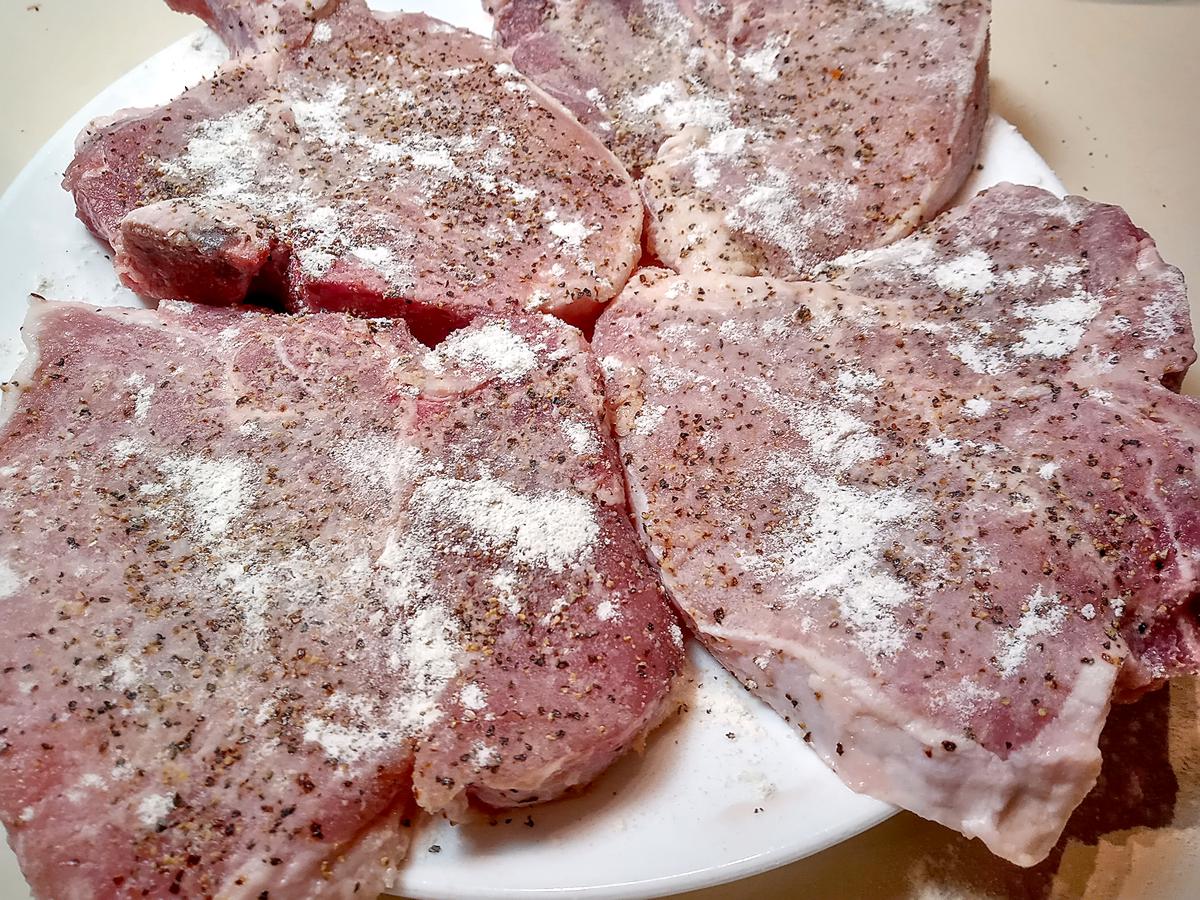 Sear the pork:  Add your peppered and floured pork chops to the skillet and sear them on both sides which should take about 4 minutes on each side. Do not crowd, cook two or three at a time. Once they've reached an even golden brown, remove them from the skillet and set them on a covered plate to retain some heat.
Sautée the apples and onions:  Add the remaining 1 Tbsp. olive oil and stir in the apples and onions. Season them with crushed rosemary, thyme and Allspice along with pepper to taste. Sauté them slightly over medium heat for 5 to 6 minutes and add garlic for about the last minute. Stir occasionally and cook or until they turn tender and start to brown. Stir in the cider (or chicken broth) and scrape the bottom of the pan to deglaze any browned bit for that added flavor.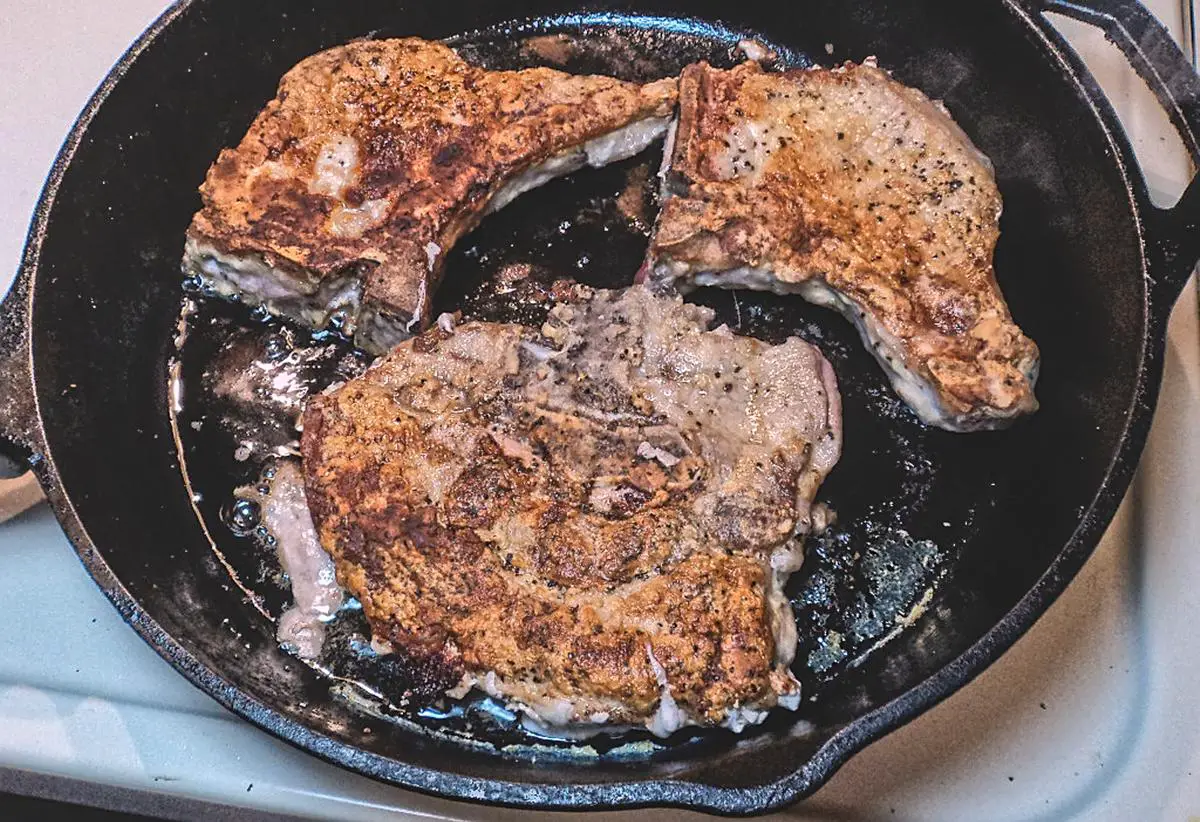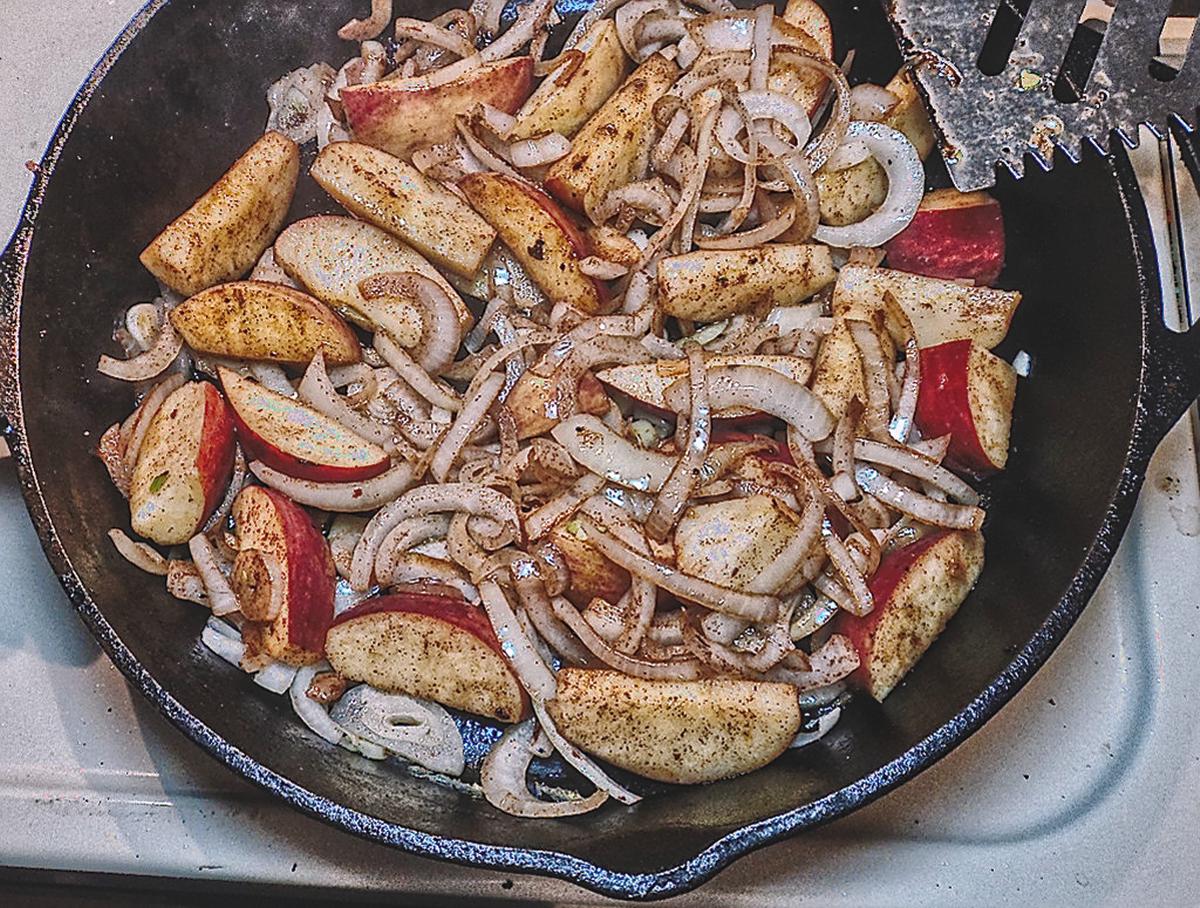 Finish cooking the pork chop:  Return the pork chops to the skillet and smother with the onions and apples. Partially cover the skillet and continue cooking for another 5 minutes, turning each pork chop once, or until chops are cooked through. (145°F)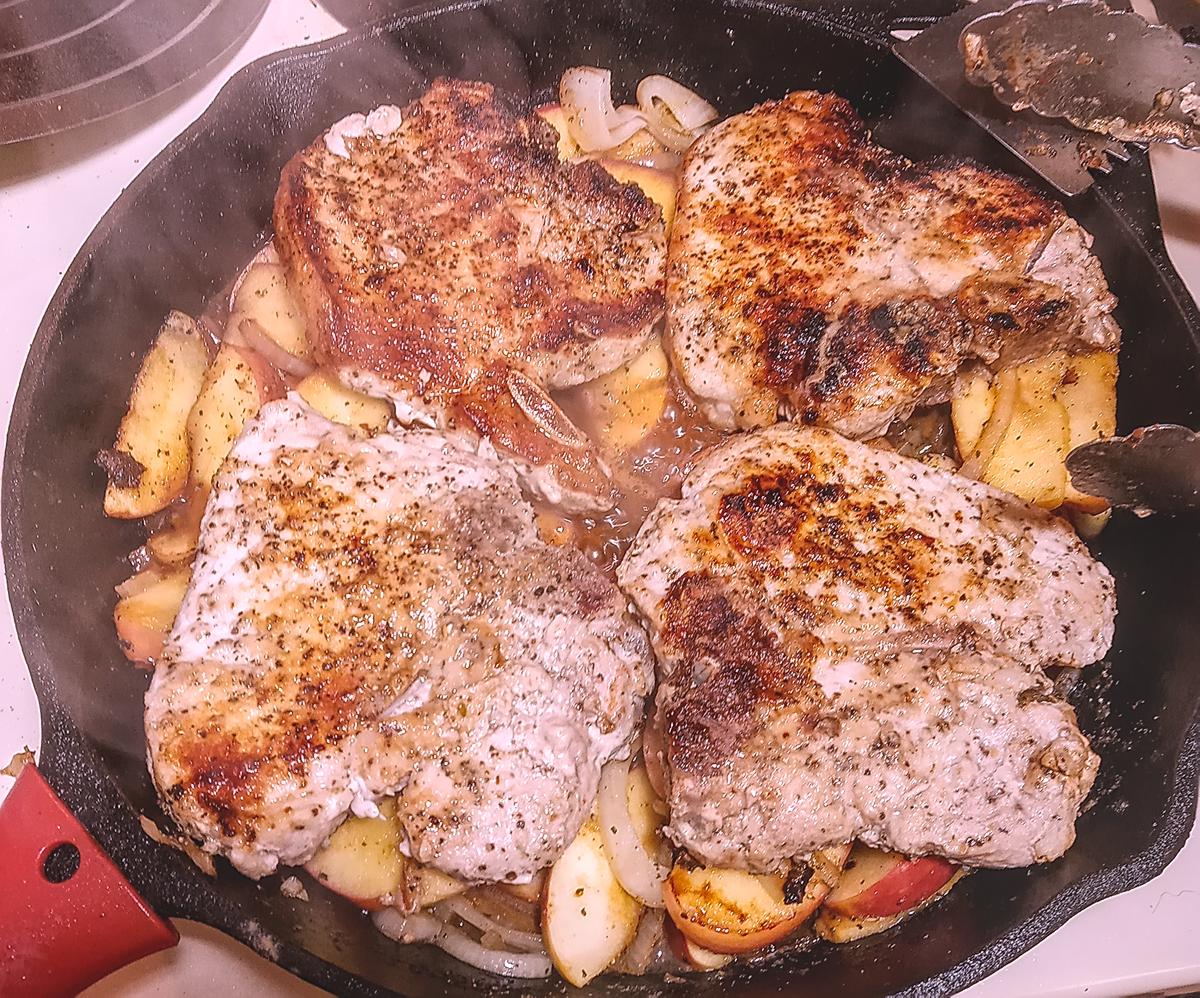 Serve:  Remove the pan from heat and serve one chop with apples and onions slathered over top.
Bill's tips for the best low sodium pork chops, apples, and onions
These pork chops come together easily for a weeknight meal and any leftovers. The fall apples, onions and chop flavors blend perfectly. Here are my few quick tips for your best experience.
● Use Bone-In Pork:  Pork with the bone-in still is the best. Lean fat from the bone keeps the meat from drying out. It will be juicier than any that has the bone removed without high fat content throughout the meat.
● Take the pork out first and season:  Take the chops out of the fridge first, season them and let them rest on the counter at room temperature while preparing other ingredients. This helps them cook more evenly and the heat won't have to build for a good sear. Season the meat really well on both sides and edges for a flavorful savory crust.
● Space chops out in skillet:  To get a nice sear on the chop, be sure that you don't crowd the pan since this will make the skillet less hot and create more steam and will not produce a nice crusty sear on the meat. Cook in two batches if need be.
● Sauce:  I like this recipe on the dryer side so, if you like more sauce don't let it reduce as much or add a bit more cider or chicken broth.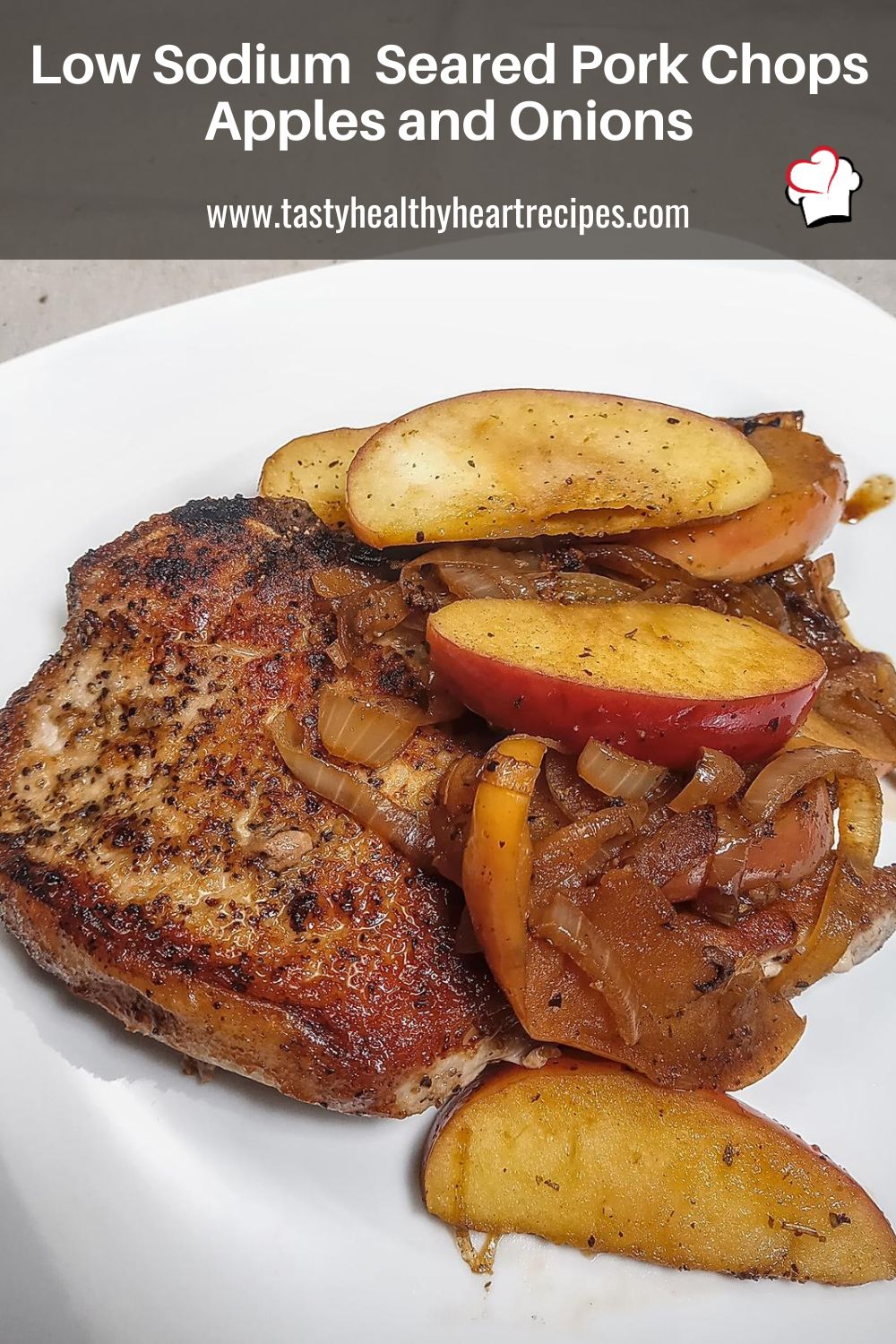 Serving Suggestions
This dish tastes great with my Low Sodium Green Bean Casserole or Scalloped Potatoes.
Storage and Reheating
Store any leftovers in an airtight container in the fridge for up to 3-4 days. In the interest of time, I pick out a chop and microwave for two minutes. After about half way through, add the apples and onions. (When you're at work and only a microwave is available, obviously this the only way to go. You'll still be the envy of the break room!)
But if you want to "crisp" them back up a bit, add a tablespoon of oil to a skillet over medium-high heat. Add the pork chops to the skillet and cook each side for about 4 minutes. Put a serving of the apple and onion mix on the side and cook it until everything has heated to taste.
Freezing Pork Chops?
Though this recipe is best when eaten in the next few days, it should freeze well. (Personally, I chow mine down and haven't frozen yet.) I would freeze servings separately unless planning for more than one serving next time. Put in the fridge the night before you plan to eat the leftover pork to thaw out before you reheat it. A microwave would be easiest, about 2 minutes on high.
---
A few of my other great dishes to enjoy!
---
Recommended Equipment & Ingredients For This Recipe.
See my whole Recommended Equipment & Ingredients shop page here
This section contains affiliate links to products I use and recommend.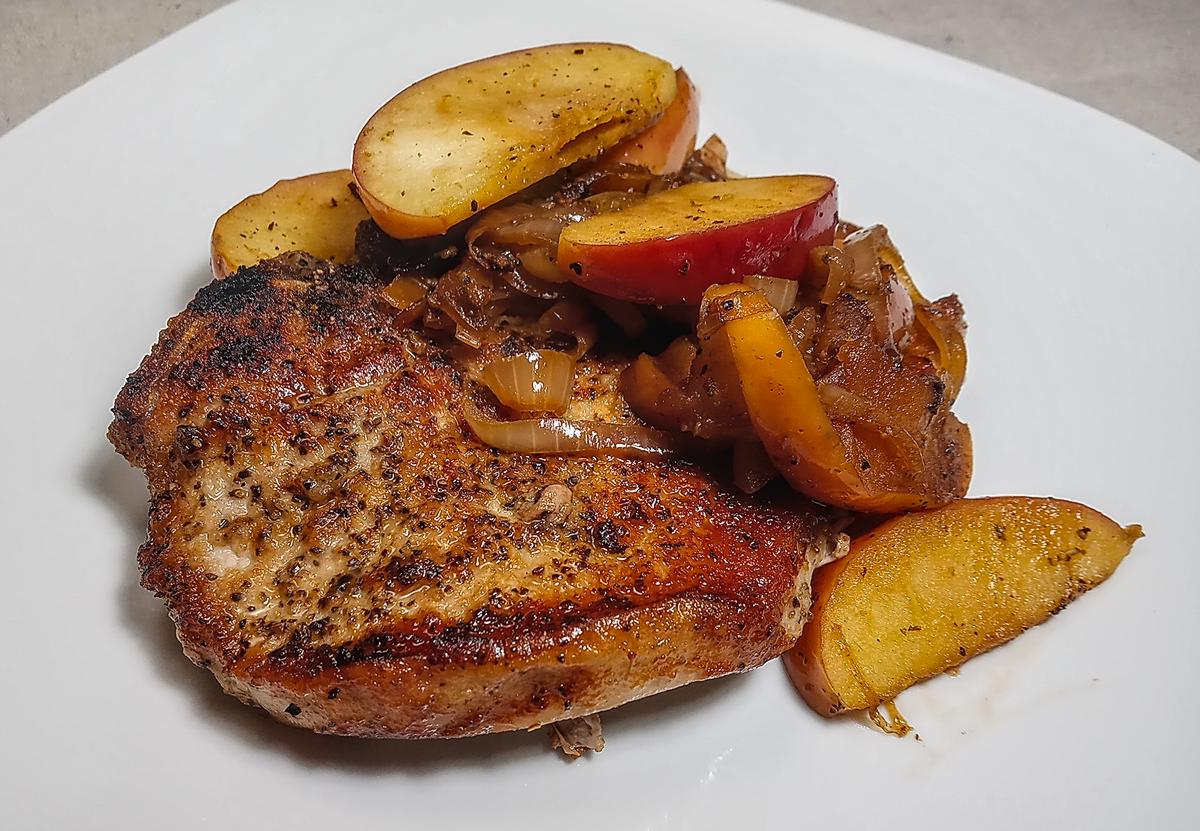 Please let me know how these Low Sodium Seared Pork Chops Apples and Onions turn out for you in the comments and a rating! I'm always eager for your feedback and hope my recipes turn out amazing for you. You can follow me on Facebook and Pinterest also, to hear about new recipes.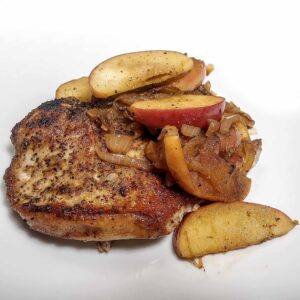 Low Sodium Seared Pork Chops Apples and Onions
This one skillet Low Sodium Pork Chops with Apples and Onions dish is a scrumptious light and flavorful meal that's perfect for fall.
Ingredients  
2

Tbsp

olive oil divided

4

bone-in pork chops

1/4

cup

flour

coarse ground black pepper to taste

1

cup

unsalted added chicken broth

2

teaspoon

Allspice

1 1/2

teaspoon

dried rosemary crushed

1/2

teaspoon

ground thyme

1/4

teaspoon

black pepper

2

medium to large apples thinly sliced

I like Gala or Red Delicious

1

large yellow onion thinly sliced

3

tablespoons

pre-minced garlic
Instructions 
Season both sides of pork chops with black pepper and lightly with sprinkle with flour. Set aside and prepare remaining ingredients.

Pre heat skillet over med-high heat, when hot and ready to cook, add 1 Tbsp olive oil.

Add pork chops to pan, leave about an inch between the chops to ensure even cooking and browning. Sear 3-5 minutes per side or until pork chops are nicely browned, they will be mostly finished. Chops will continue to cook in the sauce when added later. Cook in two batches if needed.

Remove pork chops and cover to retain heat.

Add 1 Tbsp oil to the pan, add apples and onions. Cook 5-6 minutes and stir occasionally. Evenly sprinkle mixed seasoning – pepper, Allspice, rosemary and thyme. Stir to combine.

Pour in unsalted chicken broth, use a spatula to gently scrape the bottom of the pan to deglaze any brown bits which have tons of great flavor.

Slide pork chops back into the pan, smothering them in between the apples and onions.

Cook 3-5 minutes until pork chops are finished cooking (145°F) and liquid has reduced by about half.
Notes
I like this recipe on the dryer side so, if you like more sauce don't let it reduce as much or add a bit more cider or chicken broth.
Nutrition
Serving:
1
g
Calories:
815
kcal
Carbohydrates:
27.9
g
Protein:
88.7
g
Fat:
37.2
g
Saturated Fat:
11.3
g
Cholesterol:
218
mg
Sodium:
190
mg
Fiber:
4.3
g
Sugar:
13.5
g
Iron:
4
mg
https://tastyhealthyheartrecipes.com/main-dishes/entrees/low-sodium-pork-chops-with-apples-and-onions/
Nutrition Information – The information shown is provided by an online nutrition calculator. It should not be substituted for a doctors or nutritionist's advice. Please understand that not everyone's sodium requirements are the same, therefore some recipes may be higher than you're allowed. Always consult with your doctor for your recommended daily sodium allowance.