This homemade low sodium rotisserie chicken is crusted in savory spices, roasted on a spit to golden brown perfection with juicy, tender chicken inside. If you have a suitable air fryer but have not yet made a rotisserie chicken, then I hope to inspire you to do it as soon as possible!
I really miss picking up a hot and ready rotisserie chicken at the grocery store, it was so easy and convenient. I would have dinner that night, plus several more or have a slew quick chicken sandwiches.
But now I know they are loaded with sodium from a brining process and covered with salty seasonings. Plus, if you look up why they're so cheap, well…it's kinda sketchy.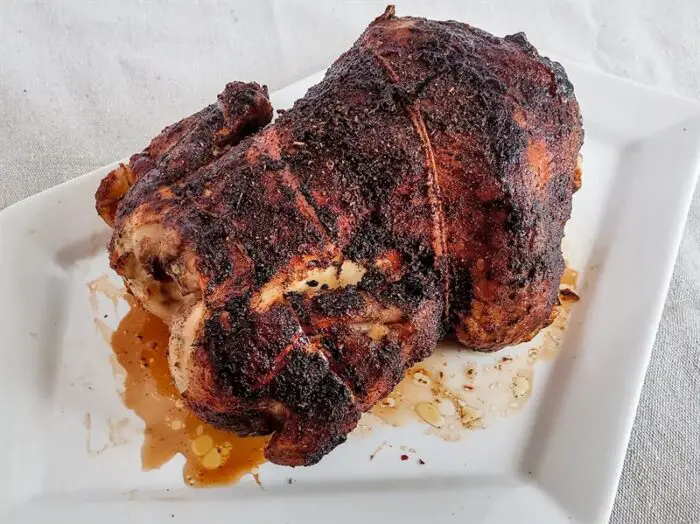 While the air fryer low sodium rotisserie chicken is a super entree on its own or with a low sodium side dish, it is also fantastic for leftovers.
The second rotisserie chicken I made, I pulled the meat off and sliced it up just to make chicken sandwiches, excellent! Plus, you can use the leftovers for any recipe that calls for cooked chicken, like for quick soups, casseroles, or chicken salad.
Sodium in homemade air fryer rotisserie chicken
Exact sodium and nutrition information in this recipe case is difficult to calculate, as different sections of the whole chicken vary in calories and fat. I would have to believe though that the sodium level would be fairly consistent throughout.
| | |
| --- | --- |
| Typical sodium amount per serving | N/A |
| Sodium per serving for this recipe | 55-65mg |
| Calories per serving | N/A |
per 4 oz. serving
But with this recipe what you and I do know, is the chicken was not brined and no added salty seasonings were used. The only sodium would be from what is naturally in the chicken. This particular chicken was listed as 55mg sodium per 4oz. on the nutrition label of the chicken.
A basic rule of thumb is a rotisserie whole chicken thigh with skin is the highest in calories and fat, while a breast with no skin would be the leanest with the fewest calories and most protein.
Be sure to check the sodium level in your whole Chicken
When I was perusing the whole chickens available, one brand had 155mg of sodium per 4oz serving; the one I purchased only had 55mg per serving. The latter level is more in line with the amount of natural sodium found in chicken. Obviously, the other one was "enhanced" with a sodium solution.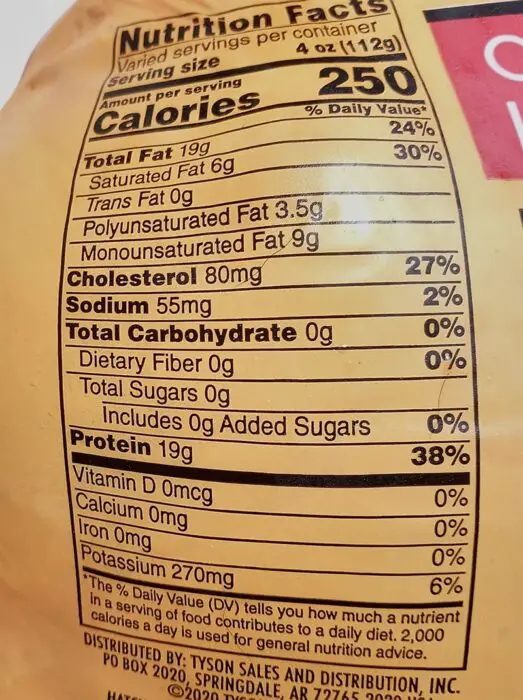 Also, be sure to remove the giblet bag if one is present. It should be quite obvious if it is. This one did, my last one didn't. Go figure.
Why use an air fryer to make rotisserie chicken
If there is one appliance you should own, I still believe the Instant Pot is best to have on your counter. But the air fryer is slowly gaining usage in my kitchen, so much more efficient doing smaller items than in a large oven.
The rotisserie type air fryer definitely made the best smaller whole chicken as compared to roasted in the oven.
I first started out with the smaller "drawer type" air fryer and besides it not lasting the year, I hated it. It was much too small and limited in capacity and ability to cook various items, in my personal opinion.
After a time of being disappointed in air fryers, I recently moved up to a larger air fryer that allows me to cook more food in varied methods.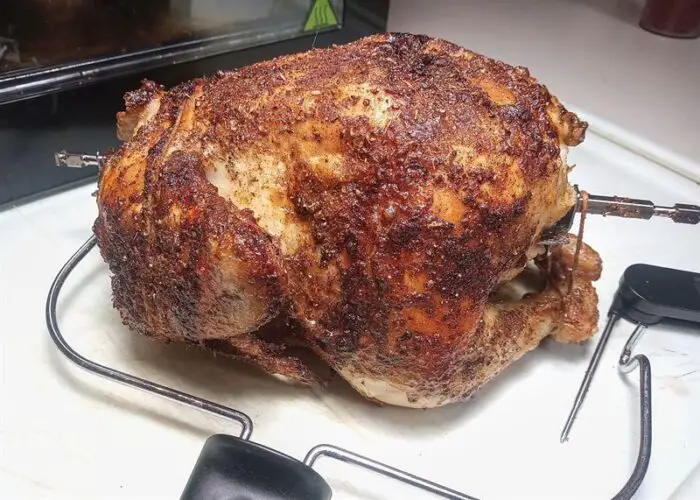 Of course, once I had my new air fryer I made the obligatory French fries and chicken tenders. After I just had to give the air fryer rotisserie chicken a shot. It was my first homemade 'rotisserie' chicken and among the best whole chicken I've ever had.
If you used to love a store-made rotisserie chicken from the deli section of the grocery store, you will be pleased to have made this recipe. I really hope you will give it a shot.
Air fryer rotisserie chicken essentials
Depending on your air fryer, a good rule of thumb for a whole young chicken size would ideally be not more than 4.5 – 5 pounds. I have a 12.7qt. size air fryer and initially bought a 5.5lb chicken and that was pushing the limits to fit.
Anything larger than that would have been too big for my air fryer on the rotisserie spit. You need to consider side-to-side dimensions and also room for the irregularly contoured chicken when it rotates.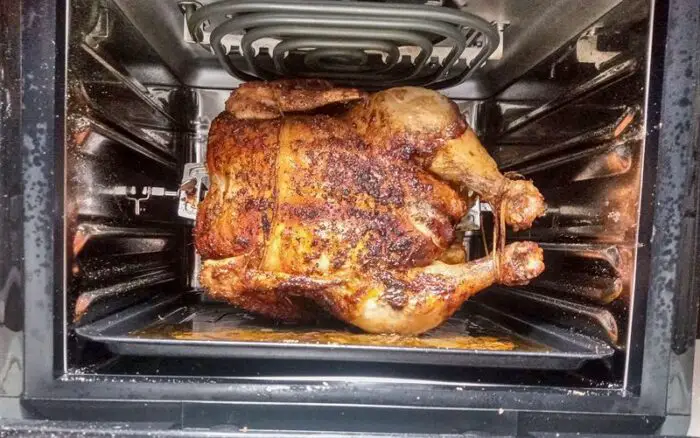 Obviously, you will need an air fryer with a rotisserie function. I have been happy with this particular one by far over my previous drawer-type fryers.
This 12.7-Quarts 15-in-1 Electric Air Fryer Oven with Rotisserie and Dehydrator (see on Amazon) is well rated and affordable. Although, I may step up a size in the future. This size air fryer is a great size for one person, but perhaps pushing it for two people.
You will also definitely need cooking twine (cotton string) to tie the legs and wings close to the body of the chicken. Otherwise, they will just go flopping around and probably jam up the rotisserie motor. Besides overcooking the legs and wings, I can imagine it would not be a pretty sight.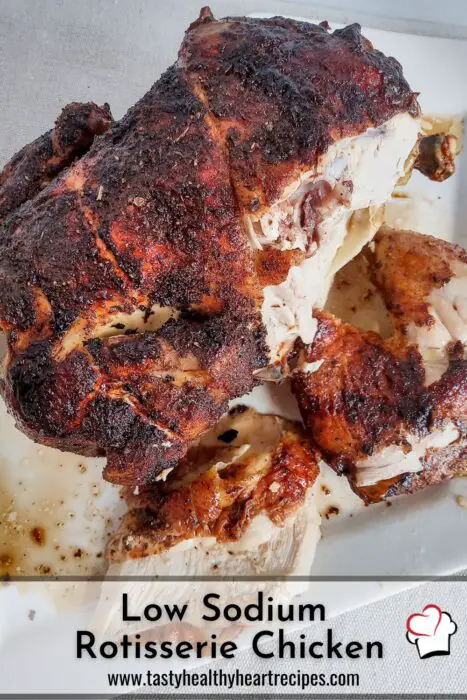 How do you prepare – tie a chicken for roasting?
There are just a few quite easy things to prep so don't let this deter you from making this awesome rotisserie chicken. And tying it up is basically like tying your shoes.
Foremost, to prepare your whole chicken for the rotisserie, always make sure to remove the giblet bag if there's one inside the chicken cavity. There probably won't be but…ya never know!
I am sure you could use the giblets for something but I haven't yet.
Rinse the body inside and out under slow faucet water and let drain for 15-20 minutes. This also gives the chicken time to come to room temperature before cooking it in the air fryer. It is important that the chicken is room temperature so that it can cook evenly throughout the entire chicken.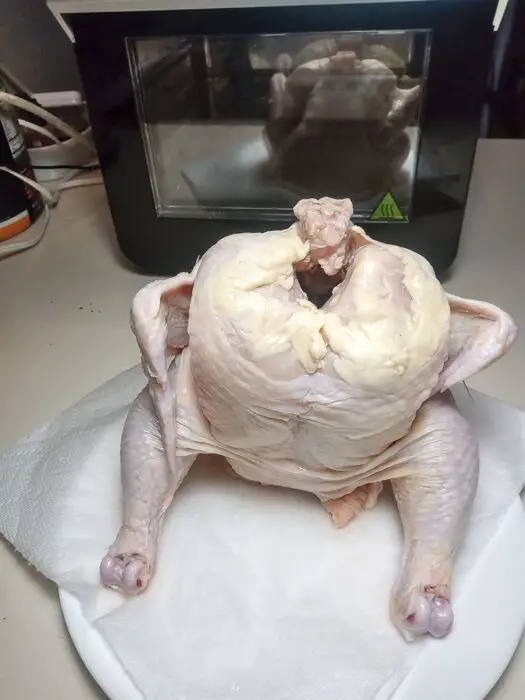 For the first tying step take the string and go around once each wingette and around the body once, tie with a simple square knot and tuck the wing tip under (see images below).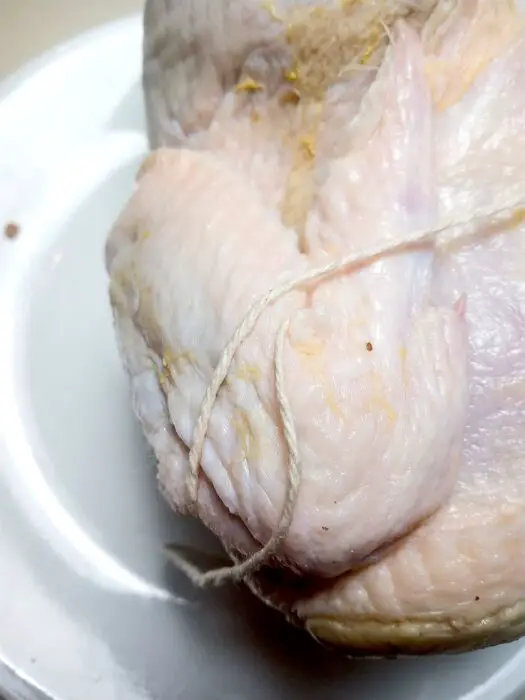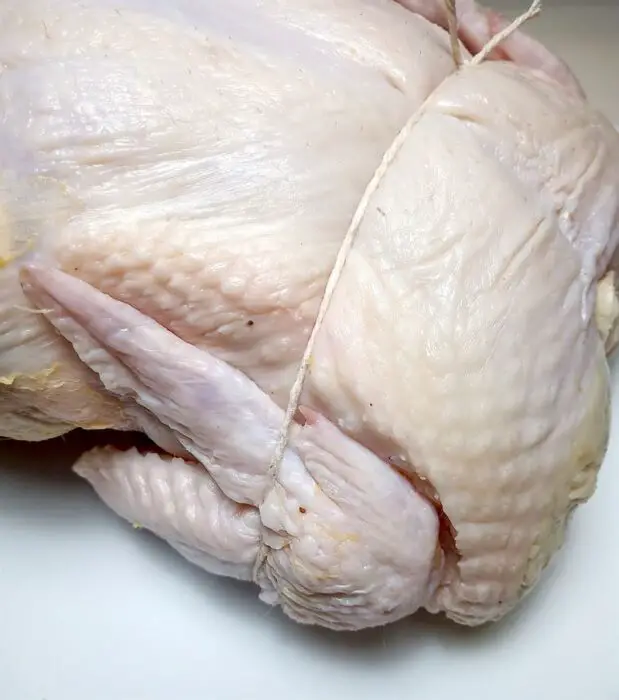 Then tie the legs by wrapping the string around in figure 8 and tie with a square knot. The legs will still be floppy so tie a loop around the spit after it is inserted (see images below).
You could also tie the legs up and to the spit in one step after the spit is inserted once you get used to the process. It's just easier this way for me and if this is your first time or two cooking one.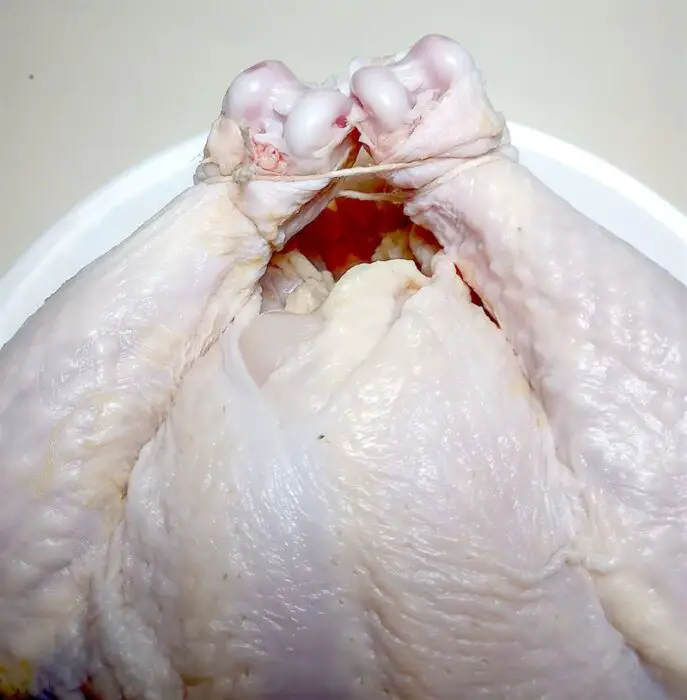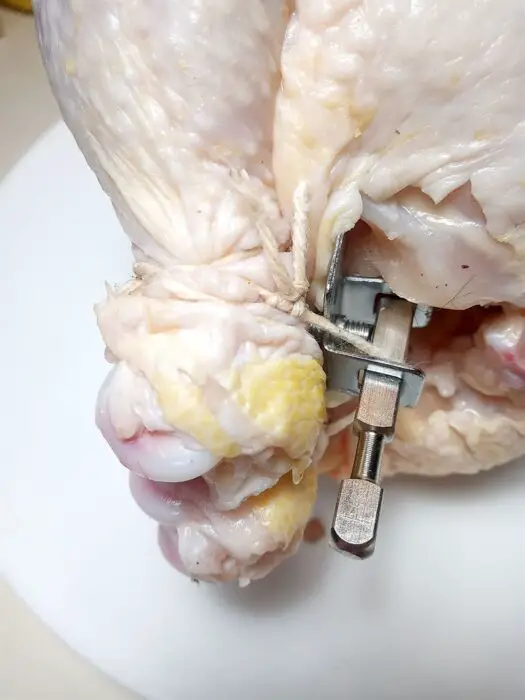 I recommend cutting the neck and the tail nubs off (see pic below). You don't have to, but the first time I made this I had to cut them off just to fit in my air ryer machine. Now, I just prefer to do it beforehand.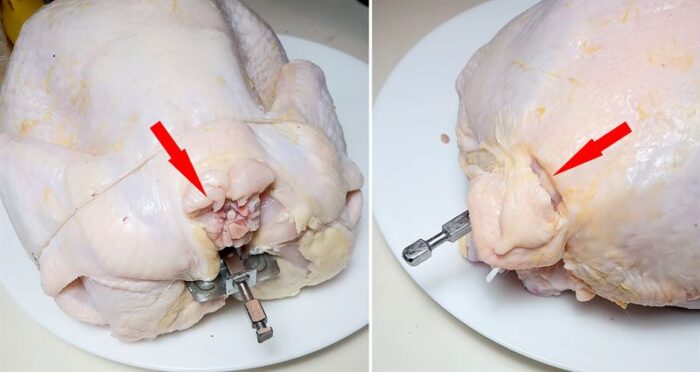 Pat chicken dry with some paper towels. Rub a light coat of olive oil all over everywhere you can reach. Then sprinkle the seasoning mix all over. You should just pat the spices down to stick, don't rub the spice in. Otherwise, it will just end up a smeary mess.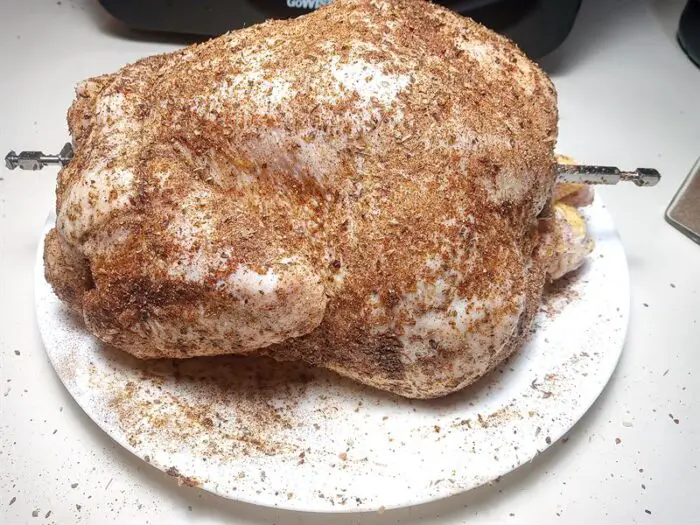 Air fryer tips for air fryer rotisserie chicken
An Instant read thermometer is essential when cooking a rotisserie chicken.   
Cook according to your air fryer rotisserie manufacturer's instructions, they will all be a little different and will also vary with the size of the chicken. You may need to adjust the first time or two.
Determining when the chicken is done will depend on the size of the chicken and your air fryer. My particular air fryer has an automatic setting that ran for 45 minutes at 430°F.
At the end of the cycle, my chicken registered 145°F, not quite enough. So I manually added 10 more minutes and then it was just shy of 165°F which was perfect.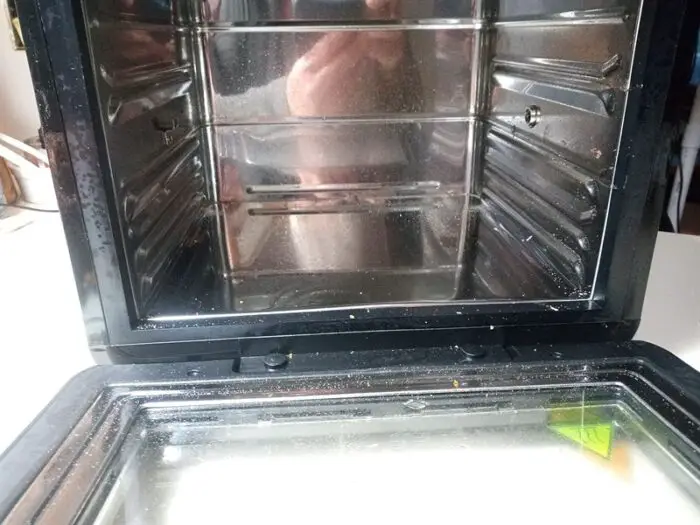 I usually use a wired probe thermometer so I don't have to continually open the oven, grill, or even on the stove top. That cannot be used here since the chicken is rotating on the spit. So I have to use the handheld instant thermometer to check.
Sneak up on the time and temp till you can accurately gauge time and the size of your chicken, take note of the final finished time, and use that setting next time. It's really much simpler than it may seem.
Or, for your size chicken and machine it may come out perfect, just be ready to adjust the first time or two.
Also try basting one with my Low Sodium Barbecue Sauce…Awesome!
How to be sure a rotisserie chicken is done?
The only way to tell when your chicken is truly done is to use a thermometer. A chicken is safe to eat when a probe thermometer inserted into the thickest part of the chicken thigh and breast reads 165 degrees F.
I use the ThermoPro TP19H Instant Read Thermometer (see on Amazon) which I insert into the chicken near and at the end of the cooking time. I usually use a wired probe thermometer but it would not work well with the door of an air fryer and definitely not being on a rotisserie.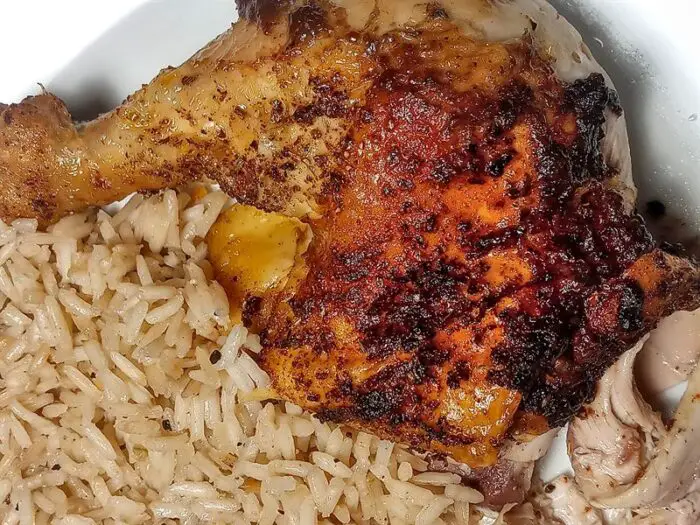 What to serve with rotisserie chicken
Mashed potatoes
Low Sodium Coleslaw
Roasted potatoes and veggies
Low Sodium Potato Salad
Brown rice
Low Sodium Baked Beans
Simple side salad with one of my low sodium dressings
Low Sodium Southwest Corn
Use leftover rotisserie chicken to make even more meals.
My favorite is chicken sandwiches for easy, quick lunches.
Shredded chicken, noodles and Low Sodium Alfredo sauce.
Low sodium shredded chicken tacos.
Shredded chicken Low Sodium BBQ Sauce sandwiches.
Creamy chicken salad.
Pulled chicken on leafy green salad with low sodium Caesar dressing.
Or how about Low Sodium Chicken Noodle Soup?  The list is almost endless.
---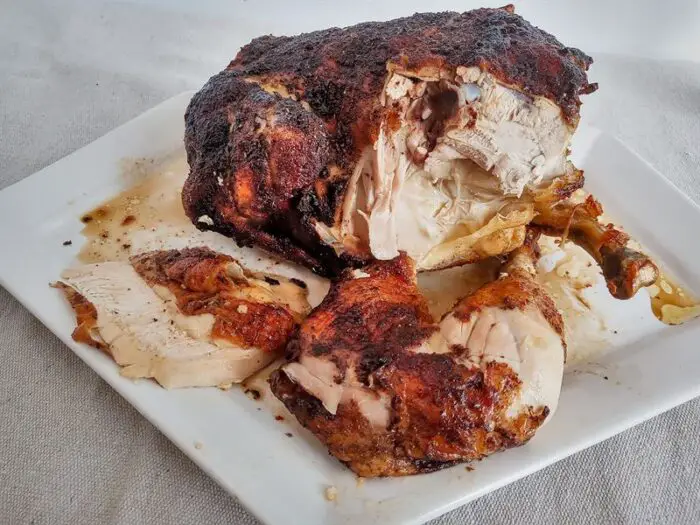 Frequently Asked Questions
How long Can You Keep Rotisserie Chicken?
Cut it into several pieces and refrigerate it in a airtight covered container for up to four days or freeze. Frozen leftovers are best used within four months, after which moisture and flavor is "dried out" and bland. I usually remove all meat from bones after it cools, except for the drum sticks that I will eat in the next day or two.
Is store bought rotisserie chicken bad for you?
The main problem with rotisserie chicken is its sodium content. You can remove the skin to reduce the sodium seasoning coating to keep the chicken super juicy and savory, the chicken is usually injected with a solution that's full of salt, sugar and processed ingredients. Compare the difference in raw chicken that is injected or not. Just a 3-ounce serving of rotisserie chicken could have more than 600 milligrams of sodium.
A few of my other great dishes to enjoy!
---
Recommended Equipment & Ingredients For This Recipe.
See my whole Recommended Equipment & Ingredients shop page here
This section contains affiliate links to products I use and recommend.
Please let me know how this Low Sodium Rotisserie Chicken turns out for you in the comments and a rating! I'm always eager for your feedback and hope my recipes turn out amazing for you. You can follow me on Facebook and Pinterest also, to hear about new recipes.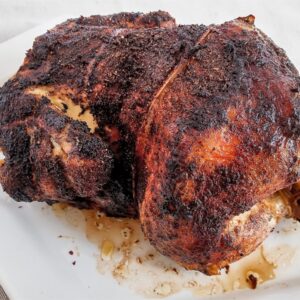 Low Sodium Rotisserie Chicken
Miss your store bought rotisserie chicken? If you have an air fryer with a spit, you can make your own Low Sodium Rotisserie Chicken at home.
Ingredients  
4-5

lb.

whole, young chicken

check sodium levels / should be 55-65mg per 4 oz.

1

Tablespoon

olive oil

1

Tablespoon

dried ground thyme

1

teaspoon

Mrs. Dash Original Table Blend no salt

2

teaspoon

dried oregano

2

teaspoon

garlic powder

2

teaspoon

onion powder

1

teaspoon

ground black pepper

1

teaspoon

smoked paprika

½

teaspoon

cayenne pepper
Instructions 
In a small bowl or old spice bottle – combine the thyme, Mrs. Dash O.T.B., oregano, garlic powder, onion powder, black pepper, smoked paprika, and cayenne pepper.

Rinse, drain (let chicken come to room temp.) and pat the chicken dry with a paper towel. Tie the chicken legs together with a piece of cooking twine in figure 8 pattern. Tie the wings against the breasts with a separate piece of twine. (see photos above)

Rub the chicken very lightly with olive oil and sprinkle the spices all over, lightly pat into the chicken. Rubbing spices will just smear.

Insert the rotisserie spit through the legs where they are tied (figure 8) together and through the cavity, center the chicken on the spit. Push the prongs securely into the chicken and tighten the screws.

Select the rotisserie setting on the air fryer. Press the wheel to select. Turn the wheel to adjust the time to 45 minutes. Press the wheel to start. Cook for 45 minutes, or until the internal temperature reaches 165°F.

Using the rotisserie tong tool carefully remove the chicken from the air fryer. Allow the chicken to cool for 10 minutes. Cut twine and remove along with rotisserie spit from the chicken. Slice and serve.
Notes
When preparing a whole chicken, be sure to check and remove any of the innards from the cavity of the chicken usually in a plastic bag. I am sure you could use them for something but I haven't yet.
Be sure to pat the chicken dry before applying the seasoning for crispy skin.
Follow the instructions that came with your own air fryer for cooking heat and time.
Different air fryers and chicken sizes will require different times. Finished time will vary with different machines and even chicken size. Mine cooks at 430°F on auto select.
The finished thickest meat temperature of the chicken should be 165 degrees. If it has not reached that temperature at the end of 45 minutes, add 5 minutes at a time until it does.
**********************
Exact sodium and nutrition information in this recipe case is difficult to calculate as different sections of the whole chicken vary in calories and fat. Though, I would have to believe the sodium level would be fairly consistent throughout.
A basic rule of thumb is a rotisserie whole chicken thigh with skin is the highest in calories and fat, while a breast with no skin would be the leanest, with the fewest calories and most protein.
Nutrition
Serving:
4
oz.
Sodium:
55
mg
https://tastyhealthyheartrecipes.com/main-dishes/entrees/low-sodium-rotisserie-chicken/
Nutrition Information – The information shown is provided by an online nutrition calculator. It should not be substituted for a doctors or nutritionist's advice. Please understand that not everyone's sodium requirements are the same, therefore some recipes may be higher than you're allowed. Always consult with your doctor for your recommended daily sodium allowance.